How To Ace Your Massachusetts Driving Test
Are you getting ready for a driver's license test in Massachusetts? If yes, you should learn what to expect on the driving test and how to prepare for it.
DoNotPay is here to give you the details about the Massachusetts driving test and offer the best DMV practice tests!
Everything You Should Know About the MA Driving Test
If you want to drive a car, van, or a small truck on the Massachusetts roads and highways, you should obtain a class D driver's license.
To get the license, you need to pass the vision, written, and driving skills tests. You will first need to hold a driver's permit before you become eligible for a full driver's license. Make sure you schedule a DMV driving test appointment on time to be able to take the test.
Here are the requirements applicants need to fulfill for the driver's permit and the full driver's license:
Driver's Permit
Full Driver's License

Be at least 16 years old

Pass the learner's permit knowledge exam

Have written consent from your guardian if you are younger than 18

Have a driver's permit for at least six months

Have a clean driving record

Complete the driver education program if you are under 18

Get 40 hours of supervised behind-the-wheel driving

Pay the application fees
What Does the Massachusetts Written Driving Test Involve?
The knowledge test consists of 25 questions. To pass the written test, you have to get at least 18 correct answers. You will get 25 minutes to finish the test.
You need to familiarize yourself with the Massachusetts motor vehicle law, road signs, and proper vehicle operation to be able to answer the questions. The test is available in 34 languages.
What Does the MA Driving Skills Test Entail?
You will need to have the following when taking the Massachusetts road skills test:
Proper vehicle

Learner's permit

Completed

Class D Road Test Application

Signed consent of your guardian if you are under 18

Sponsor—a person who is at least 21 years old and with at least one year of driving experience
During the road skills test, you will need to perform different tasks to prove you are able to drive safely. The tasks might involve the following:
Parallel parking

Signaling properly

Checking the mirrors

Driving in the proper lane

Approaching the crossroads

Staying within the speed limit

Paying attention to traffic lights

Driving at a safe distance from other vehicles and pedestrians
How To Pass the Driving Test in MA
The key to doing the Massachusetts driving test successfully is thorough preparation! Here is the material you can use to get ready for the test:
Material
How Does It Help?

The Massachusetts Class D Driver's Manual

The manual contains all the information you need for passing the test. It covers various topics, such as:

Road rules

Street signs

Safety measures

Specific driving situations

Requirements for getting a driver's license in MA

Study guides

The study guides might not contain all the official information you need, but they are a valuable source of the following info:

Fees you need to pay

Driving test tips and tricks

Required identification documents

Practice tests

Practice tests are the most useful tool that shows you how prepared you are for the actual test
Get the Best Massachusetts Driving Practice Tests With DoNotPay
If you are looking for the most reliable MA driving practice tests, use DoNotPay! We have an enormous database of driving practice tests. We don't limit you to the number of times you want to take the tests—practice as much as you want!
To access the DoNotPay's driving practice tests, follow these instructions:
Open DoNotPay in any

Write the name of the test you want to complete

Select the practice test you like

Choose whether you want to get 10, 20, or 30 questions

Start your preparation
Our app allows you to correct your mistakes the moment you make them. You can also finish the whole test first and redo the questions you get wrong. Choose the method that suits you best and make the most of our practice tests.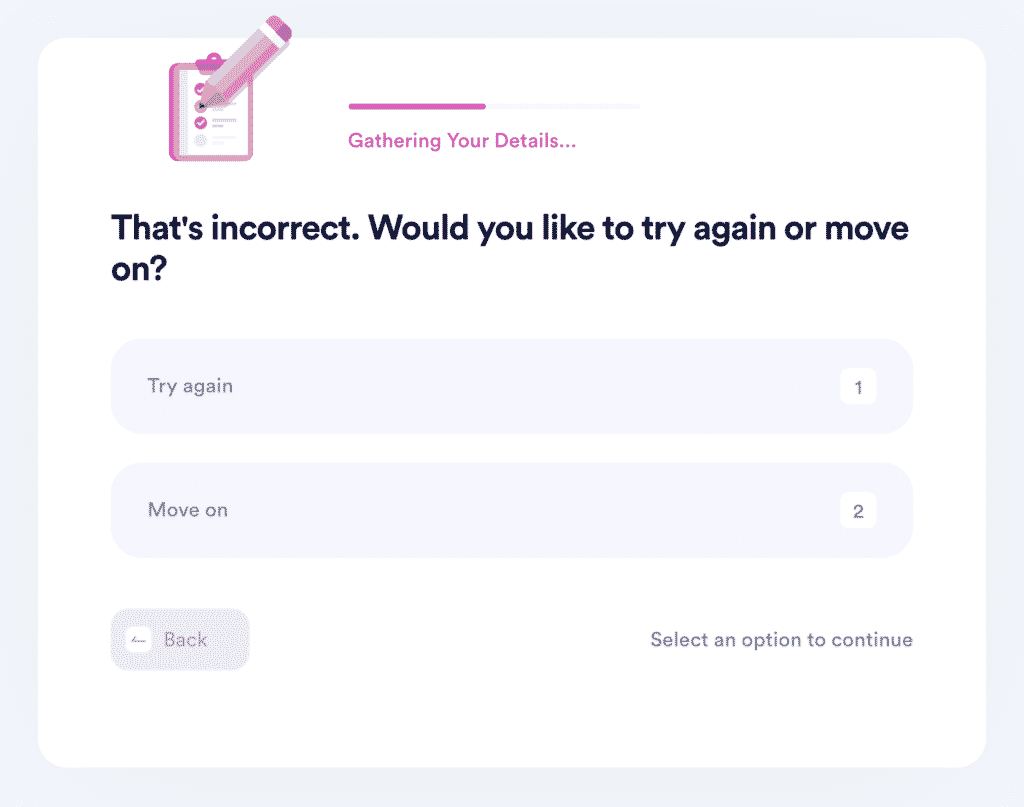 Not sure whether you prepared everything for the driving test? Get DoNotPay's help to make a driving test checklist and show up fully prepared for your exam!
DoNotPay Helps You Prepare Other Government Tests
With our award-winning app, you can also get ready for your Commercial Driver's Licence (CDL). Besides driving license tests, we offer a bunch of other government practice tests.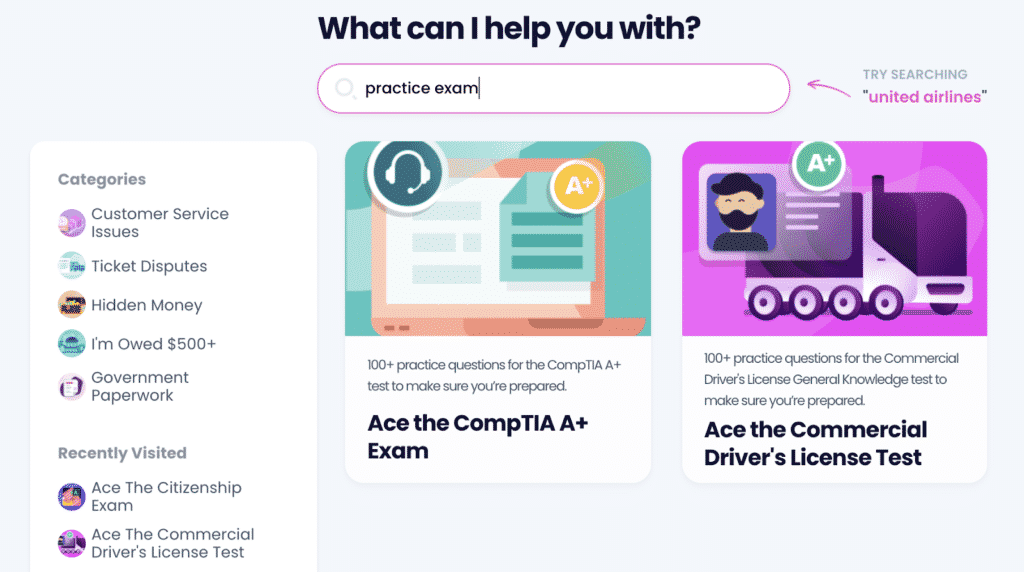 Log in to DoNotPay from any , and we will help you prepare for exams, such as:
You can also use DoNotPay to get the scoop on the ASVAB test scores.
Do You Know What Else You Are Eligible For?
DoNotPay is a handy virtual assistant that can reveal a world of possibilities that you may not have even been aware of. We've perfected our algorithms to identify opportunities for you to save up and take charge of your rights.
Here's a fraction of what we can do for you:
What Else Is New With DoNotPay?
DoNotPay boasts several new features that can help make your everyday life so much easier.
Have you been wondering how to file an insurance claim but weren't sure where or who to turn to? We'll gladly do it for you.
Are you tired of outdated faxing practices and manual documentation? Our app can provide you with an online fax solution and draft all your legal paperwork in no time at all.
Do you need a safe place to prepare for your upcoming government test? DoNotPay will give you all the prep tests you need.
We can help out with locating an imprisoned loved one and keeping correspondence with them via our virtual mailbox.
See what else DoNotPay has in store by accessing our web app in any browser.