Employment Discrimination Problems Solved With the Massachusetts Commission Against Discrimination
Any victim of employment discrimination in the Commonwealth of Massachusetts can rely on double protection.
Not only can they count on the Equal Employment Opportunities Commission (EEOC) to fight their case at the federal level, but they can also use the state anti-discrimination authority to uphold anti-discrimination laws.
DoNotPay has everything you need to know about the Massachusetts Commission Against Discrimination (MCAD)—what it does, how it works, and how it can help you!
What Is the MCAD, and How Is Massachusetts Law Different?
The MCAD enforces Massachusetts state anti-discrimination laws and works in tandem with the EEOC.
As an employee in Massachusetts, you are protected under federal law from discrimination based on:
Gender

Color
Nation of origin
State law in Massachusetts offers further protection against discrimination due to:
Gender identity or sexual orientation

Active military service
Biological or adoptive parenthood
Gender Identity or Sexual Orientation
Massachusetts is one of the 22 states that has introduced a law that explicitly prohibits discrimination based on gender identity or sexual orientation.
Active Military Service
It is illegal to discriminate against any actively serving member of the military in Massachusetts. The prohibition covers discrimination in the areas of employment, housing, education, and financial services.
Biological or Adoptive Parenthood
Employers are legally bound to provide parental leave to a biological or adoptive parent of either sex.
The major differences between federal and Massachusetts discrimination laws are as follows:
| | | |
| --- | --- | --- |
| Difference | EEOC Jurisdiction | MCAD Jurisdiction |
| Company size | The EEOC oversees companies with 15 or more employees | Any company of six employees or more is covered by the MCAD |
| Filing period | You have to file a complaint within 180 days of the incident | You have 300 days to lodge a charge with the MCAD |
| Domestic workers | Domestic workers are not protected by the EEOC | If you employ one or more domestic workers, you are considered a company, and the MCAD has jurisdiction over you |
Is State or Federal Law Better?
If you have the option of using a county court or the federal system, a discrimination lawyer will usually advise you to go for the legislation that gives you better protection.
Both legal frameworks protect you against de jure, de facto, and wage discrimination, as well as harassment (sexual, verbal, , or ) and retaliation.
The points to bear in mind when deciding whether to file a complaint with the MCAD or the EEOC are as follows:
The MCAD provides better protection for employees of small companies (six employees or more)
State commissions may be more likely to take account of the importance of a company to a local economy and could be less aggressive towards an employer
The EEOC may favor high-profile cases against large employers as it has to achieve the maximum impact with limited local resources
The decision is yours, but you should always choose the legal route that stands the greatest chance of success.
How Does the MCAD Work?
If you have exhausted all your options with your employer and want to involve the MCAD, the system is similar to working with the EEOC.
The process is as follows:
Charge of discrimination
Assignment of the case officer
Respondent position statement
Complainant rebuttal
Investigative conference
Probable cause determination
Charge of Discrimination
You must submit a written complaint to the MCAD detailing the events that you think were discriminatory and naming your employer, who is known as the respondent.
Assignment of the Case Officer
The MCAD will assign a case officer to work with you. They will inform your employer of your charge and ask the company for a position statement.
Respondent Position Statement
The position statement sets out your employer's view on the alleged discrimination. If you have already tried unsuccessfully to resolve the matter internally, your employer will most likely deny the allegations in the position statement.
Complainant Rebuttal
You have an opportunity to emphasize your allegations by writing a rebuttal of your employer's position statement—this effectively says that you are maintaining that you were discriminated against.
Investigative Conference
Your case officer may call an investigative conference between you and your employer to determine more facts around the case. You and your employer may also be asked to produce documents, witness statements, or other evidence at this stage.
Probable Cause Determination
Based on all the evidence collected up to this point, the case officer issues a determination as to whether or not your case has merit.
If there is not enough evidence or your employer agrees to settle at this point, your case officer will find no cause to continue the investigation and will close your case.
If probable cause is found, though, your case will move on to the next stage.
The next stage involves public hearings and mediation attempts to avoid your case ending in court.
The public hearing takes place under oath in front of an MCAD commissioner.
You and your employer are entitled to legal representation at the hearing, and the MCAD commissioner acts as judge. If you do not have a lawyer as the complainant, an MCAD lawyer will represent you.
The commissioner issues judgment at the end of the hearing. If the respondent is found not guilty, the case is dismissed. In the case of a guilty verdict, though, the commissioner can order:
Compensation for back and future pay
Damages for emotional distress
Reimbursement of legal costs
Punitive damages against your employer
The MCAD commissioner's decision is legally binding, and your employer must comply with any orders.
What if You Decide To Use the EEOC?
If you decide that the EEOC gives you a better chance of success, the process is largely similar and starts with you filing a charge of discrimination. Filing your complaint can be a laborious process, though, as the EEOC often tries to demand an in-person intake interview.
The good news is that DoNotPay can !
Use DoNotPay To File Your EEOC Complaint
DoNotPay is the expert at making your life simpler, and dealing with the EEOC is another way we can help.
Filing your charge of discrimination is as easy as one, two, three:
in your web browser
Search for our Fight Workplace Discrimination feature
Fill in the details of your charge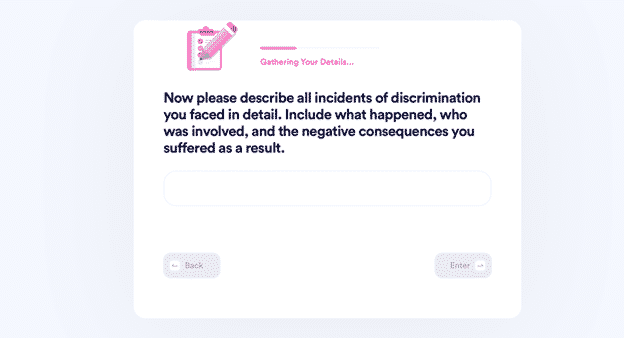 That's all you have to do—your nearest EEOC office will contact you to walk you through the next steps.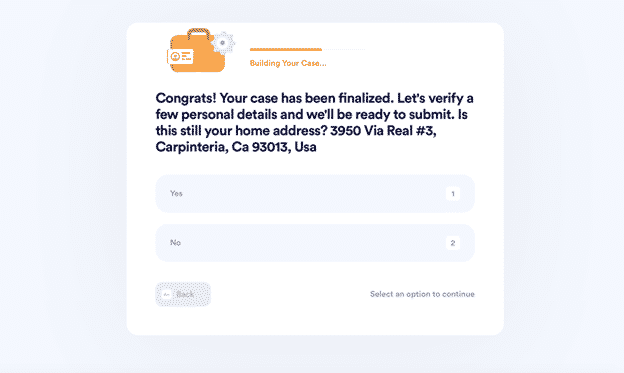 DoNotPay—The Virtual Lawyer You Can Rely On
Discrimination at a workplace is a serious issue. Unfortunately, the problems sometimes escalate into full-blown hate crimes.
DoNotPay recognizes the importance of easy and affordable access to legal help, especially for population groups that are particularly vulnerable. For that reason, our platform keeps adding various useful tools and products that ease the burden of bureaucracy for the victims.
With your DoNotPay subscription, you can:
Our app can even help you draft various legal documents, have them notarized, and fax them to the right person—all from one place.
Concerned About Your Online Safety?
We teach our children to be careful about using the internet, but how much do we pay attention to our online safety? Scammers are getting more and more creative and flourish thanks to new technologies.
DoNotPay is a great resource for fighting irritating spam emails, dangerous texts, and annoying robocalls. If you use our virtual credit card, you won't have to worry about subscribing to free trials—even if they turn out to be a scam! Our AI bots will jump in to secure you a refund, whenever an online purchase goes wrong!