A Complete Guide to Securing Maryland Scholarships
Have you set your eyes on the University of Maryland, Johns Hopkins University, or any other of the 55 schools in Maryland? Financial aid can help you pave your way to the university or college of your dreams.
Whether you are a resident or out-of-state student, Maryland scholarships can help you study stress-free. There are many aid programs for current and prospective students, so DoNotPay will help you find and pick the best ones.
Read our comprehensive guide to learn:
How To Find Scholarships and Grants in Maryland
The first step is the hardest, and many students don't know how to start the search. If you want to gather information about scholarships, resort to the following sources:
Federal agencies
Maryland Higher Education Commission's website
The financial aid offices at your prospective schools
Profit and non-profit organizations—such as:

Maryland Library Association
The Maryland Parent and Family Association
American Red Cross Youth
National Eagle Scout Association (NESA)

Maryland foundations—including:

The Maryland 4-H Foundation
The Witter Bynner Foundation for Poetry
The Goldseker Foundation
The Virginia, Maryland & Delaware Association of Electric Cooperatives (VMDAEC) Education Foundation
If you want to simplify the search, subscribe to DoNotPay. A personalized list of gift aid you are eligible for is only a few taps away with our app. We will even summarize the key program details—such as the amounts, deadlines, and requirements.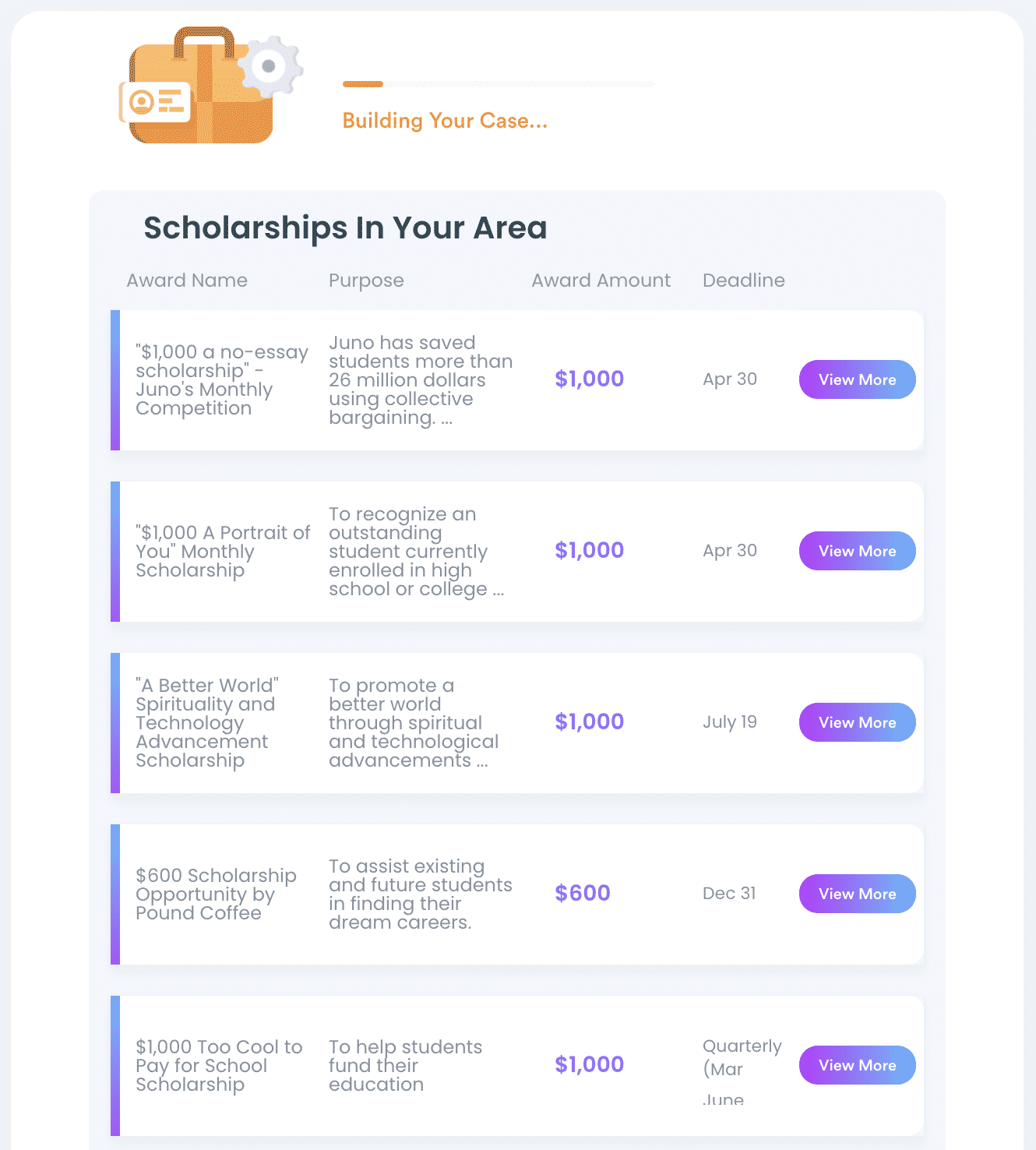 Types of Scholarships for Maryland Students
Maryland offers scholarships for students at different levels of studies. You can get financial assistance as:
If you belong to a particular group of students, you can expand your scholarship options and get one for being:
Scholarship in Maryland You Should Check Out
Scholarships are classified based on various factors. You can look into federal aid programs at your university or department or seek financial assistance for students in unique situations. The options are numerous, and it's almost impossible to review them all, so check out a few of the ones you shouldn't miss:
Type of Scholarship
Scholarship Examples
General scholarships

Maryland Delegate Scholarship
Maryland Senatorial Scholarship
Graduate and Professional Scholarship Program
Howard P. Rawlings Educational Assistance Grant
Howard P. Rawlings Guaranteed Access Grant
Carson Scholars Fund Scholarship

Career-specific scholarships

Teaching Fellows of Maryland Scholarship
Hal and Jo Cohen Graduate Nursing Scholarship
Letitia B. Carter Scholarship for hospitality-related majors
Armed Forces Communications and Electronics Association (AFCEA) Central Maryland Education Foundation for STEM students
The Dwight P. Jacobus Scholarships for students pursuing a career in business or education
Henrietta Price Scholarship for occupational therapy students

Population-specific scholarships
How To Apply for Maryland State Scholarships
Unfortunately, scholarship applications for Maryland students aren't centralized. You need to apply for each program you qualify for individually.
Certain funders only request that you fill out their form and/or submit the Free Application for Federal Student Aid (FAFSA), but others can also ask for:
When applying, keep the following tips in mind:
Read the requirements with care
Aim for the early deadline
Send a request to all programs you qualify for
Write down the important dates
Personalize your essays
The Fastest Way To Find Maryland Scholarships and Grants—DoNotPay
Tired of searching? Use the DoNotPay app, and you'll have a full list of gift aid in a split second!
Your answers to our quick questions will make sure that DoNotPay surfaces all programs you qualify for. Provide us with some basic details—such as your level of education, interests, place of residence, and special qualifications—and we'll do the rest.
Follow these steps:
Go to Apply for Scholarships
Answer a few questions
You'll get your tailor-made list and learn more about each program in just a few clicks. You can also use our nifty app to apply for no-essay scholarships automatically. If you find any that you like, let us know, and we'll apply on your behalf.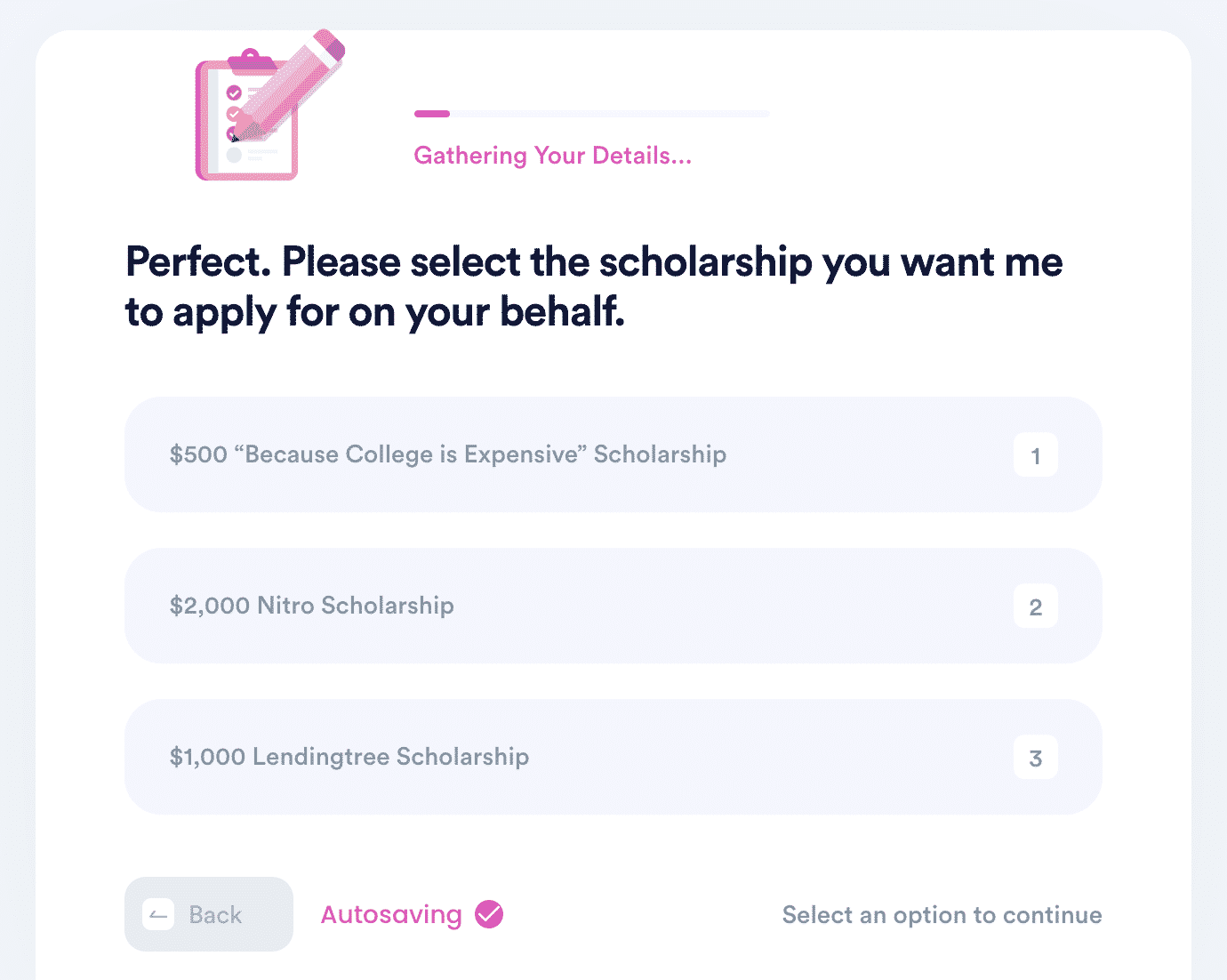 Anything Else You Need?
DoNotPay offers an exhaustive range of products and services for one low monthly fee. You can take full advantage of our offer once you resolve the issue at hand.
Our app can both save you money and help you earn it—sign up to appeal parking tickets, get assistance with utility bills, get compensation from airlines, request a refund, have your college application fees waived, find your missing money, reduce property taxes, enter any sweepstake, or send a financial aid appeal letter to any school.
We can also turn your gift card balance into cash, help you apply for scholarships, and assist you in getting compensation as a victim of crime.
There's Even More to Our Offer
The world's first robot lawyer can turn any nightmarish admin or legal procedure into a piece of cake. Look into our knowledge base to find out how to send a letter of warning to your bad neighbor, submit an anonymous complaint to your HR, fight workplace discrimination, get access to public records, deal with a stalker or harasser, put an end to robocalls, and file a complaint with any company.