Maryland Property Tax Appeal
From A to Z
Learning about actions that can help you reduce property taxes is necessary for every property owner. One of the most efficient methods is the property tax appeal. 
If you wish to learn how to file a Maryland property tax appeal, DoNotPay can help you. Our app also has the scoop on other tricks for tax reduction!
Reasons for Starting the
Maryland Property Tax Appeal
Process
If you are not satisfied with your property tax bill or find any inaccuracies, you have the right to appeal the property tax assessment in Maryland. There are several reasons that make a good basis for a property tax appeal:
Seeing that the assessment includes property that you have sold, moved out of, or no longer own for any other reason

Noticing that the assessor evaluated someone else's property

Finding out that the assessor accidentally evaluated your property more than once

Seeing that your property got a higher value than it really has

Learning about other property in your neighborhood similar to yours that has a much lower assessed value

Noticing that your tax bill skyrocketed compared to previous years even though you've had no home improvements
Maryland Property Tax Appeal Levels
If you decide to appeal a property tax assessment in Maryland, you will need to go through three levels. Take a look at the table below for more information:
| | |
| --- | --- |
| Property Tax Appeal Levels | Explanation |
| Supervisor's Level | The first level of the appeal process is informal and used to exchange information. The homeowner can learn about the factors that affected the property's value. They will talk to the assessor designated by the Supervisor of Assessments during this hearing |
| Property Tax Assessment Appeal Board Level | After the Supervisor's Level hearing, you will get a final notice. In case you disagree with the decision, you can appeal to the Property Tax Assessment Appeals Board (PTAAB). You need to file this appeal within 30 days from the date of the final notice |
| Maryland Tax Court Level | If you are not satisfied with the Property Tax Assessment Appeals Board's decision, you can file an appeal to the Maryland Tax Court (MTC). This needs to be done within 30 days of the date on the PTAAB order |
If you want to get all the info about property tax appeals in Maryland, you can use DoNotPay to inform yourself.
Appeal Property Tax Assessments in All the Counties in Maryland
Whatever part of Maryland you live and own property in, you can count on DoNotPay for information on dealing with property tax appeals. The procedure is as simple as it gets, and you only have to follow these instructions:
Sign up for DoNotPay

in your favorite web browser

Navigate to the

Property Tax

product

Provide some information about your property
Your virtual assistant will make sure you get a guide on property tax appeals tailored to your needs! We will provide you with the arguments to help you negotiate better with the property tax assessor. 
You will also learn all about the evidence you should collect to increase your chances of winning the case. The property tax appeal hearing will be a piece of cake for you!
DoNotPay has another useful feature that can help you lower your property taxes. We can tell you if you are eligible for property tax exemptions!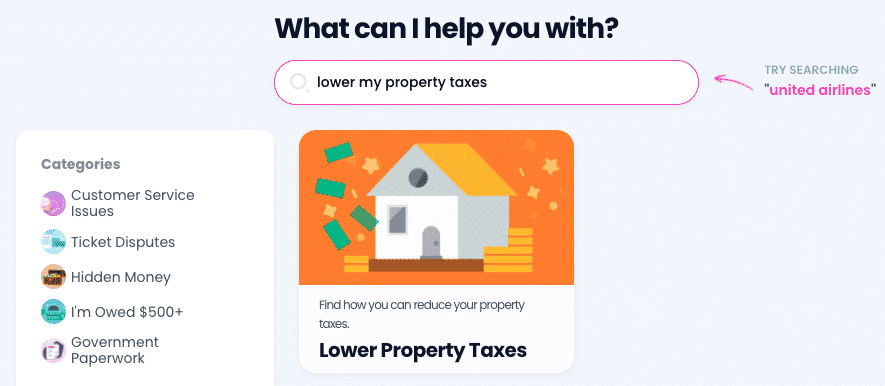 Are You Eligible for a Property Tax Exemption in Maryland? Ask DoNotPay!
Property tax exemptions are a great way of reducing high property taxes. In Maryland, as is the case in other states, these exemptions exist to offer help with paying property taxes for veterans, senior citizens, surviving spouses, and disabled persons.
If you wish to know whether you qualify for one such exemption, you'll need to do a lot of research on your own—but not if you choose DoNotPay!
Our app will generate a guide that lists all the exemptions you qualify for. DoNotPay will provide application instructions as well.
To get to use this neat feature, you only need to:
Open our app

in your favorite web browser

Locate the

Property Tax

product
You'll be on the road to lower property tax bills in a matter of minutes!
Are There Other Ways To Lower Property Taxes?
If you want to try some other methods of lowering property taxes, you will have a few options at your disposal. They may not be as efficient as property tax appeals and exemptions, but you can still attempt to:
Avoid home renovations

—Skipping renovations before the assessment will ensure you don't increase your home's value

Tail the property tax assessor

—Going through the house with the assessor will allow you to see if they are doing their job properly

Check the tax bill for mistakes

—Noticing inaccuracies on your tax bill can help you reduce your taxes by informing the responsible tax authorities
Sometimes moving to a state with lower property taxes is the way to solve the high tax issue. If you decide to go this way and buy property in another part of the country, inform yourself about the best options. Some states that pride themselves on low property tax rates are Utah (0.56%), Arizona (0.62%), and Tennessee (0.61%).
DoNotPay Is Your Pocket-Sized Treasurer 
To pay or to DoNotPay—that is the question! Our nifty app finds money where you didn't even know you had it.
With our app, you can avoid college application fees, cancel unused subscriptions, explore free trials, and get out of paying for unfair parking tickets. 
We can also help you with high bills by composing due date extension letters or reducing property taxes, just as we can locate missing money that you can reclaim in any state you've ever lived. 
To top it all, we'll even assist you in requesting compensation from any airline—whether it is for poor in-flight Wi-Fi, a delayed, or a canceled flight.
Can't Find Your Head in All the Paperwork? DoNotPay Sorts It Out for You!
You no longer have to cash out on pricy legal advisors to do simple paperwork for you—our app can draft legal documents for you in a matter of minutes! 
We can write small claims court scripts, dispute letters for chargebacks and refunds, personalized letters to connect with inmates, DMCA takedown notices for copyright protection, and cease and desist letters for stalking and harassment protection. 
If you need to get a DMV appointment before taking a driving exam or any other government test, we're there to schedule it in your stead!