How Maryland Jury Duty Works
Trial by jury is the foundation of the American legal system and an important responsibility for every citizen. You have to do jury duty from time to time as a part of your contribution to the nation.
Maryland jury duty can be inconvenient—you need to request time off from work, answer jury selection questions, and more.
In this article, we'll explore what it means to be a juror, how much you'll be paid, and how to prepare for your duty. We can help with a key part of the process—DoNotPay can assist in drafting a time off request for your job.
What Jury Duty in Maryland Means for You
Jury duty selection works by randomly drawing prospective members from a pool of Maryland residents that meet the following requirements:
United States citizens
Residents of the county associated with the court
18 years of age or older
Able to understand English (written and spoken)
Not affected by a medical or physical infirmity to the point of incompetence
Not found guilty of a felony without pardon
State legislation restricts how often you are called for jury duty, depending on how long you have previously served as a juror:
More than five days of service—summoned once every three years
Fewer than five days of services—summoned annually
Does Maryland Compensate Jurors?
Yes—Maryland state and federal jury courts offer different pay rates for jurors. Jury duty pay laws are unique to each state.
Consult this table to determine your Maryland juror pay:
| Court | Pay per Day | Travel Compensation |
| --- | --- | --- |
| County and state | $15 | No |
| Federal | $50 | Yes |
If your federal jury duty lasts longer than ten days, you will receive an additional $10 each day. Federal jurors can apply for reimbursements for travel and parking fees by submitting a Juror Reimbursement Form to the Maryland court system.
How To Get Out of Jury Duty in MD
Maryland courts grant jury duty exemptions for:
Active members of the military
Breastfeeding mothers
Those who have a disability (with a doctor's note)
You can also explain your grounds for excusal during jury selection. On your first day in court, you will be asked a series of questions to ensure you have no bias that would affect the jury's impartiality.
You can postpone Maryland jury duty only once and must agree on the deferred date. Do not skip jury duty—those who do can face:
A $1000 fine
Up to 60 days in jail
What To Do if You're Not Exempt From Jury Duty in Maryland
You need to book your time off from work. Your employer cannot fire you for missing work during jury duty, but they are not obligated to compensate you according to your usual daily income while you serve as a juror. Maryland laws entitle you to unpaid leave while you serve as a jury.
Your employer can verify your duty with a copy of your summons. You can also request a certificate of attendance from the court if your boss needs additional evidence.
Get the Time Off You Need for Maryland Jury Duty—Use DoNotPay
Are you stressed about having to ask your boss for time off? DoNotPay will help—we can draft a professional request letter with all the necessary information to help you streamline the process.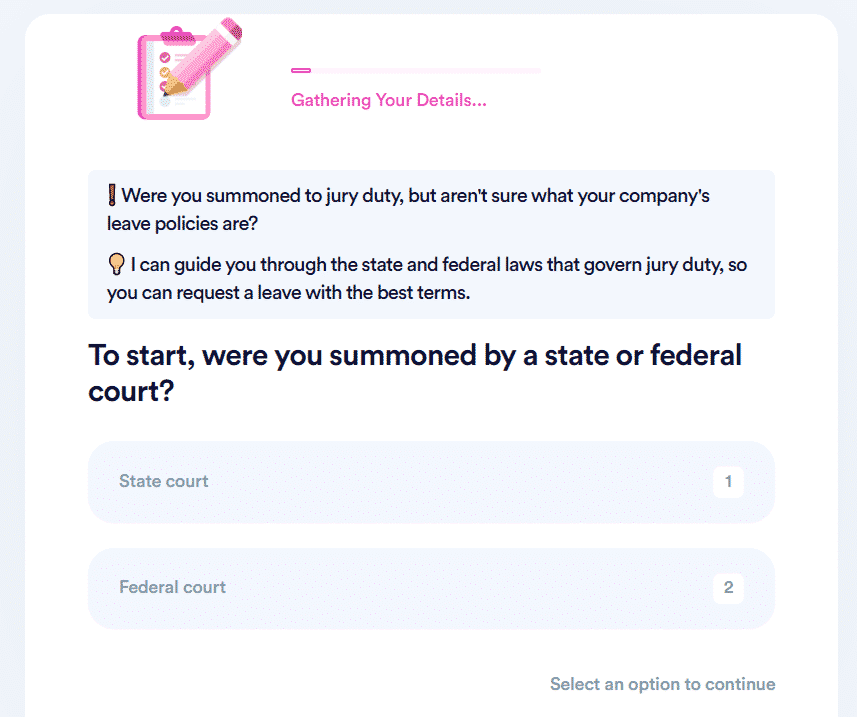 Here's how to expedite your time off request:
Select the Request Jury Duty Leave tool
Input the necessary information
Upload a photo of your summons for confirmation
After you've completed those steps, you will have the option of downloading a PDF copy to submit to your employers personally, or you can have DoNotPay take care of that as well.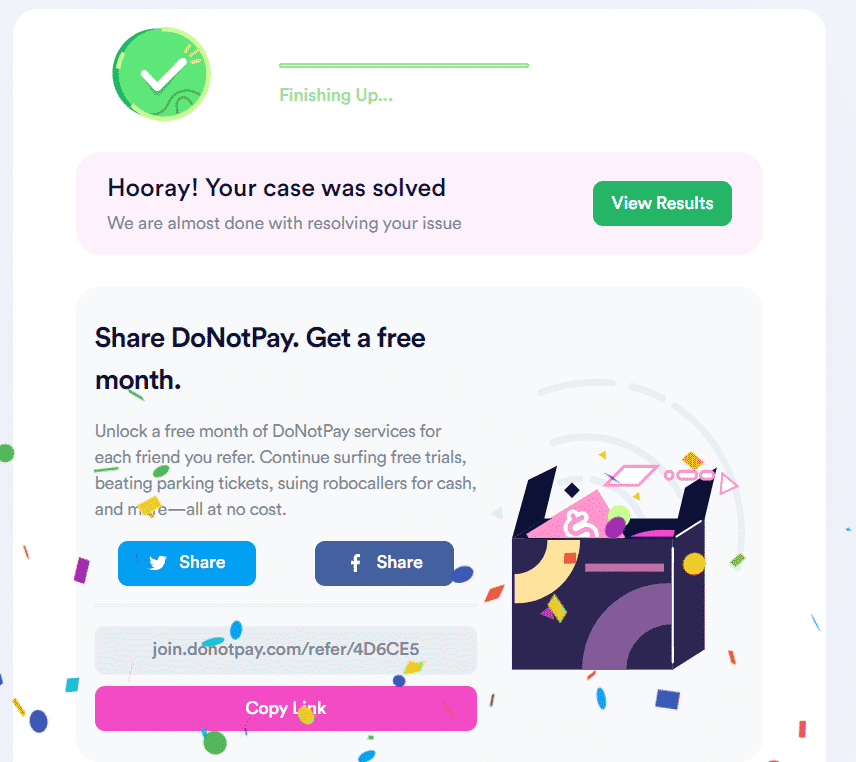 Save Time and Money Using DoNotPay
Being on hold while trying to reach customer service is no picnic. With DoNotPay, you can jump the phone queue and reach a rep with ease. Are you contacting a company to request a refund or cancellation? No need for that! Our app can get it done in a few clicks. We can also help you return an item or handle a late delivery.
Dispute parking tickets, claim your warranty or insurance, set up a DMV appointment, contact an embassy, and deal with any other task with our assistance.
You can also request access to public records, apply for tourist visas, or file complaints with the help of our AI-powered app.
We're Not Done Helping You!
Our multifaceted app keeps getting new features that can streamline numerous tasks and solve all kinds of problems.
Would you like to join sweepstakes or giveaways? Are you up for participating in clinical trials and earning some money? Are you interested in sending mail without visiting the post office? We've got it covered!
We will help you protect your privacy by putting an end to spam emails, incessant text messages, and robocalls. If you think you're being stalked, you can count on our assistance. You can also use our app to perform a sex offender search, fight workplace discrimination, and handle annoying neighbors.