Maryland Divorce—Alimony and Everything You Need To Know About It
If you want to have a successful divorce that'll end in a friendly manner, knowing how alimony is regulated in your state is crucial. Learning the ropes on your own can be difficult, but don't worry—you're not alone in this—! We'll chime in with all the necessary details about a Maryland divorce, alimony especially.
Types of Alimony in Maryland
Alimony—also known as spousal support—is a form of periodic payment that a lower-earning spouse receives from the higher-earning one. In Maryland, whether you're in Baltimore, Montgomery, or any other county, you can get three types of alimony, including:
| | |
| --- | --- |
| Alimony Type | Explanation |
| Rehabilitative alimony | This type of alimony is awarded to help the receiving spouse get back on their feet financially during a set period (e.g., five or ten years) |
| Indefinite alimony | Although rare, indefinite alimony is usually awarded to spouses who are unable to support themselves after a long-term marriage |
| Pendente lite alimony | Also known as temporary alimony, pendente lite alimony is awarded to spouses during the divorce proceeding. The purpose of this alimony is to support one of the spouses financially until the divorce is finalized |
How Is Alimony Awarded in Maryland?
Alimony in Maryland can either be awarded by the court or resolved by the couple themselves. This depends on whether they get a contested or an uncontested divorce.
In contested cases, the judge will decide whether to award alimony based on several factors. If the couple is on good terms, they can opt for an uncontested divorce. This type of divorce allows them to settle on how alimony is going to be awarded in their marital settlement agreement.
For spouses who can't reach a compromise, divorce mediation is recommended. A mediator can help them come up with solutions regarding alimony and end their marriage without going to court.
What Factors Does the Court in Maryland Consider When Awarding Alimony?
Couples who can't reach a middle ground regarding alimony will have to leave it up to the court to decide in their stead. The court will look into the following factors when awarding alimony:
The ability of the receiving party to be self-supporting
The time the supported spouse needs to get back on their own feet
The parties' accustomed standard of living during the marriage
Marriage duration
Each party's contributions to the family
Causes leading to the breakdown of the marriage
Each party's age
The physical and mental condition of spouses
The ability of the supporting party to pay alimony while supporting themselves
Any agreement between the parties
The financial needs/resources of each spouse
Use DoNotPay and Choose How Alimony Is Awarded in a Settlement Agreement
Don't want to leave anything to court? Why not settle on the alimony terms with your spouse in a marital settlement agreement? To get this document, you can either:
Hire an expensive lawyer to draw one up for you
Get an agreement that's both affordable and tailor-made with DoNotPay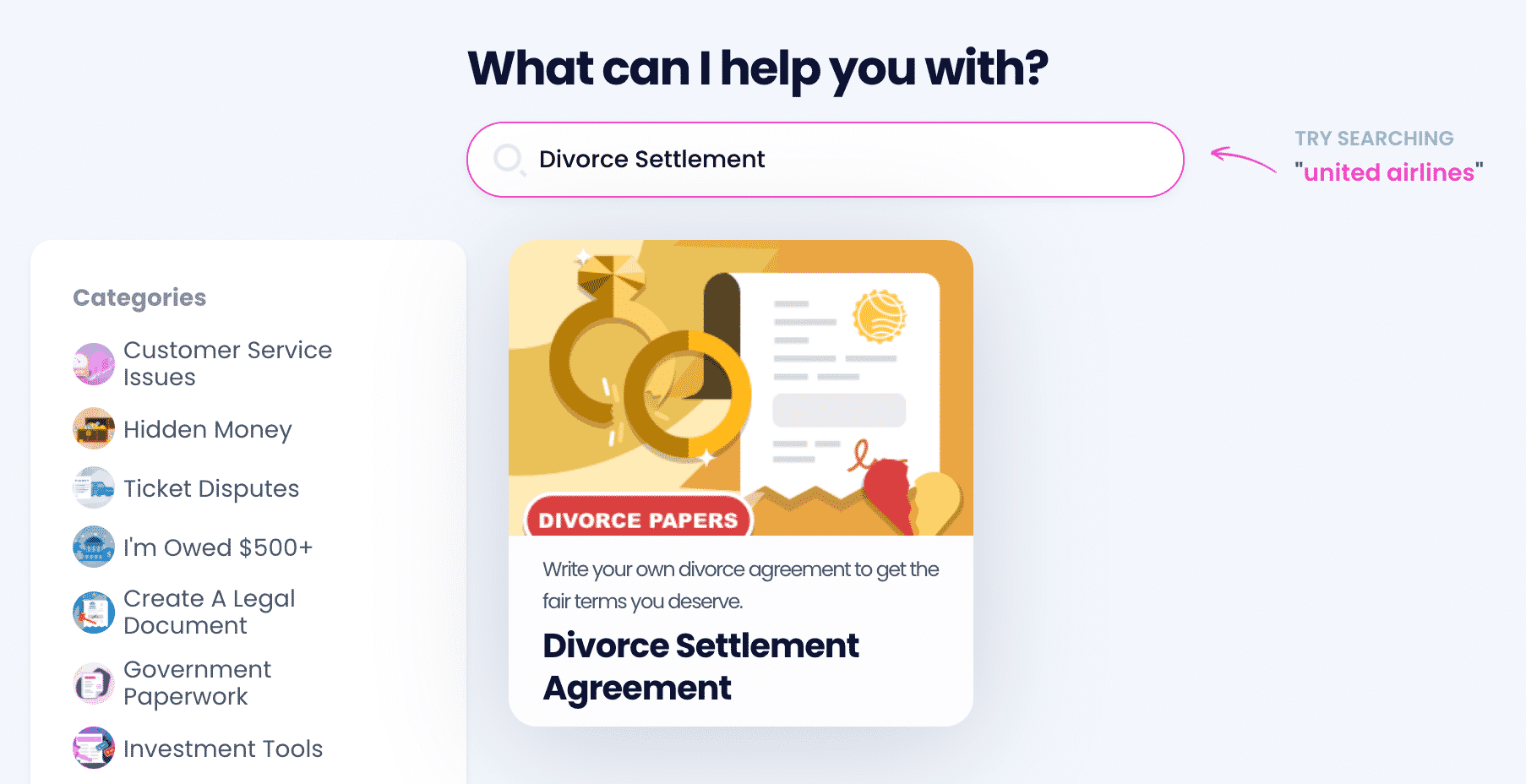 With our Divorce Settlement Agreement product, you can get a document that complies with Maryland state laws and make sure you get divorced on fair terms. You will only have to follow a few easy steps:
Select the Divorce Settlement Agreement product
Give us the necessary details regarding your marriage
Opt for online notarization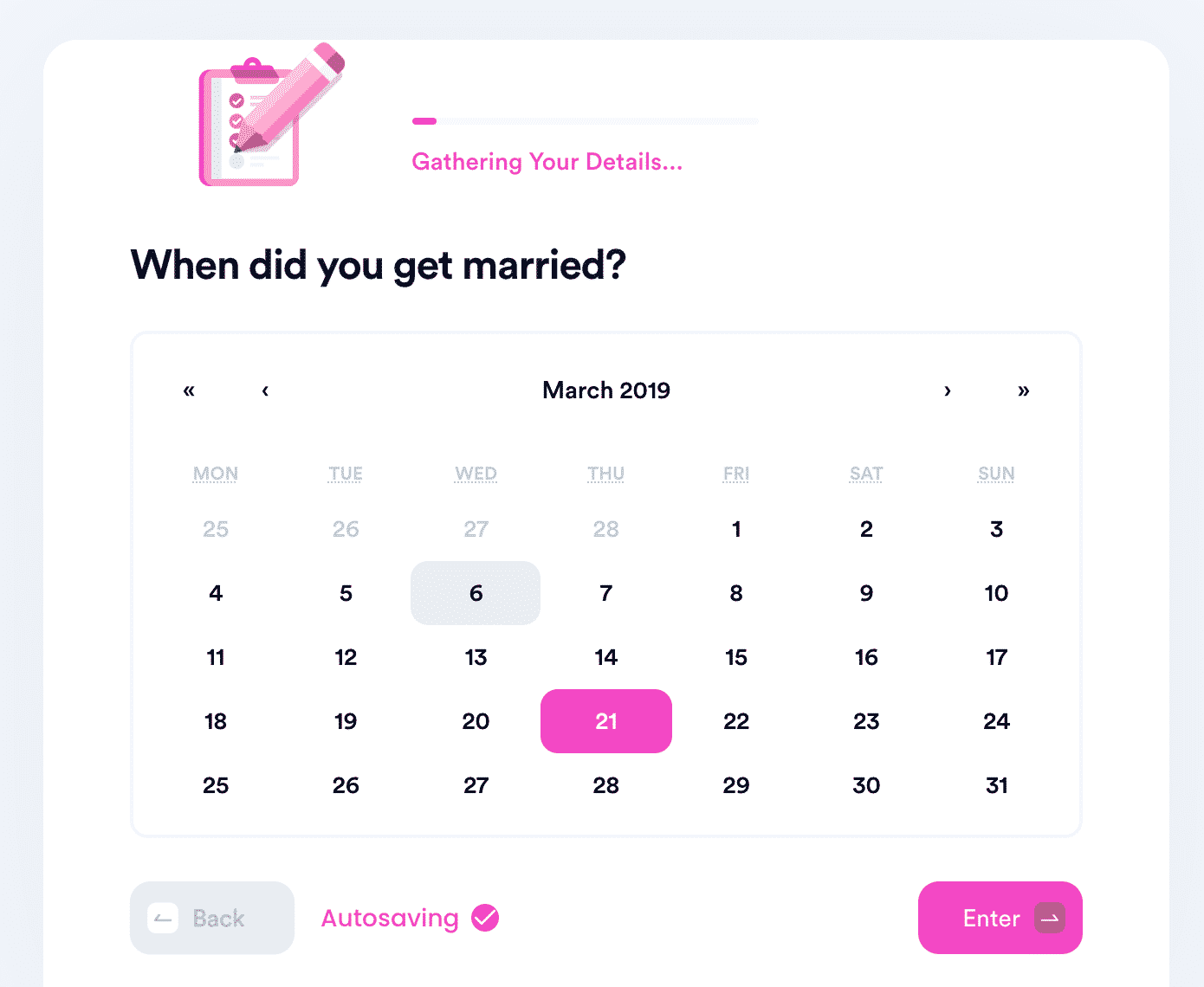 We will process your request in no time and send you the desired document instantly. Want to add legal weight to it? We'll send you a link via email that you can use to book an appointment with an online notary.
Have any unanswered questions regarding divorces in Maryland or divorces in general? DoNotPay has got the answers! Check out the articles we've prepared in the table below:
Can You Modify an Alimony?
The amount and the duration of alimony ordered by the court are always modifiable. If the alimony is determined by the marital settlement agreement, the couple decides whether it will be modifiable or not.
When Does Alimony End?
Alimony is usually terminated when:
One of the spouses dies or remarries
The court finds that termination is necessary to avoid an unfair result
The date specified by the court or the written agreement arrives
Use DoNotPay To Resolve Administrative Tasks in Minutes!
Tired of brainstorming the easiest way to deal with administrative issues? We know how you feel, and we're here to take the burden off your back!
Once you subscribe to our app, you'll be able to resolve an abundance of bureaucratic issues with ease.
Taking a valid passport photo, reporting workplace discrimination, reducing property taxes, preparing for a government test, applying for a college fee waiver, and appealing a parking ticket are some of the many tasks we assist you with.
In case you need a quick way to draft a legal document, such as a power of attorney, divorce settlement agreement, or a child travel consent form, DoNotPay will do it for you!
Learn How To File Claims the Easy Way
Are you dissatisfied with a certain company and/or its products? You don't have to stay quiet! Use DoNotPay to file your insurance, warranty, or missing/late parcel claim effortlessly! We'll also show you how to request an item return in a few steps.
If you want to cancel a subscription or request a refund or chargeback, you can do it with our assistance without breaking a sweat. Use one app to deal with countless issues!