The Essential Info About the Maryland Advance Directive
If you want to express your clear wishes on how to be treated in case you are incapacitated because of a serious illness or injury, you should create a suitable legal document. The document may be known by different names in various states, but its purpose is the same. It will help your loved ones decide for you and still honor your will.
DoNotPay can provide you with all the relevant information about a Maryland advance directive and help create this sensitive document.
What You Should Know About an Advance Directive in Maryland
An advance directive is a legal document that states what treatments you allow or not in case of a medical emergency or near the end of your life. This document can also name a person who will make health care decisions for you when you become unable to decide for yourself.
This document has various names, such as personal directive, health care proxy, medical power of attorney, and more. DoNotPay explains the slight differences between them, if any exist, so you know whether to opt for the medical POA or health care proxy.
What Should an Advance Directive in Maryland Contain?
An advance directive in Maryland has two parts, and you can create only one or both of them. The documents are a:
Living will
Durable power of attorney for health care (medical power of attorney)
What Is a Maryland Living Will?
A living will states your wishes regarding potential life-sustaining treatments. It usually goes into effect when:
Death is imminent despite using life-sustaining procedures
You are in a persistent vegetative state
You have an end-stage condition, which is advanced, incurable, and results in complete physical dependency (Alzheimer's disease, for example)
Should you decide to create a living will, consult DoNotPay about the cost and available forms you are supposed to use.
What Is a Maryland Medical Power of Attorney?
A durable power of attorney for health care is a document that appoints your health care agent or proxy. This person will be in charge of making decisions about your medical treatments when you cannot do so yourself.
You can also specify when you want your agent to gain this power:
Right away
After a physician determines that you are no longer capable of deciding for yourself
When appointing an agent, it is important to choose someone you trust. It can be anyone older than 18, but people often opt for spouses, family members, or close friends. You can also name an independent third party to act as your proxy.
How To Create an Advance Directive in Maryland
You can create an advance directive in Maryland in a few ways, but the results and the cost will differ significantly. Take a look at the table below for more information:
| Make an Advance Directive By | Explanation |
| --- | --- |
| Hiring a lawyer | A lawyer can draft a top-notch document for you, but the issue is that they charge hefty fees for their service |
| Creating the document yourself | You can save some money by drawing up the document using online forms. If you don't have the required knowledge, this method may result in an invalid advance directive |
| Using DoNotPay | If you want to get an enforceable document and save your money, you should opt for DoNotPay |
Create an Advance Directive in Maryland With DoNotPay's Help
The best way to compose an airtight advance directive in Maryland is DoNotPay. We can handle the entire procedure fast and hassle-free. You should only complete a few simple steps:
Choose the Advance Health Care Directive product
Name your agent and include other relevant medical information (hospital, physician, etc.)
Let us know what powers you want to appoint to your agent
Enter the names of the individuals who will witness the signing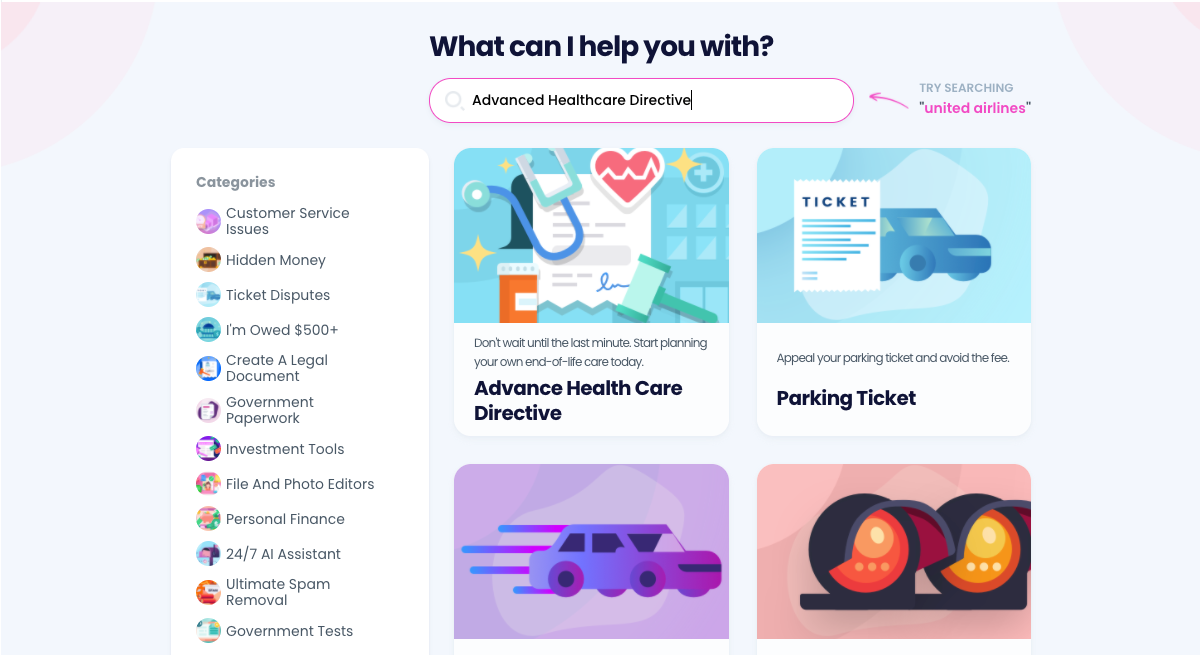 DoNotPay Has More Products in Store for You!
Our app is adept at solving numerous issues and completing various tasks in your stead.
You may want to use DoNotPay to protect your work from copyright infringement, reduce your property taxes, send defamation demand letters, or file FOIA requests.
Through the same app, you'll be able to skip many bureaucratic hurdles. Here are more tasks DoNotPay can help you with:
Use DoNotPay To Keep in Touch
If your friend or family member is in jail, we can help you locate them and send and receive letters with ease. Do you need to send other letters but hate going to the post office? You can use our Mailing Service product and save time.
We can also help you send online faxes, reach customer service, and contact embassies or government representatives.
In case you're drowning in email and text spam, our app can end it for good. Even if robocalls are bothering you, we have a solution!