Marriage Contract Sample—When To Steer Clear of It?
Even though contract templates are easily accessible online and are often free, they aren't always reliable. You shouldn't copy a marriage contract sample from a random website blindly and sign it. This sample could miss crucial information, and copying it could result in an invalid contract in your hands.
DoNotPay can help you write documents like the marriage contract yourself without paying a fortune for lawyers or using bogus samples. Legal documents are serious business, so it's best to fully understand them before you start drawing them up.
What Is a Marriage Contract?
The marriage contract is a written domestic contract that outlines the rights and responsibilities of a married couple. These rights are not extended to unmarried couples that share the same living space (if you fall under that category, you need a cohabitation agreement). Besides financial support and care for each other, marriage contracts outline the child support responsibilities of a couple.
The following agreements are considered to be types of marriage contracts too:
Prenuptial agreement
Postnuptial agreement
Prenuptial Agreements
A prenuptial agreement is a type of marriage contract signed before marriage. It allows the future spouses to outline the assets they bring into a marriage, as well as how those will be handled during the marriage and in the event of a divorce or death.
The assets need to be fully disclosed, and the couple should have separate lawyer representation so everything is fair and square. A prenuptial agreement doesn't include child custody or support matters.
Postnuptial Agreements
A postnuptial agreement has the same purpose as a prenuptial agreement, but it is signed after the couple is married. This agreement can be used to update an existing prenuptial agreement. Same as the prenup, the postnup covers property and financial matters during and after marriage, excluding alimony payments and custody rights.
Should You Use a Marriage Contract Sample?
The short answer to the question of whether you should use an online marriage contract sample is no. Drafting your marriage contract is much better because you can tailor it to your needs. You'll also make sure to include all the elements necessary for the document to be legally binding, transparent, and fair to both parties.
What To Include in a Marriage Contract
Every marriage contract is different from another, and you should include the provisions you and your partner want to abide by. Regardless, here are some of the essential elements of an airtight marriage agreement:
| | |
| --- | --- |
| Key Marriage Contract Elements | Description |
| Property | It's crucial to be completely honest when disclosing assets in a marriage contract. The management of assets should be clearly described (during and after marriage) |
| Income | You can disclose income information and how it will be used (shared or separate accounts) |
| Insurance and inheritance | Insurance settlements, inheritance, and similar provisions can be added to a marriage contract |
| Business provisions | A marriage contract can help you include your spouse in or exclude them from your family business provisions during the marriage and in case of a divorce |
| Debt | Debt sharing is an important aspect of a marriage, and it should be specified in detail in a marriage contract |
| Spousal support | The spouses should decide whether or not one of them will pay spousal support (alimony) in case of divorce in the future |
| Child support | A marriage contract provides the right to joint custody if a child was born when the couple was married. Unmarried fathers don't have this right |
DoNotPay Can Help You Draft Many Contracts Without Using Dodgy Online Samples!
Drafting documents on your own only using free online samples is not the best idea, especially if you have better options. If you sign up for DoNotPay and use our Standardized legal Documents feature, we can create many documents in your stead. Even though we don't have marriage contracts in our database at the moment, we can generate prenuptial agreements in accordance with specific state laws, such as: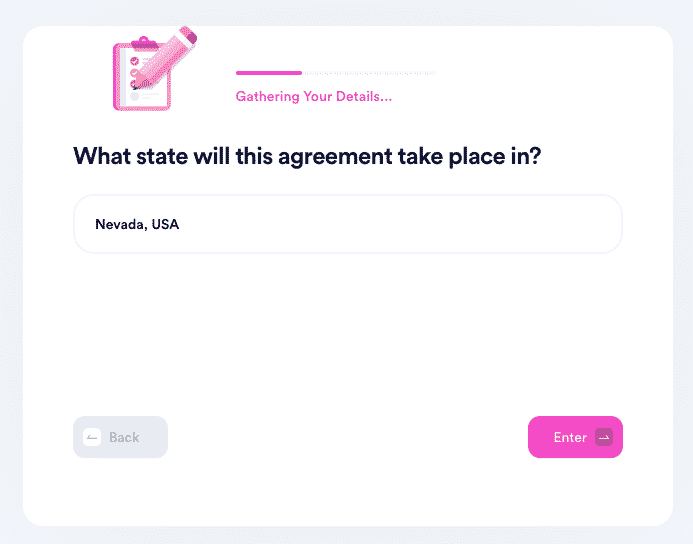 Our methods are efficient and fast because you only need to take three steps to get a custom-made document:
Enter the name of the legal document you want us to generate
Type in the relevant information that you want to be included
The document will be ready in a couple of minutes, and you'll be able to download, print, and sign it. You can also fax it using our practical and fast Online Fax feature.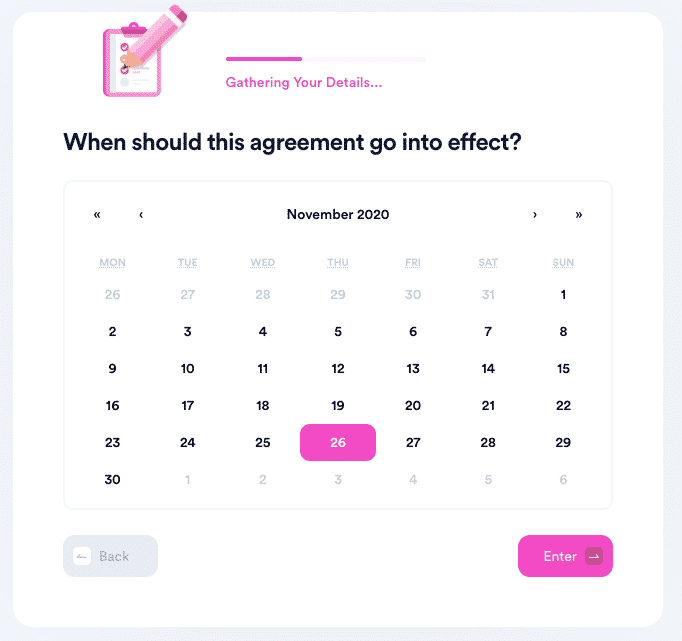 DoNotPay Can Help You Draft Various Other Agreements!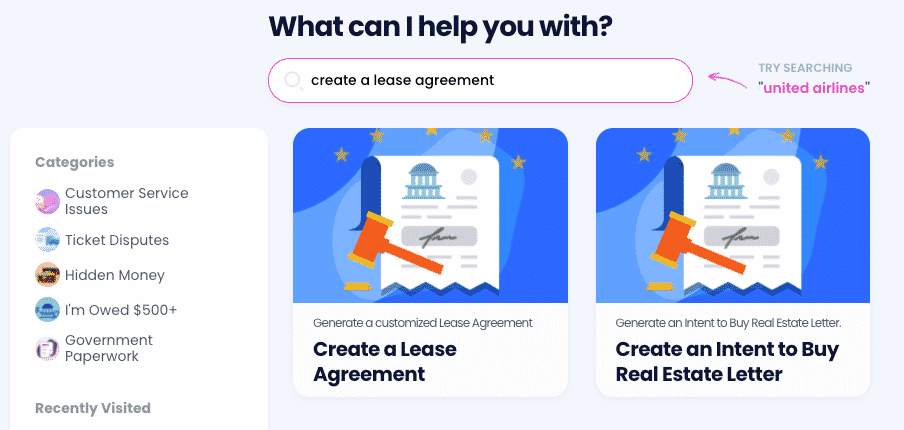 Our app can generate numerous legal documents in your stead, including real estate, business, and personal agreements. The contracts we can create for you are the following:
Prenuptial agreement
Quitclaim deed
General business contract
General affidavit
Promissory note
Child care authorization form
Intent to purchase real estate
If you need a notary signature on your documents (e.g., for court matters), you can make use of our Notarize Any Document product! This feature connects you with an online notary that works 24/7, no matter the state you live in. We help you schedule remote online notarization that is done in several minutes through online video conferencing.
DoNotPay Can Help You Solve Pesky Issues Stress-Free
Dealing with everyday issues can become overwhelming, especially if they include bureaucracy. DoNotPay can help you handle numerous problems in a few minutes. With us, you can schedule your DMV appointments, get documents notarized remotely, and create various legal documents—including child travel consent statements and demand letters for neighbor complaints—in a snap.
Do you need help paying your bills, disputing parking tickets, or getting cash back for your gift cards? Once you register for DoNotPay, you'll be able to manage all of these and many more issues in no time.
What Else Can You Use Our App For?
Besides helping you handle tedious administrative hurdles, DoNotPay can do much more for you! You can use DoNotPay to:
With us, you can send online faxes or mail letters from the comfort of your home. Do you have friends or family members who are serving time? We can help you connect with inmates in a flash by enabling you to locate them and send them letters.