Marital Settlement Agreement vs. Divorce Decree—What Is the Difference?
Getting a divorce isn't an easy or stress-free process. Even when you and your soon-to-be ex-partner don't have personal issues, getting over all the legal hurdles of divorce takes a lot of time and energy.
Among many legal documents you will need to review, the two most important ones are a marital settlement agreement and a divorce decree. Since both are used for the purpose of getting a divorce, you may think of them as the same documents.
This article gives you a breakdown of a marital settlement agreement vs. a divorce decree. You will learn:
What these divorce documents are

How to interpret the sections in the agreements

Whether you can

write the contracts

on your own
What Is a Marital Settlement Agreement, and Is It the Same as a Separation Agreement? 
A marital settlement agreement is a legally binding document between two spouses that are getting a legal divorce. It contains all the terms the spouses have agreed on regarding:
Division of shared property

Child custody and visitation rights

Alimony

Shared debts and assets

Insurance
Also called a property settlement agreement, a marital settlement agreement isn't the same as a separation agreement.
Partners can begin negotiating a separation agreement when they decide to get a divorce, and it doesn't have to be filed with the court right away. If you are contemplating divorcing your spouse, you should discuss under what terms you will divorce and draw up a separation agreement.
When you and your spouse agree on all the important matters of the divorce and know which party will obtain what rights and take on what responsibilities, you can enter into a marital settlement agreement. Unlike a separation agreement, a marital settlement agreement needs to be filed with the court.
Can You Write a Marital Settlement Agreement on Your Own?
You can write a settlement agreement on your own or hire an attorney to do it for you.
If you opt for the latter, it's best to have your own attorney than to employ the family one. Both divorcing spouses should have their own legal assistant when drafting, reviewing, and signing a marital settlement agreement.
If you and your spouse have already written a separation agreement, you can attach it to the marital settlement agreement.
What Is a Divorce Decree?
If you want to be legally separated from your spouse, you cannot do it without the court issuing a divorce decree. While a marital settlement agreement only lists the terms of a potential divorce, a divorce decree is the finalization of a divorce. It is a legally binding court order that applies to both parties.
You can incorporate your marital settlement agreement into a divorce decree.
The reason why most spouses use a marital settlement agreement is that it's easier and more favorable to both parties to agree on important matters in private than to have a divorce judge settle those matters for them.
Looking at the Marital Settlement Agreement Clauses
Check out what clauses you need in your settlement agreement and what information they include in the table below:
Marital Settlement Agreement Sections
What Information They Contain

Assets

Debt

Credit card debts

Personal loans

Child-related clauses

Emancipation details

Custody

Visitation and holidays

Savings and life insurance

Property

Mortgage

Personal property

Taxes
Other matters you may need to agree on with your spouse are related to:
Pets you share

Last name one party wants to change
Note that a marital settlement agreement should also include an indemnification clause that protects the rights of both parties in case of agreement breach or violation.
Make Legal Documents in Three Steps With DoNotPay!
When dealing with legal documents, your first instinct may be to use a contract template you can download for free on the internet to avoid hiring a lawyer. While employing a pricey lawyer is definitely not the optimal solution, you also can't rely on these templates. Using a free printable contract can cost you more time and energy than you're willing to spare.
The majority of contract templates are too generic, so you need to spend days filling in the clauses and specific information you need.
DoNotPay solves this problem in three short steps! today to get a personalized contract without having to use up all your savings on a legal adviser!
What Contracts Can DoNotPay Generate, and How Can You Get One?
DoNotPay's Legal Documents product offers a variety of different contracts you can create in a few short moments. The database is also updated constantly to include more legal documents you may need to draft. Here are some of the most common ones:
Intent to purchase real estate

General affidavit

Estoppel certificate

General business contract

Child care authorization form

Quitclaim deed

Promissory note
If you want DoNotPay to generate a tailor-made contract for you, you only need to:
Type the name of the document you need

Answer a few questions about the document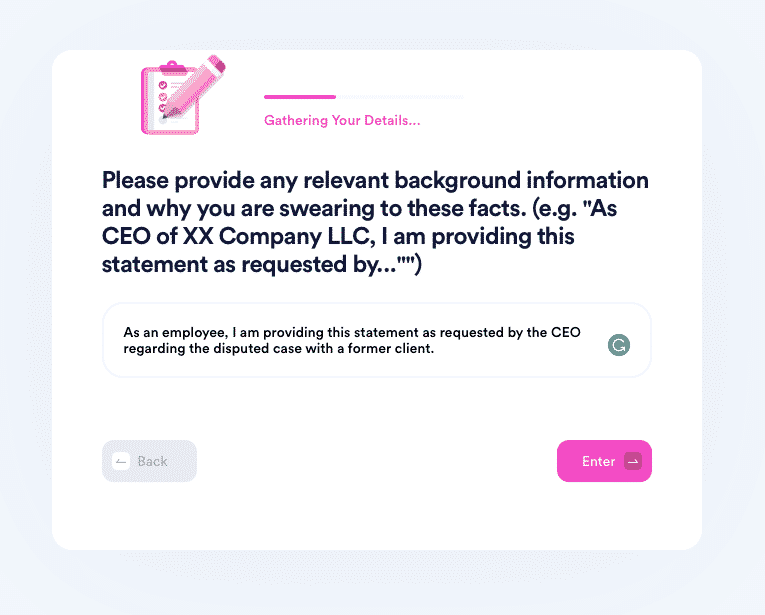 DoNotPay—A Pocket-Sized Assistant
If you need protection from stalkers and harassers, we know what to do. If you want to fight workplace discrimination, DoNotPay has got your back. Even spammers don't stand a chance against our AI-powered app—both the texters and the robocallers.
If your situation takes a turn for the worse, you may need to take the issue to court. In this case, the world's first robot lawyer swoops in to help! You can count on DoNotPay to assist you every step of the way, regardless of whether you need to take a person or a company to small claims court.
Our App Helps You Through Numerous Red-Tape Issues
Dealing with paperwork doesn't have to be tedious. With DoNotPay's help, cutting through red tape is fast and easy. With a few clicks in our app, you'll be able to: