The A to Z Guide on the Marital Settlement Agreement in California
Divorce is usually an emotional and stressful life event, especially if there are children involved. In such situations, no one feels like writing contracts or signing a bunch of paperwork. Even though it's burdensome, it's a crucial step in regulating the post-marital relationship between spouses. 
If you are filing for divorce in the Golden State and you are full of questions, we can help you get some answers. This article will teach you all about creating a marital settlement agreement in California and drawing up other legal documents within minutes using DoNotPay.
California Marital Settlement Agreement in a Few Words
A marital settlement agreement—also known as a divorce agreement—is a document that establishes the post-marital rights and duties of divorcing spouses. The primary purpose of this contract is to remind the ex-partners of their obligations and solve any potential disputes that may arise.
If the parties get on well, they can negotiate the terms of the agreement themselves, without third parties. If not, they can hire a mediator—a legal advisor who will facilitate the communication between them and help them find an amicable solution.
When composing a marital settlement agreement, divorcing couples in California must follow the rules stipulated in Division 6 (Nullity, Dissolution, and Legal Separation) of California Law.
What Should a Divorce Agreement in California Cover?
The main concern when composing a marital settlement agreement is making it clear and including all the necessary clauses in it. California laws don't propose a specific length of the document or particular provisions, but you can use some recommended clauses to structure the agreement. Check out a few important sections in the table below:
Clauses

Details

Information about the signers and their marriage

Names of the spouses

Date and place of marriage

Date of separation

Reason for divorcing

Names and birth dates of all minor children from this marriage (if there are any)

Child custody

details

Legal custody assignment

Physical custody assignment

Visitation schedule

Child support

Confirmation of the child support order

Hearing date (if a child support order hasn't been put into effect yet)

Payment details, such as:

Name of the parent who pays child support

Monthly amount

Due date

Starting date

Allocation of the child support amount among children

Additional child support expenses

Health insurance and health care costs

Spousal support

Amount

Start and end date

Property division

Information about the separate and community property of each spouse:

Bank accounts

Financial assets

Houses and apartments

Other types of real estate

Warranties and remedies

Other important clauses

Debts and taxes

Life insurance details

Retirement benefits

Resolution of potential disputes

Potential modifications of the agreement
Does Signing the Marital Settlement Agreement Make It Enforceable in California?
If you want your contract to carry legal weight, signatures aren't enough. Like any other agreements that the spouses reach during the separation procedure, a marital settlement agreement must be approved by the court. This usually happens during the final court hearing. In case one of the parties breaches any rule listed in the agreement after that, they may bear serious penalties.
Get Unlimited Professionally Made Legal Documents With DoNotPay
The trickiest part of getting a valid contract is ensuring that it's properly written and that all state-specific legal requirements are met. Attorneys can compose it for you, but you may need to set aside your monthly salary or even more for such a service. Another option is to draft the document yourself, which is a smart move only if you are familiar with the law and legal terminology. 
If these methods seem too challenging, don't despair—there's a great solution for you! Using DoNotPay is the simplest way to make a complete legal document that aligns with all applicable laws. All we need from you is a few clicks and the essential details you want to include in your contract—no manual drafts or generic contract templates involved! 
To try out this service, proceed as follows:
and sign in

Pick the document you want to create

Answer our chatbot's questions to customize your contract
After completing this procedure, your only job is to download a ready-made document! Note that you must sign it together with the other party or have it notarized to make it enforceable.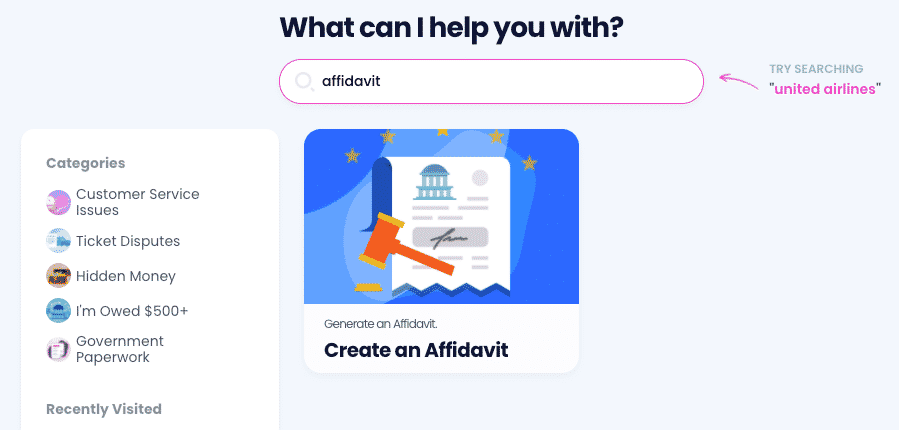 What Standardized Documents Can Our App Generate?
After signing up for DoNotPay, you will be able to create:
Quitclaim Deeds

Intents To Purchase Real Estate

Promissory Notes

General Affidavits

General Business Contracts

Child Care Authorization Forms

Custody Agreements
Need a Notary? Don't Wait in Endless Queues—Use DoNotPay
Getting your document notarized by a standard notary service involves various tasks, but you can minimize the hassle with DoNotPay. Our Notarize Any Document product gives you a chance to set an appointment with an online notary trouble-free and have your signature validated remotely.
Here are the steps you should follow:
Navigate to the

Notarize Any Document

option

Upload the document you want to have notarized

Input your email address
We will email you a link to a notary's timetable. Once you access it, you can choose the most suitable time for the meeting.
Learn About DoNotPay's Awesome Products!
DoNotPay is a multifunctional app that can solve numerous everyday challenges swiftly. 
You can use our app to protect your work from copyright violations, schedule your driving exam or any other appointment with the DMV, reduce your property taxes in a few steps, and similar.
We have created many useful products to help our users take care of their issues through the same app. With us, you can:
DoNotPay Connects You With Your Loved Ones
Sending letters to inmates can be difficult since you have to follow certain rules to a T to avoid having your letter rejected. The situation is even more complicated if you don't know where your incarcerated loved one serves time. DoNotPay's app can help you locate prisoners and correspond with them without worrying whether you're breaking any rules. 
Do you want to send a letter, but you don't feel like heading over to a post office? By using our mailing service, you can mail as many letters as you want from the comfort of your home. With DoNotPay, you can also send online faxes in under five minutes!
Email and text spam is something that everyone experiences at least once in their lives. DoNotPay has a solution for that too. Access your DoNotPay account and count on us to help you block spam and get compensation by reporting pesky robocalls.