Learn All About Marion County, Indiana, Jury Duty Here!
Jury duty is an important civic duty, and it's mandatory, so you cannot skip it. If you were called for Marion County, Indiana, jury duty, you're in the right place! We will tell you all you need to know about jury duty in Indiana, including how to inform your employer about your absence. If you don't know how to tell them, , and we'll do everything on your behalf.
Qualifications for Jury Duty in Marion County
To meet the basic qualifications for jury service in Marion County, you have to be:
At least 18 years old
A resident of Marion County
Able to read, speak, and understand English
You will be disqualified if you:
Have a physical or mental condition that prevents you from serving on a jury
Are a caretaker of a person who has a mental incapacity
Have been convicted of a felony, and your rights to vote haven't been restored
Are a law enforcement officer and were called to serve on a criminal jury
How To Get Out of Jury Duty in Marion County, Indiana
You have two options to get out of jury duty in Marion County, Indiana:
Check out the table below to see how to request excusal or postponement:
Exemption or Deferral
How To Request
Exemption

Complete the questionnaire online or over the phone
Submit your name, juror number, request, and reasons supporting your request
Send it to JuryDuty@indy.gov

Deferral

Submit your name, juror number, request for deferral, and preferred date of service to JuryDuty@indy.gov
Wait for the court to approve it
How Much Will You Be Paid for Jury Service?
On your first day, you can expect compensation of $15. If they select you as a juror, you will receive $40 for each day you serve.
You will get your check for jury service within three weeks after the completion of your service.
How Often Can You Be Called To Serve on a Jury in Marion County?
You can be called to serve on a jury at any time, but you can be excused if you served in the preceding two years.
Jury Duty and Work in Marion County, Indiana
By law, your employer must give you time off for serving on a jury, and they cannot fire, demote, or penalize you in any way. It is your obligation, though, to inform your employer about receiving a summons in time—you can do so by providing them with a leave request letter.
Unfortunately, no law in Indiana obligates your employer to pay you while serving on a jury. You might be paid, though, if you are an exempt employee and you worked any part of the week. Check with your employer about their paycheck policy and discuss whether they are willing to compensate you.
Use DoNotPay To Compose a Professional Jury Duty Leave Request Letter in Mere Minutes
You might not be familiar with the laws that protect you from being fired for jury duty—that's why DoNotPay is here with our comprehensive database of all jury duty laws across the U.S. We can create an official leave request for you in a few steps. The letter will comply with all the relevant employee protection laws.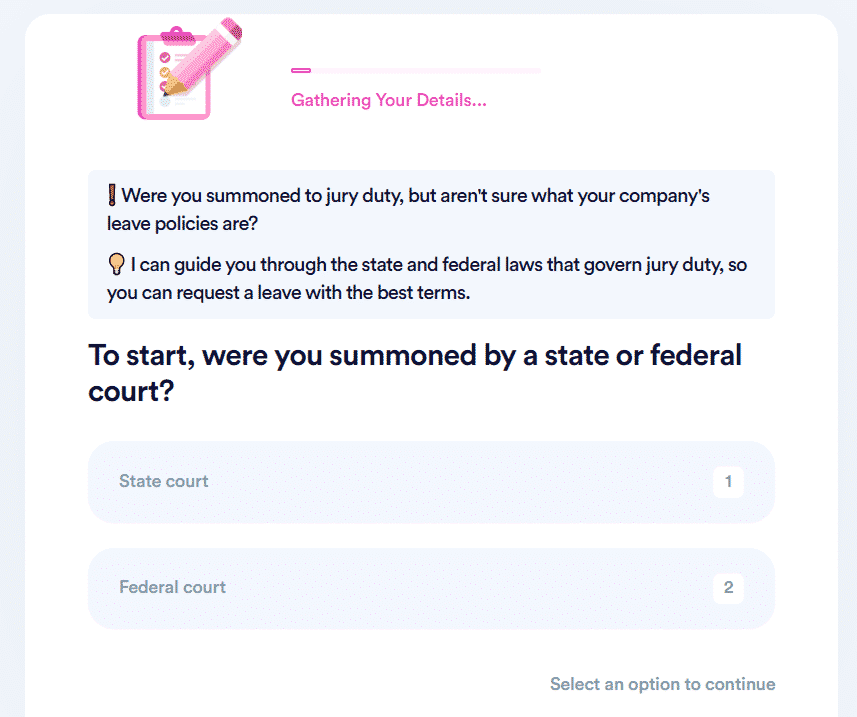 Draw up your leave request letter now by and following these steps:
Open the Request Jury Duty Leave tool
Provide information regarding:

Court that summoned you—state or federal
Your employer
Date when you're supposed to report for jury duty

Add a picture of your jury summons
DoNotPay can also send the letter to your employer on your behalf, but that's not all our app can do. If you want to learn more about how to prepare for jury duty, visit our learning center. You can also learn more about the federal jury duty pay, duration of jury duty, and even Lake County jury duty.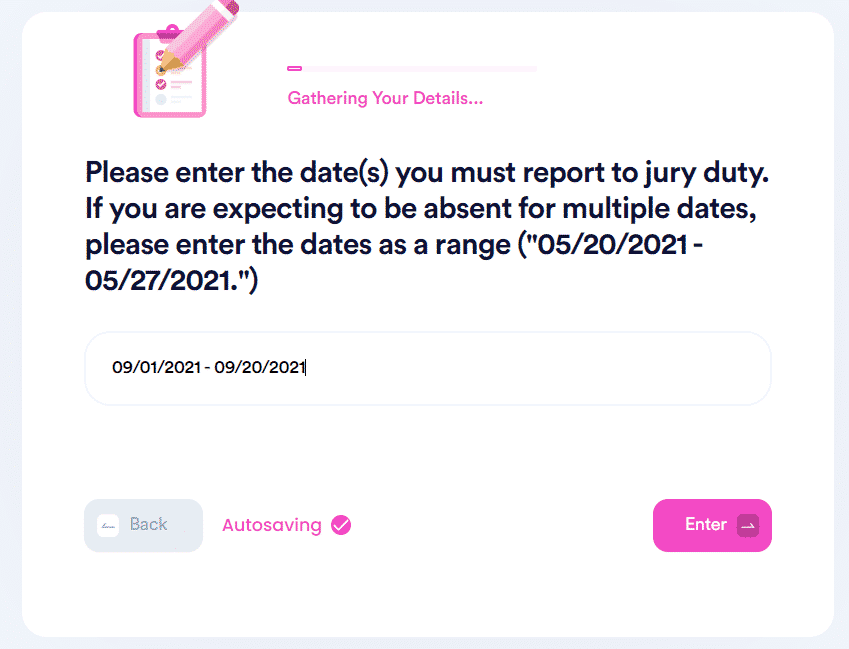 How Can DoNotPay Tackle Tricky Tasks for You?
Using DoNotPay is like having a magic wand that helps you with the assignments you are too busy or bored to do. Here are some procedures we can simplify for you:
Generating various legal documents

, including

advance health care directives

and

powers of attorney

Submitting error-free tourist visa applications
Keeping in Touch Is Simple With Our App
Are you having trouble communicating with your loved ones in jail? Our app features a tool that enables you to send letters to inmates from any device! We can help you get in touch with a notary public who can notarize your legal documents virtually or reach out to embassies and consulates or government reps. Reaching customer care centers also gets much simpler with DoNotPay by your side as you can skip phone queues the easy way.
We can help you avoid unwanted communication by stopping persistent robocalls and text or email spam. All you need to do is sign up for our services!