Maricopa County Property Tax Exemption for Disabled Veterans Explained
If you're a low-income disabled veteran living in Maricopa County, you could be eligible for a property tax exemption. Since property taxes can be a financial burden for most citizens, Arizona counties offer various tax reliefs. 
This guide will help you determine if you qualify for the Maricopa County property tax exemption for disabled veterans. We will also tell you how to apply for the exemption in no time.
Learn About the Arizona Property Tax Exemption for Disabled Veterans
Maricopa County doesn't offer exemptions dedicated solely to veterans. Most taxing jurisdictions in Arizona—including Maricopa County—grant property tax relief to any qualifying disabled citizen, regardless of their military service.
As a disabled resident in Maricopa County, you can get a property tax exemption of up to $3,000 if your total income doesn't exceed $20,000. Widow(er)s are also eligible for the exemption unless they remarry. 
You will need to provide proof of disability when applying for the exemption.
What Other Maricopa County Property Tax Exemptions Are There?
Besides offering property tax relief to the widow(er)s and disabled, Maricopa County also grants two other exemptions to eligible seniors:
Property Tax Exemptions for Seniors in Maricopa County

Description

Eligibility

The program "freezes" the property's assessed value even if the market value increases. Eligible seniors will have to reapply for the program every three years

Citizens older than 65

Low-income seniors

Residents enrolled in the Senior Property Valuation Protection Program (for the Maricopa County Elderly Assistance Fund)

Eligible homeowners get $200 from the program to cover a portion of their property taxes
DoNotPay Helps You Apply for the Maricopa County Property Tax Exemption for Disabled Veterans Easily!
Maricopa County's assessor's website doesn't offer a lot of useful info regarding the exemption. That's why many residents don't know whether they're eligible or how to apply for the relief. DoNotPay's helpful Property Tax feature is here to save you the trouble of navigating the assessor's website. 
Thanks to our extensive database, we will determine if you qualify for the property tax exemption in Maricopa County based on your answers. If you need help paying your property taxes in Maricopa County, open DoNotPay and follow these steps:
Choose our

Property Tax

feature

Respond to the required questions

Follow further instructions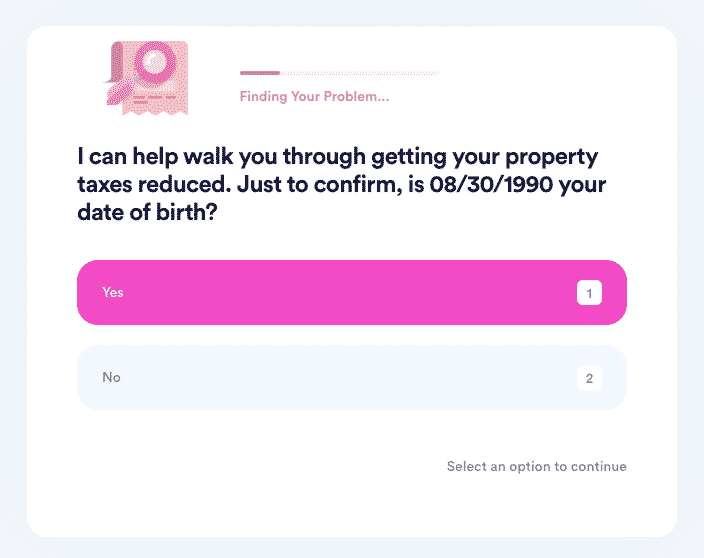 Our guide will offer detailed instructions on which documents to collect and how to apply. With us, you can get a property tax exemption in any state or county, including:
Why Should You Pay Property Taxes?
The importance of paying property taxes is unknown to many homeowners. Each taxing jurisdiction uses the tax revenue to invest in services beneficial for all residents, including:
Education

Healthcare

Highway and road constructions

Law enforcement
Counties determine their property tax rate according to the financial needs, which is why property taxes vary from one jurisdiction to another. The following table shows five states with the highest and five with the lowest average property tax rates:
| | | | |
| --- | --- | --- | --- |
| States With the Highest Average Property Tax Rate | Property Tax Rate | States With the Lowest Average Property Tax Rate | Property Tax Rate |
| New Jersey | 1.89% | Louisiana | 0.18% |
| New Hampshire | 1.86% | Hawaii | 0.26% |
| Texas | 1.81% | Alabama | 0.33% |
| Nevada | 1.76% | Delaware | 0.43% |
| Wisconsin | 1.76% | District of Columbia | 0.46% |
How Is Your Property Tax Bill Calculated?
Your county's property tax rate isn't the only factor that determines your annual tax bill. Another important aspect of the bill is the property assessment. Each jurisdiction employs an assessor who will appraise your home and multiply its value by the county's tax rate. The assessor will inspect your home and compare it to the market value according to your property's:
Curb appeal

Interior

Exterior

Location

Size 

Number of bedrooms

Vicinity of important facilities
The first assessment isn't the final one. The county will schedule a reassessment if the market value of the home changes or you renovate the property. You can also request a reassessment if you think that the assessor made a mistake and that your property's assessed value is too high.
Best Strategies for Lowering Property Taxes in Arizona
Even if you don't qualify for an exemption, you could try some other ways to lower your property tax bill, such as:
Keeping the assessor company during the assessment to ensure a fair appraisal

Avoiding home improvements until after the assessment

Searching for and reporting errors in your tax bill

Filing a property tax appeal 
Appeal Your Maricopa County Property Taxes Hassle-Free With DoNotPay
If you'd like to appeal your property taxes in Maricopa County but you're not sure how, DoNotPay's feature comes to the rescue. Besides offering a detailed guide to applying for an exemption, we will also explain how to file an appeal. 
Our guide will teach you:
How to negotiate with the Maricopa County assessor

Which forms you need to complete 

Which evidence you need 
Clear Your Schedule With the Help of DoNotPay
DoNotPay is renowned for making our users' lives infinitely easier. Not only can we root out unwanted subscriptions for you—you don't need to do it manually one by one any longer—but we can unsubscribe you from unwanted email and snail mail lists.
Fire up our app and let it navigate the phone tree instead of you or use it to make a DMV appointment at your earliest convenience. Forget about googling clinical trials near you—DoNotPay can sort them out according to your needs and their individual eligibility criteria. 
We can fill out the paperwork that you need to file at your local small claims court to initiate a dispute. You can work around the U.S. penal system and have DoNotPay locate an imprisoned loved one instead of you trying to reach individual prisons attempting to do it yourself.
You don't need to go to great lengths to get in touch with a counselor to sign your college fee waiver either—DoNotPay does it for you and then forwards the necessary documents on your behalf. 
DoNotPay Never Ceases To Amaze
Where there's one useful feature, there are nifty features galore!
Use our Virtual Credit Card to sign up for free trials and stop robocalls and spam text messages from reaching your phone. If you feel a free trial unrightfully turned into an expensive paid membership, we can help you request a refund or chargeback for the inconvenience.
We can further assist you in exercising your consumer rights by making a warranty claim in your place and verifying your online accounts with temporary phone numbers.
We can also break down the Freedom of Information Act for you and introduce you to online fax options and property tax reductions.