The Ins and Outs of Maricopa County Divorces
Maricopa County divorces don't need to be stressful and complicated. If you negotiate all divorce aspects with your spouse in a friendly manner, you can complete and file the paperwork and handle the whole process without a lawyer.
DoNotPay offers tips and provides efficient assistance with the crucial document in friendly divorce proceedings. We can help you create a comprehensive and reliable divorce settlement agreement!
What You Should Know Before Starting a Maricopa County Divorce
Before filing for divorce in Arizona, you should first get familiar with the following basic terminology:
A dissolution of marriage is what divorce is referred to in the Grand Canyon State
A petitioner is a person who has:

Filed the required forms with the court
Had the paperwork served to their spouse

A respondent is the spouse who:

Has been served with the divorce papers
Should file a response in 20 days after receiving the documentation
How To Get a Fast Maricopa County Divorce
You should file for an uncontested divorce if you'd like a low-cost and quick divorce. It means that you and your spouse need to reach an out-of-court settlement on all divorce matters, such as:
This type of divorce is less:
Expensive since you don't need to hire an attorney to prepare the required divorce papers or represent you in court hearings
Time-consuming as there's no need for complicated proceedings once you agree on everything with your spouse
Complex because you can:

Go to mediation if you need help working some problems out
Complete all the divorce forms and the divorce settlement agreement alone
Appear in court for the hearing where the judge will revise all the papers and finalize the divorce
Find the Maricopa County Divorce Papers
To start a divorce in Maricopa County, you must complete a Petition for Dissolution of Marriage (With or Without Children) and file it with the court. You'll also need to fill out, serve, and file the following divorce forms:
Family Court Cover Sheet
Summons
Preliminary Injunction
Sensitive Data Sheet
Notice of Right to Convert Health Insurance
Parent Information Program Order and Notice
Affidavit of Minor Children
Notice Regarding Creditors
You don't have to hire an attorney to fill out the above-listed forms. You can do it alone by using instructions provided in the documentation available on the following websites:
Serve the Papers to Your Spouse for a Divorce in Maricopa County, AZ
The following table presents the options you can choose to serve your spouse with the necessary divorce papers according to state laws:
Service of Divorce Papers By
Details
Acceptance (personally)
You can personally serve or mail the court papers to your spouse, but make sure to provide an Acceptance of Service form that your spouse needs to:

Sign in front of a notary public
Return to you

Once you get the signed acceptance, you need to file it with the clerk of the superior court

Certified mail
Make sure to file the signed certified mail-restricted delivery receipt with the clerk as soon as you get it
Registered process server
You can hire and pay for a process server to:

Deliver the papers to your spouse at their home, workplace, or some other venue
File an affidavit of service with the clerk

Sheriff's office
If you opt for this service, you need to:

Contact the sheriff's office in your spouse's county
Pay a fee
Ensure an affidavit of service is filed with the clerk

Publication
If you cannot locate your spouse, you can ask for a judge's approval to publish a notice in a newspaper
What Is a Divorce Settlement Agreement, and How To Create It
Once you and your spouse have come to an understanding regarding all divorce aspects, you need to list them in a divorce settlement agreement. The judge will review the document at your final hearing and approve of it if it corresponds with state laws and is fair to both parties.
You can consider the following options to prepare the document:
Visit a law office—While attorneys can prepare all legal documentation for you, you need to be careful about their fees since they can push up your total divorce cost considerably
Download online divorce templates—You could use templates available on different websites, but you should check them carefully before doing so. Keep in mind that some templates don't comply with state laws, and the court may not accept them
—We can create a reliable divorce settlement agreement swiftly and make sure it protects your and your spouse's best interest
Turn to DoNotPay for Divorce Settlement Agreements
DoNotPay is a safe method for creating valid divorce settlement agreements. We can ensure that you get a document that fulfills your specific needs and honors state laws.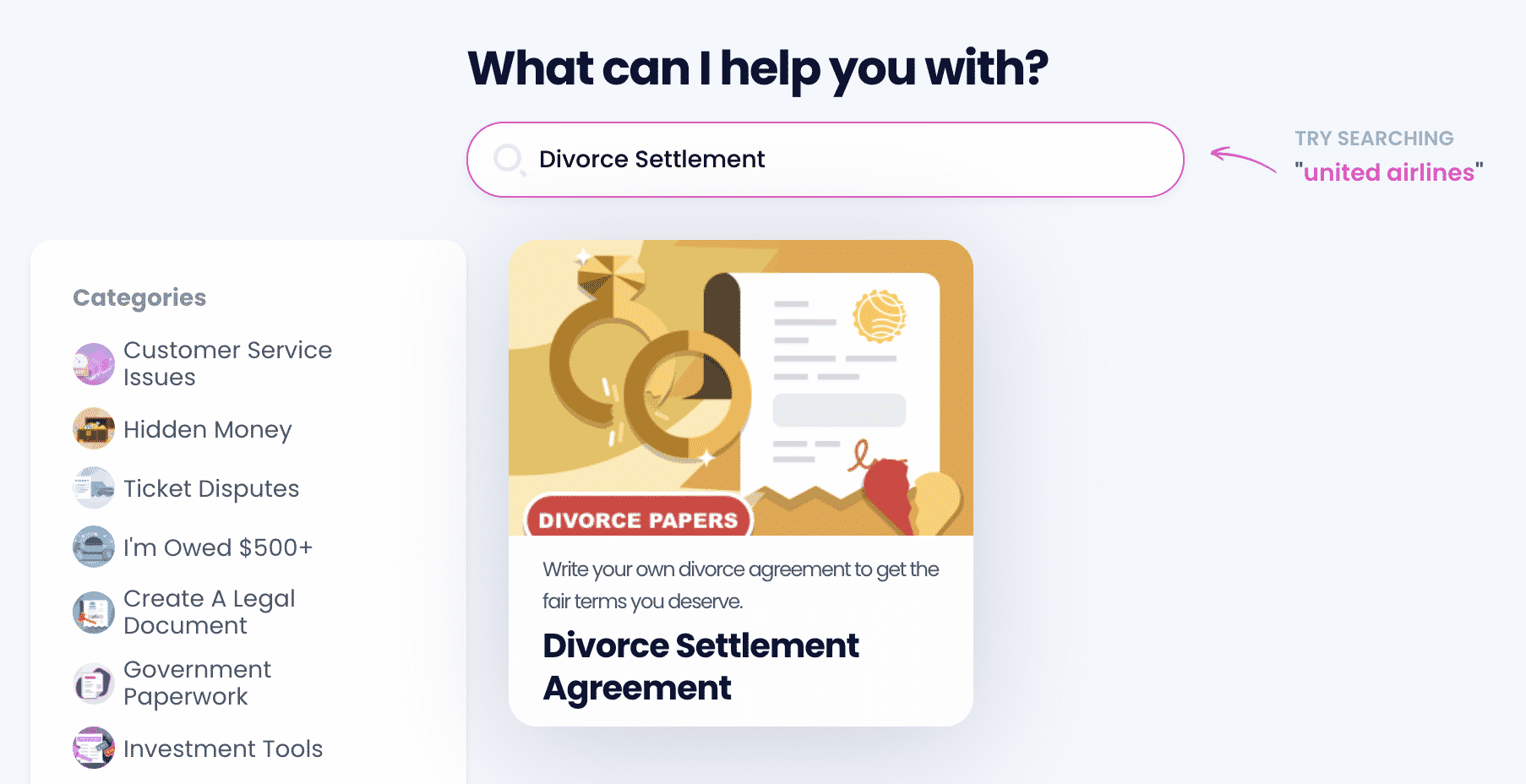 and:
Pick our Divorce Settlement Agreement product
Provide info about your situation by answering the chatbot's questions
Choose to have the document notarized online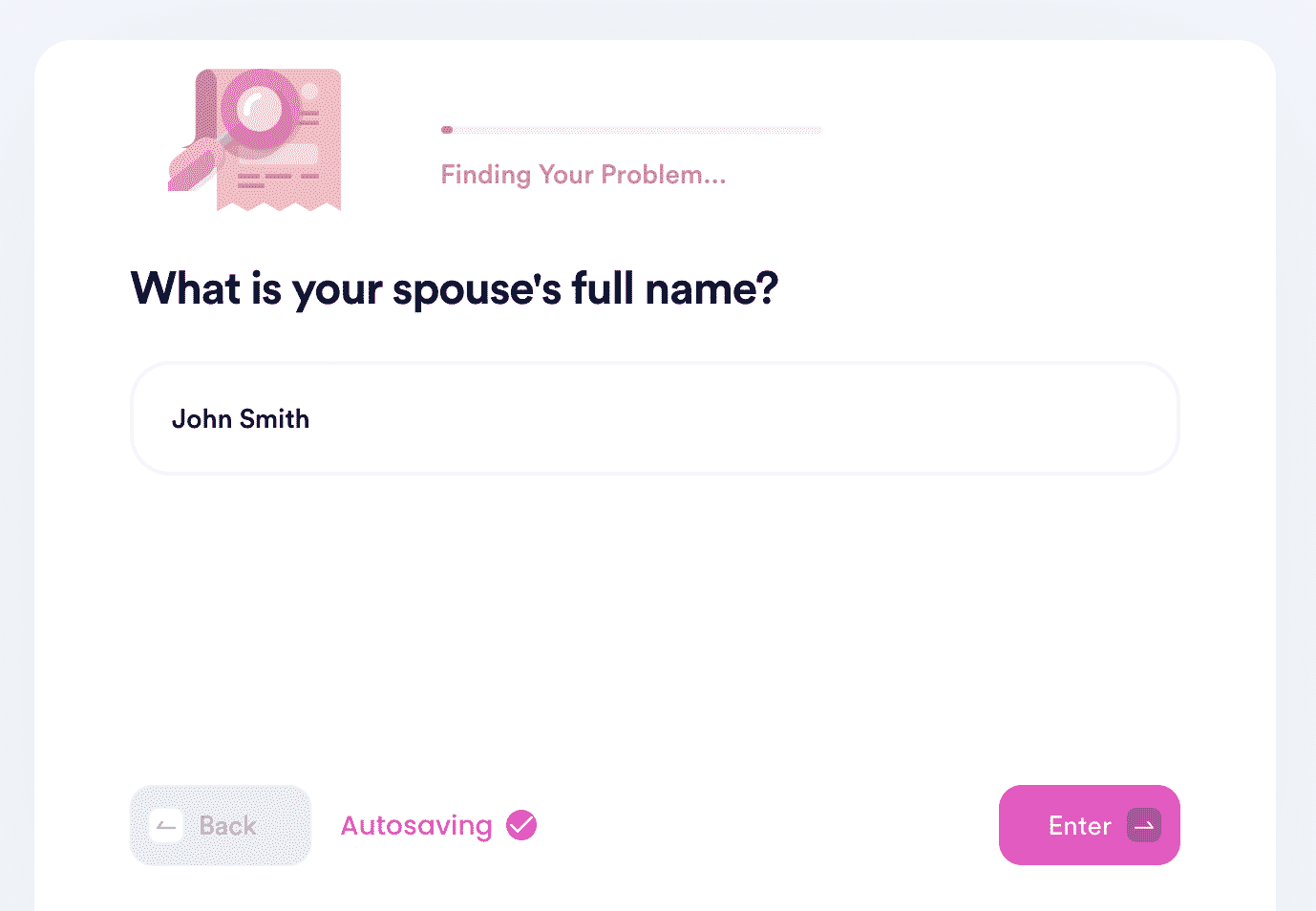 Stay in the Loop About Divorce Topics
Having the right information about relevant divorce-related matters is the key to a smooth and easy divorce. That's why you should browse our website to clear up any doubts about divorce procedures.
We provide lots of useful answers to the following questions, among many others:
If you'd like to get familiar with Arizona-specific divorce procedures, we can answer the following questions:
DoNotPay Goes the Extra Mile for You
We are dedicated to providing solutions to difficult and time-consuming tasks you may have on your to-do list. If you are struggling to reduce your monthly bills, contest parking tickets, or set DMV appointments, DoNotPay will help you do it in no time!
We have also created numerous easy-to-use features that can make the following procedures run smoothly:
Get Justice From Companies That Wronged You
Do you feel like you have been played by a company? Instead of wasting your time writing requests, demand a chargeback or refund or claim a warranty via DoNotPay! If the company doesn't seem too cooperative and keeps refusing to return your money, our app can assist you in suing it in small claims court.
To help you save some coins or regain what's yours, DoNotPay will also help you locate unclaimed funds, submit insurance claims, lower your property taxes, and cash out gift cards.