What Are the Key Elements of a Manufacturing Agreement?
If you are in the business of selling or buying goods, a manufacturing agreement is one of the essential contracts you have to sign on the regular. Having a robust agreement to protect you and the other party in case something goes awry with the deal is just as important.
Hiring a lawyer to draft your agreements for each business deal can cost a fortune, and if you're not a legal professional yourself, you may be tempted to turn to unreliable contract templates available online.
We're here to show you that those are not your only options. DoNotPay knows the ins and outs of the manufacturing agreement and can help you draft one fast!
What Is a Manufacturing Agreement?
A manufacturing agreement is a legal document between a buyer and a manufacturer of goods. The manufacturer makes the goods only for the buyer to their request. The buyer is a business or an individual that orders the goods. Sometimes, a supplier of goods that acts as a middleman is involved too, in which case the manufacturing agreement regulates the relationship between the three mentioned parties.
This agreement aims to outline the goods manufacturing and purchase deal, specifying the restrictions and general terms of the deal. This document can be used for either a one-time purchase of the manufactured goods or a prolonged business deal between the parties.
The manufacturing agreement is used to specify the relationship of the parties involved in the manufacture and sale of goods. It needs to determine the type, price, warranties, quantity and quality of goods, and payment terms.
Besides that, a manufacturing agreement provides legal footing if there's a dispute between the buyer and the manufacturer. Most of these agreements are for mass orders that involve the production of high quantities of goods that are valuable and costly to make.
What Isn't a Manufacturing Agreement?
Manufacturing agreement often goes by other names but outlines the same duties and responsibilities of the involved parties. The alternate names are:
Manufacturing and supply agreement
Agreement to supply goods
Manufacturing contract
Supply and manufacturing agreement
Supply agreement
Agreement to manufacture goods
Some agreements are similar to the manufacturing agreement and are often used by buyers and sellers, but they are not quite the same. The contracts that are most frequently mistaken for manufacturing agreements are:
The distribution agreement—It is a specific goods distribution contract outlining the proceeding of goods from a supplier to the distributor for reselling
Sale of goods agreement—This document only outlines the terms of the sale of goods, not the manufacturing process at the request of the buyer
Is the Manufacturing Agreement Legally Binding?
The manufacturing agreement is legally binding as long it includes the following:
Offer to work
Parties' acceptance of terms with signatures
Intent to enter a legal relationship
Transaction of goods
Note that the manufacturing agreement is subject to both state laws and federal laws. These laws may impose restrictions on the contract and govern the interpretation of the contract in a possible dispute between the parties.
The Main Elements You Should Include in a Manufacturing Agreement
The key to an airtight agreement is having all the right elements in it. Note that state laws and requirements vary, and so does the specific relationship between each manufacturer and buyer. There's no perfect manufacturing agreement, but if you include the following elements when you're drafting yours, you'll have a solid base for success:
| | |
| --- | --- |
| Manufacturing Agreement Element | Description |
| Buy orders | A buy/purchase order is there to outline the specifics of a transaction between a manufacturer and a buyer |
| Logistic processes | Details about distribution, shipping, packaging, and delivery |
| Terms of payment | How and when the payments will be handled, as well as the details about the purchase price, invoicing, and installments |
| Quality standards | The manufacturer must prove to the buyer that their products are quality made. The buyer may add various stipulations to ensure quality standards are met |
| Confidentiality clause | Manufacturers may have to sign a non-disclosure agreement if the buyer insists on keeping their trade secrets safe. This mostly applies to manufacturing goods for big corporations |
| Duration of the contract | Every agreement needs to have a start and end date, even though the latter can be extended |
| Licensing clause | If the manufacturer is using the trademarked intellectual property of the buyer, they must sign a licensing agreement to avoid infringement lawsuits |
| Termination clause | The terms and conditions of the agreement termination in case of a contract breach |
If you include all of the provisions we mentioned above in your manufacturing agreement, you should be able to draft a solid contract on your own. You can always get a lawyer to review it to ensure you've covered all the bases.
DoNotPay Is Your One-Stop Shop for Various Agreements
Seeking legal advice when signing any important document is a good call, but in other situations, it's not necessary. If you sign up for DoNotPay, you'll be able to create numerous legal documents in only three steps:
Choose the Standardized Legal Documents feature
Enter the name of the document you need
Answer our questions so we can tailor the document to your needs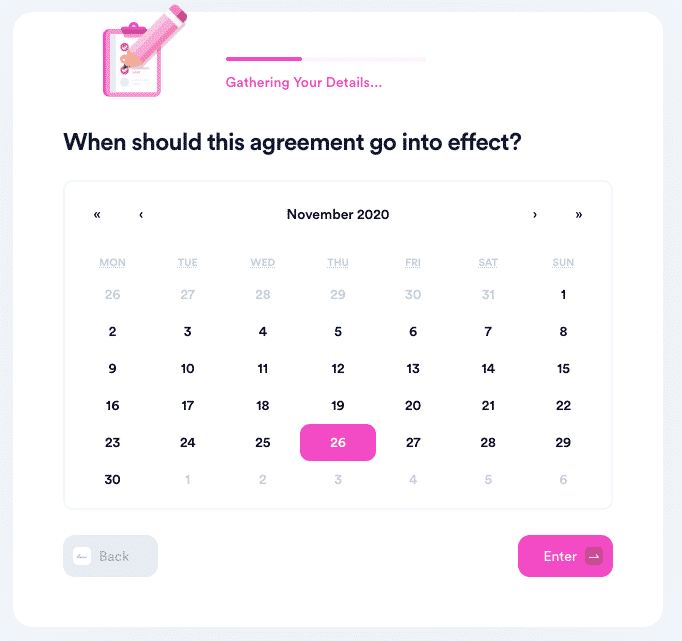 Download, sign, and fax the document created specifically for you. You can then get the document notarized using our Notarize Any Document product. We can connect you to a remote online notary in a matter of minutes, and they will provide a notary stamp and signature for your agreement.
DoNotPay's Standardized Legal Documents feature saves you money on lawyers and lets you create plenty of business, real estate, or personal documents, such as:
General affidavit
General business contract
Intent to purchase real estate
Estoppel certificate
Child care authorization form
Promissory note
Quitclaim deed

DoNotPay Has the Most Convenient Solution to Most of Your Problems
Whether you want to cancel subscriptions, request refunds for services, purchased items, or late delivery, or enjoy free trials without being charged, DoNotPay has a product for you.
We strive to help you users solve their issues as quickly and effortlessly as possible. With us, you can enter various raffles and sweepstakes, claim warranties or insurance, report copyright infringement, and reduce your property taxes in less than five minutes.
Protect Your Privacy With DoNotPay
Protecting your privacy can be challenging nowadays since most platforms require your phone number and email address upon registration. DoNotPay is here to ensure your personal info stays as secure as possible. Choose our Burner Phone product to register for services without phone verification or our virtual credit card if you want to use a randomly generated email address and payment details.
By using a fake phone number and email address, you can also avoid receiving annoying spam emails, text messages, and shady robocalls. DoNotPay can even make correspondence with inmates safer. If you don't feel comfortable sharing your address with an inmate, DoNotPay can receive the letters for you, scan them, and forward them to you risk-free.