Is Getting a Malaysia Tourist Visa Necessary for U.S. Citizens?
Traveling to Malaysia for the first time? Before you dive into a magical world of traditional food, lovely nature, and spectacular historical monuments, you should check what you need to enter the country without stress.
If you still don't know whether you need a Malaysia tourist visa and what the requirements for visiting this country are, we can help! This article is all you need to get the most relevant information and realize your trip in a hassle-free way.
Do You Need a Tourist Visa for Malaysia if You Are From the U.S.?
U.S. citizens aren't required to get a visa when traveling to Malaysia touristically.
All you need to do is let Immigration officials put an entry stamp on a blank page in your passport. This is a formal written approval that authorizes you to spend up to 90 days in the country. Once this period expires, you can request an extension of up to 60 days from the Malaysian Immigration Department.
Requirements for Entering Malaysia
You may not need a tourist visa for spending your vacation in Malaysia, but the country prescribes certain requirements you must meet to enter. They are listed in the table below:
| | |
| --- | --- |
| Criteria | Details |
| Minimal passport validity before the trip | Six months |
| Minimal passport validity after the trip | Six months |
| Required number of blank passport pages | At least one per entry stamp |
| Entry currency limit | ≤$10,000 |
| Exit currency limit | ≤$10,000 |
| Recommended vaccinations (not related to COVID-19) | International Certificate of Vaccination for Yellow Fever—only if you are coming from the affected area within five days |
How Did COVID-19 Affect Traveling to Malaysia?
Malaysia has set strict rules due to the COVID-19 pandemic that you must adhere to if you want to have a fuss-free trip. Here are the most significant updates you should have in mind:
All travelers that are two or more years old must provide:

Negative COVID-19 test not older than 72 hours
Valid documentation from a licensed medical care provider stating that they have recovered from the virus in the past three months

The requested documents must be obtained regardless of whether you were vaccinated or have a positive antibody status
Malaysia proposes a mandatory quarantine financed by travelers
Since August 1st, 2020, each traveler entering Malaysia is required to wear a mask. Refusing to adhere to this rule may result in paying huge fines—$235—or even jail time
PCR and antigen tests and vaccination programs are available across the country
Testing fees are the travelers' responsibility
How To Contact the Embassy in Charge
The best way to solve any dilemma regarding your stay in Malaysia is to get in touch with the U.S. Embassy in Kuala Lumpur. Check out the table below for more details and contact information:
Communication Method
Details
Letter
U.S. Embassy Kuala Lumpur

376 Jalan Tun Razak

50400, Kuala Lumpur

Malaysia

Phone
+(60) (3) 2168-5000
Emergency phone line
+(60) (3) 2168-5000 (choose option 1)
Email
klacs@state.gov
Fax
+(60) (3) 2148-5801
Can You Be Denied Entry to Malaysia and Why?
Yes, you can. The Malaysian Immigration Department has the right to prevent you from entering the country if they have a solid reason for that. This can happen if you:
Break specific Malaysian rules while entering the country
Forget to bring your U.S. passport
Lose your U.S. passport on your way to Malaysia
Travel with a passport that will not remain valid for six months after the assumed end of your trip
Try to enter the country after you were previously banned from returning to it due to overstaying
If one of these scenarios occurs, you must leave the country immediately and return to the last airport you departed from with the next available flight. Note that no lawsuits will be filed against you, and you won't be arrested. In some cases, the officials may use your passport to process 'Not To Land' documents before returning it to you.
Here are some recommendations for such situations:
Keep calm and don't argue with the officials
Ask them to explain the exact reason why you can't enter the country and what you can do when traveling to Malaysia next time to avoid similar issues
Request refusal documents since you may need them if you contact the Malaysian Embassy or decide to appeal the decision
Reach out to Malaysian authorities if you have any ongoing medical conditions to try to change the circumstances in your favor
Get a Complete Visa Application Guide From DoNotPay the Easy Way
Regardless of the country you are visiting, visa applications are usually overbearing and take too much time. This often happens because of a lack of valid or relevant information. If you want to avoid problems and go through each step of the application procedure with ease, DoNotPay is the way to go!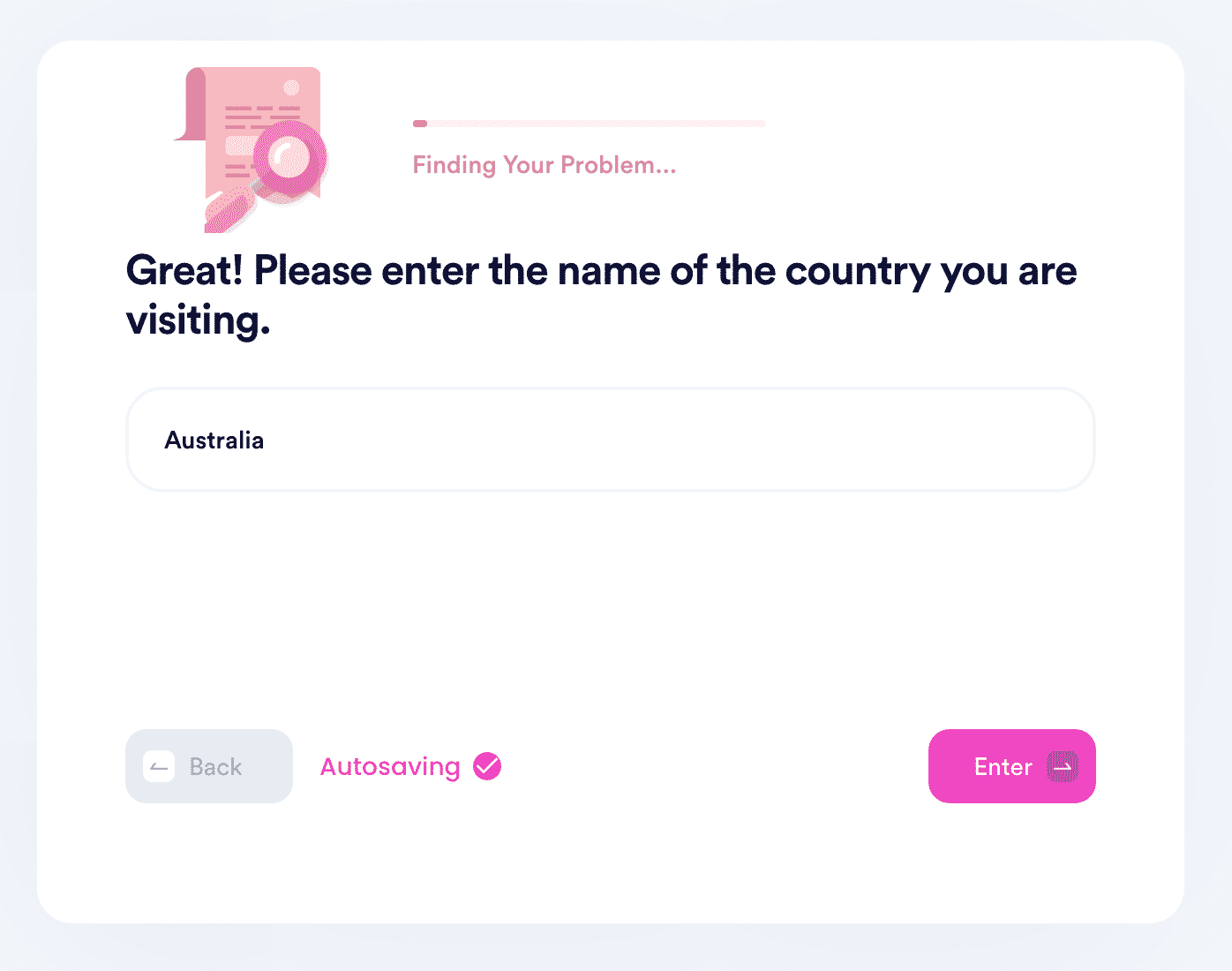 Here's what you need to do:
Select the Tourist Visa Guide feature
Click on I Am a U.S. Citizen or Own a U.S. Passport
Input the name of the country you want to go to
In less than five minutes, our app will run the necessary checks, and you will get an update regarding tourist visa requirements for the country in question. We will provide you with a list of the required application documents and ask the embassy if it accepts emailed applications once everything is ready.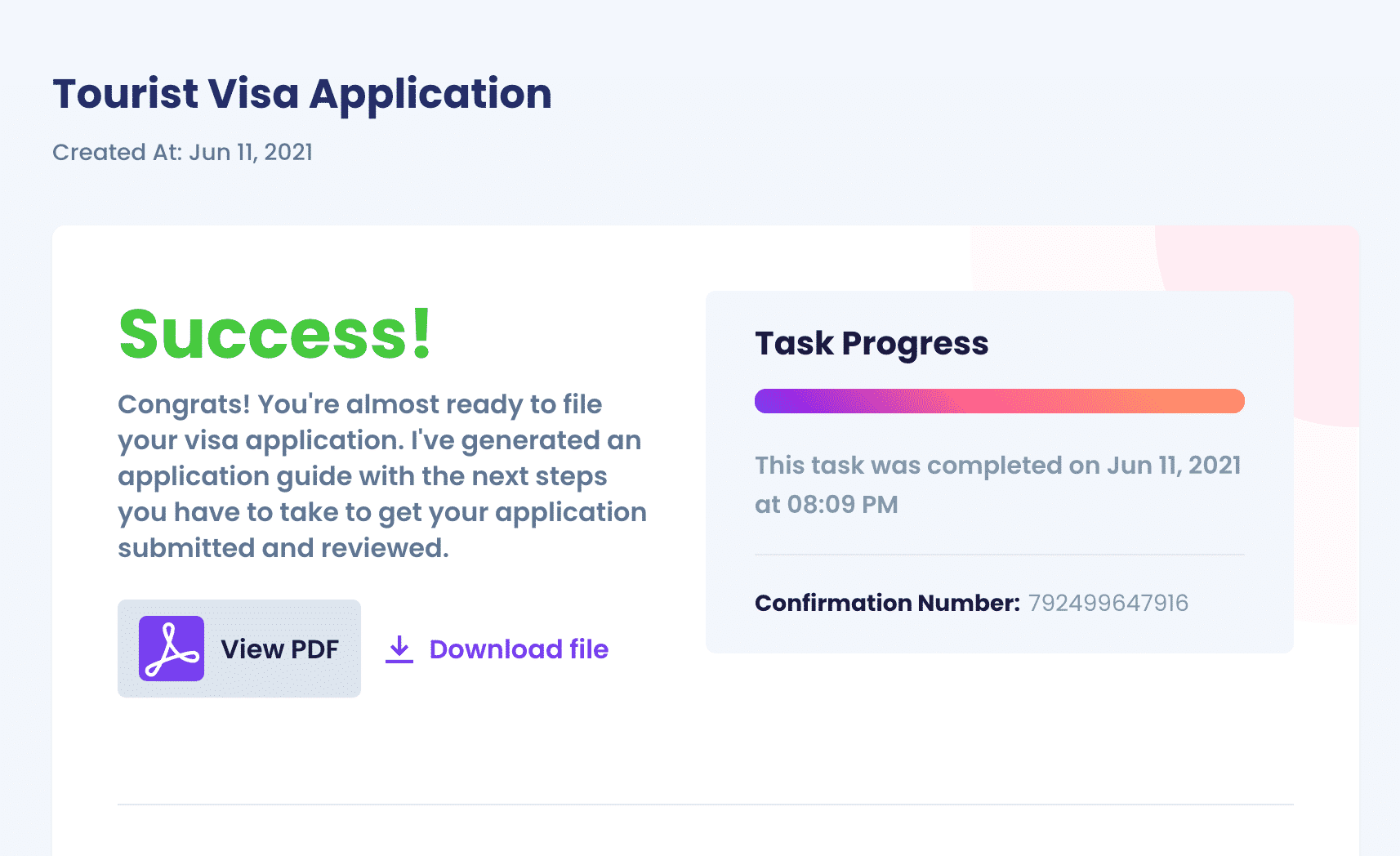 That's not all! DoNotPay will also send you a direct link to a correct tourist visa application form you should fill out or a printable form version.
Want To Travel to Other Asian Countries? Check Out Our Helpful Visa Guides!
You can also use DoNotPay to get a tourist visa application guide for other countries in the region, such as:
Choose From a Variety of DoNotPay's Amazing Tools
Did you manage to solve the issue with our app? If the answer is yes, you may also be interested in checking out other interesting features we offer. DoNotPay can help you:
| | | |
| --- | --- | --- |
| Get Rid of Spammers By | Deal With Uncooperative Merchants By | Get Help With Your Studies By |
| | | |
Let DoNotPay Prepare Important Documents for You
Are you having a hard time drawing up a contract due to insufficient legal expertise? Say goodbye to failed drafts—DoNotPay can generate divorce settlement agreements, powers of attorney, child travel consent forms, and many other legal documents in under five minutes!
We will also help you create anonymous HR complaints and demand letters for your neighbors if you are experiencing any issues with them.