How to Contact the Malaysian Consulate in New York?
The Malaysian Consulate General in New York has opened up channels of communication and has revitalized the way Malaysian-Americans operate. It has also provided Malaysians living abroad with a great way to revitalize and disseminate important information, as well as to improve interactions within the greater Malaysian diaspora. 
Currently, there are 17 states under the Consulate General of Malaysia, New York's jurisdiction:
New York
Arkansas
Connecticut
Delaware
Iowa
Maine
Massachusetts
Michigan
Minnesota
Missouri
New Hampshire
New Jersey
Oklahoma
Pennsylvania
Rhode Island
Vermont
Wisconsin
If you do not live in any of these states, other consulates/embassies might serve you better.
Consular Services of the Malaysian Consulate in New York
Passport Renewal
Visa Processing
Document Legalization
How to Obtain or Renew a Malaysian Passport?
Bring the following documents:
Current passport
Malaysian identification card
Proof of legal status in the United States
For children's passports, include:
Mykid or Mykad of the children
A copy of the father or mother's Malaysian Identity Card
A completed and signed Registration of Malaysian Citizen's Proof in the form for the United States
Pay the following fees:
Normal Applicants (13-59) — 70 USD
Senior Citizens (60+) — 35 USD
Children (12 and below) — 35 USD
Disabilities/Malaysian OKU Card — Free
How to Report a Lost Malaysian Passport?
Prepare the following documents:
"Report of Lost Passport" application form
"Borang Permohonan Passport" form
A copy of your original Malaysian identification card
A copy of your US permanent resident card or any other document verifying your status in the United States
An original letter from your employer or school confirming your present employment or studies
A police report indicating the loss of your passport (an original and a copy)
A completed Registration of Malaysian Citizens in the US form
How to Apply for an Emergency Certificate of Malaysia?
An Emergency Certificate of Malaysia is accepted for transit purposes, when you intend to move onwards to Hong Kong, Turkey, or the United Kingdom. To apply for one, you must prepare:
A copy of your airline ticket from the US to Malaysia
A copy of your passport or a copy of your Malaysian identification card and/or birth certificate
An original or copy of your US permanent resident card
2 passport size photographs
A fee of US 18 dollars in cash or money order
Apply for a Malaysian Visa as a Foreigner
To apply for a Malaysian document as a foreigner, you must file the following documents:
A Visa Application form
Your passport and a copy of your passport
Original permanent resident card and a copy of your US Visa
Two recent passport size photographs
A copy of a confirmed flight itinerary showing dates of arrival to and from Malaysia
A copy of any hotel reservations or proof of accommodation in Malaysia
A copy of any employment letters if relevant
A copy of your most recent bank statement, you must have a minimum of USD 500 per month you plan on staying
How to Contact the Malaysian Embassy in New York?
Address
The Malaysian Consulate General of New York

313 43rd St

New York, NY

10017

Phone
212-490-2723
Fax
212-490-2049
Email
General Inquiries: mwnewyorkck@kln.gov.my

Visa Inquiries: newyork@imi.gov.my

Office Hours
Monday to Friday

9:30 a.m. to 12:30 p.m.

Location/Landmarks
The Consulate General of Malaysia in New York is located in the borough of Manhattan, near East 45th Street. The closest landmark is the Chrysler Building.
How to Contact the Consulate General of Malaysia in New York Using DoNotPay?
Due to extended wait times, it may be difficult for you to get a hold of the Consulate General of Malaysia in New York. Information and guidelines regarding passport processing and visa obtaining measures are relatively complex, and the New York location is inundated with inquiries. To counter this, discover how DoNotPay acts on your behalf, helping your inquiry gets recognized and answered, fast! To streamline this process, discover DoNotPay, a specialized service that sends emails to any consulate/embassy with ease.
To get in contact with any Consulate/Embassy, all you have to do is:
1. Type in "Contact Embassy" on DoNotPay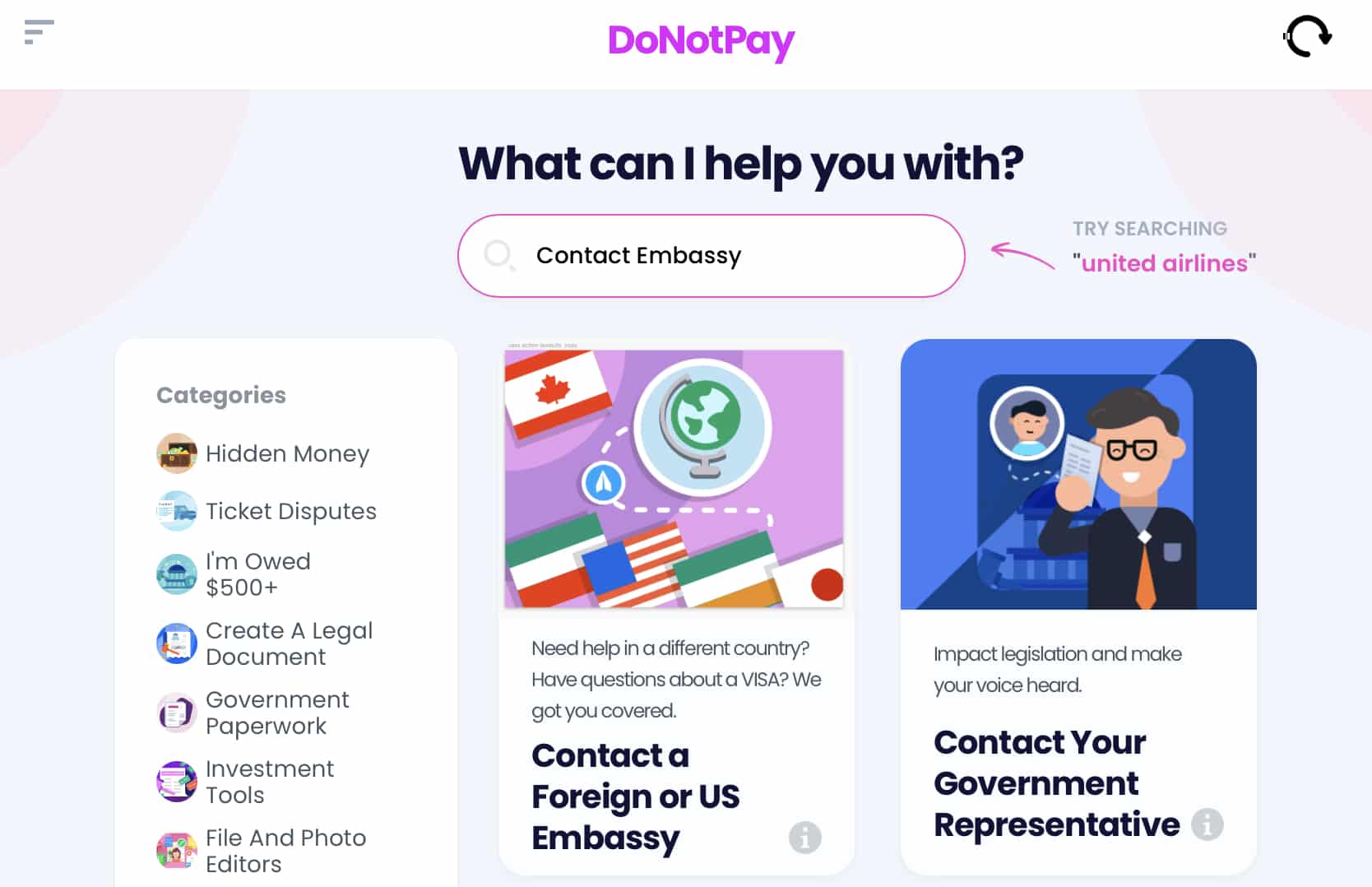 2. Choose if you want to contact a foreign embassy or consulate in the U.S.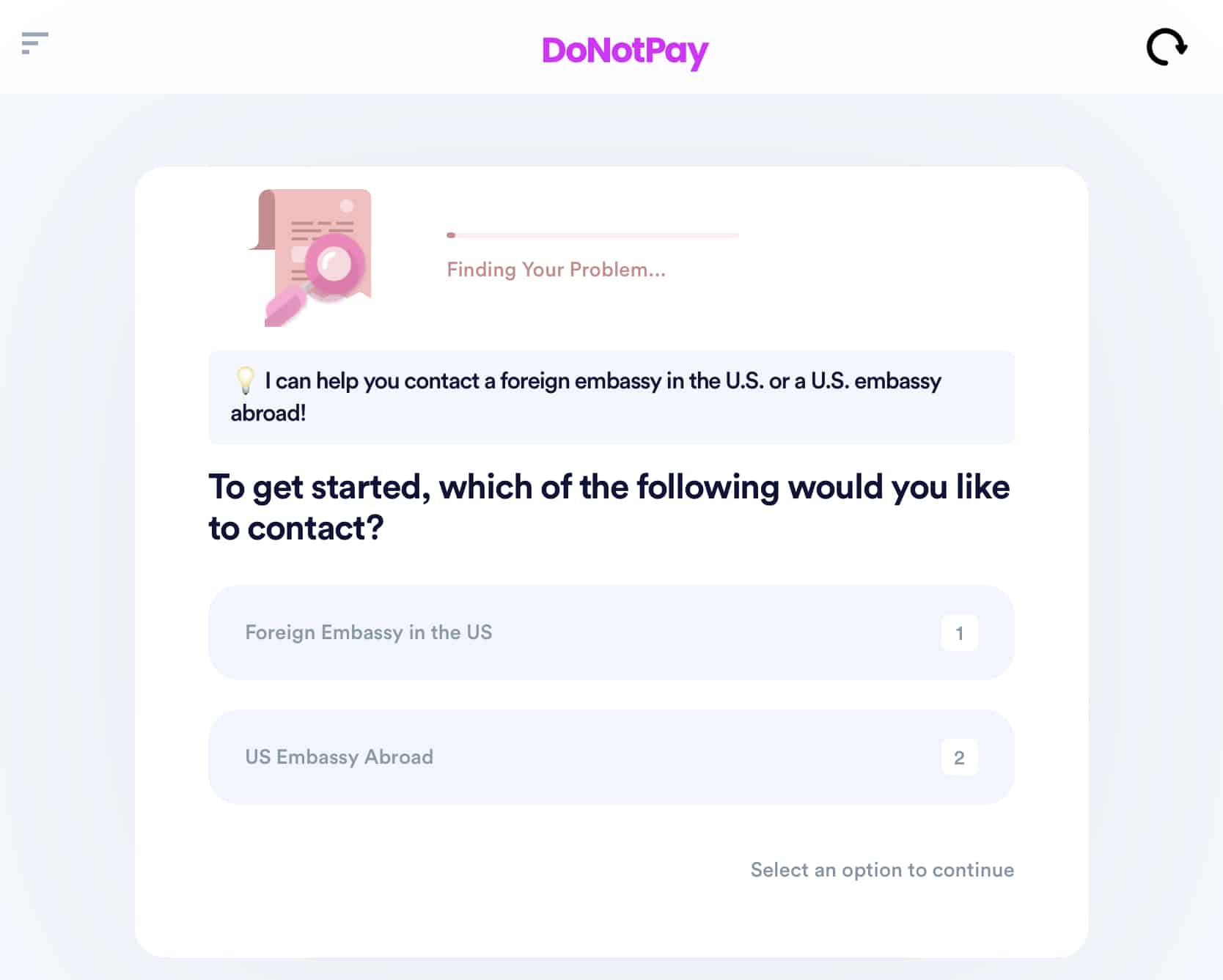 3. Explain your issue and any questions you may have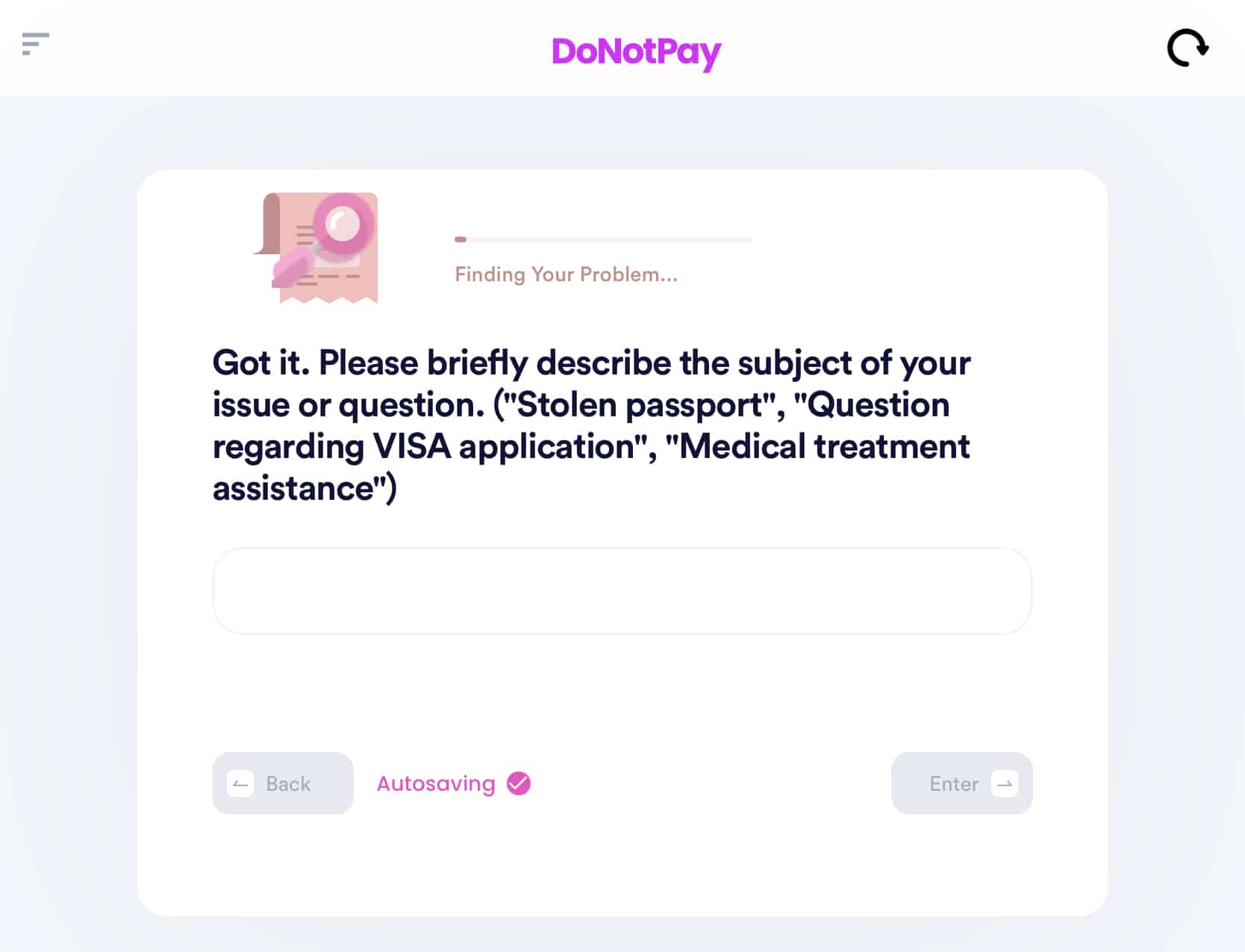 4. Tell DoNotPay which embassy or consulate you want to contact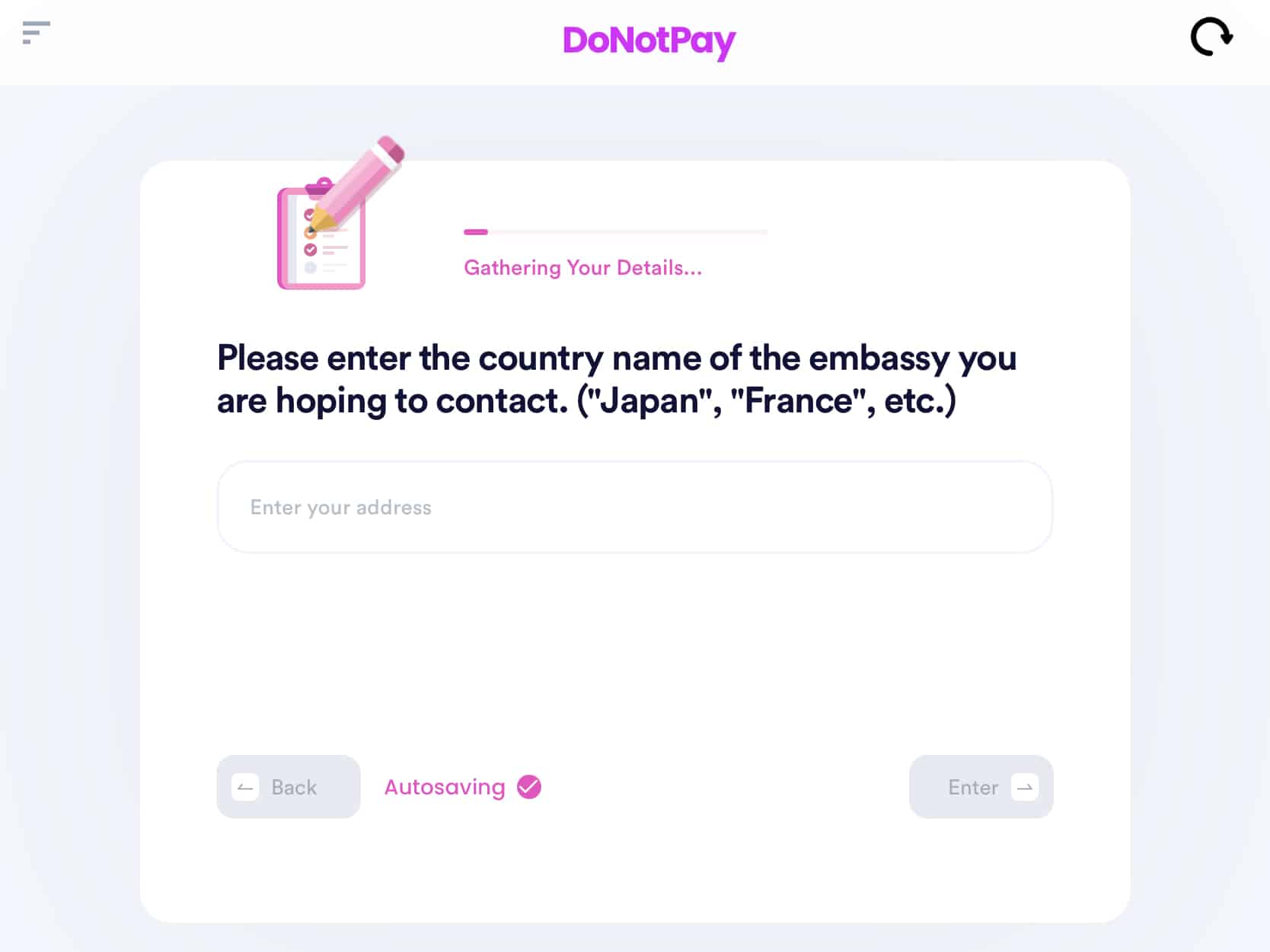 That's it, you're done! You can expect a direct response from the Malaysian Consulate in New York City to your issue by email.
Who Else Can DoNotPay Help You Contact?