A Watertight
Maintenance Agreement
Keeps Your Assets in Top Condition
Having spent big money on buying vehicles, property, or equipment, you want to ensure their longevity and trouble-free service. What you need to do to ensure that is to sign a maintenance agreement with a provider to keep your asset performing as it should.
DoNotPay knows the value of having solid agreements in place, but we also understand that writing a contract is not easy. We can help you with customizable legal documents and contract templates. 
Most importantly, we can give you all the information you need to set up a maintenance agreement to protect your assets.
What Is a Maintenance Agreement?
A maintenance agreement is a legal document in which a provider commits to the routine maintenance of your assets.
The assets covered by a maintenance agreement could include:
Vehicles

Machinery

IT equipment

Buildings

Tools
Whatever the asset to be maintained, the agreement should set out exactly what services should be performed, what frequency the maintenance should take, and what operating standards should be adhered to.
What Should You Include in a Maintenance Agreement?
A maintenance agreement needs to be as clear and detailed as possible to avoid any conflict at a later stage. The elements you need to include are as follows:
Names and details of parties

Date and term of the agreement

Definition of what is to be maintained

Exact maintenance tasks

Operational standards to be met

Subcontracting clause

Remuneration terms and conditions

Breaches and termination

Governing law
Names and Details of Parties
You need to fill in the names, addresses, and contact details of all the parties to the agreement. If you are using informal maintenance providers, you may want to verify their contact details before entering into an agreement with them.
Date and Term of the Agreement
You should agree on the commencement date and the length of the maintenance agreement.
If the provider is taking over the maintenance of existing equipment that has previously been maintained by another party, you may want to add a clause to state that the provider has performed a pre-inspection of the equipment to determine its current state.
In this way, the provider cannot be held responsible for faults or deficiencies caused by somebody else.
A good tip is to limit the term of the contract to an initial trial period, with the option of automatic renewal if the trial is successful. The length of the trial period should reflect the frequency of maintenance work.
If, as an example, the provider is engaged to maintain your copiers and printers every week, a trial period of three months would give you enough time to evaluate their performance.
Definition of What Has To Be Maintained
The assets to be maintained should be listed exactly, including:
Make

Model

Serial number

Age at the commencement of the agreement
As an example, if your organization uses both Windows and Mac platforms for different tasks in the business, you may want to engage a service engineer to maintain only your Mac infrastructure. This clause should list the Mac laptops and exclude all the Windows machines from the maintenance agreement.
Exact Maintenance Tasks
The more detail you include in this section, the easier your maintenance agreement will be to control and enforce.
Depending on the asset you want maintained, you can include the following tasks and responsibilities:
| | |
| --- | --- |
| Task | Explanation |
| General maintenance | This should list all the tasks that are to be performed regularly, including specifying the frequency for each task |
| Repair | You should list any repairs you expect the provider to perform, and you can specify which repairs can be performed without seeking prior permission. Any major repairs that involve costs above a specified amount need to receive written approval from you |
| Replacement of service parts | Any service parts (such as filters, belts, lubricants, and similar) should be replaced according to the manufacturer's specifications. You may also want to stipulate that your maintenance provider uses original replacement parts and not generics |
| Reporting | You should receive regular reports on the provider's maintenance activities, including what work has been done, which repairs have been made, and what faults have been identified. You can set the frequency of these reports, as well as the format and the detail in which they should be compiled |
Operational Standards To Be Met
Your maintenance provider should commit to maintaining your assets in a serviceable and functional condition.
In the case of machinery or equipment, the manufacturer usually provides output or performance specifications—these can be used to draw up a list of performance criteria that the provider should maintain.
If there are no manufacturer's specifications available or if you are engaging a maintenance provider to look after a fixed asset like a building, you can set performance standards to ensure your organization can function normally at all times.
Subcontracting Clause
If you are working with a large maintenance contractor, you may want to stipulate whether they are allowed to subcontract work out to smaller companies.
Some providers—notably in the office cleaning and maintenance industry—regularly subcontract work to smaller, local companies. This could mean that you have less control over the quality of the work performed, so you may want to prohibit this practice in your maintenance agreement.
Remuneration Terms and Conditions
The options for remuneration are wide but could include:
Hourly rates

Weekly or monthly retainers

Performance-based remuneration

A combination of any of these
Your ultimate aim is to get the service you want, so you should negotiate a payment model with your provider that delivers a mutually satisfactory solution.
Breaches and Termination
You should clearly define what constitutes a breach and under what circumstances either party can terminate the agreement.
You can also build in a mandatory notice period for termination of the agreement.
Governing Law
You should define the state legislation that governs the agreement. This will usually be the law of the state in which the maintenance work takes place.
You can draw up a maintenance agreement using the guidelines above. As soon as it has been signed and notarized, it becomes legally binding.
DoNotPay offers customizable templates for numerous documents­—read on to see what we've got!
How Can DoNotPay Help Me Create a Needed Agreement?
DoNotPay is your go-to resource for legal documents, and we offer a range of customizable templates to help create the documents you need.
All you have to do to generate your tailor-made legal document is:
Navigate to DoNotPay in your web browser and

sign up

Search for the document you need

Fill in the details you want included

Wait while we generate your legal document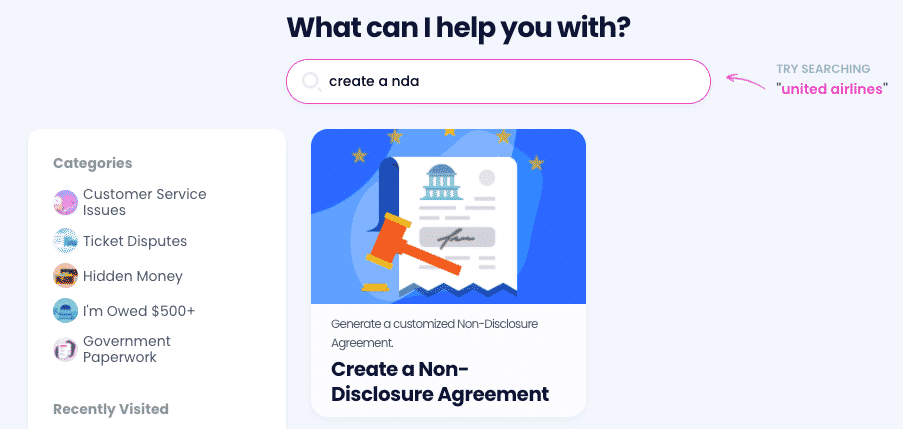 What Legal Documents Can DoNotPay Provide?
We are growing our range of customizable legal documents all the time, and here are some examples of what we can offer:
Property
Business
Personal

Estoppel certificate

Quitclaim deed

Intent to purchase real estate

General business contract

General affidavit

Promissory note
DoNotPay Helps Out in More Ways Than One
As a versatile app, DoNotPay is so much more than a money-saving hack. Check out the table below for an overview of what we can do for you:
| | | |
| --- | --- | --- |
| Earn and Save Money | Solve Legal Issues | Protect Your Privacy |
| | | |
Managing Tasks With DoNotPay Saves Both Time and Money
If your to-do list is overflowing and you need more hours in the workday to get everything done, we've got a solution! DoNotPay's products help you check off your errands in record time. Within minutes, you'll be able to get a free trial, cancel a service, or request a refund. Perhaps you're dreading wasting your time in lines or on the phone, but don't worry—we'll deal with customer service, book a DMV or a notary appointment in your stead.
We can also assist you in filing a FOIA request, getting in touch with an inmate, and prepping for government tests.