Get the Lowdown on the
Maine Veterans' Property Tax Exemption
If you're a veteran, you may be eligible for the Maine veterans' property tax exemption, which would help you pay property taxes. With an average tax rate of 1.30%, Maine is definitely not one of the states with low property taxes. 
To put this in perspective, an average Maine citizen pays around $2,590 in property taxes per year. This is why the veterans' property tax exemption and other tax relief programs can be valuable for saving money.
This article will give you an insight into the requirements for the veteran exemption, provide a guide for the application process, and give tips on lowering your property taxes.
Property Taxes in Maine Explained
Even though Maine's average tax rate is 1.30%, the rate in your county could be considerably higher. The amount you need to pay in property taxes is calculated by multiplying the local tax rate with the assessed value of your property.
Here's an overview of tax rates in different Maine counties:
| | | | |
| --- | --- | --- | --- |
| Maine Counties With the Highest Tax Rates | Average Property Tax Rate | Maine Counties With the Lowest Tax Rates | Average Property Tax Rate |
| Androscoggin County | 1.71% | Hancock County | 1.00% |
| Aroostook County | 1.46% | Lincoln County | 1.08% |
| Penobscot County | 1.45% | Piscataquis County | 1.24% |
The local authorities use the property tax payments to fund various services, such as libraries, public schools, and law enforcement departments.
Understanding the Veteran Exemptions in Maine
Maine veterans who served on active duty in the U.S. Armed Forces can apply for two veteran exemptions:
Veteran exemption

Paraplegic veteran exemption
To qualify, you need to fulfill the following requirements:
Requirements

Details

General requirements

Serving in the U.S. military during a recognized period or having an Armed Forces Expeditionary medal

Being at least 62 years of age or receiving a total disability pension from the U.S. government

Recognized war periods

World War I:

From April 6, 1917 to November 11, 1918

Service in Russia from April 6, 1917 to March 31, 1920

World War II:

From December 7, 1941 to December 31, 1946

Korean Conflict—from June 27, 1950 to January 31, 1955

Vietnam Era—from February 28, 1961 to May 7, 1975

Persian Gulf War:

From August 2, 1990 to the date that the U.S. government recognizes as the end of the Persian Gulf War

Operation Enduring Freedom

Operation Iraqi Freedom

Operation New Dawn

Other recognized service periods

From August 24, 1982 to July 31, 1984

From December 20, 1989 to January 31, 1990
The exempt amount you can expect is:
$7,000 for the World War I service

$6,000 for post World War I service

$50,000 for paraplegic veterans who receive a federal grant for a specially adapted housing unit
What if I Don't Qualify for the Maine Veteran Property Tax Exemption?
In case you're not eligible for the veteran property tax exemption, you can try your luck with other Maine exemptions. Check out the breakdown of the property tax exemptions Maine offers in the table below:
Property Tax Exemption

Brief Explanation

Homestead exemption

You may qualify for the homestead exemption of $25,000 if you:

Live in and own property that is your primary residence (homestead)

Own the property for a minimum of 12 months

Make the property your permanent residence before the application due date

Renewable energy investment exemption

If you qualify for this exemption, the program will exempt certain renewable energy equipment you own, such as solar panels

Blind exemption

A person who is determined legally blind is eligible for this exemption and can receive $4,000

Business equipment tax exemption

This is a 100% property tax exemption program for eligible properties that would have been first subject to tax on or after April 1, 2008
Maine also offers a municipal property tax deferral for senior citizens. This is an optional program, which means that not all municipalities enact it. To be eligible for this program, you need to:
Be a 70-year-old

senior citizen

Own your primary residence

Live in your homestead property for at least ten years

Have a household income that doesn't exceed 300% of the federal poverty level
Apply for Maine Property Tax Exemptions With the Help of DoNotPay
We can assist you in managing your taxes by generating a personalized guide on property taxes! Our app will provide all the info you need and guide you every step of the way until you reduce your tax bill.
DoNotPay's special guide consists of:
Property Tax Exemptions
Property Assessment Appeals

Exemptions you are eligible for

Instructions for getting the necessary forms and other paperwork

Application submission

Negotiation tips after your

assessment

Guidelines for collecting evidence

Instructions for submitting the

appeal

form
You can get our Property Tax guide within minutes by following these instructions:
Open DoNotPay

in any web browser

Type in

Property Tax

Provide the necessary info about yourself

Answer several questions about your property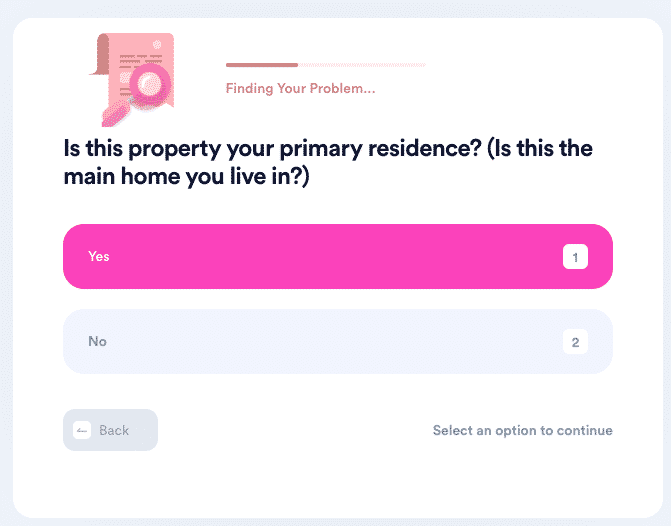 Admin Issues Giving You a Headache? Resolve Them With DoNotPay!
Scheduling a DMV appointment, applying for clinical trials, requesting refunds from companies, and getting in touch with your loved ones in prison are all difficult and time-consuming tasks. You have to take many steps before you can get any of these over with, and that's why our robot lawyer app is here to help.
No matter if you need assistance with appealing parking tickets, signing up for free trials, canceling various subscription services, or maybe preparing for government tests, DoNotPay will provide you with easy solutions.
Having Financial Struggles? Rely on the World's First Robot Lawyer
Many Americans struggle to make their ends meet at the end of each month. With that in mind, we've created plenty of features that will save you both time and money in the most efficient way. 
Using our AI-driven app, you can get help with bills, get refunds from airlines, find unclaimed money in any state, or earn off annoying robocalls or stalkers and harassers. If you want to fight for your right, DoNotPay will also assist you in suing any person or company in small claims court.
No matter the admin task at hand, our robot lawyer will provide swift and effective assistance.