Learn How To Apply for the Maine Property Tax Relief for Seniors Hassle-Free
While certain states have low property taxes, property tax rates in Maine are well above the U.S. average. Maine's average property tax rate is 1.30%, while the national average is around 1.07%. Luckily, you can apply for the Maine property tax relief for seniors or find other applicable tax exemptions to lower your property tax.
DoNotPay will jump in to help with a personalized guide and instructions!
What Is Property Tax and Why Is It Important?
Most government services and the public education system in Maine are funded by the three main categories of taxes:
Income tax

Sales tax

Property tax
The income taxes account for 31%, and the sales taxes for 23% of the revenues in Maine generated by the three major taxes mentioned above. Property taxes generate 45% of the total revenue. 
Knowing that their yearly payments to the local government keep their community alive doesn't necessarily help landowners pay everything they owe. These taxes include every tangible real estate property, landowners' house, office, and the property they rent to others. It's not an insignificant amount. 
How To Calculate the Maine Property Tax
The legislative body of the municipality decides on the amount that has to be raised with the property tax to fund municipal services. It also determines the details of the county assessments. That total sum is further divided by the total local assessed valuation to get the local tax rate.
Calculating the Maine Property Tax on Your Own
If you want to calculate your Maine property tax on your own, you can do that by finding property tax calculators online and using them to see roughly what your property rate would be.
Keep in mind that these online tax calculators aren't the most reliable, so it would be best to have an assessor evaluate your property tax rate.
Understanding the Maine Property Tax Relief for Seniors
The Municipal Property Tax Deferral for Senior Citizens program lets municipalities enact a property tax deferral program that helps elderly homeowners keep their homes. The program has certain age and income requirements.
The conditions that have to be met to be eligible for the property tax exemption for seniors: are
The property has to be an eligible homestead where the taxpayer has lived for ten years or longer before application

The taxpayer must be an owner of the eligible homestead, at least 70 years of age, and to occupy the eligible homestead

The household income of the taxpayer can't exceed 300% of the federal poverty level
A municipality that has adopted the program can discontinue it through the same procedure by which the program was adopted.
Maine Homestead Property Tax Exemption and Other Maine Property Tax Exemptions
The Maine Homestead property exemption offers property tax relief for individuals who have owned homestead property in Maine for at least one year. They also have to make the property they occupy on April 1st their permanent residence. Property owners can receive an exemption of $25,000. To qualify, you must meet these conditions:
Be a permanent resident of Maine

Your house has to be your permanent residence

You must have owned a home in Maine for a year before applying

File the application before April 1st with the municipality where the property is located.
The exemption applies to all residential properties that are assessed as real property.
Maine offers five other property tax exemptions. Check out the table below to see the details for each:
Exemption
How It Works

Renewable Energy Investment Exemption

This program exempts renewable energy equipment like solar panels. Taxpayers have to apply for the credit by April 1st of the year they request the exemption

Veteran Exemption

Veterans that served during a war period and are 62 years of age or older receive 100% disability. 

Veterans that became 100% disabled while serving are qualified for $6,000

Paraplegic Veteran

Veterans who received a federal award for a particularly adapted dwelling unit are eligible to receive $50,000

Blind Exemption

A legally blind individual can receive $4,000

Business Equipment Tax Exemption (BETE)

BETE program allows 100% property tax exemption for eligible properties that would have been the first subject to tax in Maine on or after 4/1/08
Use DoNotPay To Lower Your Maine Property Tax Effortlessly
DoNotPay streamlined the process of reducing property taxes to a tee! Use the instructions below to get help paying your property tax.
All you need to do once you load DoNotPay in your web browser is follow the next few steps:
Find and tap the

Property Tax

tool

Provide the required info regarding your property

Follow your personalized user-friendly guide!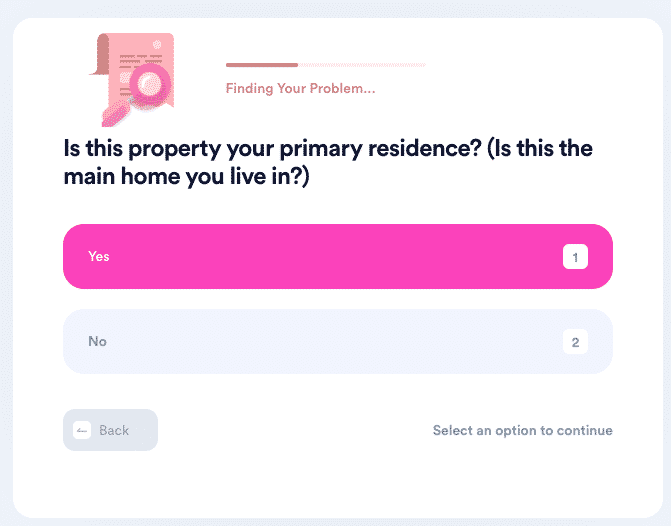 You can appeal your property tax bill with DoNotPay as well!
Get Back at Greedy Corporations With DoNotPay
How many times have you tried reaching out to an airline regarding your canceled flight? Did you ever spend hours trying to contact customer service reps only to be refused your refund request?
Big companies tend to make certain processes complicated for their customer in hopes they would give up on pursuing their goals.
This is why your warranty claims often get denied the first time or why canceling a gym membership can be an administrative hell.
Our AI-powered app is here to help you sort these problems out. 
Whether you're trying to file an insurance claim, schedule your driving test, start a free trial without disclosing your payment info or a phone number, or get access to public records, we've got you covered. 
DoNotPay Is the Virtual Assistant You Need
DoNotPay is the first robot lawyer in the world created to simplify complex tasks. We can help you with anything from appealing your parking citations to filing lawsuits in small claims court.
In case you need to save up some money, our app will show you how to get an extension on your bill payments, sign up for paid clinical trials, or avoid paying your college application fees.
DoNotPay can also report robocallers, text spammers, and email phishing attempts, and real-life stalkers with a few clicks.