How To Buy a Maine Hunting License
Maine is known for its vast countryside, big game, and woodlands. The state has a variety of animals to hunt, from big-time thrills of nabbing Moose Deer or Bear to smaller-scale wild birds like turkey, geese, or quail.
If you're planning to enjoy the thrills of hunting in Maine, you should consider getting yourself a Maine hunting license. Now getting the state hunting license is not a technical process. However, it can be challenging and frustrating, especially if you don't know the exact steps to take. It can also be time-consuming if you opt to visit the state hunting department to purchase the license in person. 
You don't have to go through all this hassle to get a hunting license in Maine. You can use DoNotPay- a fast, automated, and less frustrating way to buy the license. Follow the steps outlined at the near end of the article to use the DoNotPay service to buy a Maine hunting license.
Hunting in Maine
Maine has a thick forest and thousands of acres of unpopulated terrain that provide great hunting games any hunter would like to experience. The state has the highest population of black bears in the East, with over 35,000 bears. It is also blessed with 200,000 whitetail deer and 75,000 Moose.
Hunting season is throughout the year in Maine, with restrictions on different species of animals each month. So, always be sure to check the hunting dates before heading out. The state allows hunters to start hunting 30 minutes before sunrise and last until 30 minutes after sunset. It is also worth noting that hunting on Sunday in Maine is illegal.
When hunting in Maine, consider booking a hunting resort or retreat near-prime Maine hunting grounds for a great hunting experience.  Also, consider hiring a guide for your own and wildlife preservation safety purposes.
Hunting License Cost in Maine 
Here are the prices of hunting licenses in Maine.
| | | |
| --- | --- | --- |
| Type of License | Resident | Non-Resident |
| Big Game Hunting (16 years and older) | $26.00 | $115.00 |
| Junior Hunting (0 to 15 years) | $8.00 | $35.00 |
| Small Game* Hunting (16 years and older) | $15.00 | $75.00 |
| Combination Hunting & Fishing (16 years and older) | $43.00 | $150.00 |
| Archery Hunting (16 and older) | $26.00 | $75.00 |
Maine offers heavily discounted rates as well for servicemen and war veterans:
Serviceman (dependent) Combination Hunting & Fishing goes for $20.00
Serviceman (resident) Combination Hunting & Fishing goes for $3.00
Serviceman (dependent) Hunting goes for $10.00
Disabled War Veterans are free
There are special lifetime hunting licenses for both residents and non-residents of the state. The prices for the lifetime licenses are as follows:
5 years & under licenses go for $150.00 for residents and $450.00 for non-residents
6 – 15 years licenses go for $300.00 for residents and $900.00 for non-residents
Residents 65 years of age - $50.00
Residents 66 years of age - $40.00
Residents 67 years of age -$30.00
Residents 68 years of age - $20.00
Residents 69 years of age - $10.00
Residents 70 and older- $8.00
How To Get a Hunting License in Maine
You can buy a Maine hunting license online. All you have to do is visit the Maine Department of Inland Fisheries and Wildlife website and provide your:
Personal information such as your name, date of birth, and contact information.
Hunter Safety or Previous Hunting license number
Credit or Debit Card number
After filling in this information, you will be able to purchase and print your state hunting license immediately.
Next Steps if You Can't Buy a Maine Hunting License 
If you're unable to buy the hunting license on your own, you can choose to use donotpay services. With donotpay product services, you will be able to buy the license fast and conveniently, all at the comfort of your home. Donotpay will do all the hard work for you. All you have to do is choose the type of hunting license you want to buy and pay the fee. We will do the rest.
Here's How You Can Use DoNotPay To Get Your Maine Hunting License: 
1. Search "hunting license" on DoNotPay and select the state you would like a hunting license for.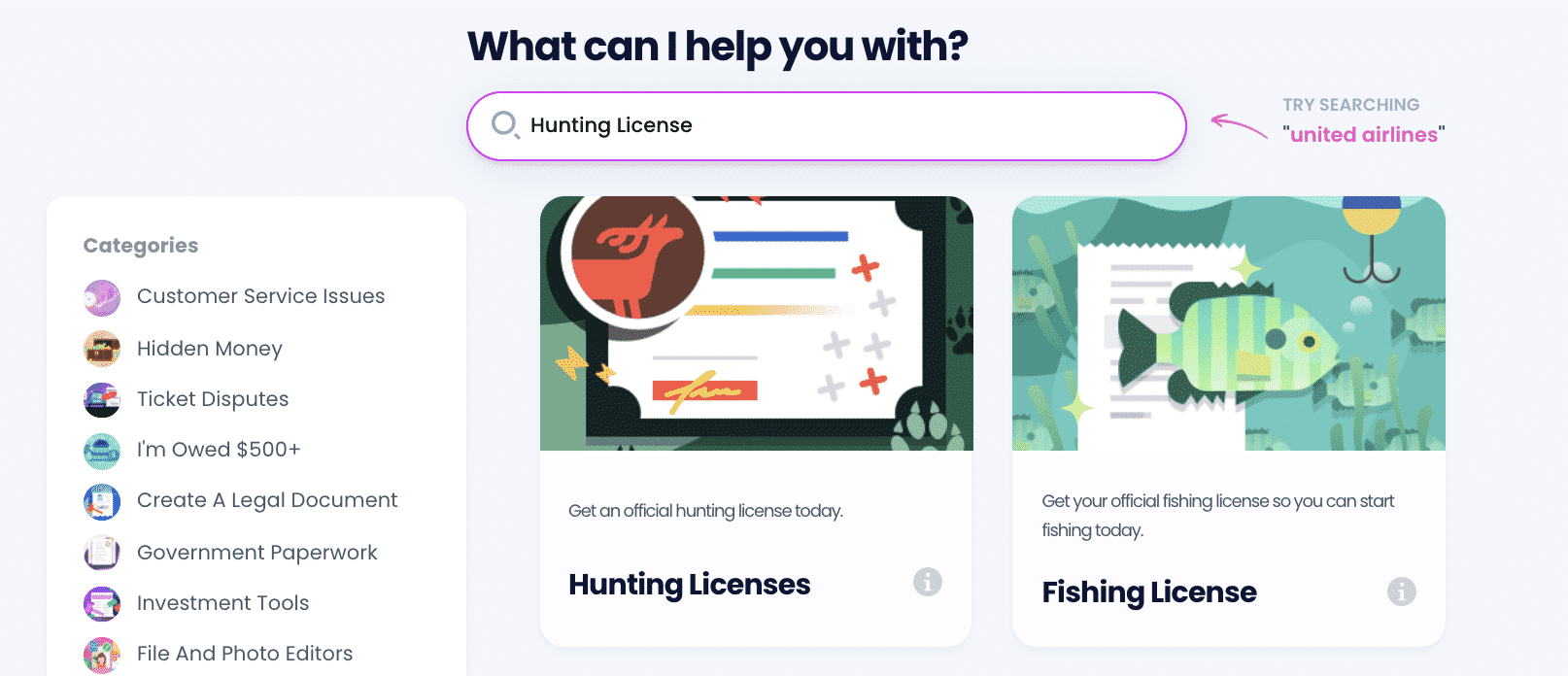 2. Indicate whether you are a resident or non-resident, and choose the type of license you want. For example, an annual or one-time pass, big game or small game license, bear tag, etc.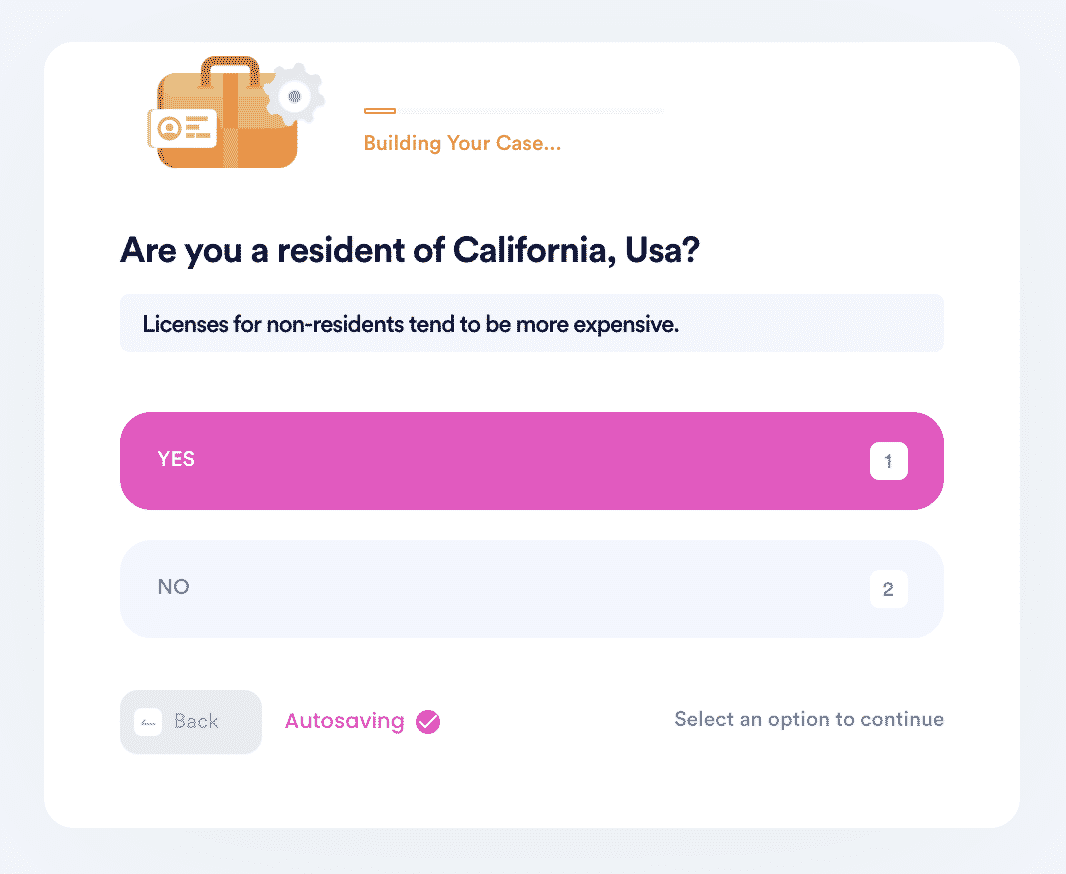 3. Provide your contact information, a copy of your government-issued ID, and pay the fee required by the state.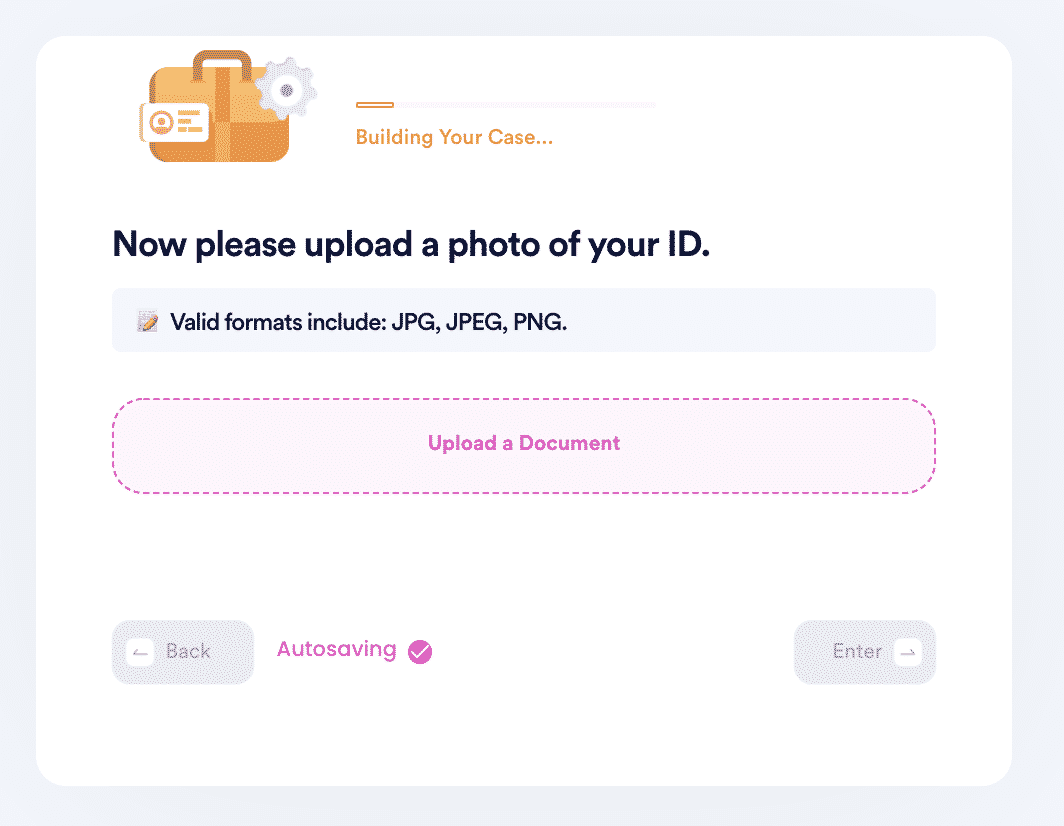 And that's it! DoNotPay will get the hunting license on your behalf, which will be valid immediately. Just download the file and print it as a temporary license, while a physical copy gets processed and sent to you by mail.
Why Use DoNotPay in Obtaining a Maine Hunting License
The main way to obtain a Maine hunting license is by buying one online on the state hunting website. The process is not an uphill task, but it can be difficult if it's your first time buying the license or you don't know the exact steps to follow.
That's why it is highly recommended that you rely on DoNotPay to get you the hunting license that you need. This robot lawyer is guaranteed to be:
Fast - DoNotPay simplified the process to the most important steps. This way stalling is avoided and the processing time is cut in half.
Easy - We have straightforward resolutions. No need to repeatedly fill out intake forms or run all over town just to submit documents. We conduct everything online and we handle the difficult legwork for you.
Successful. DoNotPay guarantees results. Rest assured that you will immediately get the hunting license that you need right away!
Donotpay will offer you a way to purchase your hunting license at the click of a button. Contact us today, and let's get you a Maine hunting license.
What Else Can DoNotPay Handle for You?
It's very rare that an app can do most of everything under the sun but that is exactly the type of app DoNotPay strives to be. This robot lawyer can help you, not only in getting your Maine hunting license, but also with:
Download DoNotPay today and discover how much easier your life can be with the help of dedicated robot lawyer.