Understanding Maine Divorce Forms
Getting through a divorce can be a serious undertaking if you're not familiar with the filing process, state regulations, paperwork, and cost.
This article will give you the right info about Maine divorce forms you need to complete, file, and have served to your spouse. We'll provide answers to any questions you may have and help with your divorce settlement agreement.
Do You Meet Maine Divorce Requirements?
Before filing for divorce in Maine, you should check whether you fulfill legal requirements. You can start the process if you or your spouse:
Has resided in Maine for at least six months
Is a Maine resident and were living in Maine when the cause of divorce occurred (if applicable)
Where To Collect the Right Maine Divorce Papers and Information
You can get the necessary court forms in one of the following ways:
Get all the paperwork at your district court clerk's office
Download them from the Maine Courts website—You have to obtain the Summons from the clerk's office for a fee
A Breakdown of Divorce Papers in Maine
The following table provides a list of forms and details you need to collect for the divorce process:
Information To Prepare
Maine Divorce Forms To Complete

Your Social Security number
Your and your spouse's:

Names
Dates of birth
Current addresses

Whether you or your spouse:

Own real estate
Have filed for divorce or annulment before

Family and Probate Matters Summary Sheet (FM-002)
Complaint for:

Divorce
Determination of Parentage, Parental Rights and Responsibilities, and Child Support

Social Security Number Confidential Disclosure Form
Child Support Affidavit (if you have minor children)
Acknowledgment of Receipt of Summons and Complaint or Post-Judgment Motion
Family Matters Summons and Preliminary Injunction (FM-038A)

If you and your spouse have children together, you must provide the names and addresses of all people your children have lived with for the past five years, along with each child's:

Name
Date of birth
Current address
Social Security number
Information on:

Childcare expenses
Health insurance for children
Public assistance for your child
Pending court cases involving your child

Optional forms:

Affidavit for Confidential Address—If you'd like to keep your address confidential from your spouse for safety reasons
Application to Proceed without Payment of Fees—If you cannot afford the filing fee of $120
How Long Do I Need To Wait for a Maine Divorce?
Keep in mind that Maine law mandates a waiting period of at least 60 days between the filing of papers and the final hearing. It will take longer if you and your spouse don't reach an out-of-court agreement about all divorce issues.
A friendly and uncontested divorce is the quickest and easiest way to get divorced since:
Create a Trustworthy Divorce Settlement Agreement To Avoid Any Problems
Preparing a solid divorce settlement agreement can be difficult. You need to be familiar with state laws to ensure the document is prepared properly and that you've covered essential mattes, including:
If you need help, you could opt for one of the following:
Let a lawyer prepare the agreement—This is a reliable yet expensive option
Download an online template—Most are generic and need to be adapted to specific state regulations and your situation
Sign up for DoNotPay—You only need to provide info about your circumstances and wishes and let our AI-powered app fit them within the required legal framework in a flash! Thanks to our app, you can skip hiring a lawyer
DoNotPay Leads the Way in Creating Rock-Solid Divorce Settlement Agreements
Once you have collected and completed all the necessary forms and agreed on everything with your spouse, you can draw up your divorce settlement agreement. DoNotPay will help you finalize your divorce without a hitch by drafting this document for you.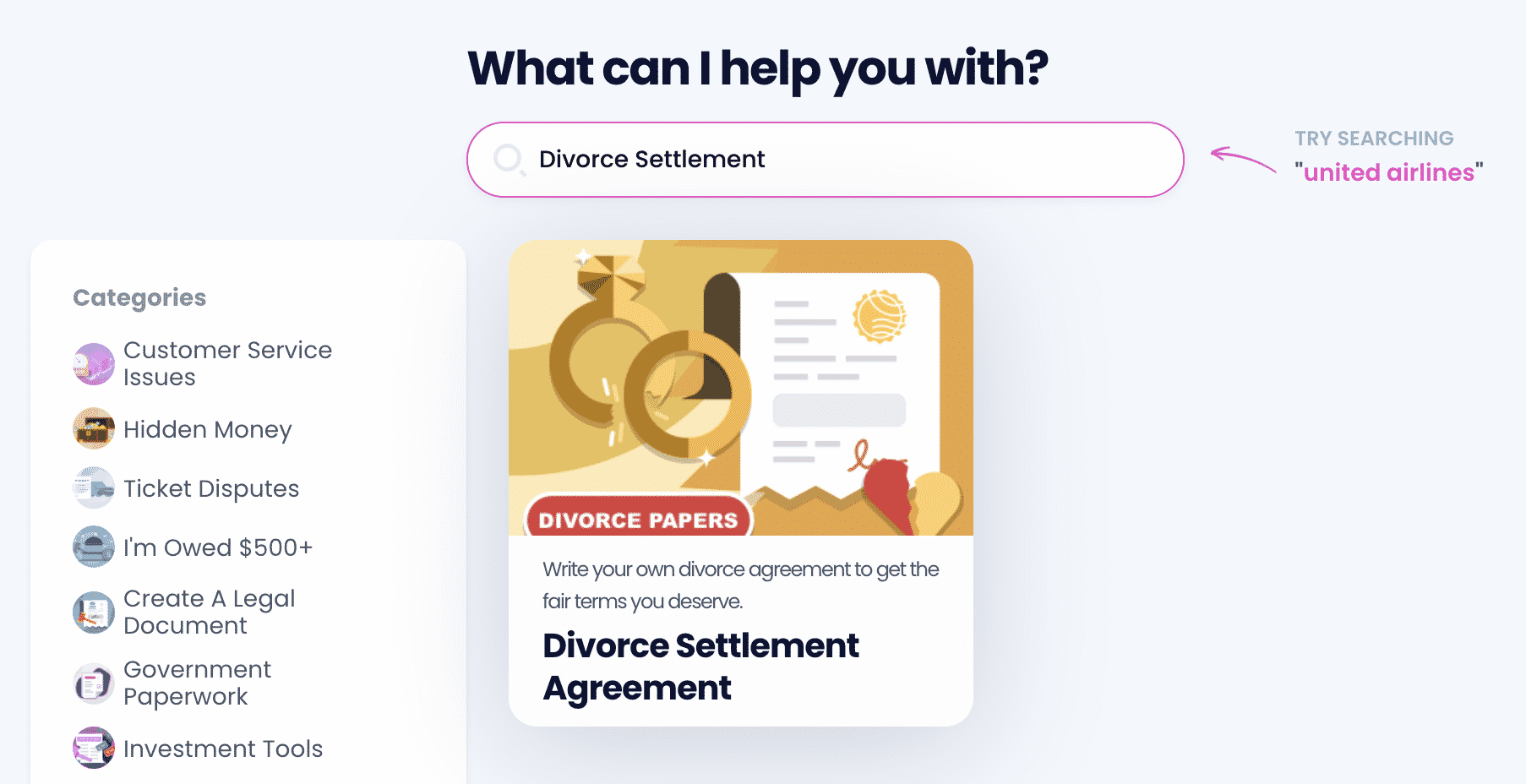 All you have to do is:
Enter Divorce Settlement Agreement in the search field
Answer our chatbot's questions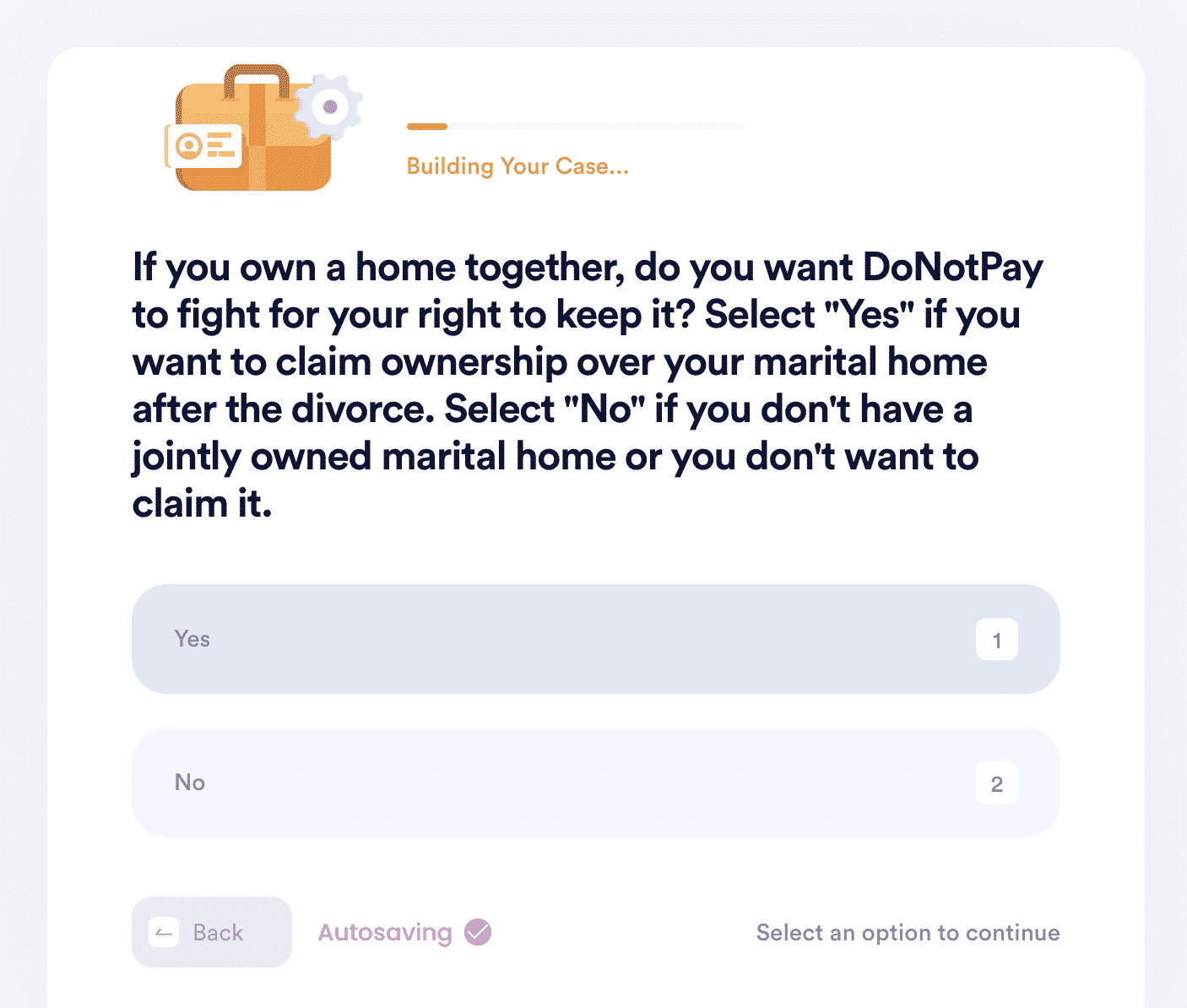 We take the provided information into account to assess your specific situation and generate the document tailored to your needs.
Do you need to have the agreement notarized? We can connect you with an online notary in a flash.
Use DoNotPay's Extensive Database To Get Informed About the Divorce Process
Browse through our learning center to find solutions to your divorce-related issues and find out:
DoNotPay Goes the Extra Mile for You
We are dedicated to providing solutions to difficult and time-consuming tasks you may have on your to-do list. If you are struggling to reduce your monthly bills, contest parking tickets, or set DMV appointments, DoNotPay will help you do it in no time!
We have also created numerous easy-to-use features that can make the following procedures run smoothly:
Get Justice From Companies That Wronged You
Do you feel like you have been played by a company? Instead of wasting your time writing requests, demand a chargeback or refund or claim a warranty via DoNotPay! If the company doesn't seem too cooperative and keeps refusing to return your money, our app can assist you in suing it in small claims court.
To help you save some coins or regain what's yours, DoNotPay will also help you locate unclaimed funds, submit insurance claims, lower your property taxes, and cash out gift cards.