How to Get a Mailchimp Free Trial Without Using Your Credit Card

Mailchimp is an automated platform that creates email marketing campaigns and manages mailing lists for its customers. Many small business owners are interested in taking advantage of the benefits offered by Mailchimp but are intimidated by the service fees that can be as high as $299 per month.DoNotPay can help you start a no-obligation  without using a credit card. Our virtual credit card will let you check out the services Mailchimp offers risk-free before committing to a monthly program.
Does Mailchimp Offer a Free Trial?
Yes, Mailchimp does offer a free trial that is valid for up to the first 2,000 contacts. There is a daily send limit of 2,000 with a maximum of 10,000 per month.There is no fee for the Mailchimp free trial, and the plan includes the following marketing tools at no additional charge:
Email marketing automation
Social media management
Customer Relationship Management (CRM) system
Survey tools
Website Builder
Mailchimp domain
Landing pages and forms
Mailchimp also includes free email support for new customers, but it expires after the first 30 days.
How Can I Get a Mailchimp Free Trial?
To activate a , you must create a new account and provide the following information:
Account Credentials
Enter a valid email address and create an authentic username and password.
If you do not want to receive Mailchimp promotional emails, be sure to check the appropriate box.
After agreeing to the terms and conditions of membership, hit submit.
Activate Account
Mailchimp will send an activation link to the email you used to create the account. If you do not receive it, check your spam folder. You cannot proceed without confirming your email address.
Payment Information
If you are not purchasing a monthly plan, you do not need to enter credit card information. The free trial does not save payment methods in your profile settings. If you decide to purchase email credits or upgrade to a different level of service, you will need to enter payment information at that time.
Does the Mailchimp Free Trial Renew Automatically?
Since credit card information is not required, you do not need to worry about canceling your subscription. The Mailchimp free trial does not expire and does not have an automatic renewal feature. Keep in mind that if you want to send emails to more than 2,000 contacts, you will have to upgrade to a paid subscription. 
Avoid Automatic Email Marketing Software Renewal With a DoNotPay Virtual Credit Card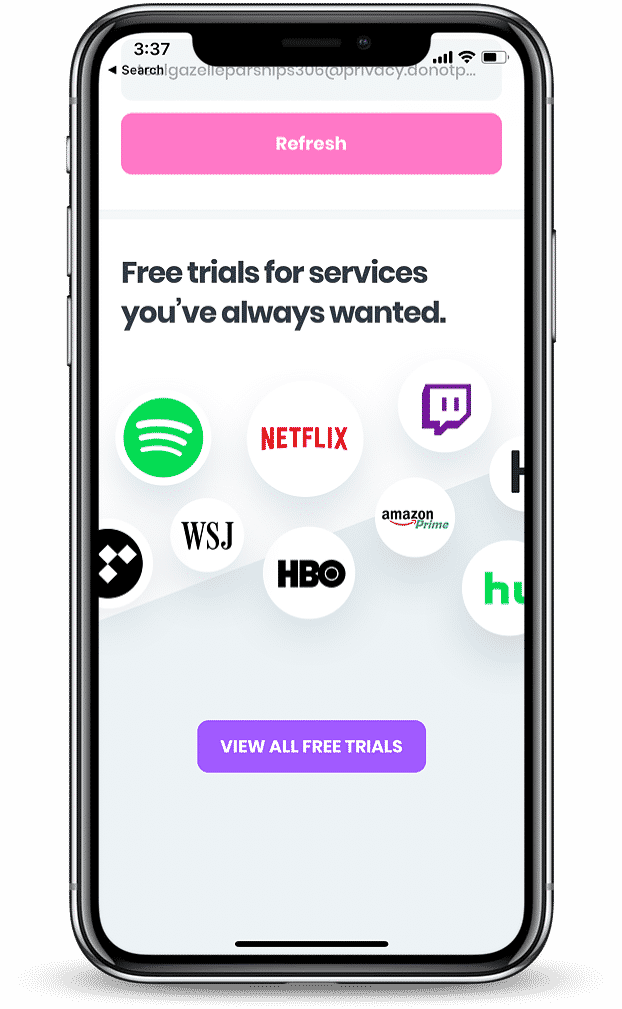 The average consumer spends approximately $350 per year on subscription services. Many of those plans go unused, and people often forget to cancel them. The credit card on file automatically renews the subscription, and the consumer is left paying for services they no longer want or need. DoNotPay offers a virtual credit card that allows you to start a free trial for any online service without disclosing your personal financial information. Companies can no longer charge your card for unused services or automatically renew your subscription without your knowledge. A virtual credit card provides the user with these three things:
Virtual credit card numberCID numberExpiration date
While connected to your actual credit card, the virtual card is comparable to a one-time transaction where you can authorize a maximum spending limit and tie the card to a single vendor. The virtual card cannot be used for recurring charges, making automatic renewals a thing of the past. Whether you want to cancel a Mailchimp subscription or establish a virtual credit card for future free trial offers, DoNotPay can help.
How Much Does Mailchimp Cost When the Free Trial Expires?
There are several pricing plans available with Mailchimp:
| | | | |
| --- | --- | --- | --- |
| Plans | Costs | Contacts | Send Limit |
| Essentials | $11/month | 500 contacts | 10x send limit |
| Standard | $17/month | 500 contacts | 12 x send limit |
| Premium | $299/month | 10,000 contacts | 15 x send limit |
All plans are subject to additional charges for overages. The monthly send limit is multiplied by the contact limit for each level.Mailchimp accepts all major credit cards, direct debit, and PayPal. The payment method is stored and automatically charged every month for the price of your selected plan. 
What Else Can DoNotPay Help You With?
In addition to helping you start a no-obligation Mailchimp free trial, DoNotPay can offer assistance with everyday issues, such as:
The possibilities are endless with DoNotPay products. You can access the automated system any time of day or night from the convenience of your home computer or smartphone. Take back control and start eliminating annoying problems quickly and efficiently with the help of DoNotPay.