How To Obtain Your Madagascar Tourist Visa Without Stress
If you are yearning for white sandy beaches surrounded by translucent water and exotic flora, Madagascar is a place for you. Before you start planning your trip, you should take care of your Madagascar tourist visa.
This article will explain how to get one and simplify your visa application process by subscribing to DoNotPay to keep track of all the steps you have to take.
Do U.S. Passport Holders Need a Tourist Visa To Visit Madagascar?
If you plan to travel to Madagascar as a U.S. passport holder, you must obtain a tourist visa. U.S passport holders staying less than 90 days can get a visa on arrival (VOA).
In case you'd rather obtain your visa before entering Madagascar, you can apply for it at the Madagascar Embassy in Washington, D.C. or one of the consulates. This visa is also valid for 90 days.
The Tourist Visa Requirements for Madagascar
If you are applying for a Madagascar visa, you will need the following:
Photo of you taken recently—If possible, with a white background
A passport that will remain valid at least six months from the date of your arrival to Madagascar—It should also have at least three blank pages
A payment method that allows you to pay online—You can use credit and debit cards or PayPal
Proof you received the yellow fever vaccine if you have been in the area where yellow fever is present in the last six months
Email address where you can receive your Madagascar visa—In case you're getting the visa before your arrival in Madagascar
When you receive the visa, you should print it out and make sure you have a copy by your side during your stay. If you're getting a visa on arrival, you should have a plane ticket that confirms you will not stay in the country longer than 90 days.
How Is COVID-19 Affecting Visits to Madagascar?
While you don't have to get vaccinated against COVID-19 to enter Madagascar, you will have to submit one of the following:
Negative PCR test results not older than three days
Document from a licensed health institution that proves you made a full recovery from COVID-19
Note that this country forbids public gatherings of more than 400 people. For additional information about the Madagascar health measures, you can contact the following:
Diplomatic Mission
Email Address/Phone Number
Embassy in Washington, D.C.

malagasy.embassy@verizon.net
202 265 3034

Honorary Consulate of Madagascar in Solana Beach

info@madagascar-consulate.org

Honorary Consulate of Madagascar in Philadelphia
Madagascar Consulate General in New York

repermad@verizon.net
212 986 9491
Do's and Don'ts of Your Madagascar Visit
If you are traveling to Madagascar for the first time, you should get to know this country before you arrive. Here are some of the do's and don'ts for tourists in Madagascar:
Do
Don't

Make a copy of your traveling documents
Learn phrases like "Salama" (hello), "Veloma" (goodbye), and "Azafady" (excuse me)
Try some snacks like brochettes and zebu meat
Boil and filter water
Use insect repellents—During summer, mosquitos are almost unbearable
Visit Ranomafana National Park

Feed lemures or other animals you may encounter
Forget your swimming suit—This island has many places to swim
Buy anything that children sell you without their parents present
Forget to address elders as "tampoco"—It means both sir and madam
Use public transportation unless you really have to—It is usually overcrowded
Visit a remote area without a guide
DoNotPay Makes Your Visa Application a Piece of Cake
A visa application can be time-consuming. Instead of worrying whether you have all the necessary documents or not, turn to DoNotPay!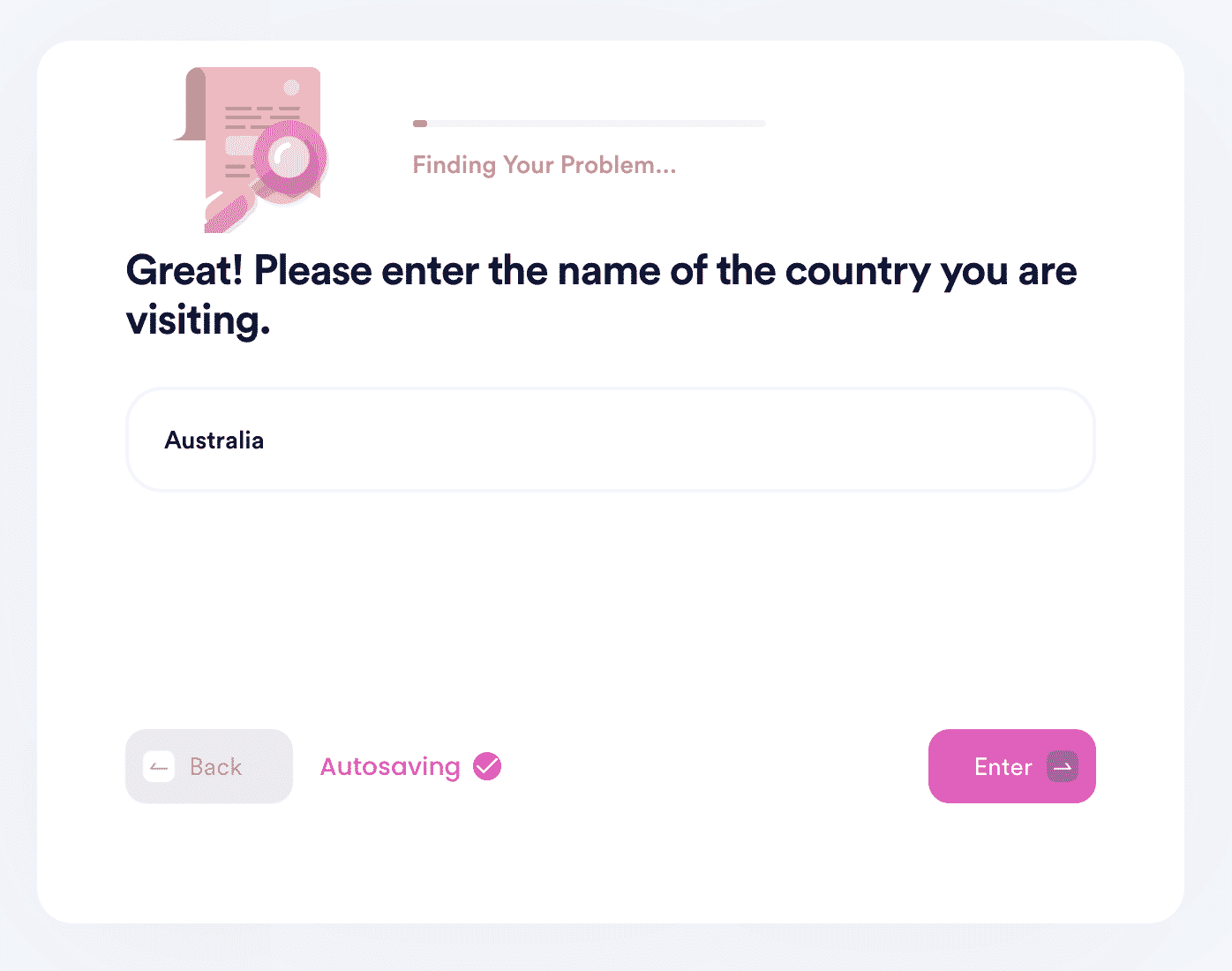 To get that much-needed assistance, here's what you need to do:
Locate the Tourist Visa Guide feature
Click on I Am a U.S. Citizen or Own a U.S. Passport
Type in the name of the country you want to visit
Within a couple of minutes, DoNotPay will conduct all the necessary checks, and you will get an update on your Madagascar tourist visa requirements.
Our nifty Tourist Visa Guide product will provide you with a list of the required documents. We will also contact the embassy to check if it accepts emailed applications.

Our service doesn't end here. DoNotPay will send you a direct link to the tourist visa form you should complete. If you plan to submit your visa application in person, we'll provide a printable form version instead.
DoNotPay Will Assist You With Visas for Any Destination in Africa
A Madagascar tourist visa is not the only one DoNotPay can help you with. Our services cover destinations all across the globe.
Once you subscribe to our app, you can get a tourist visa application guide for other African countries, such as:
Solve Your Legal and Bureaucratic Issues With DoNotPay
The primary purpose of our app is to provide you with practical tools that can speed up all the drawn-out tasks you must complete. All you need to do is choose a suitable feature from our offer and get your problems solved in a heartbeat!
Once you create an account with DoNotPay, you can:
Feeling Unsafe or Harassed? DoNotPay Can Help You!
Have annoying calls and messages become your everyday problem? Don't give up on your peace—rely on DoNotPay and deal with robocalls and restless text and email spammers easily.
We also take care of your privacy, allowing you to create burner numbers and virtual credit cards to avoid revealing sensitive information when signing up for various online services.
If you are being stalked by somebody or discriminated against at work, we will do our best to help you fight for justice and report the case accordingly! We will also safeguard your creative work from copyright violation and ask for violent crime compensation on your behalf.