Learn How To Use an M4A to MP3 Converter With Zero Effort!
M4A is a file format that's primarily used to hold audio files in an AAC (Advanced Audio Coding) container format.
MP3 is a digital audio file format that is widely used for playing and recording music and sound effects.
There are many MP3 converters that you can use to convert audio files to various formats, including an M4A file to MP3. To save you from searching for one on your own, we'll provide you with a step-by-step guide to converting your files using an M4A to MP3 converter. If you don't want to use online audio converters, you can always register for DoNotPay and use our File Converter product to convert your M4A files in a few clicks!
How To Convert M4A to MP3
Figuring out what the best way to convert your files is can be overwhelming since there is more than one available option. Here are a few ways to convert your M4A files to MP3:
Through different online converters
By downloading software for converting files
With built-in apps or programs on your device
The most commonly used conversion method is using a free online converter. Downloading a program to your device takes more time than using an online converter, and it's usually not free—most of these programs require paying a certain fee to use them.
Some of the commonly used M4A to MP3 converters you can check out are:
CloudConvert
Zamzar
Convertio
These web-based converters require you to upload the file you wish to convert, choose the file format you want the file to be converted to, and download it once it's done. It sounds simple and straightforward, but that doesn't mean certain issues aren't bound to pop up when using this conversion method.
The Issues You Can Come Across When Using Free M4A to MP3 Converters
Although sometimes convenient and easy to navigate, these websites often come with several problems as well. Here are some of the potential issues you could run into:
The quality of the files after the conversion is low
You are often being forced to provide your email address, which leads to incessant email spam afterward
You can't convert a large video or music file without the converter freezing or lagging
The safety of your files isn't protected at all, and they can be shared with other parties without your knowledge or consent
Your computer can get infected with viruses and malware since these online converters don't provide a satisfactory level of protection against them
How To Convert an M4A File to MP3 With DoNotPay
DoNotPay is your safest option when it comes to converting your M4A file to MP3 on both Mac and Windows. We make sure your personal info and documents are completely protected against malware and unauthorized third parties, so you can have peace of mind and get your high-quality MP3 file in seconds! We'll even delete your files 24 hours after the conversion to ensure a 100% safe and secured process.
To get started, sign up for DoNotPay and follow the next steps:
Open the File Converter product
Upload your M4A file
Choose MP3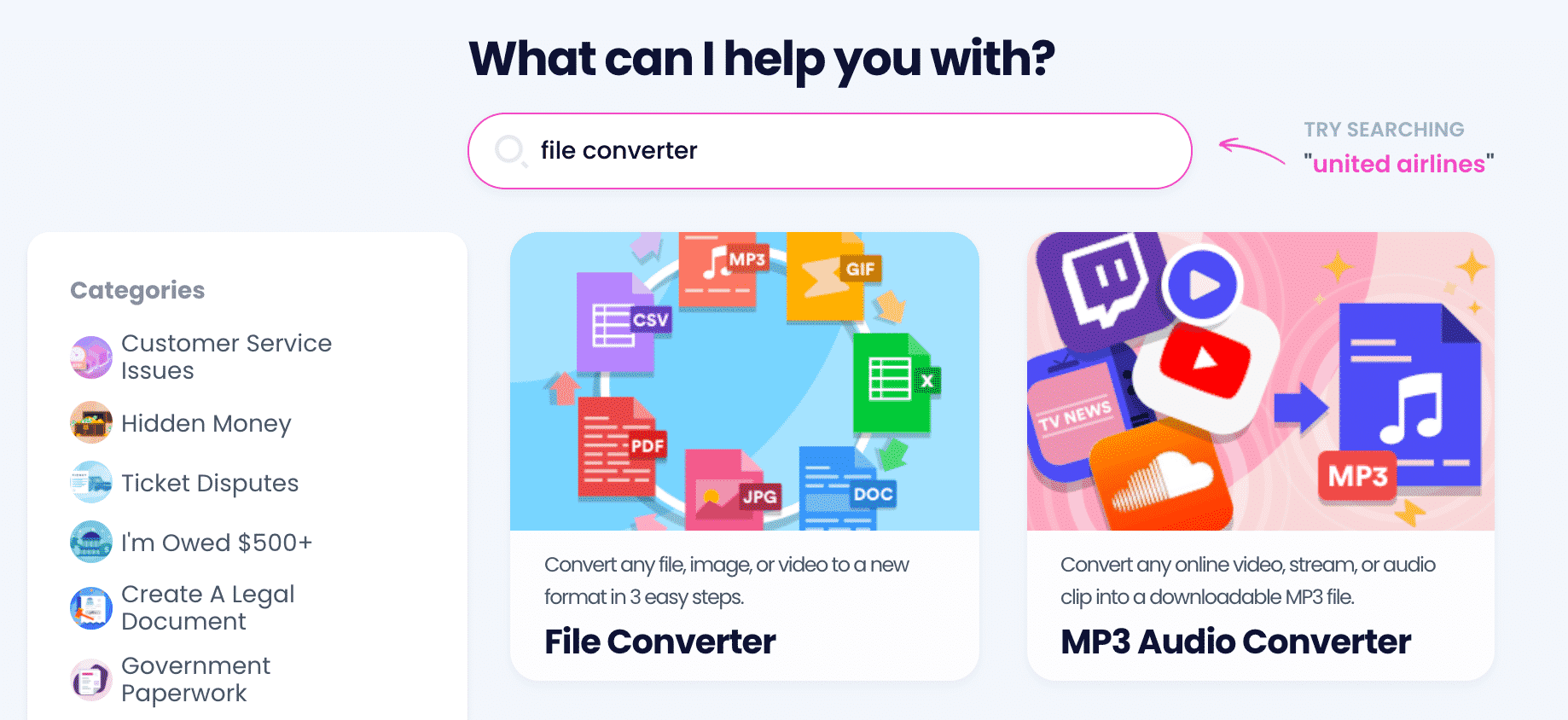 Our app will finish the conversion in a few seconds, and you can proceed to download your converted file from the My Disputes page instantly.
What Other File Types Can DoNotPay Convert?
If you're looking for a way to convert more than your M4A files, we can help! There is no shortage of file types our app can help you convert with no effort. Check out the table below to see some of the available ones:
Convert, Compress, and Download Anything With DoNotPay
Technology is advancing at a rapid pace, and it can be rather difficult to keep up. But there's no need to worry if you're not particularly tech savvy—DoNotPay got you covered!
With our easy-to-use app, you can compress any file, download videos from the web, and convert online videos to mp3 files, all with a few clicks. There's absolutely no experience needed. Your files are 100% safe and your privacy is ensured because we delete the converted and compressed files after 24 hours.
Save Time and Money With DoNotPay
On top of file conversion, DoNotPay has hundreds of different products that automate boring tasks and streamline complex processes. And the best part is—you get access to all of them, so you can use our award-winning app to save a ton of time and money.
Here are just a few examples of what DoNotPay can help you with: