Luzerne County Property Tax Assessment
in a Nutshell
The property tax rate in Luzerne County is 1.65%, which is above both the state and national average effective rate. This doesn't mean you have to move to a state that has a low property tax rate. To prevent your property tax bill from skyrocketing, you should learn more about the process that determines your property's value.
In this article, you can learn all about the Luzerne County property tax assessment and the best way to appeal it.
Understanding Property Tax Assessments
Each state determines how and when the property tax assessments will be carried out. Some states perform them every year, other states once every two or three years. While the dates can vary, the process is quite similar everywhere.
The local tax assessor's office is in charge of scheduling and carrying out property tax assessments. The way assessments usually work is that the assessor visits the property to estimate its value based on the criteria that include, but are not limited to:
Size of the property

Land-to-property ratio

Location

Number of floors

Number of rooms

The market value of neighboring properties

Permanent installations on the property, like sheds, pools, or solar panels
How Do the
Luzerne County Property Tax Assessments
Work?
Tax assessors in Luzerne County and across Pennsylvania establish the value of each property and collect revenue for municipalities and school districts.
The following table shows how the state officials determine the value of each property:
Value

How Is It Determined?

Market Value

The Pennsylvania State Supreme Court

defines the market value

of the property as the price in a competitive market while considering all the legal uses of the property 

Assessed Value

The local assessor establishes the assessed value by multiplying the market value with the predetermined ratio
Local assessors in Luzerne County perform property tax assessments every year.
How To Lower the
Luzerne County Property Tax Assessment
Value
Understanding property tax assessments makes it easier to lower your property's official value. If your scheduled assessment is approaching, here are some strategies you should implement that will help you lower your property tax bill:
Research the neighboring properties

—Looking into the public records of your local tax assessor's office can give you a clear picture of the market value they are basing your property's value upon. If you know the value of neighboring properties, you will be more successful in catching any irregularities with your assessment

Tag along with the assessor during the valuation

—Don't let the assessor make mistakes and overlook important damages that could otherwise lower the value of your home—accompany them during the assessment and point out everything wrong with the property

Postpone home improvements and renovations

—Wait until the assessment is over to install outdoor lightings or renovate the patio because every improvement and addition to your property increases its value and your tax bill

Show assessor the inside of the property

—You are not obligated to let the assessor inside your home, but opening up your doors to them has its benefits—you can show them everything wrong with your house that they couldn't see from the outside and, that way, prevent them from assigning the wrong and higher value
Luzerne County Property Tax Exemptions Eligibility Criteria
Luzerne County offers eligible citizens to apply for Homestead or Farmstead property tax exemption.
A homestead refers to the property that the owner uses as their primary residence. A farmstead includes all the buildings and structures on the farm that the owner uses primarily to:
Store and produce farm products

House or confine animals

Store agricultural supplies

Keep machinery and equipment
All of the mentioned items must be used on the farm for the purpose of commercial agricultural production.
If you are not sure whether you meet the criteria for a Luzerne County property tax exemption, sign up for DoNotPay and get the answer instantly.
DoNotPay Helps You Appeal the
Luzerne County Property Tax Assessment
Fast!
Whether you want to apply for an exemption or appeal the property tax assessment, doing it yourself demands a lot of time, energy, and sources. You have to gather the important information, documents, and evidence, and all before the deadline set by the county.
State and county officials won't do much to help you with any of these processes, but don't fret—DoNotPay is here to assist you!
By using our Property Tax product, you will get a custom-made guide that contains every important piece of information you need to deal with property taxes.
To get DoNotPay's customized manual, follow these simple steps:
Find the

Property Tax

feature

Answer our chatbot's questions about yourself and your property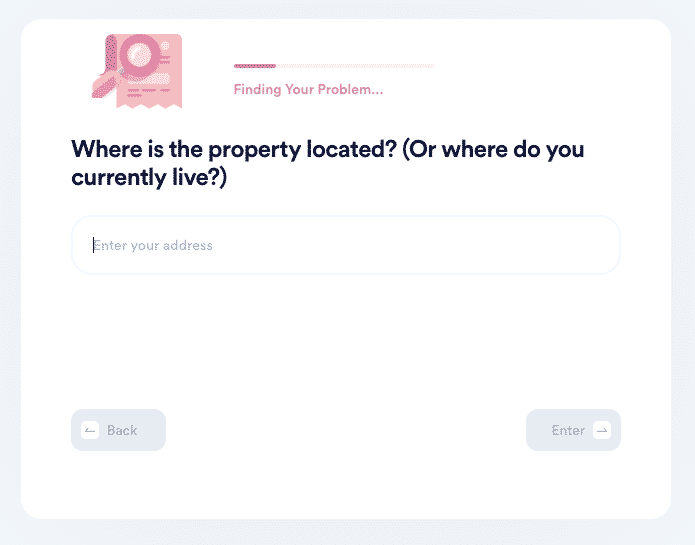 We will automatically generate a handbook specifically for your property, and you can use it whenever you need it.
Here is what our guides contain:
Property tax appeal deadlines

A list of documents and evidence you need to appeal past assessments

Instructions on how to successfully negotiate with your local assessor

Other important information and tips on reducing your property tax bill
If you need help paying your property tax bills, you will be happy to hear that your personalized manual also shows whether you are eligible for any property tax exemptions and how to apply for them.
The most common property tax exemptions include:
Keep Your Money Safe With DoNotPay
Don't let greedy companies threaten your consumer rights by holding back refunds, refusing to cancel your subscriptions, or charging you after your free trial ends.
DoNotPay helps you try out different services without providing your credit card info or phone number—you will never again have to deal with unexpected post free trial charges!
Our app also helps you avoid paying unnecessary parking tickets, delay challenging bills, or waive your college application fees. 
If any company refuses to issue you a refund or an airline won't compensate for canceled flights, we can help you sue them in small claims court.
DoNotPay Is a Time-Saving App
How many customer service reps do you have to deal with only to file an insurance claim or book your DMV appointment?
DoNotPay helps you sort out these tasks and much more in only a few clicks.
Get your revenge on robocallers, report text scammers, find validated clinical trials, claim your warranties, get in touch with your loved ones in prison, and protect your creative content—all in less than five minutes. 
No more hours-long phone calls, emails, or in-person visits. 
We cover everything from freeing your inbox from spam to providing excellent prep tests for government exams! Save time with your all-in-one app!