Lubbock County Divorce Filings—What You Need To Know
If you and your spouse have agreed to get a divorce in Lubbock County, you might need to get information about how the divorce process works. Follow our guide and learn everything you need to know about the Lubbock County divorce filings.
Do you want to speed up the complicated process? Subscribe to our app to get a divorce settlement agreement. We can also provide practical advice on:
Ways To Get a Divorce in Lubbock County, TX
There are two ways to get a divorce in Texas:
Contested divorce—You and your spouse are in disagreement on crucial divorce-related matters and need court intervention
Uncontested divorce—Both of you agree on the main divorce terms and sign the divorce papers together
Filing for an uncontested divorce has its pros—it's quicker, easier, and more affordable compared to a contested divorce, especially if both spouses agree on everything and don't need to consult a lawyer. You can save your time, money, and effort by getting a divorce without going to court.
Valid Grounds for Getting a Divorce in Lubbock County, TX
To make matters less complicated, you can file for a no-fault divorce in Lubbock County, TX. When filing for a no-fault divorce, both parties agree to absolve the other from any blame or accusation and can settle the matter without court intervention.
You can file for a fault-based divorce if you can provide evidence for one of the reasons mentioned below:
Living separately—You and your spouse have been living separately without cohabitation for at least three years
Adultery—One spouse has caught the other one being intimate with a third party
Abandonment—One spouse has left the other intentionally
Domestic violence—One partner is abusive to the other partner. The abuse can be physical, verbal, mental, or emotional
Mental illness—A husband or wife has been admitted to a mental hospital for a minimum of three years
Long-term incarceration—A spouse has been incarcerated for more than a year
What Forms Are Required for an Uncontested Divorce in Lubbock County?
To file for a friendly or uncontested divorce in Lubbock Country, you need to file the following forms:
Petition for divorce
Citation (Summons)
Waiver of service
Final decree of divorce
Notice of final decree
Child support order
Other forms that may be required on a case-to-case basis include a power of attorney to transfer motor vehicles, an affidavit of inability to pay, etc.
How To File for an Uncontested Divorce in Lubbock County
Filing for divorce can be quite easy, especially if it's an uncontested one. Here are the steps you need to take:
Steps To Take To File for Divorce
Explanation
Meet the residency requirements
To file for divorce in Lubbock County, you need to:

Live in Texas for six months before filing for divorce
Be a resident of Lubbock County for at least three months before filing a divorce petition

Fill out the forms
Fill out the divorce paperwork and file a petition for divorce with the District Court. You will need to pay $300 as the divorce filing fee
Take inventory of all joint assets
Jot down all joint assets, liabilities, income, and debt so that everything can be divided fairly between you and your spouse
Finalize the settlement agreement
The final hearing takes place after the 60-day "cooling off" period has passed. Use this time to finalize the settlement agreement or consult a mediator to fix any unresolved issues
Attend the divorce hearing
After 60 days, you and your spouse need to go to court to attend the hearing and answer any questions the judge might have
After the hearing, the judge will sign the divorce decree, which you need to file with the District Clerk's office. Bear in mind that you should keep one copy of the decree for yourself.
DoNotPay Can Generate a Divorce Settlement Agreement Within Minutes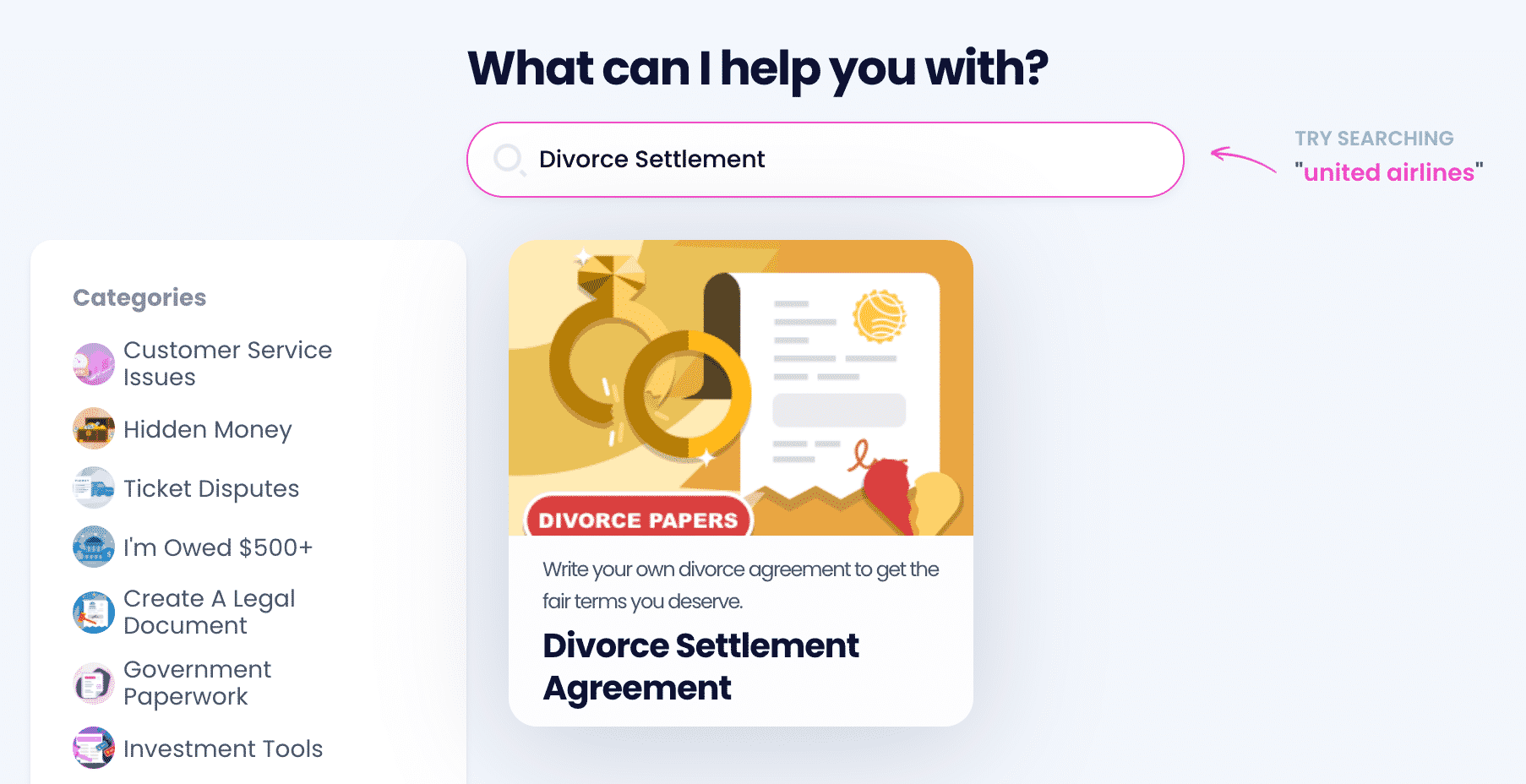 Even if you want an out-of-court divorce settlement, you need to follow strict state law requirements. If you make a single mistake, fixing it becomes a time-consuming hassle. Why take unnecessary risks when we can create a personalized divorce settlement agreement that follows all the required rules and regulations?
All you need to do is follow these instructions:
Select the Divorce Settlement Agreement product
Enter information about your spouse, children, income, and assets
Opt for our online notary services (if applicable)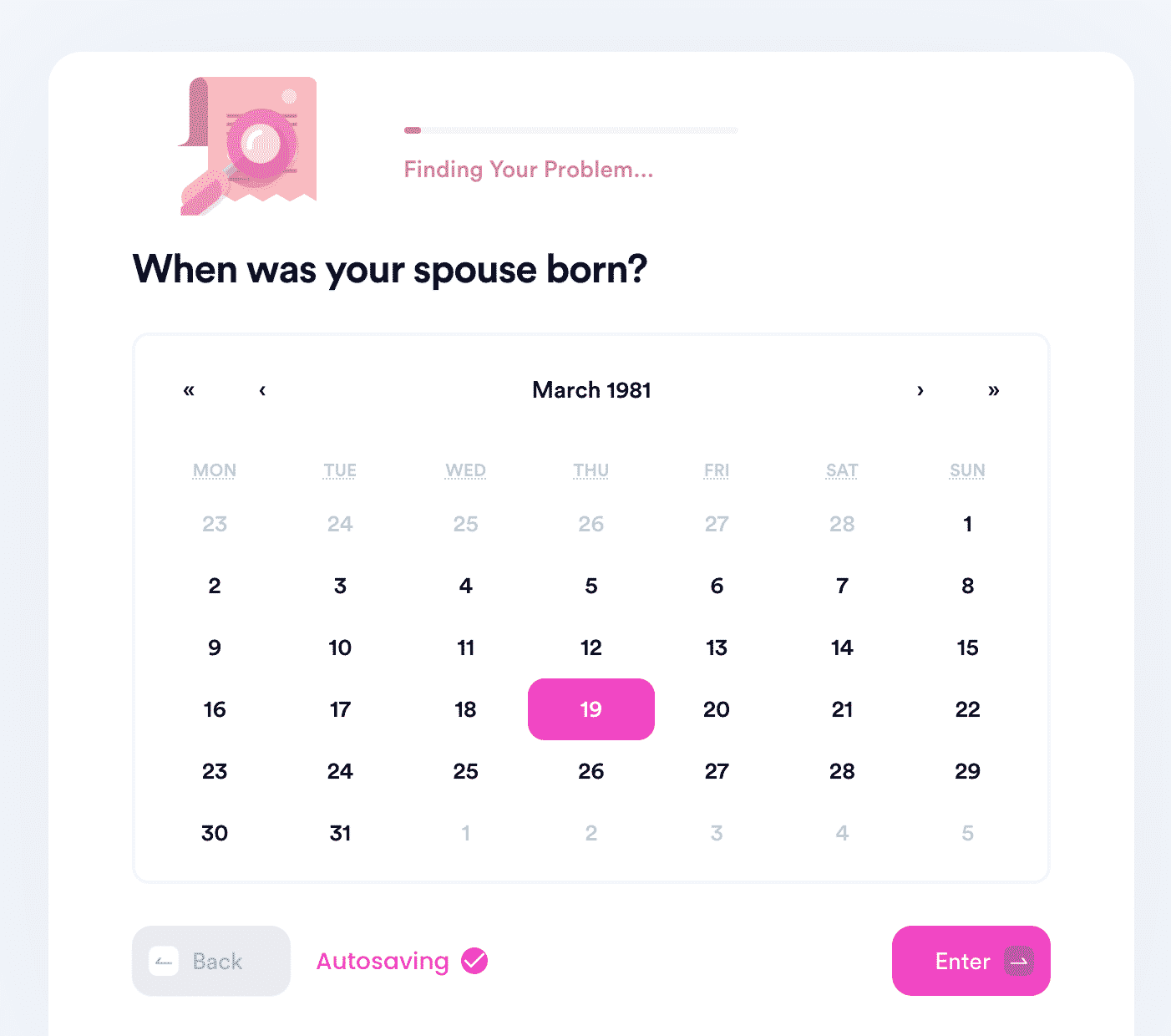 We will draft your document customized according to your specific requirements. Consider getting the document notarized to confirm that both spouses are signing the document of their own free will.
If you don't know where to find a notary, we can connect you with one without a hassle! You can get your divorce agreement notarized in a video meeting.
Do you have more questions about how divorce works in Texas? We can provide guidance on various topics, including:
DoNotPay Is the Robot Lawyer You Need!
Dealing with the law and understanding legal protocols is difficult if you're not used to doing it on a daily basis. That's why DoNotPay comes to the rescue!
Assisting you in drafting legal documents, creating a neighbor complaint letter, and suing companies in small claims court is what we do best.
That's not all! With us, you can tackle any legal task head-on, no matter how big or small, including:
Deal With Companies Hassle-Free
If you love to shop and you want to make the experience as easy and enjoyable as possible, you're in the right place! DoNotPay provides you with various features that allow you to accomplish just that.
You don't have to struggle trying to reach customer support or figuring out how to claim a warranty or file an insurance claim by yourself. You can cancel any subscription, sign up for free trials, and discover how to use every last penny from your gift cards in minutes!
In case you made a purchase, but your package is missing, don't fret! Finding your missing parcel is only a few clicks away.