How can I lower my bills? DoNotPay has the answer
According to Banking Journal, 54% of Americans are struggling with most aspects of their financial lives. Monthly bills are a major concern among people of all ages. Even those with stable jobs get a headache when they open their billing statements at the end of the month. While medical bills are the most expensive ones, utilities, cable, and other expenses can also be exorbitant. 
As a result, more and more people are looking for help with paying and, if possible, lowering their bills. Luckily, you've come to the right place—DoNotPay is here to help you in your struggle.
DoNotPay can help you lower your bills

Our app is the right way to solve your issue with high bills when you're looking for the most efficient solution that won't incur additional costs—you can use DoNotPay free of charge. You alone don't have to put in that much effort, either. You only need to do the following:
Log in via a

web browser

Tell us what bills specifically you're struggling with

Explain why you need help (low income, financial hardship, etc.)

Leave your name, email, and other required information
When you do this, the rest of the work is on us. DoNotPay will send you a confirmation when the process is completed, which will happen within 48 hours. 
What else can you do to lower your bills?
Whether you have low income or you're just currently going through some financial hardship, there are quite a few things you can do to deal with the problem. For a start, here are some useful tricks to lower your bills.
| | |
| --- | --- |
| Bills | How to lower them |
| Gas and electricity | If your heating and cooling devices use too much energy, you might want to consider investing in energy-efficient windows, which are designed to keep cooled or heated air inside. You can also switch to LED light bulbs, as they use only 2–17 watts of electricity. Another worthy investment is a programmable thermostat, which allows you to adjust the temperature according to your needs. |
| Water | In case your water bill is too high, the first thing you should do is check whether there's an unknown leak. Even the smallest leak can cost you a lot when it all adds up at the end of the month, so make sure you fix those. Another useful thing to do is to invest in your faucets by installing aerators. Aerators control the amount of water flowing from the faucet, so you can save a lot even when the water is running. |
| Cable and Internet | If your budget is no longer sufficient to cover the costs of cable and the Internet, you can call your provider and tell them you want to cancel the service. They will do whatever they can to keep you as a customer, including offering discounts and special promotions that you could never get by conventional methods. |
| Phone | When it comes to negotiating your phone bill, it is always useful to draw a comparison between your plan and what a competitor offers at the same price. Contact your provider and tell them that you've found a better offer someplace else. If you let them know you're thinking about switching to competitor's services, they will probably make some special offer just to make you stay. |
| Medical | One of the best ways to lower the otherwise exorbitant medical bill is to pay in cash. Most medical providers will lower the total amount if you pay your bill in cash instead of a credit card. Another possible solution is to ask your doctor if there are any low-cost treatments available for your condition. There are numerous low-cost clinics where you can get affordable treatment even if you don't have health insurance.   |
Talk to your service provider about special payment plans they offer
No matter what bills you're struggling with, the service provider in question is likely to have some kind of a payment plan to offer. There might be some specific requirements you need to meet to get one, so don't forget to contact your provider to ask. Explain your situation so that they have a clear picture of what kind of payment plan might work best for you. Most special payment plans cover the following groups:
Low-income families

Single mothers

People with disabilities 

The elderly

Military veterans
This option is most suitable if you're struggling with cable or phone bills. These providers usually have quite a few plans to offer, so you can always ask to switch to a more affordable one.
Ask if you can get a discount
Lowering your bill by asking for a discount is an excellent option that not enough people use. Users tend to think that providers will let them know of available discounts, but that's not necessarily the case. There are usually quite a few special discount schemes that you can learn more about only if you ask. 
If at all possible, try to pay your bills on time to get an early payment discount. You may also get a lower rate based on the number of family members or if you or anyone in your family is a former military service member. 
Think about alternative solutions where possible
In case you can't seem to lower your bills and your income is not sufficient to cover the amount you're being charged, it might be time to switch providers. This is a great solution if you're struggling with cable and Internet or phone bills. There are so many providers of these services out there that you are bound to find an offer that fits your budget. Do thorough research to look for a suitable alternative before you pay another unreasonably high bill.
Turn to organizations offering financial assistance if you can't lower a bill
If none of the previously mentioned methods for lowering your bill work, there's no need to start panicking. There are so many non-profit organizations and charities where you can turn for financial aid when you're struggling with bills. The eligibility requirements usually differ from one organization to the other, but in most cases, you will need some proof of low income to qualify for their programs. If you don't know where to start looking, we suggest that you consider some of the following:
| | |
| --- | --- |
| Organizations and programs | What they offer |
| | This non-profit organization offers free grants for people going through a financial crisis. The most commonly covered groups include low-income families, families with children, and the elderly. You can apply for their program to get help with paying bills and covering emergency and everyday expenses. Applicants need to demonstrate their need for help and be as specific as possible when explaining their problem to be approved cash assistance from Net Wish. |
|   | This charity organization offers help regardless of applicants' religious affiliation, background, or race. Even though it most commonly provides assistance with food, shelter, and clothing, the organization partners with many churches and charities that can help you with overdue utility bills and rent. You may not be able to get direct financial aid from this charity, but rest assured that they will find the right organization to refer you to. |
|   | With local centers all over the country and worldwide, The Salvation Army is probably one of the best known charitable organizations that offers financial assistance to those in need. You should know that their resources are always limited, so make sure you contact your local office to tell you about eligibility requirements. In addition to helping people struggling with bills, they also offer help with other basic needs, such as food and clothing. |
Rely on DoNotPay to ask for an extension date for your bills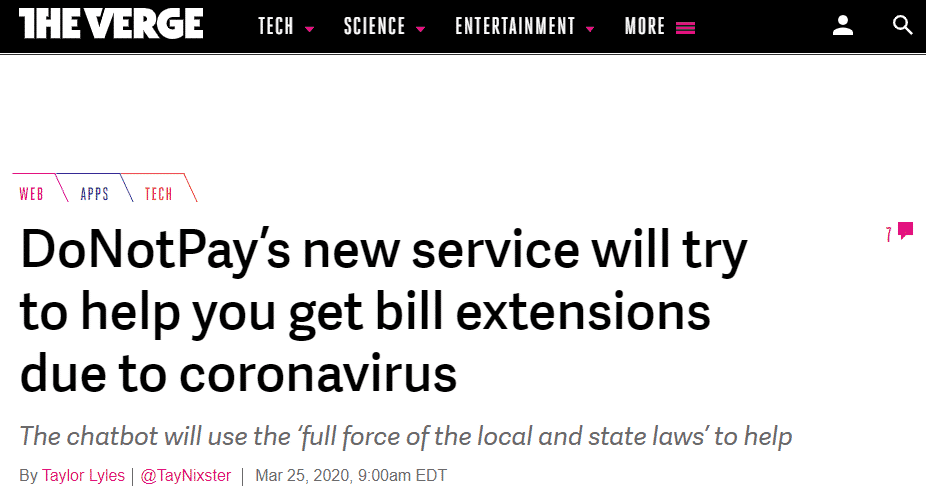 Since so many people out there are struggling with their monthly bills, asking for an extension is more common than you might think. Your service provider will need to know that you have a valid reason for requesting an extension date. Other than that, there's not much you should worry about when it comes to the application itself. If you decide to ask for an extension, you can do that:
In person

Via phone

By sending an extension letter
The process can be particularly smooth and efficient when you use our app to get the job done. If you've never been in a similar situation, you're not even familiar with the very concept of an extension letter and how to compose it. DoNotPay is here to write a letter asking for an extension, as well as to send it on your behalf. To be able to do that, we only need you to give us your personal information and tell us who is your service provider, so we know where the letter is to be sent. You will also need to explain what kind of problem you have and why you're unable to pay your bill in due time. After that, all the rest is on us.
Let DoNotPay ask for late fees to be waived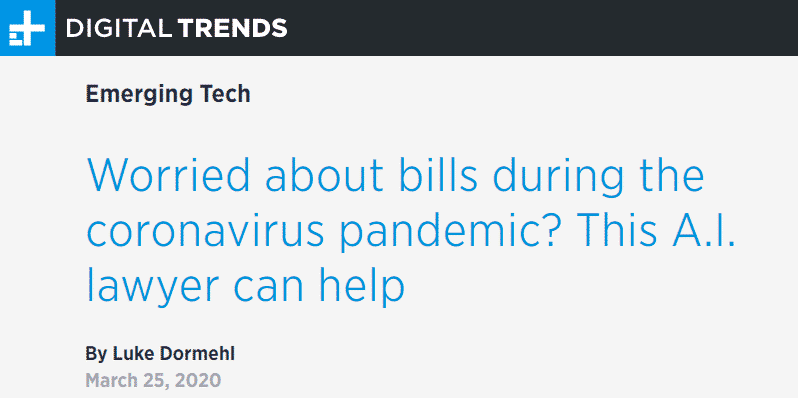 Another useful solution where DoNotPay can give you a hand is asking for a waiver on late fees for your bill. Many providers will be willing to do this—you just need to ask them. When you decide to do so, you can:
Go there in person

Dial their number to get in touch with customer support

Hire a lawyer to ask for a waiver

Send a letter asking for a waiver
Similarly to the extension letter, DoNotPay can ask for a waiver on your behalf. This is a much better solution than hiring an expert lawyer or a financial advisor to help you because you get the help completely free of charge. It is an efficient solution, too—we can complete the entire process within no more than two days. We just need you to provide some details about your situation, explaining why you're asking for a waiver. Based on that, our app will generate a waiver letter and send it on your behalf. All you need to do is wait for our confirmation.
Is it a good idea to apply for a loan if you can't lower your bill?
Applying for a loan to pay your bills should be your last resort. It must be stressful to have those accumulated bills waiting to be paid, and borrowing some money might seem like an easy fix. Still, that doesn't mean that applying for a loan will solve your problem. It might do so temporarily, but in the long run, you're just going to end up in even greater trouble. When you add the interest rates, you will have to pay much more than you would for the accumulated bills. There are many other much more convenient solutions, so make sure you consider all of these first. 
Should you use a credit card for paying bills?
Cashless payment does come with a wide range of advantages, but paying bills by using your credit card is not one of them. In case you don't have enough cash to pay what you owe, it's better to use your credit card than to leave the bill unpaid. The same goes for emergencies. If you rely on this form of payment too often, though, that can do you more harm than good. Using your credit card too frequently and for huge bills can seriously damage your credit score. 
Be prepared for the consequences if you don't pay a bill
In case you don't manage to lower your bills on time or you don't get the financial assistance that you were hoping for, you should be prepared for what comes next. When you have an unpaid bill, your service provider will be forced to take certain actions to make you settle the debt. Their actions will be more and more drastic if time goes by, and you still don't do anything to pay what you owe. 
They will probably start by sending you a notice. The next thing they can do is disconnect you. If you don't respond to these, they can hire a debt collection agency to deal with you. A debt collector can even take you to court. It would be best to prepare for this scenario right from the start, just in case. Here's what you should do:  
Learn more about collection agencies

Record every step you take

Ask if you can pay a part of your debt
Learn more about collection agencies
To reduce stress and anxiety, you need to learn more about collection agencies and find out how they operate. Just because your service provider included a third-party collection agency in the process, that doesn't mean that they will take you to court immediately. In some cases, debt collectors aren't even allowed to do that unless your service provider authorizes it. You should keep in mind, though, that debt collectors get paid for recovering a delinquent debt, so they won't give up easily until you pay all your overdue bills.
Record every step you take
When you find yourself in this type of situation, it would be best to have a paper trail of every step you take, for your own peace of mind. You shouldn't throw away anything that has to do with your debt progress. When you have proof of all previous payments, there's no room for any misunderstanding about how much you currently owe. In case a collection agency tries to charge you a greater amount, you need that paper trail to protect you. Even if it eventually comes to court, remember that DoNotPay can help you prepare all the required paperwork for a case in small claims court. 
Ask if you can pay a part of your debt
It often happens that collection agencies are willing to accept counteroffers. Even if you have enough money to cover just a small portion of the debt, make sure you offer to do that. What's important is that they see that you're not planning to neglect your unpaid bills completely. They can allow you to pay a certain amount instantly, and then work out some schedule for future payments until the entire debt is settled. Keep in mind that they won't give you this option if you don't ask for it yourself. 
Is there anything else that DoNotPay offers help with?
There are many other potentially problematic situations in which DoNotPay can save you from a lot of trouble. Whether you have problems with some other bills, canceling your subscription, or traffic tickets, we've got you covered. Here's what our app can do for you:
Dispute unfair traffic tickets

Fight speeding tickets