A Guide to Understanding the Low Property Tax in NJ
Spending money on property taxes is never a fun experience, especially when they are as high as they are in New Jersey. Finding a low property tax in NJ can be difficult, but not impossible! To all the fellow New Jersey residents—don't lose hope yet! We can show you how to lower your property taxes and point out the states with the lowest ones!
What Are the New Jersey Towns With Low Property Taxes?
We present you with a list of the towns with the lowest property tax rate in New Jersey below—check it out!
| | |
| --- | --- |
| Town | Average Property Tax Rate |
| Walpack, Sussex County | $515 |
| Camden, Camden County | $1,728 |
| Woodbine, Cape May County | $1,963 |
| Teterboro, Bergen County | $2,026 |
| Lower Alloways Creek, Salem County | $2,053 |
| Commercial, Cumberland County | $2,539 |
| Audubon Park, Camden County | $2,574 |
| Washington Township, Burlington County | $2,941 |
| Dennis, Cape May County | $3,185 |
| Salem, Salem County | $3,232 |
How Can I Lower Property Taxes in NJ?
The easiest way of lowering your property taxes is by applying for exemptions. The common property tax exemptions in New Jersey are:
Homestead Exemption
A homestead exemption is one of the most common exemptions. It allows home and property owners to reduce their property taxes by removing a part of their home/property value from taxation. You can qualify for this type of exemption if you:
Are an owner of the home/property

Occupy the home/property as your main place of residence
Senior Citizen Exemption
If you are a senior looking for exemptions and deductions for your property taxes, the exemption for senior citizens is perfect for you. All you have to do to meet the qualifying guidelines is:
Be 65 years of age or older

Fall under the income limitations set by the state of New Jersey
Disabled Veteran Exemption
There is a special type of exemption that applies to disabled veterans. If you are completely disabled as a result of your military service, you are eligible for the disabled veteran exemption. You will have to provide proof of your disability, and this exemption can, in most cases, be passed to the surviving spouse as well.
Disability Exemption
If you are legally blind or a person with a disability, you may be qualified for the disability exemption. Offering proof of your disability or blindness will also be required, as well as meeting the income limitations and being a home/property owner for at least a year.
Permanently and totally disabled individuals who are 55 years of age or older are also eligible for this type of exemption in New Jersey.
Other Neat Methods To Lower Property Taxes in NJ
You can take matters into your own hands and try any of the methods provided below if you need help with paying the New Jersey property tax.
Skip all home improvement projects

Make sure that your tax bill has no errors

Appeal your property tax bill with DoNotPay

Keep the assessors company while they do their job

Apply for the applicable property tax exemptions
Home Improvement Projects
Skipping any home renovation project is a no-brainer when it comes to avoiding high property tax bills. If you do any home renovation projects before the assessor evaluates your property, your bill will amount to a much higher price than you originally anticipated.
Tax Bill Errors
It often happens that an assessor makes a mistake when evaluating your property. If you don't double-check your bill for any inaccuracies, you will not have a way of knowing a mistake occurred. That is why you must make sure your bill is error-free.
Property Tax Appeal
In the situation in which you checked your bill and discovered an error, you can opt to appeal the property tax assessment. There is no reason for you to pay for someone else's mistake, so use DoNotPay to find the appeal forms and file an NJ property tax appeal in a few simple steps!
Assessment of Your Property
Participating in the assessment of your property can be helpful for both you and the assessor. You get to make sure the job is being done and that no mishaps occur, while the assessors have you around to answer any questions that can be relevant and useful.
Property Tax Exemptions
Finding and applying for all applicable NJ property tax reliefs and exemptions is the easiest way of reducing any property tax. You won't have to search for them endlessly either! will provide you with personalized guides based on the information you give us in only a few minutes!
DoNotPay Shows You How To Lower Property Taxes in NJ in a Few Clicks!
DoNotPay developed a Property Tax feature that will make your life easier! You can have your New Jersey property tax reduced in only a few taps! The following instructions will show you how to gain access to your property tax-reducing guide:
Load DoNotPay from any

Hit the

Property Tax

feature

Answer a few questions about your property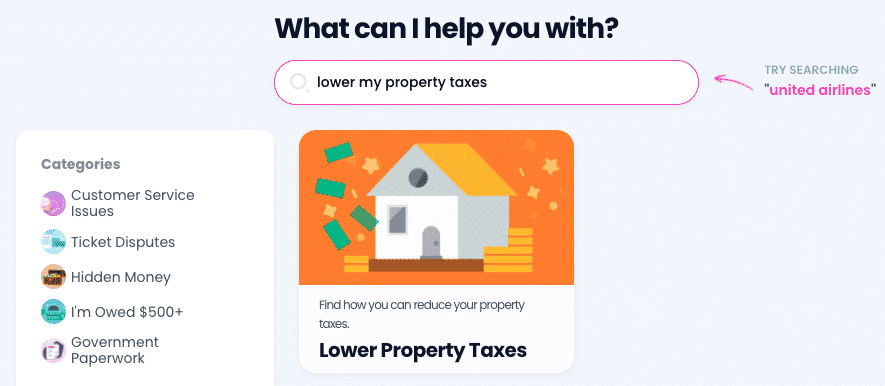 Our app creates your guide, and you are all set for your New Jersey property tax reduction!
Can't Afford a Lawyer? DoNotPay Will Jump In!
Did you know that you don't have to waste money on expensive legal help just to get rid of some minor bureaucratic issues? DoNotPay is here to save you hundreds of dollars with ready-to-use solutions that require mere minutes.
Our AI-powered bots gather the most important information via short questionnaires, draft required legal documents, and provide you with online fax services. If you need specific public records to support your case, we'll point you in the right direction.
With our virtual lawyer's help, you will be able to:
Spend Your Time on More Enjoyable Activities
With DoNotPay's help, you're bound to have more free time. If you're considering a new streaming platform subscription, make use of its free trial without worrying about unwanted charges. Need to get rid of other subscriptions? Use DoNotPay to cancel them without contacting customer support centers.
Don't worry about phone number identification at the signup. With our Burner Phone feature, spam text messages won't be bothering you ever again!