Find Out How To Get a Low-Cost Divorce Hassle-Free!
Getting a divorce is stressful and emotionally exhausting. Having to think about your finances and other factors involved only adds to the struggle, so we're here to take some burden off your back! We'll explain all you need to know about filing for divorce and show you how to get a low-cost divorce. Subscribe to DoNotPay to find out how to avoid the hassle of drafting a divorce settlement agreement by yourself!
What Is the Cheapest Way To File for a Divorce?
It's no secret that divorces can sometimes cost you a pretty penny. The cheapest way to get a divorce is to file a no-fault, uncontested divorce with a well-written divorce settlement agreement. That way, you can save yourself from unnecessary stress and settle the matters out of court.
The divorce settlement agreement is a document used to set out essential terms regarding the divorce, such as:
Child custody
Child support
Alimony (also known as "spousal support" or "maintenance")
Property division
You and your spouse should work together and agree on everything beforehand to ensure the creation of this document goes as smoothly as possible.
Although hiring a lawyer to help you with the agreement is a good call, keep in mind that they can often be pretty expensive. We'll offer you a couple of alternatives to help you avoid spending a fortune. Here's what you can do:
Find out if you're eligible for a free lawyer
Draft a divorce settlement agreement yourself
Subscribe to DoNotPay to draw up a divorce settlement agreement in no time
How To Get a Free Lawyer for Divorce
If attorney fees for divorce papers are too high for you, you can check whether you're eligible to get a lawyer for free. People with low income can usually get one by looking into federally funded programs or their state or local bar association.
The elderly, disabled, victims of domestic violence, and people enlisted in the military might qualify for the pro bono lawyer even if their income is a bit higher than what's required. If you're not eligible to get a pro bono lawyer, you can use DNP to learn how to file for divorce without involving a lawyer.
How To Get Divorced Cheap—Draft a Divorce Settlement Agreement Yourself
To avoid spending hundreds of dollars on lawyers, you can write the divorce settlement agreement by yourself. You have to make sure to do it in accordance with state laws and protocols, so thorough research is a must. Some of the crucial clauses that should be included in the agreement are:
Parenting time
Parenting responsibilities
The debt and property division
The amount and duration of child support
The amount and duration of spousal support
The process of writing your agreement can be tedious and time-consuming. The good news is that you can avoid the hassle by relying on DoNotPay. Let us draft a properly written divorce settlement agreement for you in a snap!
How To Get a Cheap Divorce With DoNotPay
If you managed to resolve all issues with your soon-to-be-ex-spouse and agreed to an uncontested divorce, DoNotPay can take over the task of drawing up your divorce settlement agreement. The best part is that it will take almost no effort on your part! All you need to do is provide us with some info, and we'll take it from there.
Complete the instructions below to get started:
Choose the Divorce Settlement Agreement feature and answer a few questions
Tell us how you want to allocate your financial assets
DoNotPay will draft the document instantly! All that's left is for you and your spouse to sign it and get it notarized.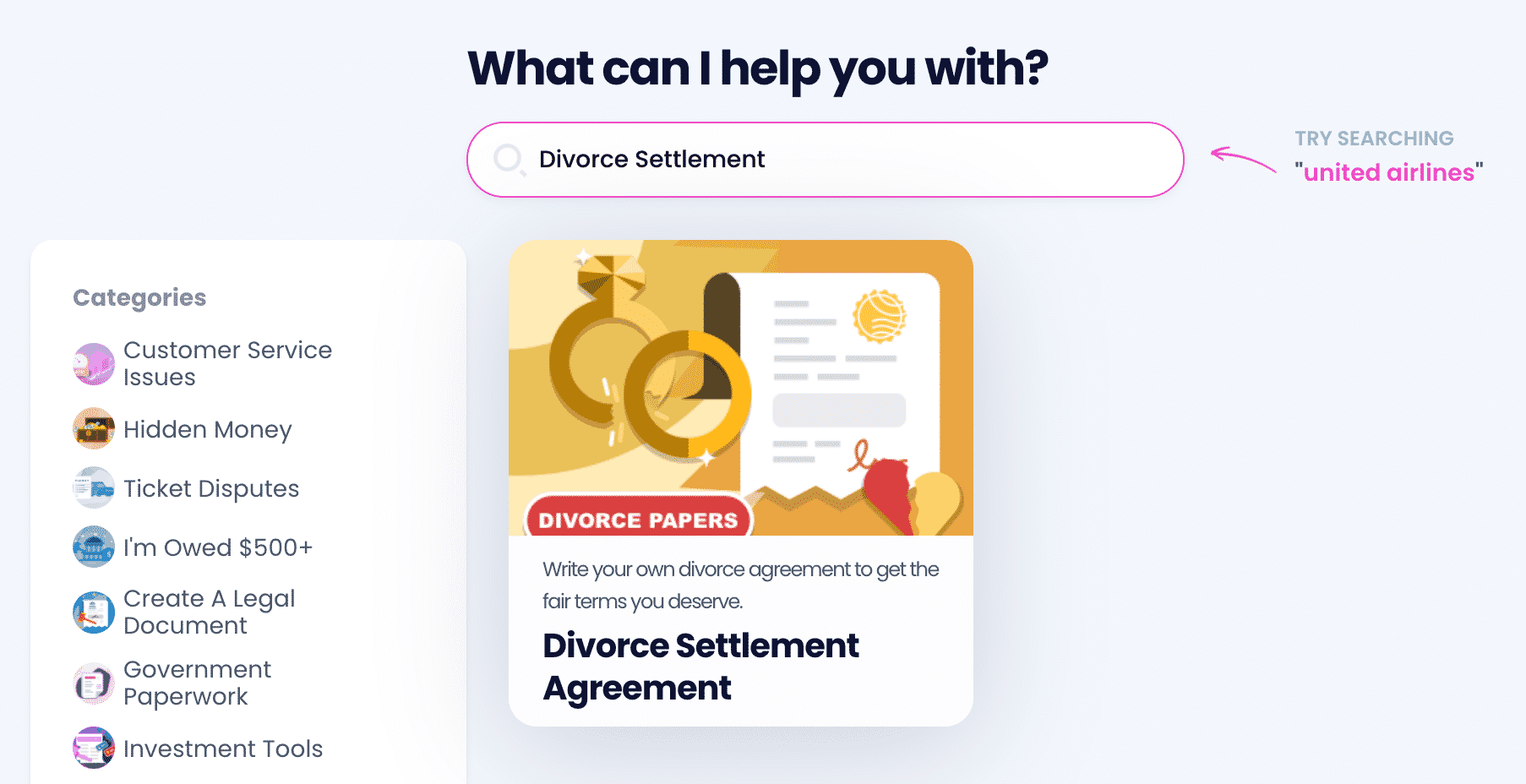 Getting your divorce settlement agreement notarized doesn't have to be a burden! We offer you the option to skip an in-person visit to a notary public. Once we draw up your agreement, choose to get it notarized through our app and kill two birds with one stone!
DoNotPay also helps you learn more about the cost of divorce in all states, including:
Explore DoNotPay's Database for Any Divorce-Related Questions
We offer the relevant info on various divorce-related tasks! Find out all about:
If you're curious about the divorce procedures in specific states, check out the table below:
Paying for Lawyers? We Don't Think So!
For an average Joe, any mention of legal terminology and complicated administrative processes is likely to cause a headache, and understandably so! Still, you don't have to jump the gun and hire expensive lawyers for the smallest matters.
It's the 21st century, and everything is automated. Why would it be different with bureaucracy? DoNotPay can help you draft efficient neighbor complaint letters, prepare you for a small claims court appearance, or create standardized legal documents and have them notarized online.
Our app is a great resource for fighting workplace discrimination, stopping stalking and harassment, protecting copyrights, securing compensation for victims of crime, and even reducing property taxes—all at a fraction of the price of traditional legal help.
Need To Do Some Penny-Pinching?
Whether you're saving for rainy days or a new gadget, DoNotPay can provide numerous options to save and earn more cash.
Do you need help with utility bills? Are you wondering how to get those few dollars left on your gift cards? Are you unsure about how to find your unclaimed money? If the answer is yes, our app can help.
With our assistance, you'll be able to enter raffles, start free trials with no risks, participate in lucrative clinical trials, or claim refunds for late deliveries!