Low-Cost Divorce in Florida—How To Save With DoNotPay
One of the most frightening aspects of filing for divorce is the prospect of the process costing so much that you end up with no assets left to split.
Florida divorces can be expensive undertakings, and you could face lawyers' bills and court fees that are punishing—on top of the trauma of the divorce itself.
DoNotPay is here to help you find the cheapest routes to divorce—check out our tips for securing your low-cost divorce in Florida!
What Is the Divorce Process in Florida?
If either of you has been living in Florida for the last six months, you are eligible to file for divorce.
Florida is a no-fault divorce state, so one spouse can file for divorce, claiming that the marriage is irretrievably broken.
To file for divorce, one of you must:
File divorce papers
Serve the papers on the other spouse
File Divorce Papers
The correct Florida divorce forms are available from the Florida state court system and need to be filled out and lodged with your county court.
You will have to pay the filing fee of around $400 when you lodge the papers.
Serve the Papers on the Other Spouse
Once you have filed the papers, you will need to have them delivered to your spouse, who must sign to confirm receipt.
You will need to use a sheriff or professional process server to do this at the cost of around $50.
Once you have filed your divorce papers and served your spouse, your divorce is in motion.
How Can You Save Money on Your Florida Divorce?
There are several areas where you can reduce your costs in a Florida divorce, as follows:
| Cost-Saving Options | Explanation |
| --- | --- |
| File for Simplified Dissolution of Marriage | A simplified dissolution is a quick, cheap way to get divorced in Florida without more than one court appearance and with no need for lawyers. You can go this route if you have no children and have a settlement agreement in place that does not involve alimony. You will incur no lawyers' fees, and your divorce can be granted within 30 days of filing |
| Sign a waiver of service | If you and your spouse agree on the necessity for a divorce, your spouse can sign a waiver of service, meaning that you don't have to pay for servitude |
| Apply for a waiver of filing fees | If you are in financial difficulties, you can apply to have the filing fees waived |
Since the majority of expenses in a divorce stem from lawyers' fees, the most sure-fire way to reduce your divorce costs is to aim for an uncontested divorce.
What Is an Uncontested Divorce?
An uncontested divorce means that you and your spouse agree on the terms of your divorce settlement before your case comes to trial.
All that the judge needs to do in such friendly divorce cases is to check that your paperwork is in order in a short hearing, after which your divorce can be granted with no further hassle.
Your divorce settlement agreement is a legal document that covers:
An uncontested divorce is the most certain way to ensure a low-cost process. There are ways within the framework of an uncontested divorce to reduce your expenses even further.
How Can I Get a Cheap but Effective Settlement Agreement?
Negotiating and drafting your divorce settlement agreement does not need to be expensive—the cost depends on who you use for the task.
Your options are:
Lawyers—This is the traditional route, but also the most expensive, with attorneys charging up to $5,000 per spouse to negotiate and write your agreement
Mediation service—A mediator can help you and your spouse negotiate a settlement at a significantly lower cost than a lawyer
Online divorce service—Various online providers offer DIY settlement agreement templates that should be used with caution as many of them are too generic to cover your needs
DoNotPay has the solution to keeping your costs low while getting your settlement agreement locked and loaded—we can generate an agreement for you that covers all the bases with no lawyers' fees to pay!
DoNotPay Cuts Your Florida Divorce Costs!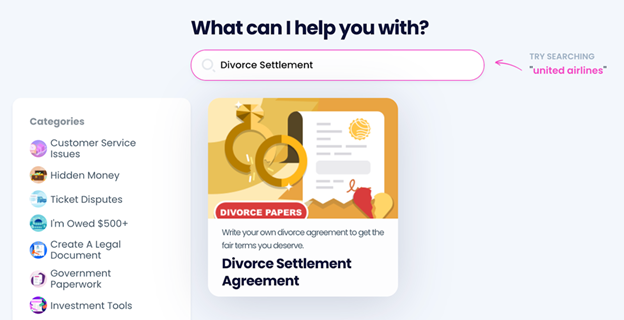 DoNotPay believes your Florida divorce should be affordable!
Our Divorce Settlement Agreement feature is designed to give you a watertight and comprehensive legal document that ticks all your boxes without you having to pay for expensive attorneys.
Here's how to set your agreement up:
Go to your web browser and sign up with DoNotPay
Click on our Divorce Settlement Agreement product
Follow the prompts and give us the terms you have agreed on with your spouse
Once you are done, we will handle the rest—your agreement will be generated in an instant.
You and your spouse can go ahead and sign it in the presence of a notary. If you are unsure where to find a notary in your area, we can even organize online notarization for you!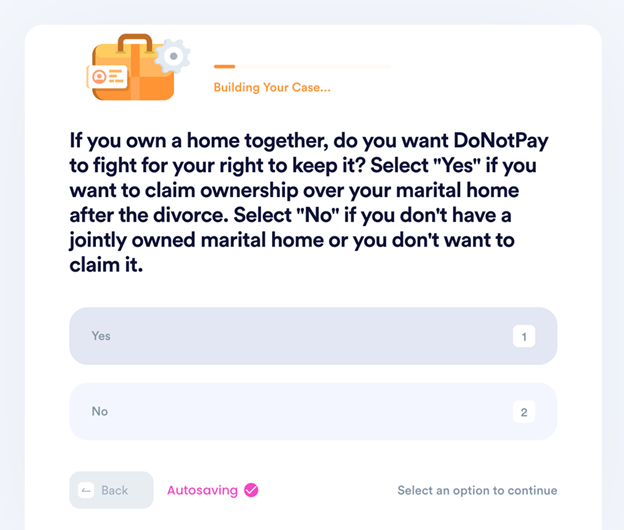 More Florida Help From DoNotPay!
If you need specific info about your Florida county or getting a divorce as a member of the military, look no further than DoNotPay!
Here are some guides you may find useful:
Learn How To Solve Legal Issues in Minutes!
Do you need to draft a legal document? Spending hundreds of dollars on lawyers is not the answer. We came up with a faster and more affordable solution. Not only can our app draft child consent forms, divorce settlement agreements, and powers of attorney for you, it can also provide legal assistance by helping you take anyone to small claims court!
Drafting numerous documents is not all DoNotPay does for you! Aside from drawing up contracts and agreements, we can also assist you in getting them notarized online from the comfort of your home or office!
Explore DoNotPay's Other Nifty Features
There is more assistance on the way! You can use DoNotPay's features to handle various tasks with ease, including:
We can also help you protect your safety. If you don't know how to deal with copyright infringement, stalking and harassment, work discrimination, sex offenses, and disputes with annoying neighbors, DoNotPay has got you covered.