Where To Find Low-Cost 401(k) Plans for Small Business Ventures
The 401(k) plan enables employees to invest in their retirement savings without worrying about tax deductions. While the implementation process can be a tad costly, it certainly pays off in the long run.
If you are apprehensive about the overhead expenses, there are plenty of budget-friendly options you can consider. You can also apply for financial aid in case you run out of funds early in the process.
In this article, we take a look at examples of low-cost 401(k) plans for small business owners and answer the following:
How much does it cost to set up a 401(k)?
How can you apply for a loan using DoNotPay?
What Is a 401(k) Plan?
A retirement savings plan, also known as the 401(k) plan, is set up by the employer and sustained through employee investments. Each month, an agreed-upon percentage is taken off of employee paychecks and poured into an investment account. Unlike pension plans, all 401(k) contributions are pre-tax.
As the business owner, you are responsible for the selection and implementation of the 401(k) plan. The process comes with quite a few costs but also substantial tax savings.
How Much Do 401(k) Plans Cost?
The table below contains a breakdown of the 401(k) plan costs you can expect:
401(k) Fees
Explanation
Startup costs
Getting a 401(k) plan requires you to pay an initial fee to cover:

The plan setup
Employee education

The costs can range from $500 to $2,000, depending on the provider.

Note that businesses with fewer than 100 employees are eligible for a tax credit as per the Setting Every Community Up for Retirement Enhancement (SECURE) Act

of 2019.

You can expect up to $5,000 annual credit for the first three years

Administration costs
Efficiently implementing a 401(k) plan is quite difficult. Many small business owners hire a third party to handle the day-to-day administrative tasks, such as:

Annual nondiscrimination testing
Loan approvals
Statement filing
Form 5500 completion

The approximate cost of these services is $750–$3,000.

You also need to pay a fee for each employee that's enrolled in the 401(k) plan for $15–$60

Matching costs
As the employer, you should try matching the resources your employees pour into the 401(k) plan with an appropriate percentage.

The average match is 4.7%, but you can go higher/lower

Hidden costs
Depending on your chosen plan provider, you may be required to pay some hidden fees. Additional costs include:

Plan termination
Plan redesign
A switch to a new provider
Integration of the plan with the payroll software
Low-Cost 401(k) Plans for Small Businesses
Some small businesses owners are reluctant to set up a 401(k) plan due to the overall expenses and the complex bureaucracy. While being cautious about your finances is vital, offering a safe retirement plan to your employees is even more important.
In recent years, there has been an increase in low-cost 401(k) plans for small businesses with the emergence of more providers.
The top five providers with the lowest cost 401k for small businesses are:
American Funds—American Funds offer the most versatile 401(k) plans that can accommodate a wide range of businesses—from startups to long-standing companies. You can choose from 360,000+ retirement plans, each being entirely customizable
ADP—The ADP specializes in retirement plans, tax filing, payroll, insurance, and other administrative services. They have over 300 investment managers, so you have plenty of options when it comes to 401(k) funding
Betterment for Business—Betterment for Business is a so-called "Robo-advisor," i.e., a digital platform that manages company retirement plans via an algorithm. You will also be exempt from certain fees since the platform uses exchange-traded fund (ETF) security
Edward Jones—The retirement plans include bonds and stocks, mutual funds, and government securities. Apart from low-cost 401k plans for small business owners, Edward Jones also provides educational and administrative services
Fidelity Investments—Fidelity Investments provide consultation and administrative services for small businesses interested in 401(k) plans—from payroll integration to record-keeping and investment advice. Your employees will also be able to download a monitoring mobile app
Other Small Business Expenses
Securing a retirement plan for your employees is not the only business expenditure you can expect. The overall expenses of running a small business include:
Payroll:
Salary
Paid time off
Mortgage or rent
Insurance coverage
Business consulting fees (e.g., hiring an accountant)
Advertising and marketing
What if You Need More Funds?
If you don't have the capital to cover all expenses, you can get a small business loan to keep your operations running. Loans can be issued by a variety of lenders, from banks and credit unions to non-profit organizations and online sources.
To qualify for funding, you need to maintain a healthy business credit (i.e., a FICO score over 650) and gather the required legal and financial documents.
Depending on the loan purpose (e.g., launching a startup, acquiring a franchise, etc.)—there are several types of loans you could request:
Pay attention to the loan terms and interest rates of each program to identify the most favorable option.
Increase Your Chances of Landing a Loan With DoNotPay!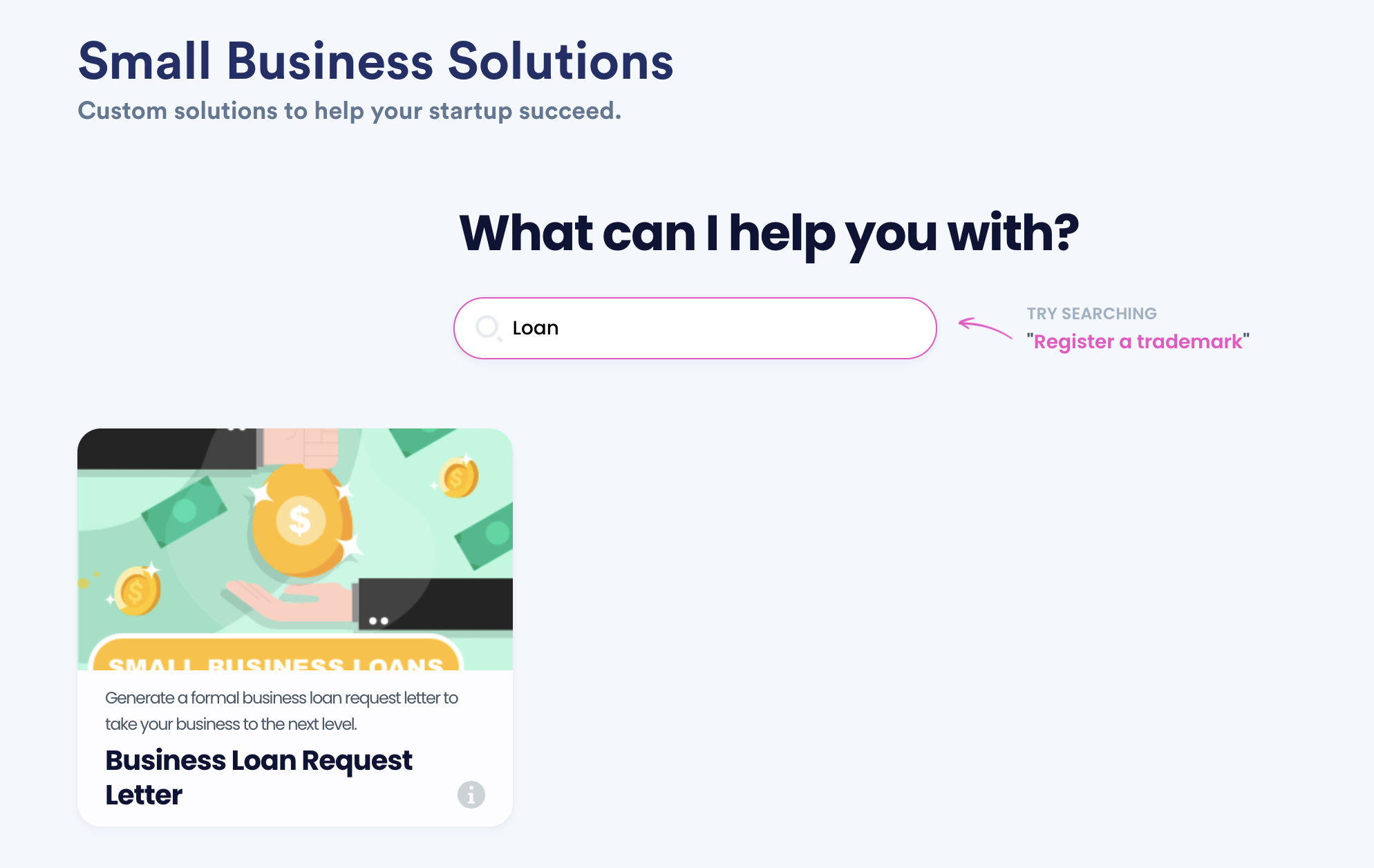 The best way to apply for a small business loan is to sign up for DoNotPay and use our streamlined Business Loan Request Letter product! Our powerful algorithm can help you meet all the application requirements—from filing paperwork to composing an impeccable loan request letter.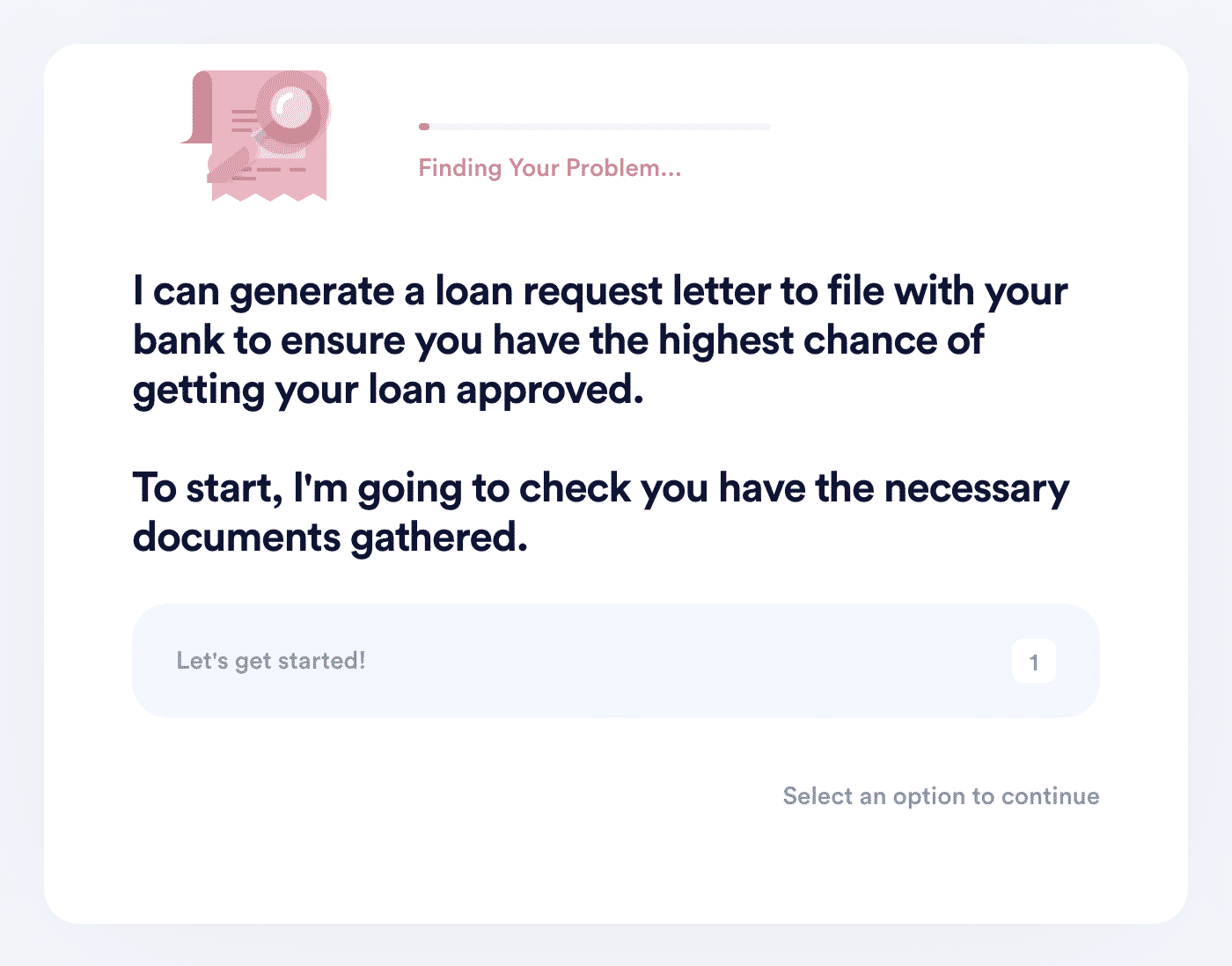 Follow these simple steps to apply for a loan:
Sign in to DoNotPay to access the Business Loan Request Letter tool
Gather the required financial statements:
Cash flow
Balance
Profit and loss
Answer questions from our chatbot regarding your business and prospect loan
Upload the paperwork
DoNotPay will generate your loan request letter and deliver it to your chosen lender. If you still haven't decided where to apply, use our Find Online Business Loan Lender feature that's integrated with the Business Loan Request Letter product!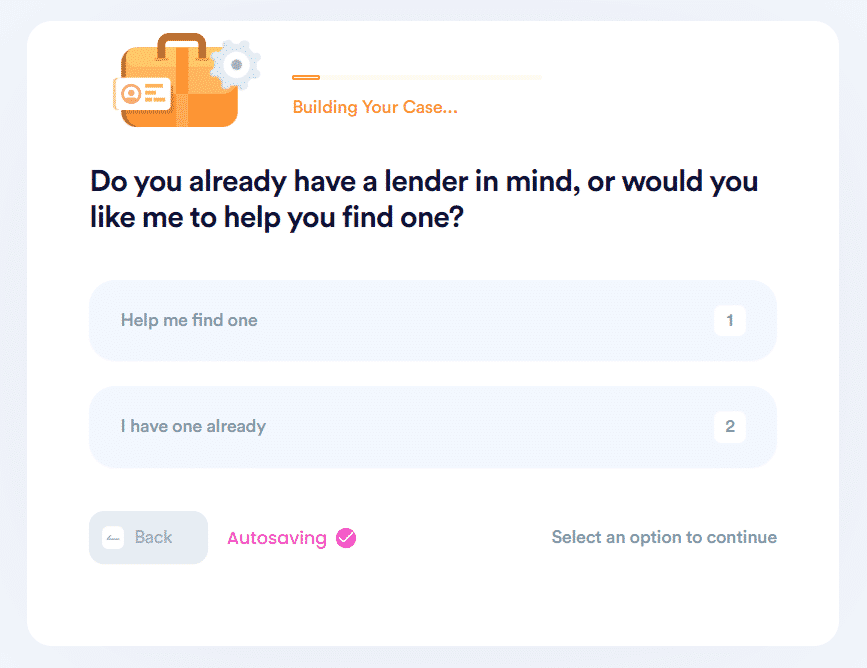 Run Your Business Worry-Free!
Every beginning is challenging, which is why DoNotPay has everything you need to start running your business stress-free! We have created numerous easy-to-use products that will make boring administrative tasks easier to manage.
To help you get started, DoNotPay will assist you in taking care of trademark, Employer Identification Number (EIN), and DMCA agent registration, Privacy Shield self-certification, and business loan requests.
We can even help you maintain a good business reputation by:
Monitoring your trademark and filing a cease and desist letter in case someone tries to use it
Reporting fake negative reviews that could harm your business
Disputing illegitimate chargeback requests in a matter of minutes
DoNotPay Helps You Create and File a Number of Legal Documents
Why waste time worrying about how to draw up and file various legal documents when you can have the world's first robot lawyer do that in your stead? You do not have to waste thousands of dollars on lawyer's fees—our extensive database has a myriad of documents on offer.
DoNotPay will help you automate the procedure of completing and filing 83(b) election forms, write a formal demand letter requesting payment from clients who try to avoid it, and deal with other important paperwork.