Louisiana Purchase Agreement—Explained
To buy or sell real estate or certain goods in Louisiana, you will have to own a Louisiana purchase agreement. If you're wondering what a Louisiana purchase agreement is, don't worry, we'll break it down for you and show you how to get various legal documents with ease!
What Is a Louisiana Purchase Agreement?
A Louisiana purchase agreement outlines the terms and conditions of a transaction between a seller and a buyer of property of other goods. The document makes both signing parties bound to follow the terms they agreed to.
What's the Purpose and Use of Purchase Documents?
Purchase agreements are generally used for the sale and purchase of any type of goods, but in most cases, they're used for transactions over $500. A purchase document is most commonly used in real estate for the sale of homes and other types of property. Here are some other items that this document can be used for:
Vehicles
Appliances
Furniture
Sports equipment
Bicycles
Computers
Firearms
A Louisiana purchase agreement will safeguard you against losing money and protect you from scams.
What Is Included in a Louisiana Purchase Agreement?
The info covered in a Louisiana purchase agreement varies depending on the property in question and the requirements of the signing parties. Here are some elements that almost every Louisiana purchase agreement has to include:
Required
Optional

Names, addresses, and phone numbers of the buyer and the seller
A description of the property or goods
Purchase price
Type of sale
Terms regarding when and how the transaction will be made
Signatures of both parties
Phone numbers or any other contact information for witnesses or consigners
Date of the agreement
Dates for the fulfillment of the requirements from the agreement
A statement that spells out whether the agreement or amendments are allowed to be revised

Consequences of default by either party
Warranty that the seller makes regarding the quality of the property
Warranty of title
The amount that must be paid as a down payment or money deposit
Terms of financing
Party responsible for closing costs
Home inspection requirements
Closing date
Contingency clauses
All repairs (if any) that the seller is responsible for
Seller's responsibility to declare any potential environmental hazards
Is a Louisiana Purchase Agreement Legally Binding?
If signed by both the buyer and the seller, a Louisiana purchase agreement becomes a legally binding contract. The agreement can be breached by both parties in cases where:
Fraud is committed
A wrong item is sold
Payments are not made
The item is sold to another party
Goods are delivered late or not at all
The buyer changes his mind on purchasing the item
Depending on the situation, remedies for breaching a purchase agreement can be either:
Legal—involving monetary damages for the non-breaching party
Equitable—non-monetary solutions
Can You Write a Louisiana Purchase Agreement by Yourself?
As with any type of legal documents, writing a purchase agreement on your own is doable, but it's not recommended. A poorly written contract that doesn't contain all the legal stipulations for both parties can create a messy situation.
Instead of writing the contract by yourself, you should consider one of the alternatives. You can get a Louisiana purchase agreement by:
Hiring a business lawyer—Having a professional create a purchase agreement for you is a secure option, but it's not cheap, as lawyers can charge hundreds of dollars for their services
Finding an agreement template online—This solution is not costly, but it's unsafe, and it will probably take a lot of time off your busy schedule. When it comes to purchasing documents, you shouldn't trust amateurish looking websites, and finding a professional one can be time-consuming
Need any other type of legal documents? Sign up for DoNotPay and draw up various contracts and agreements with our app in a matter of minutes!
DoNotPay Is Here To Assist You With Creating Legal Documents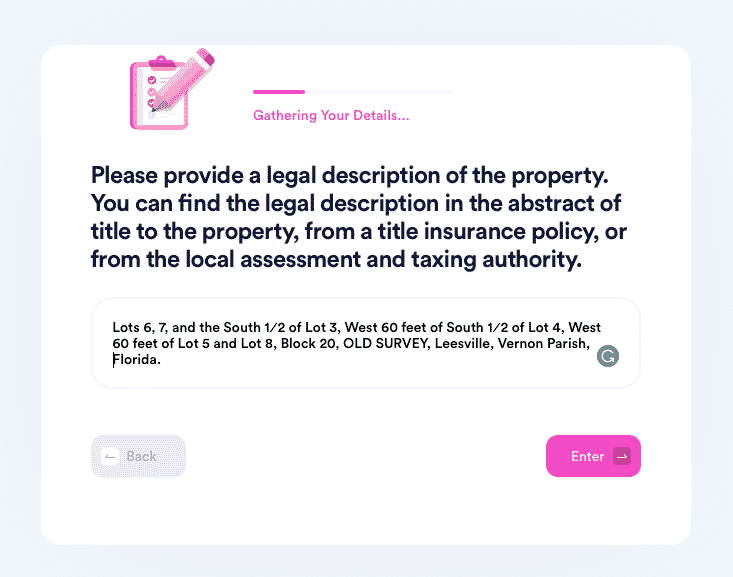 While you might have to spend a lot of money on a lawyer to get a professional purchase agreement, this doesn't have to be your only option when in need of other contracts. DoNotPay is here to provide a more affordable and convenient solution! Our AI-driven app can generate various contracts for you in a matter of minutes. To get a personalized legal document, follow these simple steps:
Enter the type of legal document that you want
Answer a few of our chatbot's questions to help us customize your contract
You will receive your desired document that you can sign and get notarized.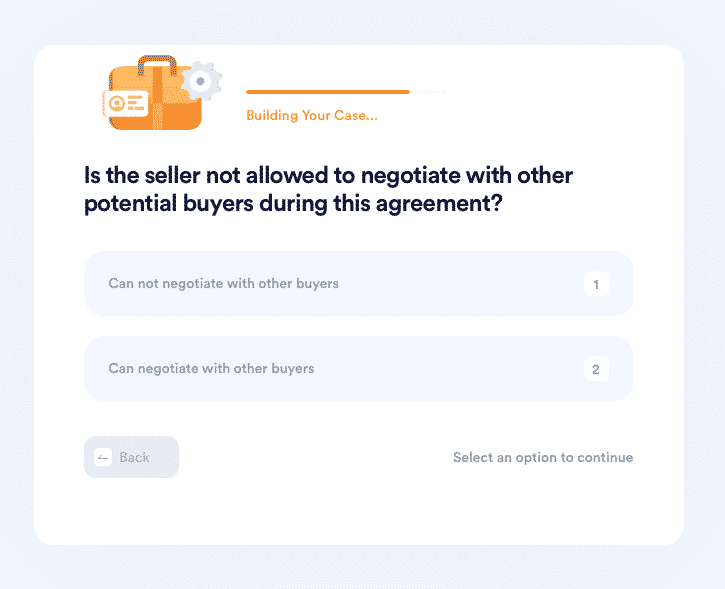 DoNotPay Can Offer Assistance With Various Legal Documents
DoNotPay can help you create various contracts, including:
Business Agreements
Real Estate Contracts
Other Documents

General Business Contract

Quitclaim Deed
Intent To Purchase Real Estate

Promissory Note
General Affidavit
Child Care Authorization Form
Let DoNoPay Help You With Your Paperwork
Why waste time on bureaucracy if you can rely on DoNotPay to handle pesky tasks for you? Cancel all your subscriptions at once, find unclaimed funds in a matter of minutes, appeal parking tickets hassle-free, and discover the best way to get your documents notarized remotely.
In case you need help paying bills or you want to earn some money by participating in paid clinical trials, DoNotPay is here to help you out!
Fighting workplace discrimination is of utmost importance, but the entire procedure seems rather complicated. The same goes for the crime victims compensation application in most states. DoNotPay is here to change that. We will help you file a report, request compensation, and create numerous other documents, including demand letters for neighbor complaints.
Keep Your Online Safety in Check!
While internet safety should be one of your top priorities, staying anonymous while surfing the web is almost impossible. If you want to avoid giving out your number when registering for services, you should try out our Burner Phone product.
DoNotPay can also protect your credit card info, name, and email address, all through our handy virtual credit card. Sign up for free trials without worrying about unexpected charges.
With our app, you will learn how to deal with stalkers and harassers and how to access public records the easy way.
DoNotPay offers many other useful products that can help you prepare for government tests, have your college fees waived, and manage any annoying issue in minutes.