The Best Louisiana Property Tax Exemption Advice

According to the Business Insider reports, Louisiana belongs to the states with the lowest property tax rate. The average annual tax on property in the Pelican State is around $795, significantly less than in Connecticut, New York, or New Jersey.
People still strive to lower their property taxes as much as possible. If you don't know how to reduce your property taxes, DoNotPay will explain property tax exemptions in Louisiana and show you how to apply for them.
How Is Property Tax Calculated in Louisiana?
Property tax is an amount of money a state government takes from a landowner. It usually
applies to real estate, regardless of whether the owner resides on it or rents it. 
The annual tax amount in Louisiana depends on the evaluation of your home value performed by
the local assessors. They base their evaluation on two criteria:
The estimated value of the property in question

The current tax rate in the state
The first step is to determine the market value by comparing several similar properties. Once the assessors get an approximate market evaluation, they can use it to estimate your property's
value. 
Ways To Lower Property Taxes in Louisiana
Lowering your taxes is possible, but it requires a little bit of effort. Here are several tips that
may help you tackle this issue:
Don't renovate your property before the assessors do their job

—All home improvements make your taxes higher as they add value to your property 

Be there during the evaluation

—You should feel free to discuss all the dilemmas you have with the assessor. Participating in the assessment procedure will help you realize if there are any mistakes and avoid excessive taxes

Search for inaccuracies in the tax bill

—Check whether there are any illogical or suspicious numbers on your bill or compare it to the previous ones. If you find the source of the problem, it will be easier to adequately address it

Inquire about available property tax exemptions in Louisiana

—Every state allows specific groups of people to apply for various tax deductions. DoNotPay's guides can help you collect everything you need for the application procedure in a snap
Most Common
Louisiana Property Tax Exemptions
The table below shows the details of the three most requested types of property exemptions in Louisiana:
Property Tax Exemption Type
Criteria

You are entitled to

Louisiana property tax homestead exemption

if the property in question is your primary residence. It can reduce your taxes by up to $7,500. You can take advantage of this exemption only once, with a single property

Senior Citizens Special Assessment Level Homestead Exemption

To qualify for this type of tax reduction, you need to be 65 or older in the year of application. Your adjusted household income needs to be below the annual income level. That level changes every year, which is why you need to contact the local assessor and check the numbers. By taking advantage of this exemption, you can freeze the assessed value of your property.

The exemption applies as long as you are the owner of the house and your property value grows only up to 25% 

Disabled Veteran Property Tax Exemptions

100% disabled veterans and the surviving spouses of deceased veterans can receive a property tax exemption of a maximum of $15,000 of their property's estimated value 
DoNotPay's Guide Is the Most Efficient Way To Reduce Your Taxes
DoNotPay's Property Tax service needs basic information to generate a handy manual with all relevant tax exemptions. We can resolve all your tax reduction issues and give you some handy advice on getting the best available benefits.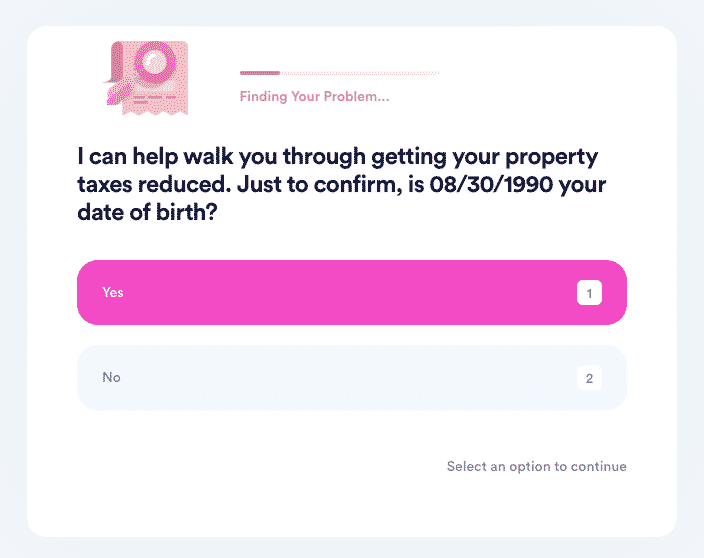 Our app will:
Find all the exemptions you qualify for

Offer you more information about the required documents and forms you need for your application

Provide you with thorough instructions for submitting the completed request forms
Here's how you can get your DoNotPay guide:
Visit our app in any

web browser

Locate the

Property Tax

service by using the search field

Enter your age, location, and more details on your income and property

Wait for DoNotPay to generate your customized manual
Our platform offers a wide spectrum of state-specific guides to reducing taxes in Arizona, Florida, Michigan, Virginia, New Mexico, Pennsylvania, etc.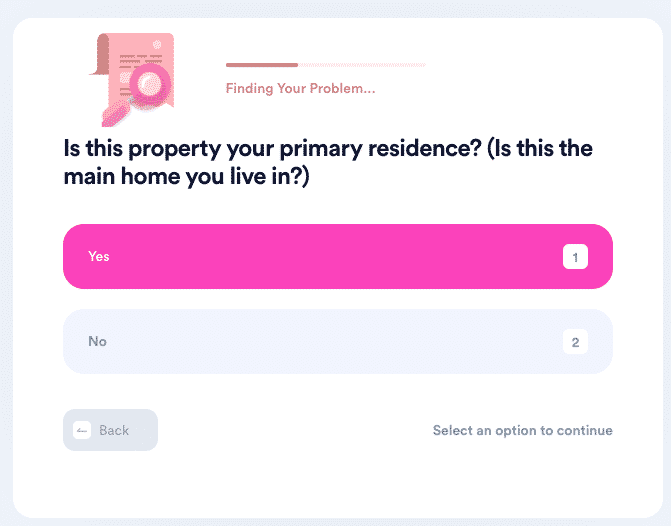 Do You Need To Appeal Your Property Tax Assessment? DoNotPay Has Your Back
You may not be happy with the estimate the local assessor made. Instead of accepting their tax assessment, you can file a property tax appeal and make them reconsider their decision. 
Here's how you can do it with DoNotPay:
Open DoNotPay in any

web browser

Locate the

Property Tax

service and answer a few questions from our chatbot 

Use the generated guide to find the best tips on appealing the assessment you aren't satisfied with
Discovering DoNotPay Will Make Your Day
If you feel overwhelmed by tons of paperwork flooding every area of your life, you can finally breathe out and let go of that stress. DoNotPay is the world's first robot lawyer that handles your bureaucratic chores for you. 
Some of the benefits that come with our service include:
Why Get a Lawyer When You Have DoNotPay?
Our agenda has one major goal—provide easy legal access to anyone who needs it. Every new feature we come up with relies on AI technology that simplifies bureaucratic procedures and saves you time and money. 
If you're wondering how to navigate tasks like contacting imprisoned friends and family members or reducing your property taxes, DoNotPay has the answers. Our service cuts through the red tape even if you need to deal with stalking and harassment, claim forgotten assets the proper way, or secure compensation for crime victims.