What You Should Know About Louisiana Landlord-Tenant Laws
If you are looking to rent a home in Louisiana, it's wise to familiarize yourself with . Landlord-tenant laws are a list of laws that lay out what is legal and illegal in a landlord-tenant relationship. These laws exist to ensure both the landlord and the tenant are protected in the event of a dispute, delinquent payments, eviction, etc.
Before you start your hunt for a rental home in Louisiana, check out this DoNotPay guide for help understanding Louisiana landlord-tenant laws. We can help you learn more about what deposits are for, how to remain in good graces with your landlord, and how to protect yourself if you ever need to report your landlord or face eviction.
What Are Louisiana Landlord-Tenant Laws?
Louisiana landlord-tenant laws were created to protect both the landlord and the tenant under Louisiana law. These laws cover a broad range of topics. The key things to understand are
| | |
| --- | --- |
| Deposits. | A landlord will usually ask for a refundable security deposit to be paid before a tenant signs a lease. This security deposit ensures that the landlord is covered if the damage is done to the property or to satisfy nonpayment. Normal wear and tear of the property are not deductible from the deposit. A landlord must have a move-in checklist that documents the current condition of the property to be compared again when the tenant moves out. |
| Leases. | A lease puts all agreements and responsibilities in writing. These agreements are legally binding for both the landlord and the tenant. They may include the amount of rent to be paid, the date on which rent is due, the length of the rental term, and the rules for occupying the property (such as no smoking inside, no pets, etc.) |
| Landlord Obligations. | The obligations of the landlord are to deliver the property to the tenant at the agreed time, in good condition, and to maintain the property as needed. A landlord must protect the tenants' right to peaceful possession of the property and protect the tenant's own privacy. These obligations also protect the tenant from eviction or changes to the lease if the landlord sells the property during their agreement. |
| Tenant Obligations. | The tenant must pay rent in accordance with the lease terms, return the property in acceptable condition, make no alterations to the property without landlord consent, and only use the property for the use that was agreed upon in the lease. The tenant must inform the landlord immediately of any repairs needed or damage done to the property. The tenant is responsible for all damage for which they are at fault. |
Other Louisiana Landlord-Tenant Laws
Many other topics are covered in . They include
Maintenance and repairs to the property and who is responsible for them.
What kind of improvements or additions can be made to a property.
Other deposits, such as pet deposits and information about the Lessee's Deposit Act, require a landlord to return deposits within one month of a tenant vacating premises.
What happens when you move out, including lease termination, final cleaning and repairs, returning keys, and requesting a deposit refund.
Eviction and the proper procedures to follow to evict a tenant or fight an eviction.
Your Rights as a Tenant
Louisiana landlord-tenant laws are easily accessible but full of legal jargon that may be difficult to understand or digest. Few new renters take the time to research landlord-tenant laws and may find themselves in a bind well into their lease. If you need to settle a dispute with or report your landlord, or if you are facing eviction, you have rights as a tenant to protect yourself. The following steps can help you get started:
Call your State Attorney General's Office regarding a Fair Housing complaint or with eviction concerns at 800-273-5718.
File a complaint online with the US Department of Housing and Urban Developments.
Write a letter to the City of Baton Rouge at PO Box 1471 in Baton Rouge, LA 70821.
The process of fighting an eviction can be daunting, and confronting your landlord may feel intimidating. Fortunately, you don't have to face this issue alone. DoNotPay has a product that can help you easily and successfully file a landlord complaint or get started on fighting eviction in just a few simple steps.
DoNotPay Can Help
DoNotPay is here to guide you if you need to learn more about  or renters' rights. Our Landlord Protection product can help you:
Learn about your state's eviction laws and what protections apply in your case.
Kick out roommates by filing demand letters or going through small claims court.
Break your lease early.
If you want to know how to protect yourself as a tenant in Louisiana but don't know where to start, DoNotPay has you covered in 4 easy steps:
1. Search for and open the Landlord Protection product on DoNotPay.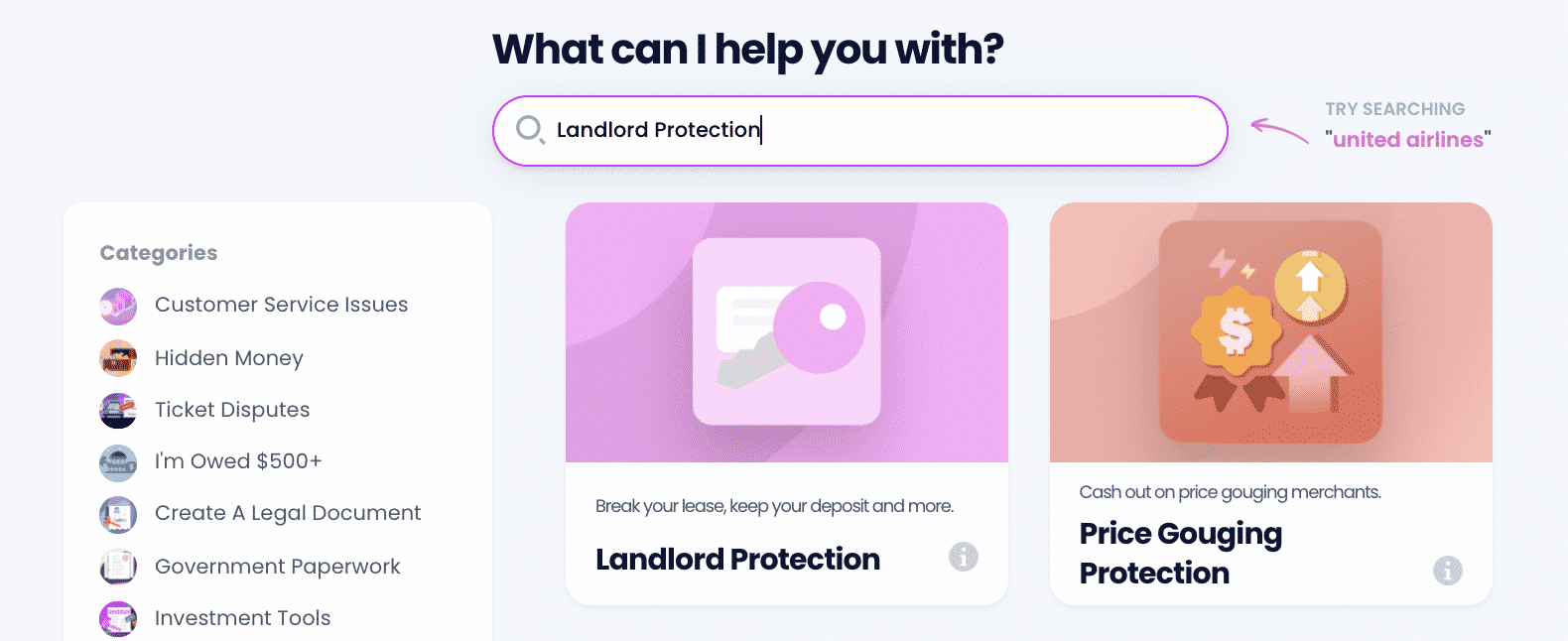 2. Select which issue applies to you.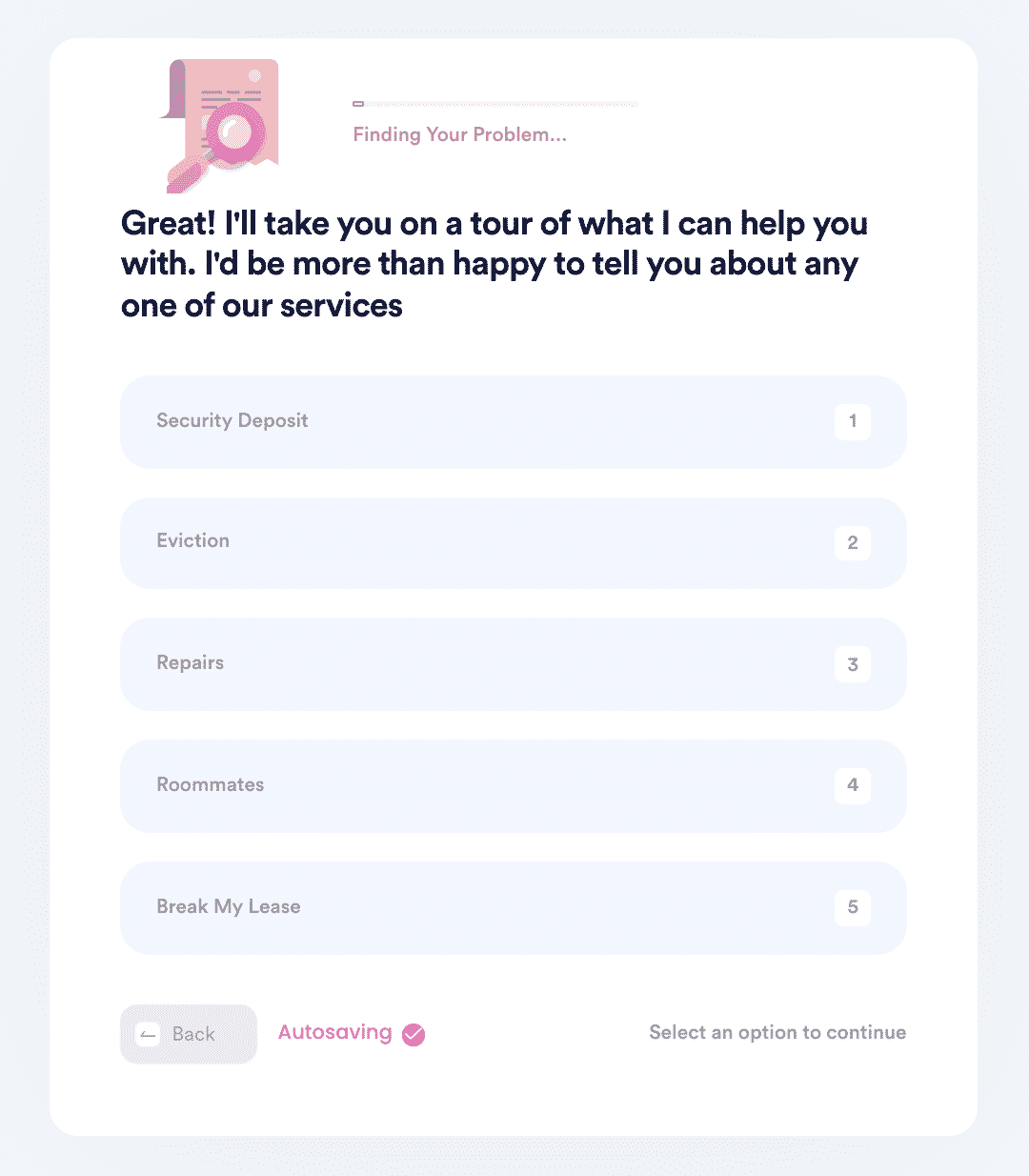 3. Answer a simple set of questions so our chatbot can collect the necessary information to create your demand letter.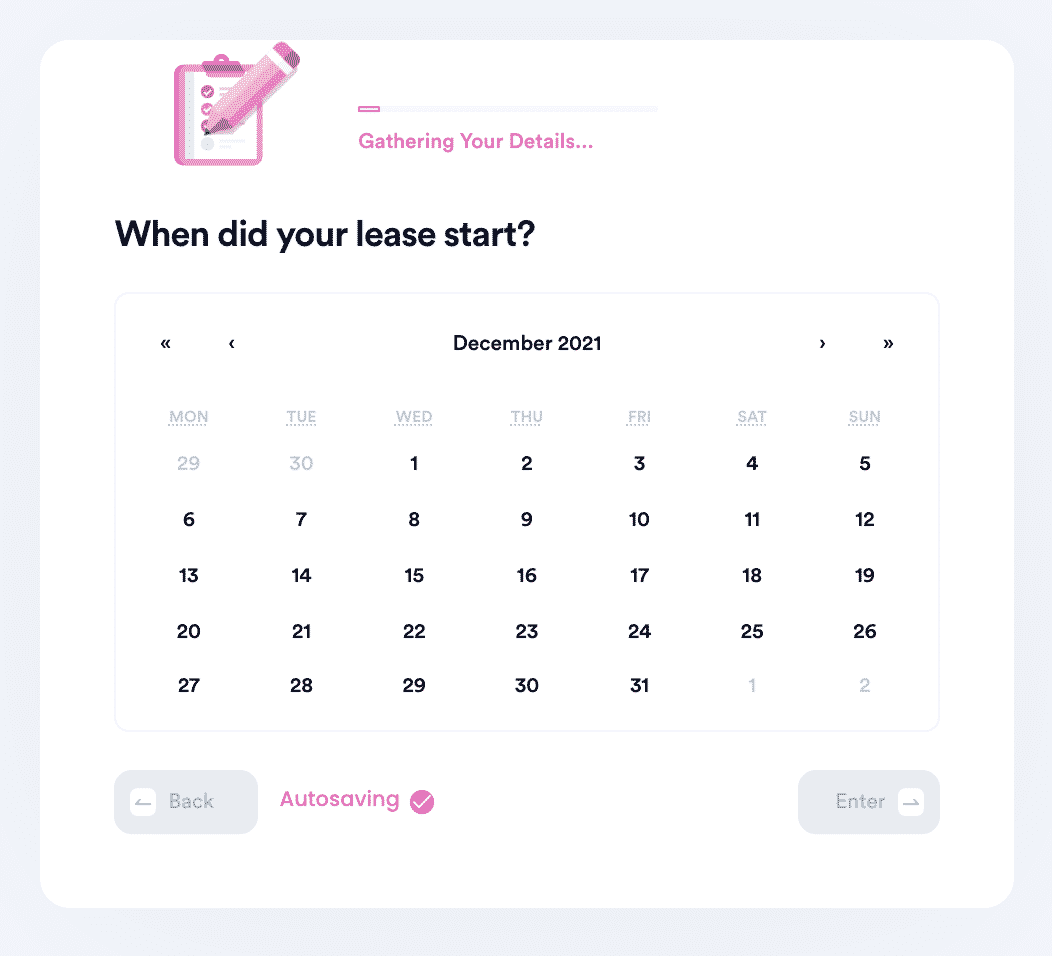 4. Choose whether you want DoNotPay to send the demand letter to your landlord or roommate on your behalf. If you already tried sending a demand letter and it didn't work, we can help you start the small claims court process.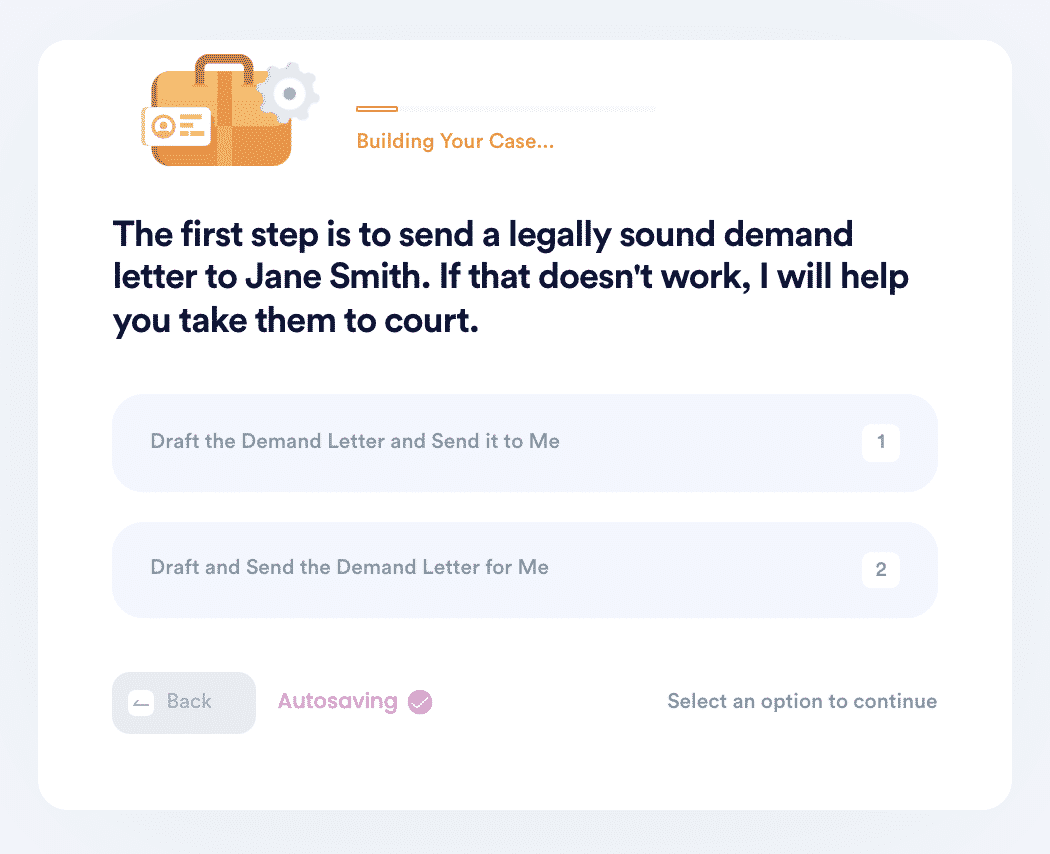 That's all you need to do. DoNotPay will take it from there.
What Else Can DoNotPay Do?
In addition to helping you learn more about landlord-tenant laws, DoNotPay has a product for all kinds of everyday issues, ranging from services to products that help you pay your bills on time. A few of our services can help you:
Sign up for DoNotPay today and start simplifying your life!