Everything You Need To Know About Louisiana Jury Duty
Serving as a juror is an essential part of American democracy. It allows citizens to decide the outcome of a case and enables a fair trial for all. If you have been called for jury duty, you need to know how it works and how to prepare for it.
This article will give you all the info you need about Louisiana jury duty. You can also to prepare a professional leave request letter for your employer.
FAQs About Louisiana Jury Duty Laws
To understand how jury duty works, you must get answers to the following questions:
Am I eligible to be a juror?
How do I get selected as a juror?
How can my employer verify jury duty?
Eligibility for Jury Duty
To serve on jury duty, you must meet specific criteria, such as being:
A citizen or permanent resident of the United States
A resident of the county in which you have been summoned for at least a year
Between 18 and 70 years of age
Able to read, write, and speak English fluently
Free from convictions of a misdemeanor or felony for the past five years
Mentally and physically able to attend court sessions
If you are facing health or financial problems, you can request a jury duty exemption.
Selection of Jury Duty
Here is how the jury duty selection process works:
Potential jurors are selected randomly from the list of registered voters and licensed drivers in Louisiana
Selected candidates must appear in court and fill out a questionnaire to confirm there's no conflict of interest
The clerk's office screens the questionnaire to determine the candidates' eligibility to serve on a jury
Lawyers from both sides will ask questions to the shortlisted pool of potential jurors to confirm impartialness
A 12-member jury is selected to serve on the case
Once your service is complete, you will not be summoned again for the next two years.
Verification of Jury Duty
If your employer needs confirmation that you attended jury duty, you can request a Certificate of Attendance from the clerk's office or get one by registering on eJuror.
How Much Do You Get Paid for Jury Duty in Louisiana?
Since employers are not obligated to pay their employees for the time they spent on the jury, the court offers to compensate for the loss of earnings. Federal courts in Louisiana provide higher compensation for jury duty, as mentioned in the table below:
You will also be reimbursed for the following expenses:
Food and drinks
Parking
Travel
The appropriate compensation for these expenses will be sent to you a week after your service ends.
How to Get Time Off for Jury Duty
State law mandates that an employer cannot terminate an employee for taking time off to attend jury service. In Louisiana, employers are not allowed to:
Discourage or coerce a staff member into skipping jury duty
Cut off their insurance during the service
Deduct salary for working hours spent on a jury
Reduce their employees' annual leave balance for the days they missed work
An employer who doesn't grant time off to their staff member for performing a civic duty can be fined between $100 and $500. If you want to prove you have indeed been summoned, you can ask the court for a certificate of attendance and show them to your employer as verification.
If you have been summoned for jury duty, you need to inform your employer immediately. To avoid unpleasant confrontations, subscribe to DoNotPay and submit a written jury duty leave request letter, accompanied by a copy of the jury summons.
DoNotPay Can Notify Your Employer of Your Jury Duty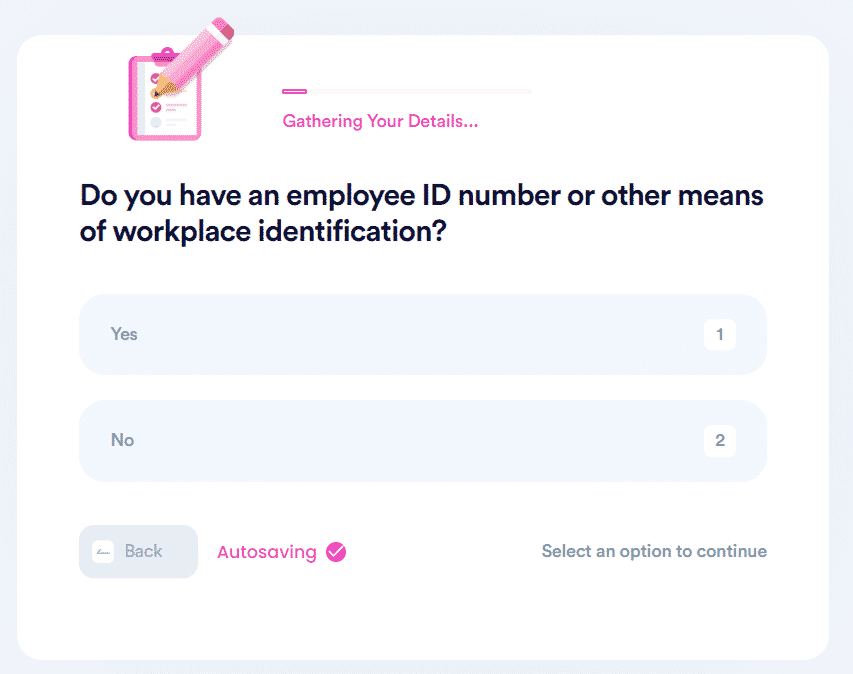 Have you delayed your response to the jury summons because you are afraid to request time off from your employer? Don't stress—DoNotPay can help you write an airtight leave request letter citing relevant Louisiana laws.
All you need to do is follow these instructions:
Go to the Request Jury Duty Leave tool
Answer questions about your jury duty
Upload a photo of the jury summons
Indicate if you would like us to send the letter on your behalf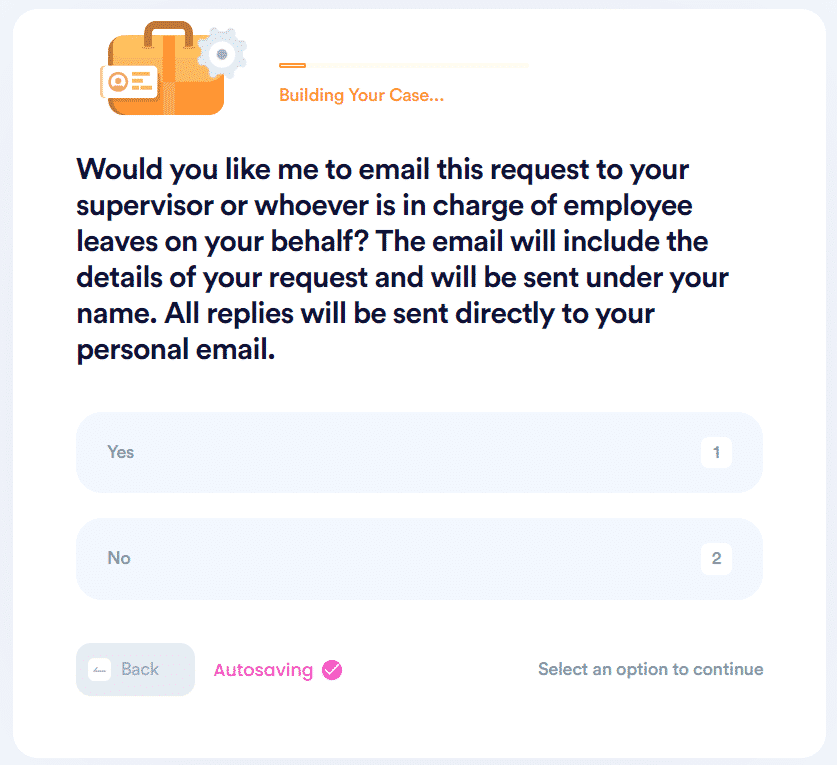 DoNotPay Has More Products in Store for You!
Our app is adept at solving numerous issues and completing various tasks in your stead.
You may want to use DoNotPay to protect your work from copyright infringement, reduce your property taxes, send defamation demand letters, or file FOIA requests.
Through the same app, you'll be able to skip many bureaucratic hurdles. Here are more tasks DoNotPay can help you with:
Use DoNotPay To Keep in Touch
If your friend or family member is in jail, we can help you locate them and send and receive letters with ease. Do you need to send other letters but hate going to the post office? You can use our Mailing Service product and save time.
We can also help you send online faxes, reach customer service, and contact embassies or government representatives.
In case you're drowning in email and text spam, our app can end it for good. Even if robocalls are bothering you, we have a solution!