Can You Skip Jury Duty? Learn About Louisiana Jury Duty Exemptions
While jury duty is a civic obligation of all eligible citizens in the United States, there is a number of legitimate reasons to skip it. If you are living in Louisiana and have been summoned to serve as a juror, you should know what the role entails and in which situations you might be exempt from jury duty.
In this article, we will explain Louisiana jury duty exemptions and tell you what happens if you skip service without a legitimate reason. We will also help you prepare for jury duty by if your jury duty clashes with your work schedule.
Jury Duty in Louisiana: What You Can Expect
Receiving a jury duty summons doesn't mean that you are automatically selected as a juror. All candidates go through an examination to ensure they are unbiased before being officially selected.
If you pass the selection, the court will notify you of the trial date. Your service will last for the whole duration of the trial.
Jury duty pay varies among states. In Louisiana, you will receive $25 for the jury selection day and for other days you serve in the trial. In federal court, you will get $50 per day for the first nine days of the trial and $60 from the tenth day onwards.
Once you finish your service, you will not be summoned as a juror again for two years.
Louisiana Jury Duty Exemptions in Brief
Louisiana allows people to request partial or complete jury duty exemption if they are physically or mentally unable to serve, provided that they present solid proof. The court may hire a licensed physician to examine the candidate's mental and physical health prior to postponing their jury service.
Citizens over the age of 70 can request an uncontested exemption if they're unwilling to serve jury duty for any reason.
Louisiana Jury Duty Exemptions: Can You Skip Jury Duty for Other Reasons?
You can request an exemption if you can't serve as a juror due to:
Extreme financial hardship
Sickness
Poor timing
Try contacting Louisiana's Jury Section before submitting a written exemption request. You can reach out to them with any of the following methods:
In person
Over the phone
Via email
Consult the table below for more information:
| Method | Contact Procedure/Detail |
| --- | --- |
| In person | You can visit the courthouse at 500 Poydras Street, New Orleans, LA 70130. The Jury Section is located in the room C107 on the first floor |
| Over the phone | 504-589-7730 |
| Email | jury@laed.uscourts.gov |
After that, you can mail or fax your written exemption request letter alongside supporting documents to:
Mail Address
Fax
U.S. District Court

Attn: Jury Clerk

500 Poydras St., Ste 151CB

New Orleans, LA 70130-9862

504-589-7794
The jury office operates 8:30 a.m.–5 p.m from Monday through Friday.
Keep in mind that the decision to reject or approve your excuse is under the court's complete discretion, and you shouldn't assume dismissal until further notice.
Louisiana Jury Duty Exemptions: What Happens if You Are Absent Without an Acceptable Reason?
No-show candidates who fail to provide a valid excuse face legal repercussions. You will be ordered to appear in court and explain your absence. Depending on the trial, you might have to:
Pay a $1,000 fine
Perform community service
Be imprisoned for three days
Send a Request for Jury Duty Leave to Your Employer With DoNotPay!
Both Louisiana and federal laws forbid employers from penalizing jurors for missing work during their service. In Louisiana, you can get paid leave for jury duty, but you must notify your superior in advance.
Not sure how to do that? Our app can help you draft a jury duty leave request letter and send it to your employer in a few simple steps:
Find the Request Jury Duty Leave product
Provide a few details about your company and jury summon
Upload relevant documents and place your electronic signature
You can choose whether to print and send the letter on your own or have us email it on your behalf.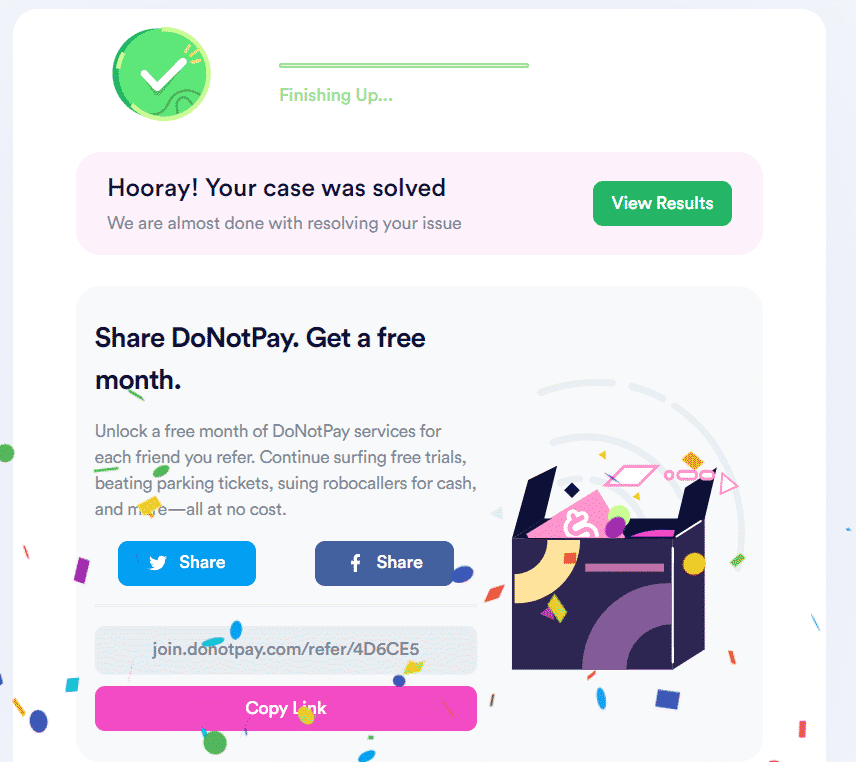 Make Your Money Troubles Go Away
If you want to join free trials and not worry about automatic renewals, our app is what you need. With DoNotPay's virtual credit card, you'll be able to avoid charges and keep your personal details to yourself.
We can also help you get a refund or request a cancellation.
Getting your money back is our field of expertise—Use DoNotPay to:
No Task Is Too Difficult for DoNotPay
Signing up for our app brings you an AI-powered assistant. Check out the benefits of having a DoNotPay account in the table below: