Looking for the Right Louisiana Divorce Form? DoNotPay Can Help!
The cost is not the only headache-inducing aspect of getting a divorce. Filing papers can also prove to be tedious, and this is especially true if you don't know where to start.
In case you want an affordable way to get through the whole ordeal, turn to DoNotPay for help! We'll help you get every Louisiana divorce form you need and show you how to end your marriage without even going to court.
Can You Get a Divorce in Louisiana Without a Lawyer?
Louisiana State laws allow you to get divorced without hiring a lawyer as you won't need professional help if you know what you're doing.
You will have to decide which type of divorce you want to get first and then file the forms accordingly. In the Pelican State, you can file for either a fault-based or a no-fault divorce. Check out the table below for details:
Fault-Based Divorce
No-Fault Divorce
If you opt for a fault-based divorce, you will need to provide grounds (reasons) for the breakdown of your marriage. You can file for this type of divorce if your spouse has:

Committed adultery
Been sentenced to death or imprisonment with hard labor
Been physically or sexually abusive during the marriage

Couples who want to get a no-fault divorce can choose between the:

Article 102 divorce—You can file for this type of divorce as soon as you separate from your spouse. You have to wait 180 days or 365 days (if you have children) after filing to complete the process
Article 103 divorce—Before filing papers for this kind of divorce, you must wait for 180 days or 365 if you have children. The process can be finalized shortly after filing the divorce papers
The most popular type of divorce in Louisiana is the Article 103 divorce. It allows couples to finish the process without going to court, and there's also no need for them to hire a lawyer if they agree on everything.
For couples who can't reach a middle ground, divorce mediation is a recommended option. A mediator can provide them with solutions to their issues, so there's no need for them to go to court.
Louisiana Article 103 Divorce Forms
To get Article 103, or uncontested (friendly) divorce, you will need to prepare the following forms:
Petition for Divorce
Acceptance of Service
Judgment of Divorce
Child Support Worksheet and Parenting Plan (if minor children are involved)
Verification
Motion for Preliminary Default
Affidavit of Correctness in Lieu of Testimony
Motion for Confirmation of Divorce Judgment of Default Without a Hearing
All of these forms can be found on the Louisiana government website or at your local courthouse. You can file them with the county clerk for a fee.
A crucial document for the procedure that needs to be drafted separately is the marital settlement agreement. This document outlines the terms on which you're getting the divorce. It needs to be fair to both parties because the judge won't finalize the case otherwise.
To get this document, you can either hire an expensive lawyer to do it for you or use DoNotPay and get an agreement that'll suit your needs perfectly.
DoNotPay Can Help You Draft a Professional Settlement Agreement Effortlessly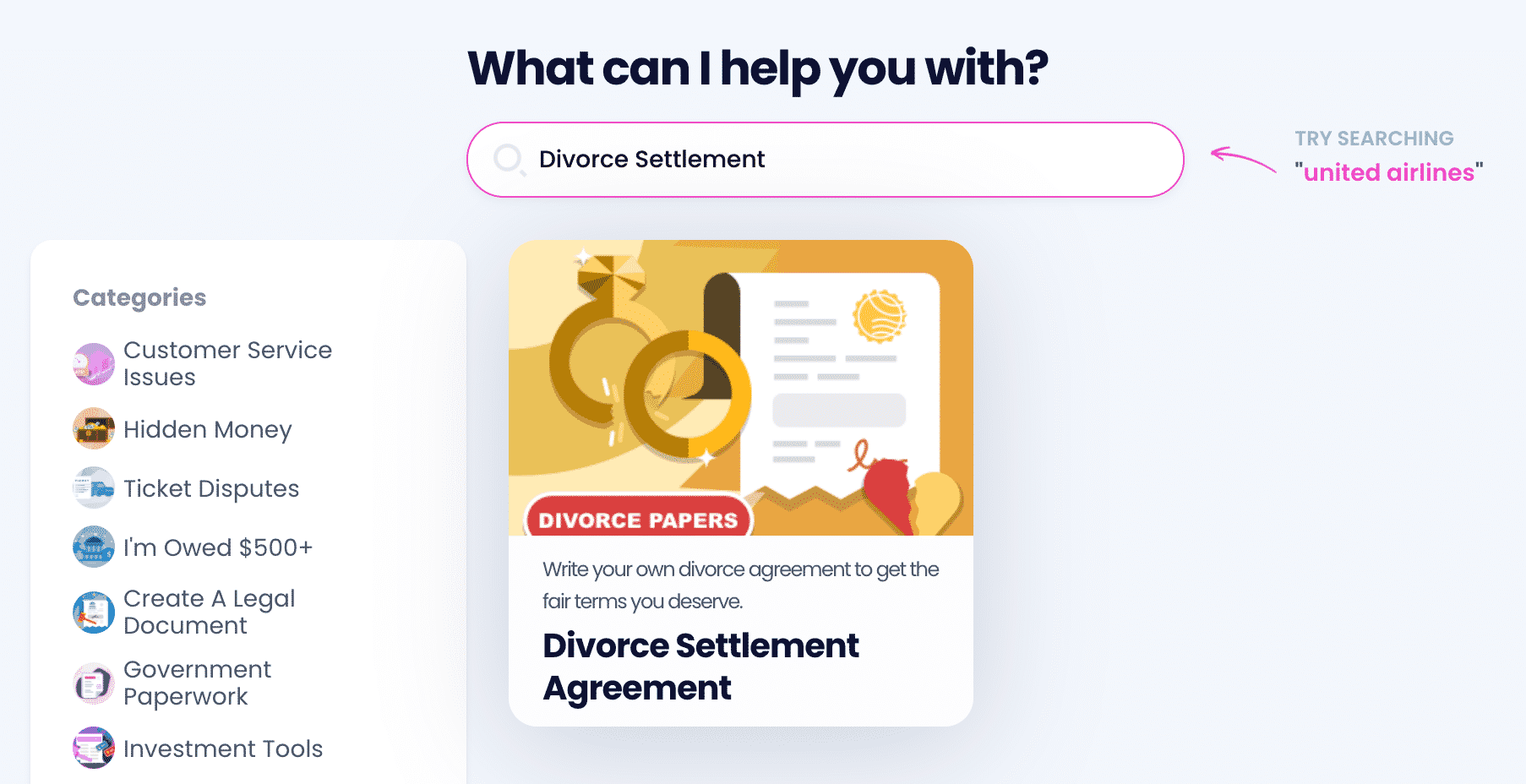 Want to get a professional divorce settlement agreement without spending unnecessary amounts of money on lawyers? Use DoNotPay! Here's what you need to do:
Select our Divorce Settlement Agreement feature
Give us the details you want to see in your agreement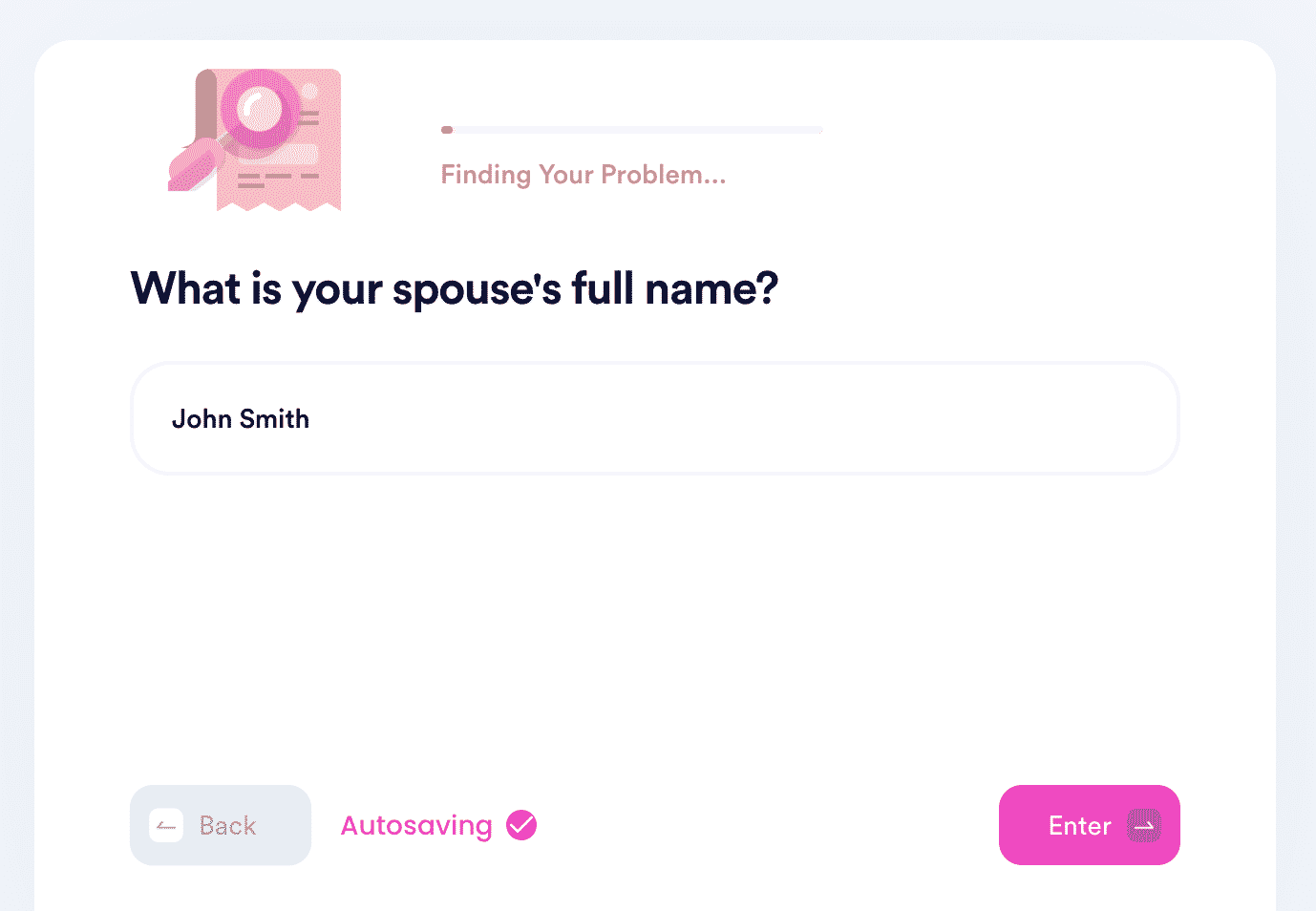 Once you submit your request and get all the details of your agreement, we'll generate a document that you can print out. We can also connect you with an online notary so you can add legal weight to your document without leaving your house!
Need more info about the cost of divorce in Louisiana? Not sure what to expect from the uncontested divorce in the Pelican State? Check out DoNotPay's learning center and find out! We can also explain how to:
Serving Louisiana Divorce Papers
Once you file your Louisiana divorce papers, you will need to deliver them to your spouse. This process is also known as serving.
To serve your spouse with the papers, you will need to:
Hire the county sheriff
Ask an adult that's neutral to the case
Hire a process server
In case your spouse wants to collaborate in the process, they can waive the service and accept the summons.
Online Divorce in Louisiana Explained
Various agencies in Louisiana offer online divorce services. This doesn't mean that you can file for divorce online but only get assistance with completing the forms.
Be extra careful if you plan on getting your papers this way as you don't want them to contain any mistakes.
To Sue or Not To Sue?
Hiring a lawyer to help you sue a company can be helpful, but it can also cost you an arm and a leg. Luckily, you can avoid wasting hundreds of dollars and use our robot lawyer to sue any company in small claims court instead!
DoNotPay offers you a variety of other features you will find quite useful when dealing with bureaucratic issues. Check out the list below to see what else our app can help you with:
Shopping Without Dropping
Whoever said you should shop until you drop didn't have access to DoNotPay's various features. With our app, you can make your shopping experience smooth sailing and stress-free!
Here's a fragment of what you can accomplish by using our neat features: