The Ins and Outs of a Louisiana Advance Directive
If an injury or illness leaves you incapacitated, who will make health care decisions for you? Do you have strong feelings about the medical procedures you would or wouldn't like to undergo in such situations? You can make your medical care wishes known by creating a living will and a medical power of attorney.
These documents are available in different versions in each state. This guide will uncover the important details of a Louisiana advance directive and show you the easiest way of getting one—by signing up for DoNotPay.
Advance Directive in Louisiana Explained
A Louisiana health care directive is a legal document in which you can:
State your end-of-life medical treatment preferences
Appoint a health care representative to make decisions in your stead
The document takes effect once you become incapacitated and unable to speak for yourself.
A Louisiana advance directive consists of:
Physician Orders for Scope of Treatment (LaPost)
The table below explains how to use these documents in Louisiana:
Advance Directive
Explanation
Living will
You can use this document to plan for your end-of-life care. It displays your preferences regarding life-sustaining medical interventions, such as:

Cardiopulmonary resuscitation (CPR)
Blood transfusion
Surgery
Tube feeding
Organ transplant
Mechanical ventilation
Comfort (palliative) care

Medical power of attorney (or health care proxy)
This legal document allows you to designate someone as your health care agent and grant them the powers to:

Execute your medical care wishes
Decide on your medical treatment

Keep in mind that a health care proxy is different from a standard power of attorney

Physician Orders for Scope of Treatment (LaPost)
It is a document in which you and your attending physician spell out the health care treatments you wish to receive in the events of emergency
Louisiana Advance Directive Signing Requirements
A Louisiana advance directive can be made in writing or stated orally. If you choose a written statement, you must meet the following criteria:
Be a mentally stable adult
Sign the directive in the presence of two adult witnesses, who are not your:

Spouse or blood relative
Beneficiaries of your estate

Authorize another person to sign the document on your behalf if you are unable to
An advance directive becomes effective once two physicians (one should be your attending physician) determine that you can no longer make health care decisions for yourself.
How To Draft a Louisiana Advance Directive
When it comes to creating an advance directive in Louisiana, here are your options:
Consulting an attorney—Attorneys can draft the legal document for you, but be prepared to spend a fortune on their services
Using online advance directive forms—There is no shortage of free online templates, but they might not:

Apply to your particular situation
Comply with your state's statutes

Using DoNotPay—If you are looking for an affordable, fast, and effective method of creating an advance directive, DoNotPay is the solution you seek
DoNotPay Is the Easiest Way To Get Any Health Care Directive
Do you want a health care directive that fits your state's legal criteria and personal preferences? DoNotPay can create it for you by:
Collecting the essential information about your health care preferences
Composing a legally effective health care proxy or living will
Connecting you with an online notary so you can get your document notarized effortlessly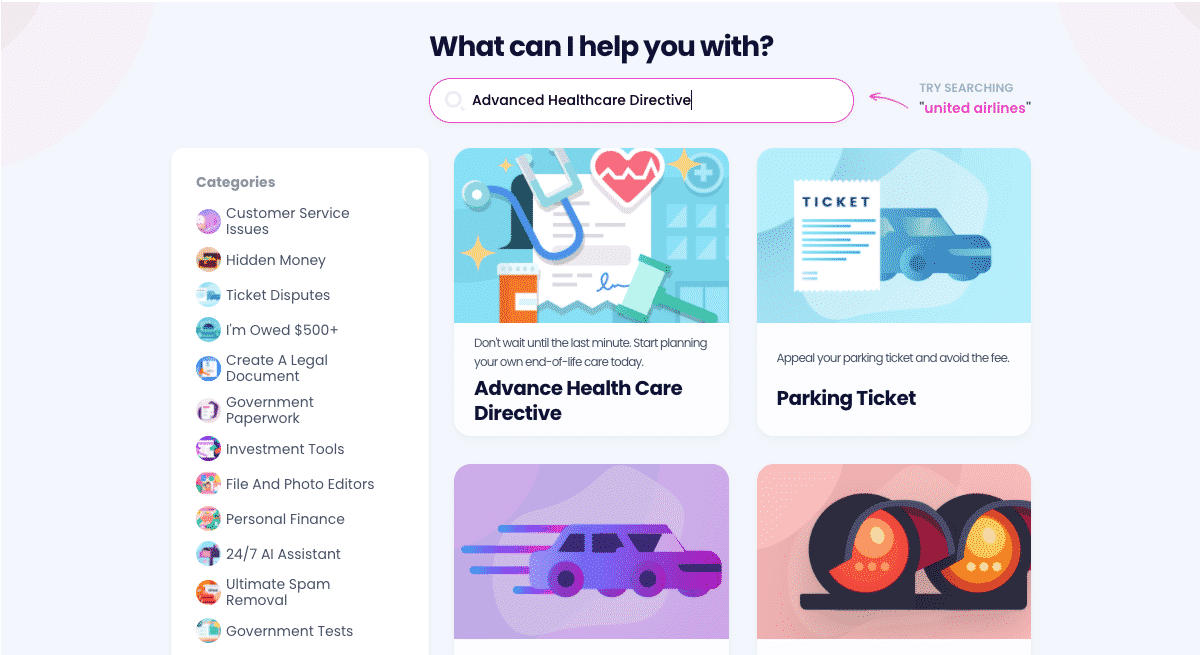 Here is what you need to do:
Go to the Advance Health Care Directive tool
Tell us the names of your agent and witnesses
Answer our chatbot's questions regarding your medical care preferences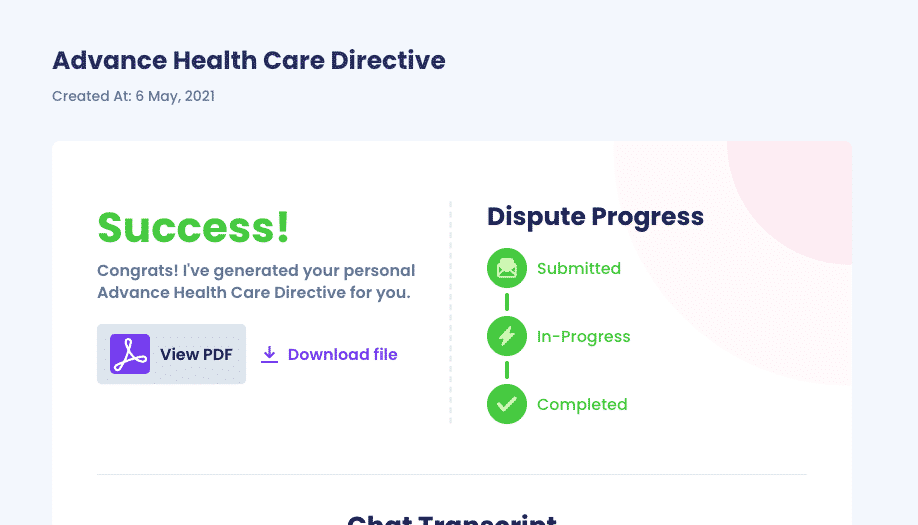 What Else Does DoNotPay Have in Store?
Our user-friendly platform provides solutions for all your bureaucratic problems and tiresome tasks. Once you sign up for DoNotPay, we can help you demand refunds from airlines and other companies, get compensation for late deliveries, and submit item return requests. The app also allows you to send online faxes, use our mailing services, and convert files to dozens of formats!
If you are unhappy with the situation at work, DoNotPay can file anonymous HR or work discrimination complaints in your stead. Discover how to generate legal documents such as divorce agreements and powers of attorney and have them notarized without heading to the notary's office!
Our App Reduces Education-Related Costs
Do you find it difficult to cope with college-associated expenses? DoNotPay sends help your way! Get ready to make your education journey simpler by:
If you believe that educating your child at home would be a less pricey option, we help you compose a customized notice of intent to homeschool in no time!