Appeal Your
Loudoun County Property Tax Assessment
Within Minutes
Virginia is one of the states with low property taxes, with the average effective property tax rate of 0.8%. Taxpayers in one of Virginia's largest counties—Loudoun County—pay some of the highest property taxes in the state due to the county's effective property tax rate being 1.08%.
Understanding how the officials estimate your property's value could make it easier to lower it.
Sign up for DoNotPay to learn all about the Loudoun County property tax assessment process and the easiest way to appeal it.
What Is a Property Tax Assessment?
A property tax assessment is an estimation of the fair market value of a commercial or residential property. Each jurisdiction has its rules and guidelines regarding the property tax assessment process—some perform it annually, others once every four or five years, but it is always scheduled beforehand.
Your local tax assessor will perform the evaluation on location, estimating the value of your property's exterior and the land it's on. They will base your home's value on some of the following:
Age

Size

Location

Condition

Number of floors and rooms

Neighboring home's market values

Property's permanent installations, including pools, sheds, gazebos, or solar panels
How Does the
Loudoun County Property Tax Assessment
Work?
Loudoun County assessors estimate each property's value typically every two years, but they must update properties' values every four years. During that time, the property's value can increase or decrease. Factors that affect the value of the property include:
Excess damage

Home constructions

Renovations and improvements

Permanent structures on the property
Property taxes in Loudoun County are based on property tax assessments and property tax rates, which the Board of Supervisors sets annually. Property in Loudoun County and across Virginia is assessed at 100% of its fair market value.
Even though property tax rates aren't so high, due to high median home values in Loudoun County, taxpayers here pay much bigger property taxes than in some other counties in Virginia.
In the table below, you can check out median home values and property tax rates in some cities in Loudoun County:
| | | |
| --- | --- | --- |
| City | Median Home Value | Average Effective Property Tax Rate |
| Hamilton | $359,100 | 1,26% |
| Lovettsville | $353,400 | 1,23% |
| Round Hill | $399,300 | 1,22% |
| Purcellville | $454,000 | 1,19% |
| Leesburg | $413,400 | 1,17% |
| Woodburn | $582,700 | 1,00% |
| Sugarland Run | $396,400 | 0,99% |
| Arcola | $394,500 | 0,98% |
| Oak Grove | $426,900 | 0,90% |
| Hillsboro | $527,800 | 0,71% |
Loudoun County Property Tax Exemptions
If you need help paying your property taxes, you may be eligible to apply for one of the property tax exemptions and relief programs Loudoun County offers:
Land Use Assessment Program

—The property may be used for forestal, agricultural, or open space purposes, in which case the owner can apply to have the property assessed for this use, making your property's value lower

Tax Relief for the Elderly and Disabled

—

Seniors age 65 or older

and totally and permanently disabled citizens can apply for this exemption program, provided they submit the application according to the deadline and alongside the right documents proving their age or disability

Tax Exemption for Revitalized Real Estate Program

—Property owners who significantly renovate and rehabilitate residential properties qualify for partial exemption from paying property taxes
Not sure whether you are eligible? Get DoNotPay's personalized guide and find out!
How To Appeal a
Loudoun County Property Tax Assessment
With DoNotPay
Do you need help dealing with property taxes? DoNotPay offers full assistance!
Our practical Property Tax product delivers you a custom-made handbook, which contains all the important information regarding your real estate taxes, such as: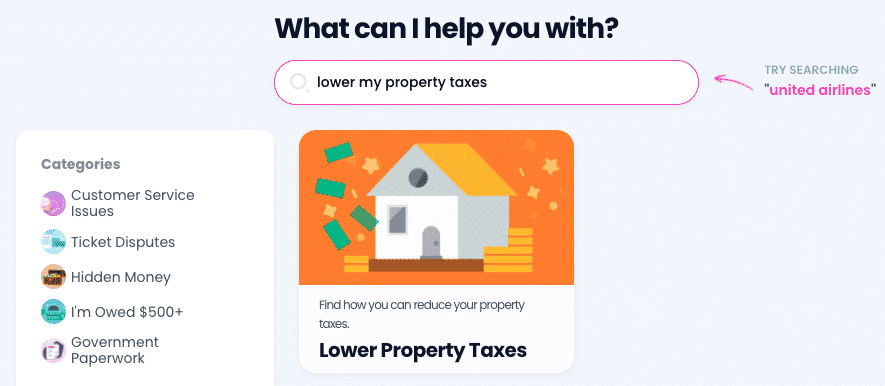 Access DoNotPay from your web browser, and follow these steps:
Locate the

Property Tax

product

Answer our chatbot's questions about your property
We will instantly customize a manual that you can use whenever you need it.
Other Ways To Reduce Your
Loudoun County Property Tax Assessment
Value
There are several ways to lower the value of your property tax assessment, before or during the actual process:
Check the values of the neighboring homes

—This way, you will know what to expect from your assessments, as the assessors factor the neighboring properties' values into the estimation of your property. If you notice a discrepancy, you should alert the tax assessor's office

Don't renovate before the property's evaluation

—Any repairs, renovations, or additions to the property increase its value, which is not good for your property tax bill

Point out damages to the tax assessor during the evaluation

—The assessor can oversee small flood damage, but anything that can decrease your home's value is significant, so you should make sure it doesn't go unnoticed

Allow the assessor to check the interior of your home for a more precise assessment
You should examine your property tax assessment notice thoroughly for mistakes and incorrect information.
DoNotPay Is an Ultimate Money-Saving Assistant
Our app can help you manage bills that are too high to pay, but there are plenty of other money-saving possibilities out there we can help you with.
Want to challenge a parking ticket? DoNotPay can dispute parking citations in any city! Is someone getting revenue from your creative work? Cut the thieves off with DoNotPay!
We can also help you get your college application fees waived, file any insurance or warranty claims, locate unclaimed funds in your name, or earn some extra cash from paid clinical trials in your area.
No More Risky Free Trials With DoNotPay
Do you love free trials but tend to forget to cancel your subscription before the trial ends? If this is the case, check out DoNotPay's virtual credit card for a risk-free experience.
With our virtual credit card, you can sign up for any service without worrying about unwanted charges. DoNotPay will even provide you with a random email address, which will help keep your inbox clean from spammy emails from the company.
Our app can also get in touch with the company's customer service, request a refund from them, or even escalate your issue to small claims court if the company is challenging to communicate with.