I Have a Loud-Walking Upstairs Neighbor—What To Do
Dealing with some level of noise in your apartment is necessary. The problem starts when the sounds coming from your neighbors—from loud sex to blasting music—affect your daily life.
The sound of people walking around the apartment typically falls under justifiable, everyday noises. However, if the upstairs neighbors are stomping around like a herd of elephants—disrupting your work or waking up your child—you have the right to complain.
"I have loud-walking upstairs neighbors—what to do" is a question we're going to answer in this article!
When Can I File a Complaint About My Upstairs Neighbor's Loud Footsteps?
Before filing a complaint about your neighbors' loud walking, you should check local noise ordinance laws. Every city establishes an acceptable level of noise from your neighbors you must put up with. If your neighbors are renters, you can also check the lease or building's noise policy to see if they are breaking any rules.
Loud-walking noises are unfortunately difficult to address. Only if the noise is extremely disturbing can you seek help under local noise ordinances. Luckily, there are other ways to handle your neighbor's loud footsteps before resorting to drastic measures.
How Do I Turn Down My Upstairs Neighbors' Loud Footsteps?
Check out the potential methods of resolving the noise issues with your neighbors:
Ways To Address the Neighbors' Loud Walking
Description
Talk to your neighbor
Neighbors may not be aware of the noise they are making. While sending them a note may sound appealing, addressing the matter face to face will get better results. You should:

Start by introducing yourself
State the problem as politely as possible
Blame the floors for the noise to prevent them from getting defensive
Suggest them to put a rug on the floor or wear soft slippers

Knock on the ceiling with a broom handle
If you have talked to the neighbors and they continue being loud, you can try giving them a taste of their own medicine
Make personal adjustments
A few personal adjustments can make a difference in blocking out the noise from upstairs, such as:

Soundproofing your ceiling
Buying a white noise machine
Using noise-canceling earplugs

Try and compromise
If your neighbors have a dog or children, you can't expect them not to make any noise. Your best bet is to ask your neighbors to try minimizing the loudness at a specific time during the day
Talk to the management
In case the noisy neighbors ignore your complaints, you should talk to the management. Bring up the lease or building noise policy and ask your building manager to take appropriate measures
Issue a demand letter
If nothing works, you can send your neighbors a demand letter. They get one more chance to correct their behavior before you contact the authorities
Create a Demand Letter With DoNotPay
A demand letter is often the best method to deal with noisy or otherwise disruptive neighbors. It must contain specific elements and have a determined tone, letting your neighbor know you mean business. DoNotPay can create a demand letter measuring up to those written by legal professionals.
You only need to give us the details of your situation. We will incorporate the info into a comprehensive and professional document that's bound to bring fast results!
Your personalized demand letter will state:
Arbitration notice
Legal actions you will take if the neighbor continues their noisy behavior
Compensation amount they will be expected to pay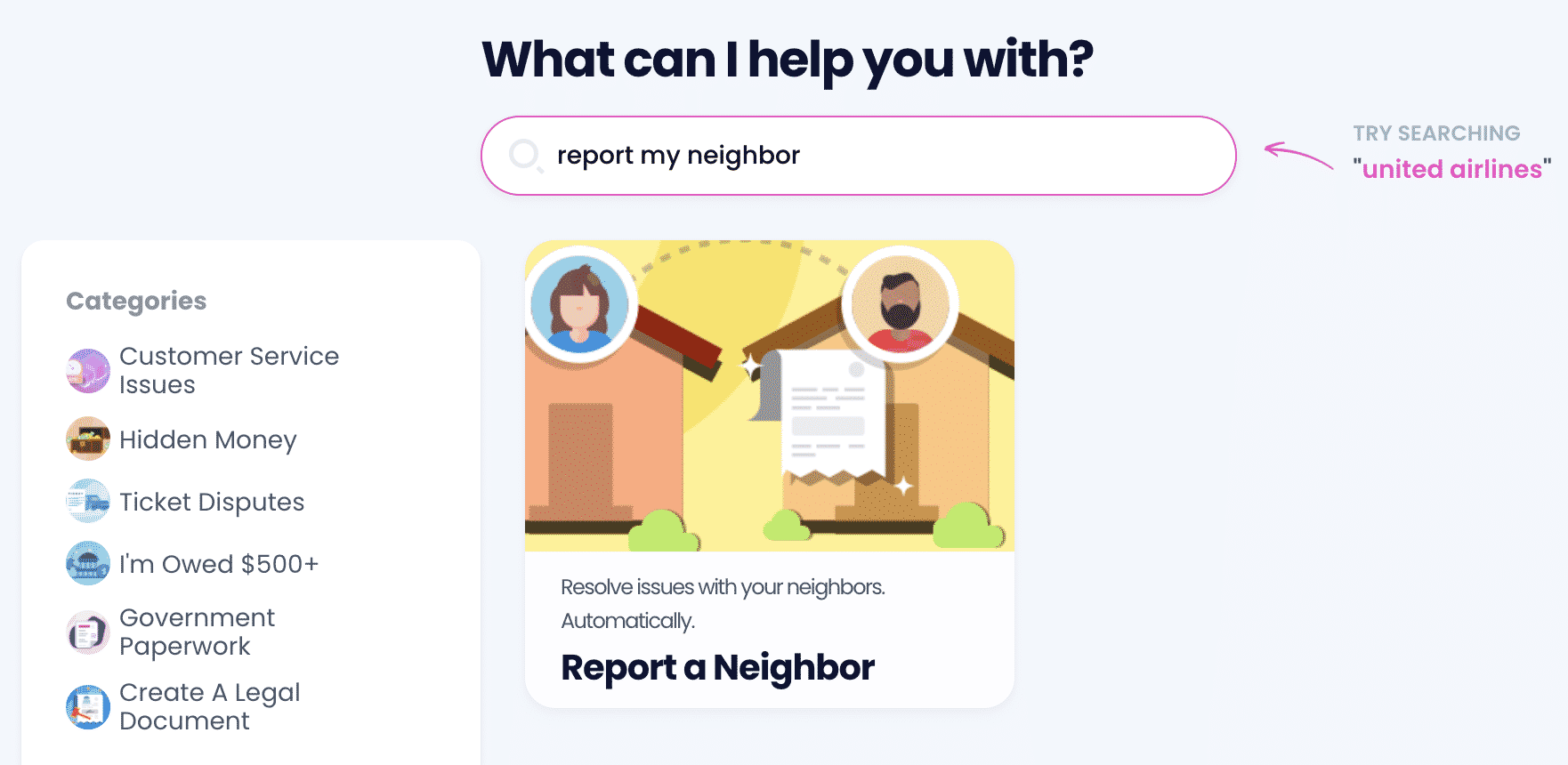 Follow these simple steps to get a demand letter from us:
from your web browser
Choose our Neighbor Complaint product
Select the type of problem your neighbor is causing
Answer some questions about your issue
DoNotPay will create and send the letter to your neighbor immediately after you complete these steps.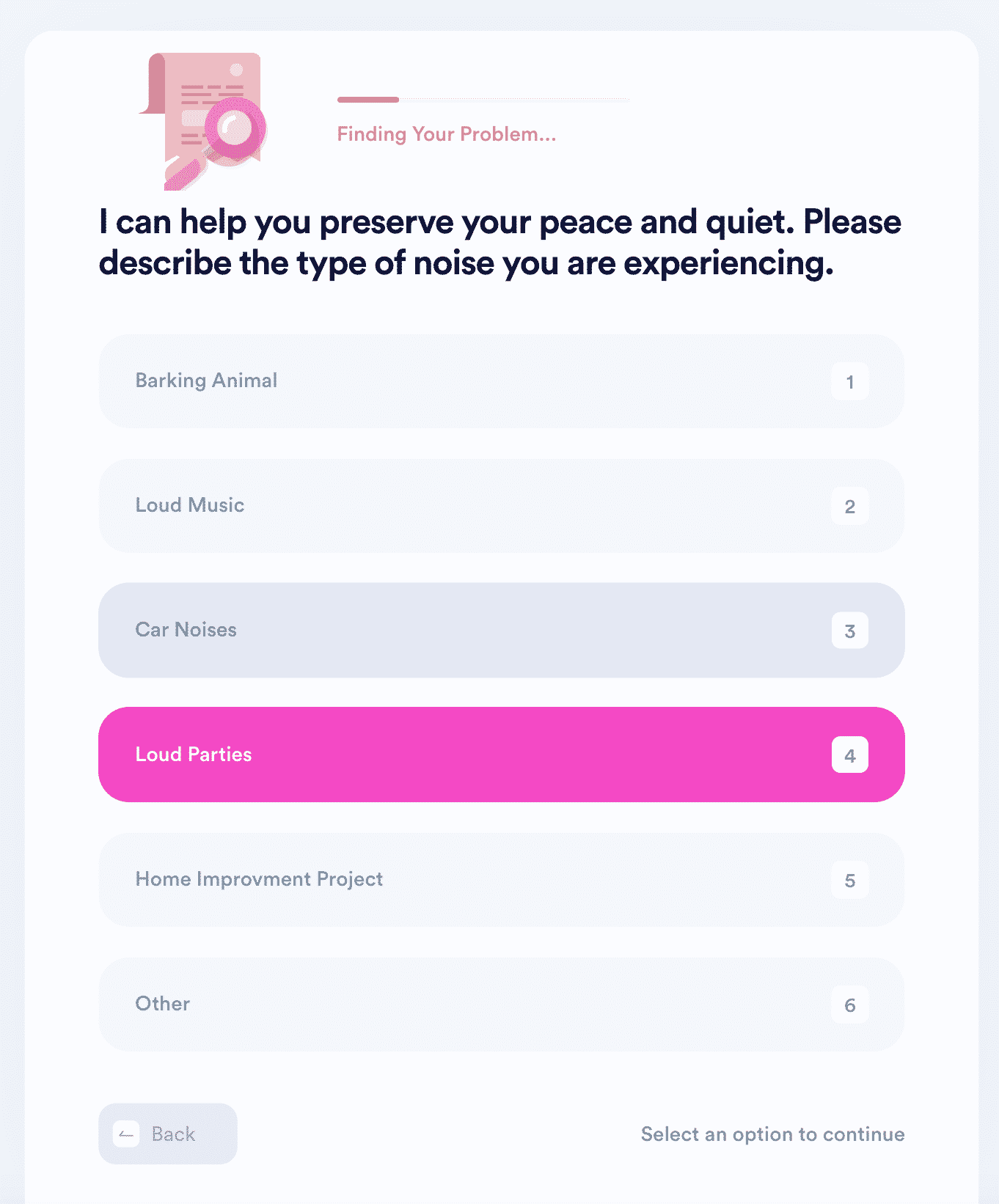 Solve More Annoying Neighbor Problems With DoNotPay
Many times, disruptive neighbors are impossible to handle without involving the police. The most important step before talking to the authorities is to document the neighbor's behavior and measures you have taken to resolve the problem.
can teach you how to file an official complaint and what legal actions you can take to stop the nuisance once and for all.
Neighbors can mess up your everyday life with more than noise. Access our comprehensive knowledge base and learn how to deal with all types of annoying or dangerous neighbor behavior, including:
Let DoNoPay Help You With Your Paperwork
Why waste time on bureaucracy if you can rely on DoNotPay to handle pesky tasks for you? Cancel all your subscriptions at once, find unclaimed funds in a matter of minutes, appeal parking tickets hassle-free, and discover the best way to get your documents notarized remotely.
In case you need help paying bills or you want to earn some money by participating in paid clinical trials, DoNotPay is here to help you out!
Fighting workplace discrimination is of utmost importance, but the entire procedure seems rather complicated. The same goes for the crime victims compensation application in most states. DoNotPay is here to change that. We will help you file a report, request compensation, and create numerous other documents, including demand letters for neighbor complaints.
Keep Your Online Safety in Check!
While internet safety should be one of your top priorities, staying anonymous while surfing the web is almost impossible. If you want to avoid giving out your number when registering for services, you should try out our Burner Phone product.
DoNotPay can also protect your credit card info, name, and email address, all through our handy virtual credit card. Sign up for free trials without worrying about unexpected charges.
With our app, you will learn how to deal with stalkers and harassers and how to access public records the easy way.
DoNotPay offers many other useful products that can help you prepare for government tests, have your college fees waived, and manage any annoying issue in minutes.