How to Apply for Sick Leave in Los Angeles
The last thing you want is to be sick at work.
To properly book your sick leave, you may need to fill out official paperwork for your employer—a sick leave request form. You must understand what the form includes and how to submit it, and this article will guide you through it.
If your company doesn't have an official form, you can use DoNotPay instead—we can help you in minutes.
What Is a Sick Leave Request Form?
A sick leave request form is an official document that records the necessary details concerning an employee's time off due to illness. If you need to call in sick because of food poisoning, a common cold, or other health issues, you may need to fill out this form.
Companies use sick leave request forms for two primary purposes:
To arrange coverage while an employee is absent
To track the number of sick days an employee has used in a given timeframe
This type of form may be specific to your business or follow a general template. For example, federal employees use one type of form, while private companies will draft and use their own.
The amount of sick time you are entitled to depends on both state-wide legislation and any emergency laws in effect as a result of the pandemic. Still, you may not have access to paid sick leave—over 33 million employed Americans do not.
Learn more about paid sick leave legislation in the following states:
What Do Sick Day Request Forms Include?
There are only certain types of information your employer may request concerning your sick leave. Consult this table to make sure you're not divulging any personal information unnecessarily:
| Information | Required on a Sick Leave Request Form (Yes/No) |
| --- | --- |
| Name | Yes |
| Contact information | Yes |
| Days absent | Yes |
| Details of your illness | No |
| Doctor's contact information | No |
If your illness results in the absence of three days or longer, your employer may ask for a note from a doctor and details of your health condition.
Otherwise, your employer is obliged to let you use any sick days you have earned. They cannot force you to work, nor can they fire you for using sick leave.
How To Submit a Sick Leave Request Form
If you have determined you are too ill to work, your first step is to check whether your company uses a sick leave request form. Inquire with your manager about any official policies that may dictate the process. This type of form may be available:
In hard copy
Via an online employee portal
In digital format upon request
Once you have obtained a copy of the employee sick day form, fill it out carefully and submit it to your manager or HR department.
What if Your Company Doesn't Have a Sick Leave Request Form?
If your company lacks a sick leave request form, you can inform your supervisor about your absence in any of the following ways:
In person
By phone
Over email
Calling your manager about this or drafting an email on this topic can be difficult without a template. If you're not sure where to begin, you should try DoNotPay.
DoNotPay Will Generate Your Sick Leave Request
Our AI-powered robot lawyer comes equipped with a Request Sick Leave product. This feature gathers the required information and then compiles it in the form of a professional time-off request.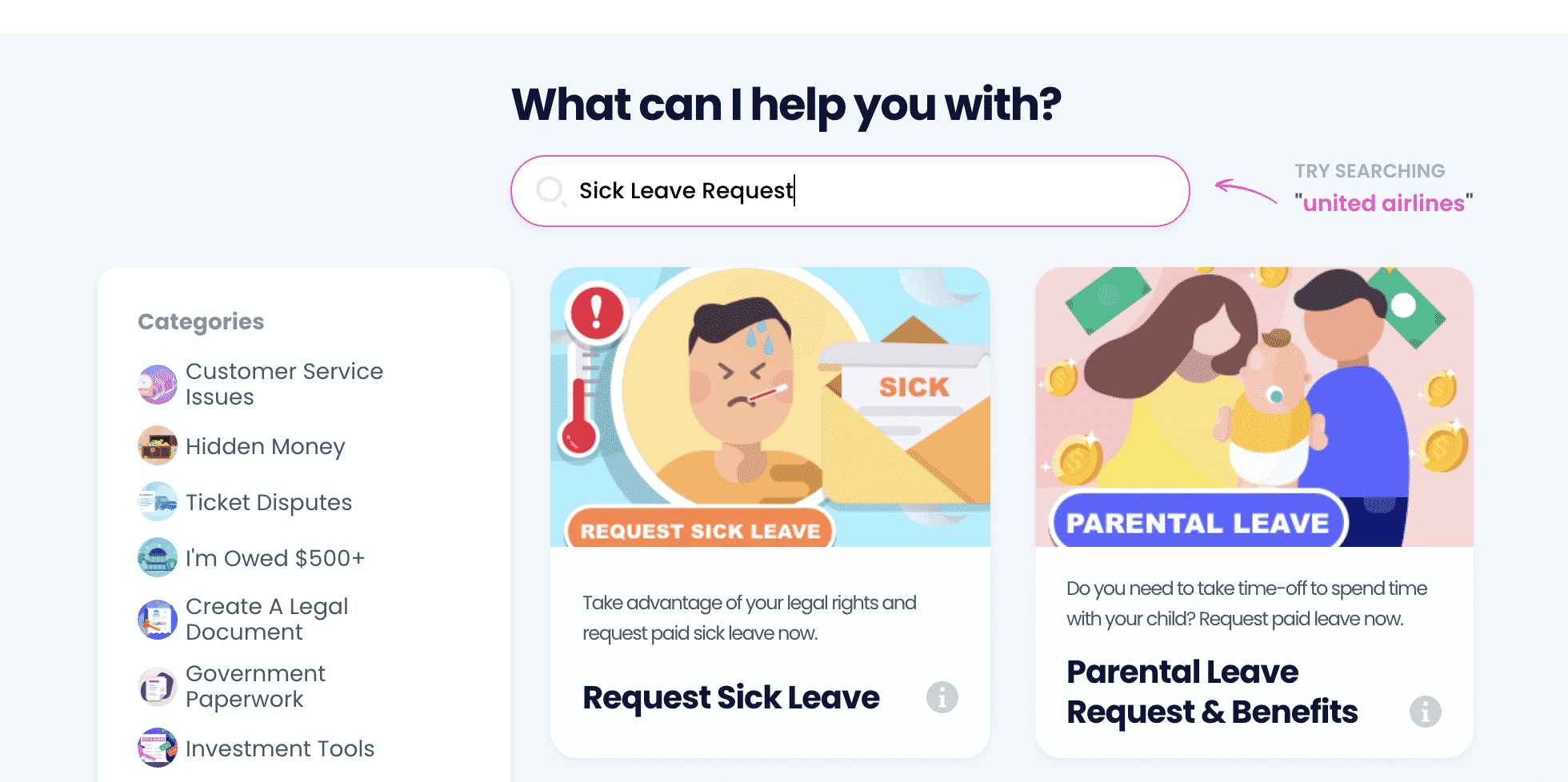 Here is what you need to do:
Select the Request Sick Leave product
Answer a few questions about your job and intended absence
Upload a photo of your doctor's note, if necessary
That's all that's required of you. With that information, we will generate a letter that you can download and send to your boss. Alternatively, you can provide your boss' contact information, and we will forward the request on your behalf.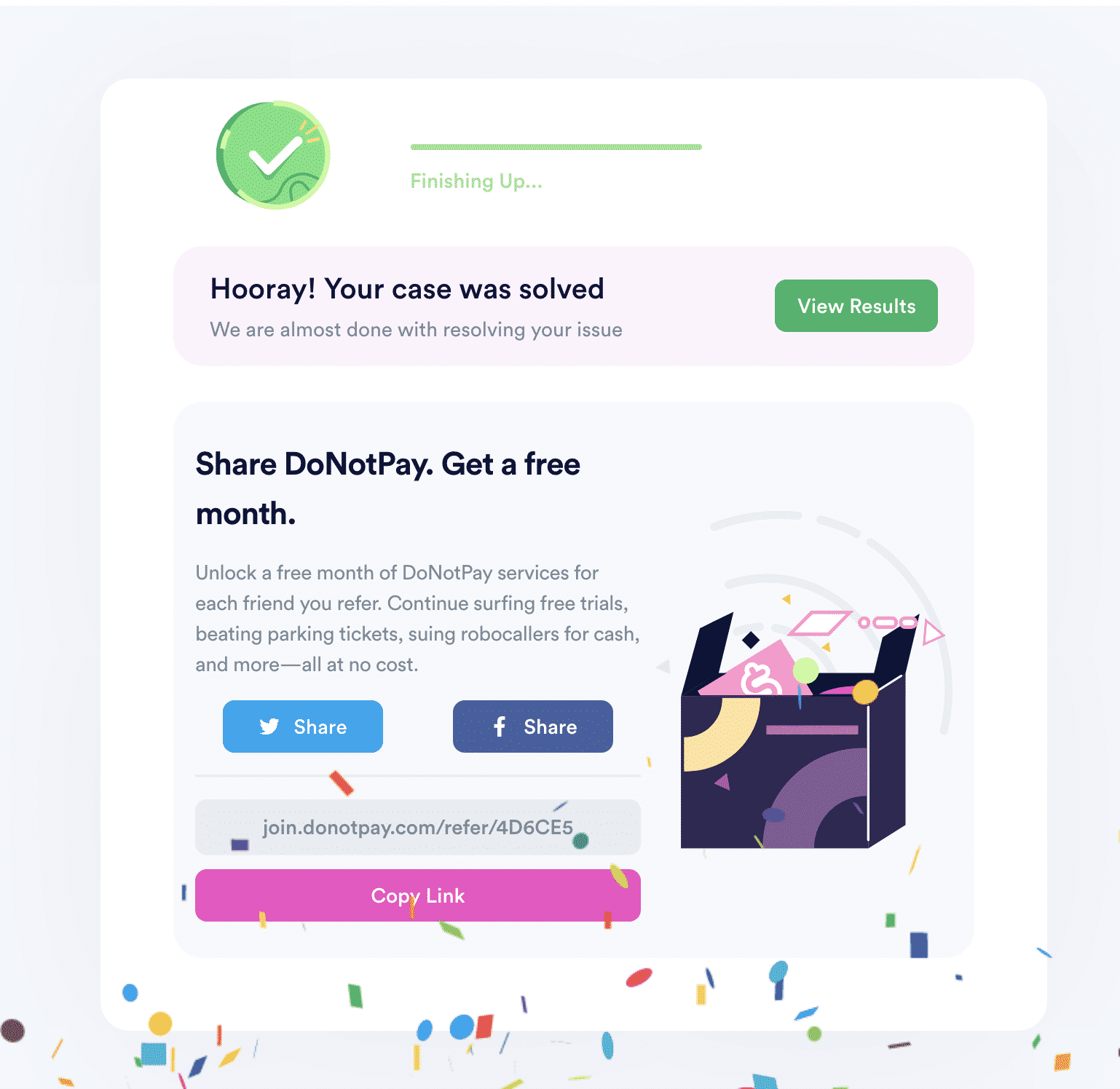 Turn to DoNotPay and Remove Bureaucratic Issues in a Snap
Does paperwork bring you to the edge of a nervous breakdown? With our help, you will skip all administrative impediments and get ready-made legal documents before you know it! No failed drafts or huge legal fees!
DoNotPay can generate:
Once you create the desired document, you can fax it online without a faxing machine or have it notarized with zero complications in the same app!
Your Info Is Safe With Our App
You don't need to leave your credit card info or personal details if you want to start free trials that won't turn into paid subscriptions without notice. DoNotPay will create a virtual credit card with a fake name and generic credit card number for you in just a few clicks. This way, greedy companies won't take a single penny from your account without your authorization!
Our app can also help you file anonymous HR complaints or create burner phone numbers to avoid disclosing your real info when signing up for apps and platforms.