The Ins and Outs of Lock-Up Agreements—Everything You Want To Know!
If you've never dealt with lock-up agreements before, you must be confused about what they are and how to write these contracts.
Even though legal documents may seem complex to understand if you're not employed in the legal field, they're not impossible to crack.
This article will help you learn what lock-up agreements are and how to write them without anyone's help.
What Is a Lock-Up Agreement?
A lock-up agreement is a legal contract between the insiders and underwriters of a company in the process of an initial public offering (IPO). Confused about what all these terms mean? Check out our table below:
| | |
| --- | --- |
| Term | Definition |
| Insider | A person or entity that owns more than 10% of a publicly traded company's shares and is involved in the sale and purchase of shares |
| Underwriter | Banks and other financial institutions that are IPO specialists—they assess the value of shares, buy them from insiders, and sell them to investors |
| Initial public offering | The process of offering the company's stock and shares to the public for the first time |
A lock-up agreement prevents all or certain company insiders from selling the shares they own to investors during the company's initial public offering.
The duration of the agreement is called a lock-up period, and it can last anywhere from four months to a whole year. The underwriters usually determine how long the lock-up period will last.
The insiders of the company can be:
Directors and senior officers

Venture capitalists (VC)

Executives

Employees

Managers
Friends and family of the company's insiders can also be considered insiders and included under the lock-up agreement.
Are You Legally Obligated To Sign a Lock-Up Agreement?
No federal law obligates a company to use a lock-up agreement when entering into an initial public offering process.
You should check out your state's Blue Sky laws to determine whether you need to introduce a lock-up period. Blue Sky laws vary by state, and their purpose is to protect investors from being tricked.
Why Do People Use Lock-Up Agreements?
Though you may not be required to sign a lock-up agreement with your underwriter, the underwriter will probably request you to do it.
Underwriters insist on this because lock-up agreements:
Prevent insiders of a company from either dumping their shares or selling them for a significantly higher price than they paid for them originally

Protect investors from overpaying the shares when the insiders want to gain the majority of the profits

Give time to the company and underwrites to determine the true value of shares

Sustain the value of the company's stocks, shares, and securities during the initial months of the IPO process

Ensure the company insiders will act on behalf of the company's interests and not their own 
What Information Should Your Lock-Up Agreement Include?
Whether you are an issuer or the underwriter, you can draft a lock-up agreement yourself.
Here's what information a professionally-written lock-up agreement needs to include:
Company and underwriter name

—full legal names of the company and underwriter as well as the addresses in which these entities are based

Duration of the lock-up period

—the exact number of days the lock-up period will last for

Identification of insiders

—names of company's insiders that will be restricted from selling shares during the agreement's term

Description of the lock-up restrictions

—a detailed list of actions that insiders cannot take while under the lock-up agreement. This section should also include an identification of the company's stock, shares, and securities that the agreement applies to

Lock-up restriction exceptions

—also called carve-outs, these are the exceptions that allow insiders to sell shares during the agreement's term. The common carve-outs are the transfers of shares to charitable organizations, legal representatives, or trusts for the benefit of the parties to the lock-up agreement

Changes to the agreement

—conditions under which the parties can introduce other carve-outs and the ways the new exceptions to the agreed-upon restrictions will be implemented 

Release from lock-up announcement

—statement that says the release from the lock-up period will be announced through a news service two days before the agreement's expiration date

Signatories and their authority

—signatures of the insiders and underwriters and their authority to sign the agreement
Did You Know You Can Create Customized Contracts With DoNotPay?
Since dealing with legal documents has become all too common nowadays, DoNotPay created a feature that helps you get full contracts in under a few minutes.
Why consult a contract template that is full of blank spots, outdated information, and grammar errors when you can get our AI-powered app to generate a complete and personalized document for you?
Whenever you have to draft a contract, you only need to:
Type the name of the contract you need

Answer a few questions about the contract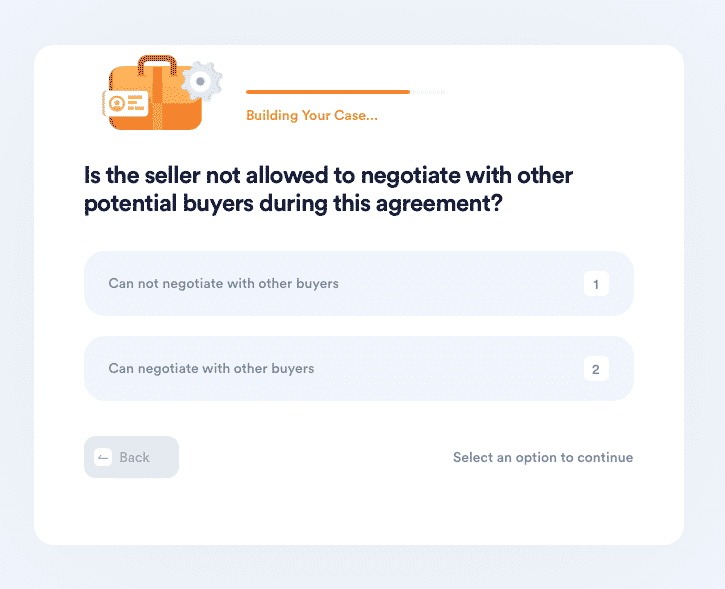 Take a Look at the Most Popular Contracts DoNotPay Generates!
Our database of legal documents you can get is growing daily.
Go to your DoNotPay account and have our robot lawyer generate any of the following contracts:
Quitclaim deed

Promissory note

General affidavit

General business contract

Child care authorization form

Intent to purchase real estate
Free Yourself From Boring Tasks With DoNotPay's Help
Our AI-driven app comes in handy for numerous bureaucratic or administrative chores that usually take up a lot of time. With DoNotPay's speedy service, even the most tiresome task will be complete in a flash!
You can forget all about waiting in line at the DMV and being on hold with customer service—we will get you to the finish line in a few clicks. Tired of the old snail mail? Use DoNotPay to mail letters fast. Better yet—fax your documents using our app. If your document requires a notary's signature, we can assist you in scheduling a virtual appointment.
No Lawyer—No Problem! Rely on the World's First Robot Lawyer
When you're in a bind but you can't afford a lawyer, there is still something you can do—sign up for DoNotPay and let our award-winning app give you a hand. With our expertise, the following tasks will be a piece of cake: