Don't Look Too Far To Find Help—Let Local Scholarships Be Your Savior!
Scholarship aspirants are often preoccupied with preparing and applying for national or federal scholarships, totally ignoring the local ones in the process. Many students deal with the stress of rising college tuition costs and living expenses, never realizing they can turn to their immediate community for help.
If you're in desperate need of financial assistance, start looking for local scholarships and grants today—and not as a last resort. You can graduate debt-free if you know where to find them! This article will guide you on:
Conducting a quick local scholarship search
Evaluating and applying for local scholarship opportunities
Scholarships by Local Communities—Why Are They Offered?
Local communities offer scholarships to students for numerous reasons, including:
Helping low-income group students get access to better education
Pushing students to overcome their unique challenges
Preventing brain drain (i.e., retaining meritorious students) to boost the local economy
Uplifting local minorities from:

Disadvantaged religious or ethnic groups—for example, Native Americans, Africans, Hispanics, Asians, Filipinos, Catholics, Jews, and Muslims
Underrepresented or struggling demographic groups, like women, veterans, teen moms, disabled kids, foster children, legal immigrants, students with a learning disability, transgender students, etc.

Supporting students with deceased, disabled, or overburdened single parents
Apart from the financial benefit, local scholarships help students:
Feel secure knowing the community is looking out for them
Embrace a sense of belonging
Stay motivated to excel in their chosen field of study
How To Find Local Scholarships in a Flash
Numerous local organizations offer scholarships—we have compiled examples for you in this table:
You won't have much luck finding local scholarships on the internet—most scholarship search websites maintain data on major national scholarships only.
If you want a one-stop solution to finding all local scholarships relevant to you, switch to DoNotPay's Apply for Scholarship tool.
Our database is regularly updated with the latest scholarships offered in every state in the U.S. We will use your student info to match you with all scholarships you are an eligible candidate for. Open a DoNotPay account and access your personalized list of scholarships in record time!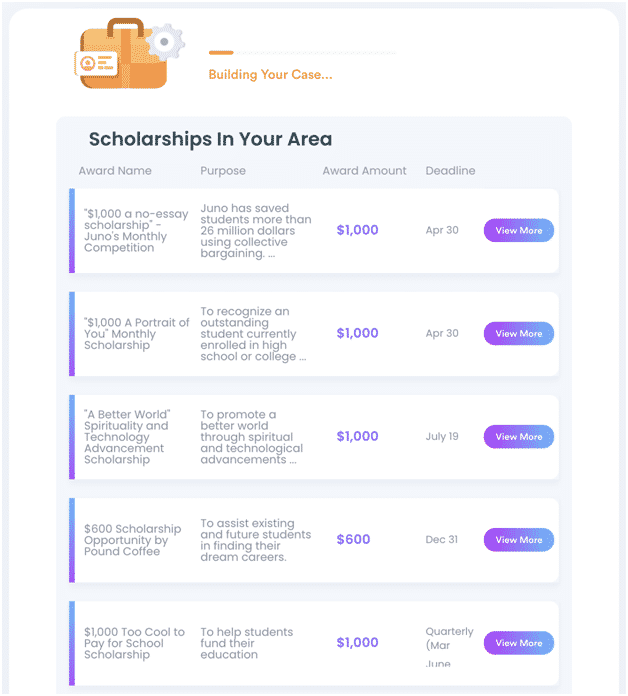 Who Can Apply for a Local Scholarship?
Currently, every state has a plethora of scholarships that you can apply for as:
While most local scholarships are only available to the permanent residents of a particular state, city, or county, there are a few exceptions. You'll find several scholarships also open to out-of-state students (especially college freshmen), inter-state transfer students, and undocumented and international students—as long as they maintain a temporary residence in the state.
Local Scholarships Near Me—Options Available
There is no uniformity in the type or number of local scholarships offered by every state. Currently, most states offer scholarships based on popular academic, athletic, and vocational fields. Check out this table for some examples:
| Academic | Athletic | Vocational |
| --- | --- | --- |
| | | |
What Are the Application Requirements for Local Scholarships?
Before you start applying for scholarships near you, take stock of the common application requirements for local financial aid opportunities:
Use DoNotPay To Apply for Multiple Local Scholarships!
DoNotPay does more than help with your national and local scholarship search—we also help you apply for no-essay scholarships!
Our Apply for Scholarships tool can generate a list of no-essay scholarships that fit your student profile. All you need to do is browse and choose the ones you like—we will use your student questionnaire answers to apply for the selected scholarships on your behalf! You'll receive an email from us confirming all your sent applications.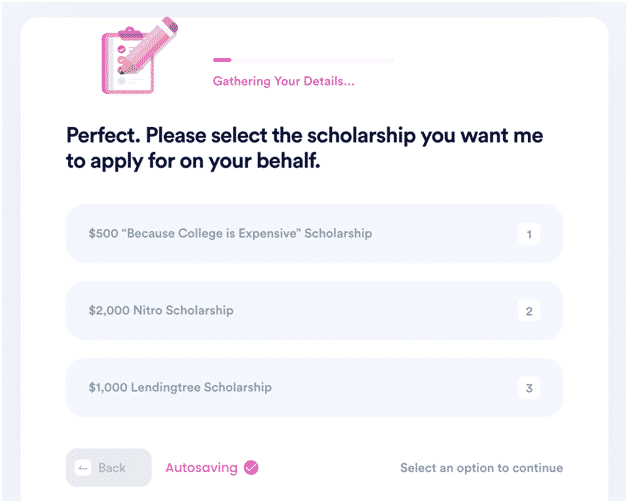 Take full advantage of our scholarship search and application product like so:
Log in to DoNotPay and search for Scholarships
Click on our Apply for Scholarships product
Provide details on your geographical location, extracurricular interests, demographic classification, etc.
Choose between our search and apply options
Since new scholarships are announced every week, apply for them regularly using our app—doing so will raise your chances of winning!
Use Our Learning Center To Find Scholarships in Your State!
Our learning center has detailed guides to scholarships in many states—including the ones in this table:
What's Next?
Once you complete the task at hand, you don't have to stop there—we offer a myriad of products that can relieve you of the stress that comes with dealing with admin and legal hurdles.
DoNotPay can assist you in drawing up a divorce settlement agreement, child travel consent form, power of attorney, and other legal documents, contacting government representatives, getting tourist visas, fighting workplace discrimination, getting a burner number, appealing banned accounts, getting access to public records, scheduling a DMV appointment, and much more.
Tackle Any Energy-Draining Task With DoNotPay
With DoNotPay by your side, you don't have to worry about how you'll cover your utility bills at the end of the month—we'll provide swift assistance as soon as you sign up!
Wondering what else our app is capable of? Check out how we can: