How To Get a Loan To Buy a Small Business
Buying an existing business requires proper funding to cover the acquisition cost and help you maintain cash flow. You can get the necessary funds by taking out a loan, but this can be challenging. That is why, in this article, we will help by explaining:
We will also help you find top lenders and maximize your chances of getting a loan to buy a small business by creating a compelling loan request letter in your stead.
The Best Types of Loans To Purchase a Small Business
The following are some of the best business loans you should consider:
The United States Small Business Administration (SBA) loans
Conventional business loans
Seller financing
Merchant cash advance
SBA Loans
SBA offers various loan programs to help small business and startup owners cover their business-related costs. The most well-known SBA program is the 7(a) loan because of its generous loan amount ($5,000–$5,000,000) and favorable terms (five to 25 years). The interest rates range from approximately 7% to 10%.
To qualify for this loan, your company must satisfy the following criteria:
Operates as a for-profit business
Has explored other financing options, including personal savings
Has a credit score of above 680
Can provide a down payment of 10%–20%
Has sufficient assets for collateral
Conventional Business Loans
Conventional business loans are issued by banks and other lenders. They typically have fixed interest rates (7%–30%) and must be repaid in a predetermined term, usually within one to five years.
The amount of loan is negotiable with the lender, but you can expect anywhere between $25,000 and $500,000.
If you are interested, make sure your business fulfills the following requirements:
Satisfies the minimum annual income level
Has an excellent credit score
Can provide collateral
Seller Financing
Seller financing is a type of real estate loan where a seller of a property helps a buyer to buy said property in exchange for a monthly repayment with interest.
Seller financing tends to be much more flexible compared to other loans. The terms and requirements are determined by the agreement between the borrower and the seller. Businesses with poor credit scores might be able to secure a loan through this method.
Merchant Cash Advance
While not considered a loan in a traditional sense, a merchant cash advance can provide the capital you need to buy a new business. It allows you to receive funding from a merchant cash provider in advance, and you will have to offer a percentage of future daily sales as repayment.
A merchant cash advance is an excellent financing option for businesses with high volumes of sales that may not qualify for conventional bank loans. The application process typically takes less than a day, making it a convenient funding method for businesses that need immediate financing.
How To Get a Loan To Buy a Small Business
This is how to get a loan to buy a small business:
Select the loan
Check whether you qualify
Collect the required paperwork
What Paperwork Do You Need To Apply?
While all lenders have different requirements, most of them will ask you to provide the following documents:
Personal Finance
Acquisition Plan
Business Finance

Tax returns
Personal credit score
Tax returns
Collateral assets

Business budget and roadmap
Industry experience
Personal or business value proposition

Business tax returns
Business credit score
Financial statements
Past business performance report
Balance sheet
Business collateral assets
We Can Help You File a Professional Loan Request Letter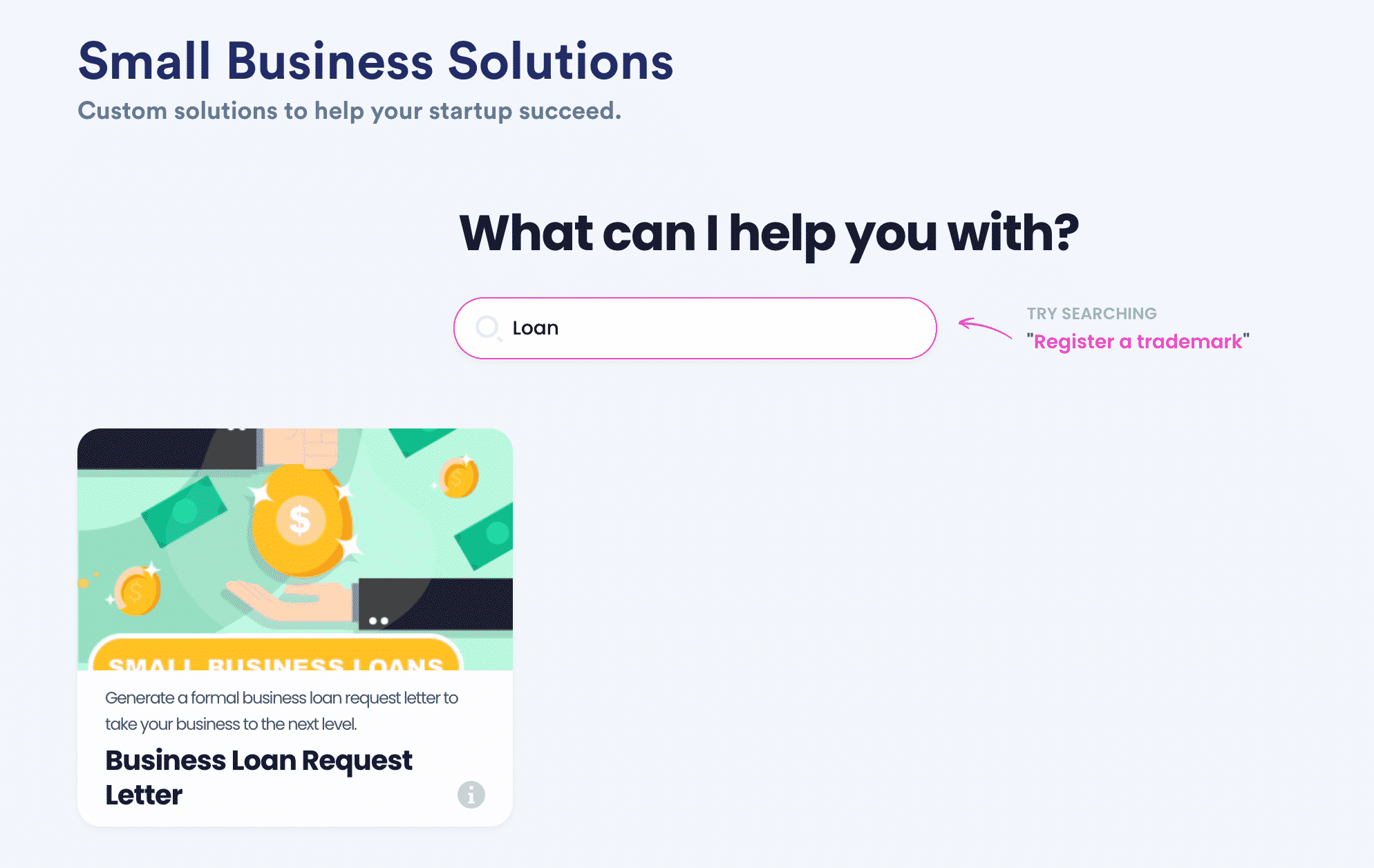 Whether you need funds to cover business expenses or acquire a new company, sending a professional loan request letter can help you secure financing. The good news is, you do not need a lawyer to ensure the letter is perfect.
DoNotPay can create an impeccable loan request letter on your behalf in a matter of minutes. You can use our app by following these steps:
Search for the Business Loan Request Letter product
Have your credit score report and financial statement ready
Tell us how much you would like to borrow
Upload the documents
Our app will personalize the loan request letter to your needs and send it to banks or other lending institutions on your behalf.
Discover Top Lending Institutions Instantly With DoNotPay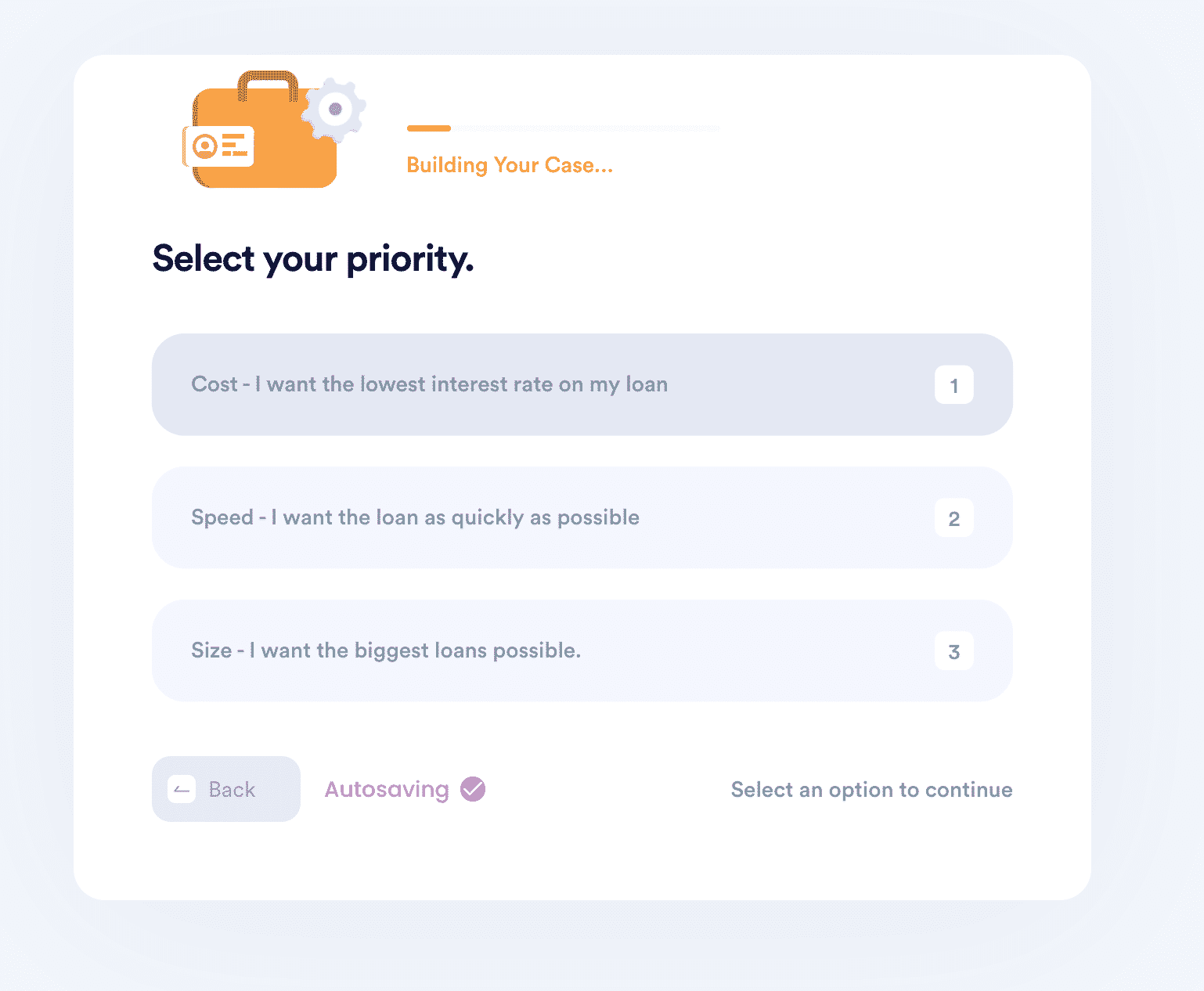 With so many options in the market, finding a reputable lender for small business loans can be difficult. DoNotPay can help you take care of the task in just a few minutes. Here is how to do it:
Locate the Find Online Business Loan Lender feature
Answer some questions regarding your loan requirements and business priorities
Describe your business type and industry
The database will compare various loan options based on possible loan amounts, rates, terms, and speed.
DoNotPay Offers More Help for Your Business
Running a small business is no small feat. When you're drowning in red tape, DoNotPay is here to lend a helping hand. Whether you need to register your trademark or protect it later on, we have got it covered. With our help, you will keep your logo, slogan, and business name safe.
Are you also yet to register for an Employer Identification Number (EIN)? Not to worry—our app can file the IRS SS-4 form in a few clicks. With the world's first robot lawyer at your fingertips, you will also be able to create your 83(b) election forms with ease—ready for your employees to sign them right away.
In case you are struggling financially, we can assist you with a business loan application.
Communication Has Never Been Easier With Our App
Keeping up with clients can be challenging, especially if each has a preferred method of communication. Luckily, our multifunctional app makes it easy to both fax and mail contracts, letters, and documents.
You can also count on our assistance when you need to:
Fight fake negative reviews online
Deal with a client regarding a breach of contract
Dispute fraudulent chargebacks
Thanks to DoNotPay, there is no need for back-and-forth communication. We will handle the necessary demand letters and forward them on your behalf.
We can also help you manage your DMCA agent registration and Privacy Shield program self-certification.