Create a Remarkable Loan Modification Agreement With Zero Effort
A loan is an unavoidable step for most individuals who decide to purchase a home or make an investment. People will accept the proposed terms when signing a loan agreement, but their financial situation and needs may change. Such cases require a loan modification agreement.
If you have never written a legal document yourself, we're here to help you out! Find out what loan modifications are and get a modification contract by using our practical tips. We will show you how to draw it up without wasting your time on manual drafts or vague online templates!
Loan Modification Agreements in a Few Words
A loan modification agreement is a specific contract that allows changes to an existing loan agreement. It's signed by:
A borrower—a person who has already signed a loan agreement with a specific institution or individual

A lender—an entity that provides a loan to the borrower
Borrowers usually apply for such modifications due to financial difficulties preventing them from paying monthly installments for a certain period. It's also the best solution for people who aren't eligible to refinance. 
The document provides an overview of the requested alterations and long-term solutions for their particular situation. The most common type of a loan modification contract is a mortgage modification agreement.
Steps To Take Before Signing a Mortgage Modification Agreement
Before signing a modification contract with your bank or lender, you must go through several preparatory steps:
Collecting the necessary financial evidence, including:

Mortgage statements

Information about other monthly payments

General income information

Tax information, including

IRS Form 4506-T

Contacting the lender

Explaining the hardships you are experiencing—You must convince the lender that your reasons for requesting a modification are solid enough

Negotiating the potential modifications 
Once you define the changes you want to make to your existing mortgage loan contract, you can start writing a new one.
What Modifications Can You Request From the Lender?
Most lenders offer the following modification methods:
Interest rate reduction

—If the lender reduces your interest rates, you will pay lower monthly installments

Mortgage term extension

—You can choose to increase the number of years you have to repay your debts, but this option may increase your interest 

Mortgage term change

—It lets you switch from an adjustable-rate mortgage to a fixed-rate one and set a more affordable monthly amount

Pausing loan payments

—The lender can stop your loan payments for a certain period if you face unexpected costs
What Clauses Should a Mortgage Modification Agreement Cover?
The exact provisions you will cover in your mortgage modification contract depend on the particular case. If the changes are minor, your agreement won't be too long, and it will be easier to draft. If you need to modify several elements of your original loan agreement, this task will get more challenging.
There are some essential clauses you shouldn't skip regardless of the situation. Some are listed below: 
Name and title of the borrower

Name and title of the lender

Effective date—the date when the agreement starts

Short description of the original mortgage loan agreement—If you have a copy of the primary contract, you can attach it to the new document

Modifications of the existing terms—a detailed list of all changes you have made to the primary agreement

Borrower's representations and warranties 

No novation clause—a part stating that none of the clauses from the new contract can be modified

Signatures of the borrower and lender
DoNotPay's Modifiable Templates Will Make Your Life Easier
If you aren't acquainted with current laws in your state or law in general, your attempts to write a contract may be unsuccessful. Since even the slightest mistake can nullify the agreement, you mustn't take risks with unreliable online templates. This is where our robot lawyer jumps in to save the day!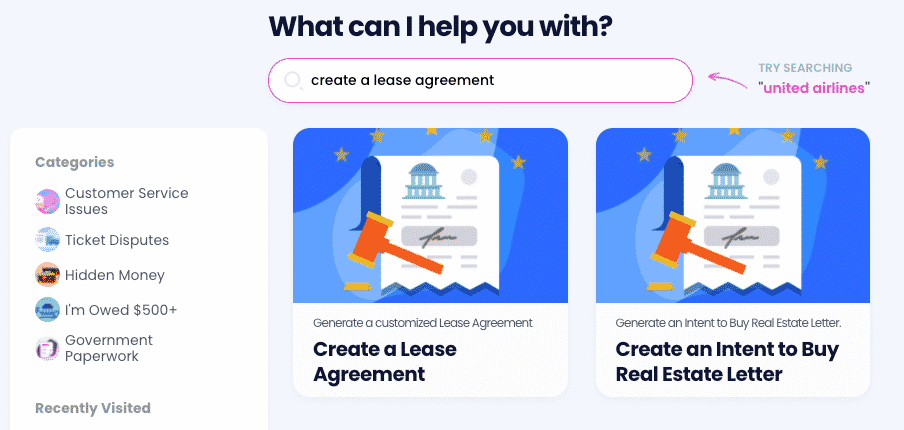 DoNotPay provides the best up-to-date templates you can convert to valid personalized contracts in only three steps:
Log in to DoNotPay

in your preferred web browser

Search for the desired contract template in our database

Enter a few specifics related to the contents of your document
We will generate a professionally composed contract according to the details you provide. You can repeat the process as many times as you want and generate an unlimited number of contracts stress-free!
The perks we offer don't stop here. Use our app to get your legal documents notarized without the administrative hassle by obtaining a digital notary's signature. DoNotPay helps you schedule a video call with an online notary without waiting in lines or going through lengthy procedures.
What Legal Documents Can DoNotPay Help You With?
The following table lists some document templates from our database and some other handy guides you may find useful:
Customizable Templates We Offer
Legal Documents We Can Help You Create

Child Care Authorization Form

Quitclaim Deed

Intent To Purchase Real Estate

General Business Contract

Promissory Note

General Affidavit
DoNotPay Offers a Variety of Services
DoNotPay is the ultimate virtual assistant that takes over all those annoying tasks you don't want to deal with!
Need to schedule your DMV appointment? Want to get your college fees waived? Have to draft a legal doc quickly?
We can do all that and much more!
Our app waits on the phone line with customer service of any company for you, reports robocalls, and helps you file lawsuits in small claims court. 
We can also help you deal with your parking tickets, get rid of spam emails and texts, or find and sign up for reputable clinical trials!
Keep Your Money in Check With DoNotPay
How often do you sign up for a free trial and then forget to cancel it before it expires? Unexpected charges are the worst, but you can prevent them if you use our free trial card. DoNotPay's virtual credit card is not connected to your bank account, which means that no money can be taken from it. 
We can also help you get refunds for unsatisfactory purchases or compensation from airlines for delayed or canceled flights.
In case you are struggling with warranty claims, bill payments, insurance, or tax reduction, DoNotPay can solve these issues as well. 
Our app also has the largest database of unclaimed assets in the United States, so you can find and claim your lost funds quickly.