How to Create a Loan Agreement Instantly

Legal documents are necessary whenever you wish to protect the interests of parties included in the agreement. DoNotPay can help you find a loan agreement template and write any contract with ease.
What Is a Loan Agreement?
A loan agreement is a legally-binding document made between a lender and a borrower. This contract provides a repayment plan and makes the terms of the loan clear. A loan agreement is important because it ensures that the borrower has to pay back the lender. If the borrower fails to deliver, they will suffer certain consequences determined by the agreement.
When Should You Use a Loan Agreement?
You may need a loan agreement in various situations, but some of the most common ones include:
Personal loans among friends and family

Business loans

Commercial loans

Educational or students loans

Large purchase loans (vehicles, furniture, etc.)
What Happens if One of the Parties Dies Before the Loan Is Paid Out?
The loan agreement should clearly state what happens in a situation when the borrower or lender dies. The idea is for the loan to still be paid out.
If the borrower passes away, the agreement should state who is responsible for paying the remaining part of the debt. In case there was a co-signer involved when creating the loan agreement, they will be in charge of paying off the debt.
When the lender dies, the borrower will continue to pay out the debt to one of the lender's beneficiaries. The lender should consider including clear instructions in their Will and Testament on who they wish to get the borrowed money in case they die.
How Are a Loan Agreement and a Promissory Note Different?
Both the loan agreement and a promissory note are legally-binding contracts for loans. The main difference between the two is that the loan agreement is more detailed and formal than the latter one.
A loan agreement needs to include:
Clauses about the entire agreement

Changes of the agreement terms

Additional expenses
You will usually use a loan agreement when dealing with large-amount loans or multiple lenders. Promissory Notes are a good choice for loans from individuals or companies instead of banks or credit unions.
What Is the Info Every Loan Agreement Template Should Include?
If you were ever in a situation where you lent money to an individual but never got it back, you probably don't want to go through the same situation twice. Making a loan agreement should help you with this problem, but there is more to it than someone scribbling down a promise to pay you back on a piece of paper.
Take a look at the table below to see the info you should include in a loan agreement that can protect your interests:
Info To Include in a Loan Agreement
Explained

Lender and Borrower Information

Full names

Location

Contact info

Details of the Loan

The amount being lent

Interest

Payment Schedule

A choice between one payment or regular payments

Length of the agreement

Repayment Method

One lump sum or monthly payments

Date of when the final amount is due

Late Fees and Consequences

Interest rates getting higher if the borrower doesn't pay on schedule

Collateral option (car or property that the lender will get if the borrower can't give the money back)
Create Legal Documents With DoNotPay in No Time!
We may not be able to help you with a loan agreement, but our extensive offer includes numerous other document types. If paying a lawyer to create different contracts for you seems too expensive, and you don't want to risk writing one on your own, don't stress! We have your solution—DoNotPay handles the task of generating legal documents without issues.
If you don't want to waste your time or money, proceed as follows:
Access DoNotPay from a

web browser

Enter the name of the document you need

Type in your name, address, and other required contact details
Once you answer some simple questions, DoNotPay will generate a legal document of your choice. Bear in mind that both parties need to sign and take it to a notary to make it official.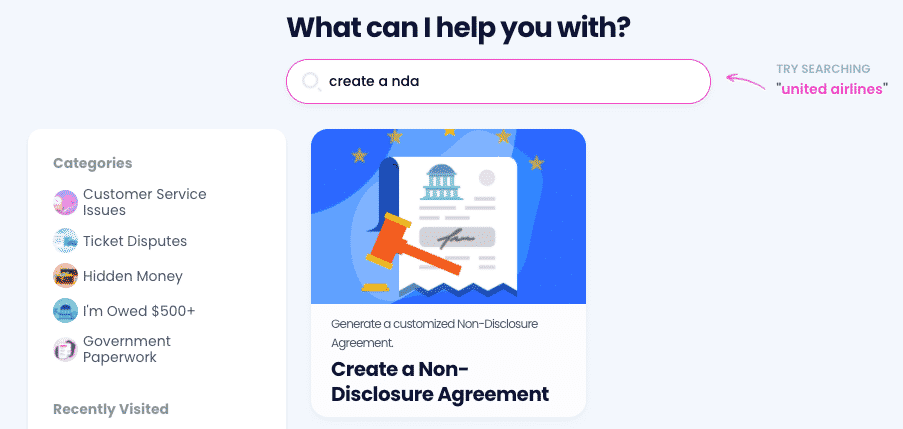 DoNotPay Makes Legal Documents Without Issues
If you use DoNotPay, you can forget about paying lawyers to create your legal contracts. If you need help with business-related agreements, we can help you make a Bill of Sale, Non-Compete Agreement, General Business Contract, Independent Contractor Agreement, or LLC Operating Rules Document.
In case you are dealing with real estate, you can count in our app to create a Quitclaim Deed, Estoppel Certificate, Intent to Purchase Real Estate, or Residential Lease Agreement.
DoNotPay will also generate other legal documents such as:
Promissory Note

General Affidavit
DoNoPay understands the seriousness of all of these documents and will ensure they contain all the required information.
DoNotPay Is Your Pocket-Sized Treasurer 
To pay or to DoNotPay—that is the question! Our nifty app finds money where you didn't even know you had it.
With our app, you can avoid college application fees, cancel unused subscriptions, explore free trials, and get out of paying for unfair parking tickets. 
We can also help you with high bills by composing due date extension letters or reducing property taxes, just as we can locate missing money that you can reclaim in any state you've ever lived. 
To top it all, we'll even assist you in requesting compensation from any airline—whether it is for poor in-flight Wi-Fi, a delayed, or a canceled flight.
Can't Find Your Head in All the Paperwork? DoNotPay Sorts It Out for You!
You no longer have to cash out on pricy legal advisors to do simple paperwork for you—our app can draft legal documents for you in a matter of minutes! 
We can write small claims court scripts, dispute letters for chargebacks and refunds, personalized letters to connect with inmates, DMCA takedown notices for copyright protection, and cease and desist letters for stalking and harassment protection. 
If you need to get a DMV appointment before taking a driving exam or any other government test, we're there to schedule it in your stead!