Don't Search for an LLP Operating Agreement Sample—Create Your Contract With DoNotPay
A limited liability partnership (LLP) is a business arrangement in which parties work together to achieve common results while being only responsible for their own actions. 
This type of partnership is established through a legal document, an LLP operating agreement. 
The problem arises when it comes to writing such a contract. Your draft must meet the governing law requirements and include all relevant sections. 
Hiring a lawyer is one way to go, but it's a pricey option. You might be considering looking for an LPP operating agreement sample online. This article will give you a much better solution!
What Is an LLP Operating Agreement, and When Should You Use It?
An LLP operating agreement is a contract between all the parties involved in a partnership who agree to run and handle the business together to gain better profit. It defines the duties and liabilities of each partner and shows what the business management should look like. 
Before signing the agreement, the parties must register their partnership at the government body proposed by local legislation, which varies from state to state. The document itself doesn't need to be reported to the same institution. The primary goal of this contract is to protect the members from bearing the consequences of other parties' actions. The individual liabilities defined in the operating agreement will always be proportional to the particular party's investment. This way, the document safeguards the interests of all signers involved and helps them maintain a fair relationship.
What Sections Should a Reliable LLP Operating Agreement Include?
A proper LLP operating agreement should cover all the clauses necessary for defining the purpose and terms of your partnership. To prevent any ambiguities and miscommunication, you must ensure the contract is concise and comprehensible to everyone. Compliance with related state-specific laws is another important requirement, which is why you should always check whether your state has specific rules regarding this matter. The recommended sections you should include are:
Information about your LLP

Official name

Business type

Partners

Names of all LLP members

Limits regarding the number of partners

Member appointment procedure details

Potential termination in case of death, expulsion, or other similar circumstances

Working terms and expectations

Responsibilities and tasks of each LLP member

Financial terms

Required capital each member should invest

A policy for sharing LLP profits and losses

Salary and payment details

Accounting policies

Other financial procedures

Approved types of assets the LLP can own

LLP management

Day-to-day management strategies and procedures

Decision-making processes

Meetings

Restrictions

Disputes and dissolution requirements

Ways to resolve potential conflicts

Non-compete clause

Reasons for terminating/dissolving the LLP

Signatures of all LLP members
Does an LLP Operating Agreement Require Notarization?
Having your LLP operating agreement notarized usually isn't required since the signatures of all partners are enough to make the agreement legally binding. The situation is different if the parties want to modify the existing agreement or add some new clauses to it. In such cases, they must make a supplementary contract containing all performed modifications or new sections. This document has to be stamped and signed by a notary.
Use DoNotPay To Create Unlimited Legal Documents
If drawing up an agreement seems like a never-ending and challenging task, our robot lawyer is the ideal solution. DoNotPay features a set of watertight document templates you can turn into contracts tailored to your local legislation requirements. 
You don't need to waste hours on unsuccessful drafts that will end in your recycle bin. Our three-step procedure allows you to get your personalized document fuss-free in a few minutes!
To do it, follow the steps below:
Search for a suitable document template

Complete our chatbot's questionnaire
Do you need to get your new contract notarized? Say goodbye to standard notarization procedures and get a notary's signature with DoNotPay. Skip the paperwork and have your document notarized digitally by booking a meeting with an online notary through our app! We also let you fax your contracts to the desired number without a faxing machine!
Here are some of the templates DoNotPay offers:
General Business Contract

Promissory Note

Child Care Authorization Form

LLC Operating Rules Document

Quitclaim Deed

Intent To Purchase Real Estate

General Affidavit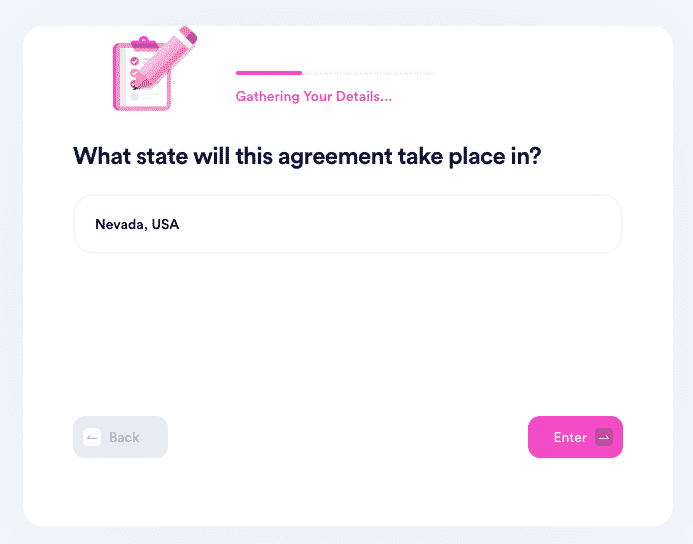 Finding Out About Contracts Is Easy With DoNotPay
If you need some assistance with drafting any other contracts that aren't on our list, access our learning center and find our handy manuals. We bring you many tips on creating:
Our Robot Lawyer Gets Rid of All Admin Tasks
What makes DoNotPay so unique is that it helps you get back what is rightfully yours in many different ways. You can appeal parking tickets, find unclaimed money, demand a refund for canceled or delayed flights, get help with bills you cannot pay, or get your college application fees waived with the help of our platform.
If you're sick and tired of annoying robocalls, spam emails, copyright violations, text message spam, or stalkers and harassers, DoNotPay can assist you in getting rid of them once and for all.
DoNotPay Can Help You Save Money
Have you ever subscribed to a service's free trial you forgot about after a few days? Many Americans have, which is why DoNotPay has a free trial feature that will help you avoid getting charged once the trial is over.
If you want us to scan all your active memberships and help you not pay for the ones you don't use, connect your email address or credit card to DoNotPay. Our cancel feature will ensure that you don't waste your money on subscriptions you don't even remember exist.
If a merchant charges you once the free trial is over, though, you can use our robot lawyer to request a refund and skip the phone queue when doing so.
In case a company refuses to grant you a refund, you can also use our app to sue them in small claims court.