What LLC Startup Costs Should You Bank On? DoNotPay Explains!
Registering a Limited Liability Company is an easy way to separate your private from your business finances, giving you control of your company with reduced personal risk.
An LLC is a simple business structure, and you can set one up quickly and relatively cheaply.
Registering your LLC is only the first step in setting yourself up for success, though.
DoNotPay takes you through the LLC startup costs you can expect and gives you top advice on how to get your business off to a flying start!
How Much Does an LLC Startup Cost?
When you embark on your business journey, you need to understand—and plan for—all the upfront costs you will incur. Failing to plan really does mean planning to fail.
In planning your LLC startup expenses, you should differentiate between:
Upfront costs
Ongoing expenses
Upfront Costs
These are the amounts you will need to pay before you can start trading. They are highly business-dependent but may include the following:
Upfront Expense
Explanation
LLC registration costs
Depending on the state you are registering in, your registration costs will be between $40 and $500
Licensing, permit, and other fees
Your state might have specific licenses and permits you need to obtain when registering your LLC. Examples of these are:

Arizona, Nebraska, and New York publication fees of between $40 and $2,000
LLC name reservation fees of $10 to $28 in Alabama
Doing Business As (DBA) fictitious name fees

Your type of business could also require you to register with a local, state, or federal professional body

Tax compliance costs
You may have to register for:

Sales tax
Employer taxes
An employer identification number

Premises
You might need to lease office space, workshops, or other premises, which often involves:

Lease initiation fees
A security deposit
Refurbishment or redecoration costs

Equipment
Any equipment you need for your business will have to be acquired upfront. Negotiating extended payment terms with your suppliers can ease cash flow in the startup phase
Recruitment and staff costs
If your business needs staff, you will need to recruit and employ them before launch. You may take several months to generate enough turnover to cover their costs—this needs to be factored into your financial planning
Stock, inventory, or raw materials
Any items you need to produce sellable goods have to be purchased in advance
Ongoing Expenses
As soon as you have registered your LLC and set your infrastructure up, you can start trading.
You may have to work for a considerable time between opening your doors and the first profit coming in.
Your ongoing expenses don't take a break during this time—meaning that your planning has to factor in your outgoings for as long as it will take to generate income.
These outgoings can include:
Lease payments
Salaries and wages
Infrastructure costs, such as internet, utilities, phone lines, and office equipment rental
Maintenance
Taxes
Insurance, including liability cover, workers compensation, and health insurance
What Are the Dangers of Insufficient Financial Planning?
The number one killer for any startup is your business running out of cash before you can generate profitable income.
This is an avoidable mistake—solid financial planning before you embark on your journey should tell you how much cash on hand you will need to remain solvent.
Once you have budgeted this figure, you can start looking at options for financing your LLC startup.
What Financing Options Do You Have for Your LLC Startup Expenses?
Registering an LLC is not an expensive step, so you may get away with not needing finance.
You may be able to self-finance your startup if you have savings or have established a solid credit score and your LLC is a:
One-person show
Service organization
Virtual business requiring no stock or raw materials
If your plan involves significant upfront costs, though, you may have to investigate financing your startup through a:
Startup Loan
A startup loan advances your money based solely on your business plan.
As your LLC has no trading history, a financial institution will use its expertise and experience to evaluate your plans and decide whether your business is an acceptable risk.
Depending on the viability of your plan, the institution may set a higher interest rate to offset the risk they are taking on.
Small Business Loan
If you are opening a new branch of an existing business and registering it as an LLC in a different state to the parent company, you may qualify for a small business loan.
To secure such financing, a financial institution will look at the parent company's finances and determine your risk profile.
The terms of repayment will reflect the institution's confidence in your chances of success. Securing the best deal depends on:
Your financial history
The credibility of your projections
Your presentation of yourself and your business plan
Who Can You Approach for a Loan?
Your options for securing a loan are:
Credit unions or other lending institutions
Angel investors or strategic partners
Whichever financier you opt for, you will have to formally apply for the loan—the more convincing your application, the better your chances of securing the startup money you need.
DoNotPay understands this, and we can help you create the perfect loan application letter to secure your financing.
DoNotPay Is Your Partner in Getting Funding for Your LLC Startup Costs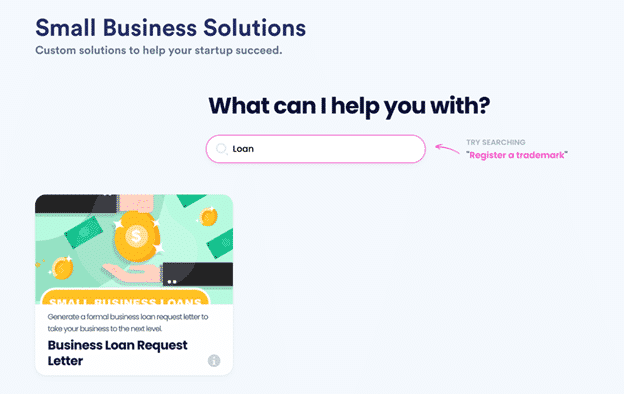 First impressions count, and your business loan application is no exception.
DoNotPay can ensure that your loan application comes across as:
Convincing
Comprehensive
Viable
We will help you understand the documentation you need and will draft a letter that sets out:
Your credit score and financial history
Your business plan for your LLC
The loan amount you require
Follow these steps to get your letter generated:
Navigate to our Business Loan Request Letter feature
Give us the details of your business, your growth plans, and the loan you need
Upload your documents
DoNotPay will take it from there—we will create a customized loan request letter that covers all the bases your chosen financier requires. You can also find top online lenders through an integrated feature—Find Online Business Loan Lender.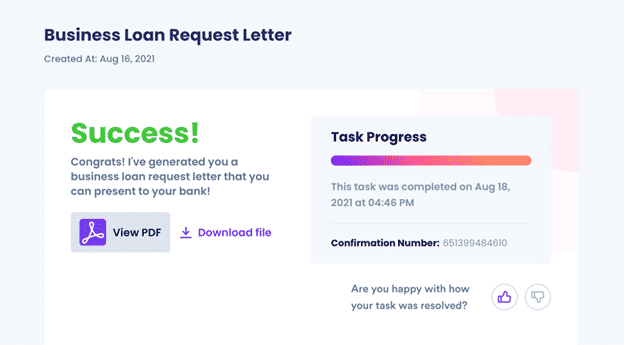 Time Is Money—DoNotPay Helps You Save It
If you are wasting time on endless administrative tasks, you are also wasting money. We can help you save both.
With DoNotPay's assistance, many processes will last and cost less, including:
Business loan applications
DMCA agent registration
Privacy Shield program self-certification
Employer Identification Number (EIN) registration
83(b) election form submission
In a few clicks within the same app, numerous tasks will come easy for you and your business.
Too Much on Your Plate? Engage Your Pocket Assistant
DoNotPay is your go-to if you plan on trademarking your company—name, slogan, or logo. We can also help keep your trademark protected from any future violation.
If things get ugly, our AI-powered app will assist you. In case a client is refusing to pay and thus breaches their contract, use DoNotPay to send a formal demand letter. You can even escalate the issue to small claims court with our help if necessary.
Sometimes, scammers buy services and products only to initiate chargebacks soon after. You can put a stop to this by using our Fight Chargebacks product.
What if you get negative comments and reviews that may harm your business in the long run? If some of your company's online reviews are invalid and fraudulent, we can help you remove them.
To make any task or process easier, rely on our faxing and mailing services.