LLC Small Business Loans—A Complete Guide
A Limited Liability Company (LLC) small business loan is slightly different from startup and regular small business loans. If you own an LLC, you will need to get familiar with this type of financing, especially if the startup costs and operating expenses drained your budget.
DoNotPay will explain what LLC loans are, how they work, and how you can get them.
If you sign up for our platform, we will prepare a loan request letter for you in mere minutes.
What Is an LLC Small Business Loan?
How is the LLC small business loan different from traditional small business loans? The borrower is not the business owner but the LLC itself.
LLC business loans are available from plenty of different lending institutions, such as:
If your business doesn't have a long and successful financial record, you must provide a personal guarantee.
What Are the Best Small Business Loans for an LLC?
The best small business loans for LLC are as follows:
Bank loans
Unsecured loans
Invoice factoring
Lines of credit
Merchant cash advances
Bank Loans
Though they might seem like an obvious choice, you should know that it is fairly difficult to qualify for these loans. Banks have stringent eligibility criteria for giving out loans, which means that you will have a lot of paperwork to fill out to apply. You will also wait a long time for your loan application to be approved and to receive funds.
SBA Loans
SBA loans are offered by participating banks and credit unions. It is a popular choice for many LLCs as these loans are backed by the government, reducing the risk that a lender needs to take.
The greatest benefit of SBA loans is low monthly payments. The loan term is up to ten years, and you need to have a credit score of 600 or higher.
Unsecured Loans
Unsecured loans do not require any collateral, but interest rates are typically higher than with other forms of LLC financing because the risk is higher for the lender. The best part about unsecured loans is that there is no risk to personal assets.
You need to have a credit score of 300 or higher. The loan terms are six months to two years.
Invoice Factoring
LLC invoice factoring means that the lender pays you about 80% of the value of your unpaid invoices upfront. The lender provides the remaining amount after you collect the payments. They will probably charge you for the service taking about one to four percent.
The greatest benefit of LLC invoice factoring is that you can access funds that are tied up from slow-paying customers, but the downside is that you are placing customer relationships in the hands of a third party.
To qualify for this type of small business loan, you need to have a credit score of 530 or higher.
Line of Credit Loans
If you get a line of credit loan, you will be able to use the funds for all business-related expenses, and you will need to pay interest only on the funds you actually use. The downside of a line of credit loan is that there are penalties for late payments, such as a temporary spike in your interest rate.
To qualify for a line of credit loan, your credit score must be at least 300.
Merchant Cash Advance
If you need a loan fast and are planning to return it almost immediately, a merchant cash advance (MCA) is the right type of loan for you. A merchant cash advance will provide a lump sum loan that is automatically paid back by drawing a percentage out of the business's credit. The main benefit of the MCA is fast access to money, but you should keep in mind that if you don't pay it back quickly enough, the interest rates will grow.
To qualify for MCA loans, your credit score must be 500 or higher.
Which Financial Documents Do You Need?
In the table below, you can find the documents that are usually required when applying for an LLC loan:
Documents
Explanation
Balance sheet
This document lists what your LLC owns and owes
Profit and loss report
It shows:

Source of your LLC revenue
Expenses
Profit you have left over

Cash flow statement
This document shows how money is flowing through your LLC
Detailed projections
Detailed projections show future:

Revenues
Expenses
Profits

Account statements
An account statement outlines all your bank and credit card transactions
Tax returns

Personal—pass-through income from your company on the form 1040
Company's—form 1040 schedule C

Debt schedule and repayment plan
You need it if you already have loans
Apply for LLC Small Business Loans Effortlessly Using DoNotPay
When applying for an LLC loan, you also need to submit a convincing loan request letter. DoNotPay can generate a watertight letter on your behalf and make sure that it meets all the requirements and stands out from all other requests. Our app will make sure that you don't leave out any important document or a piece of information.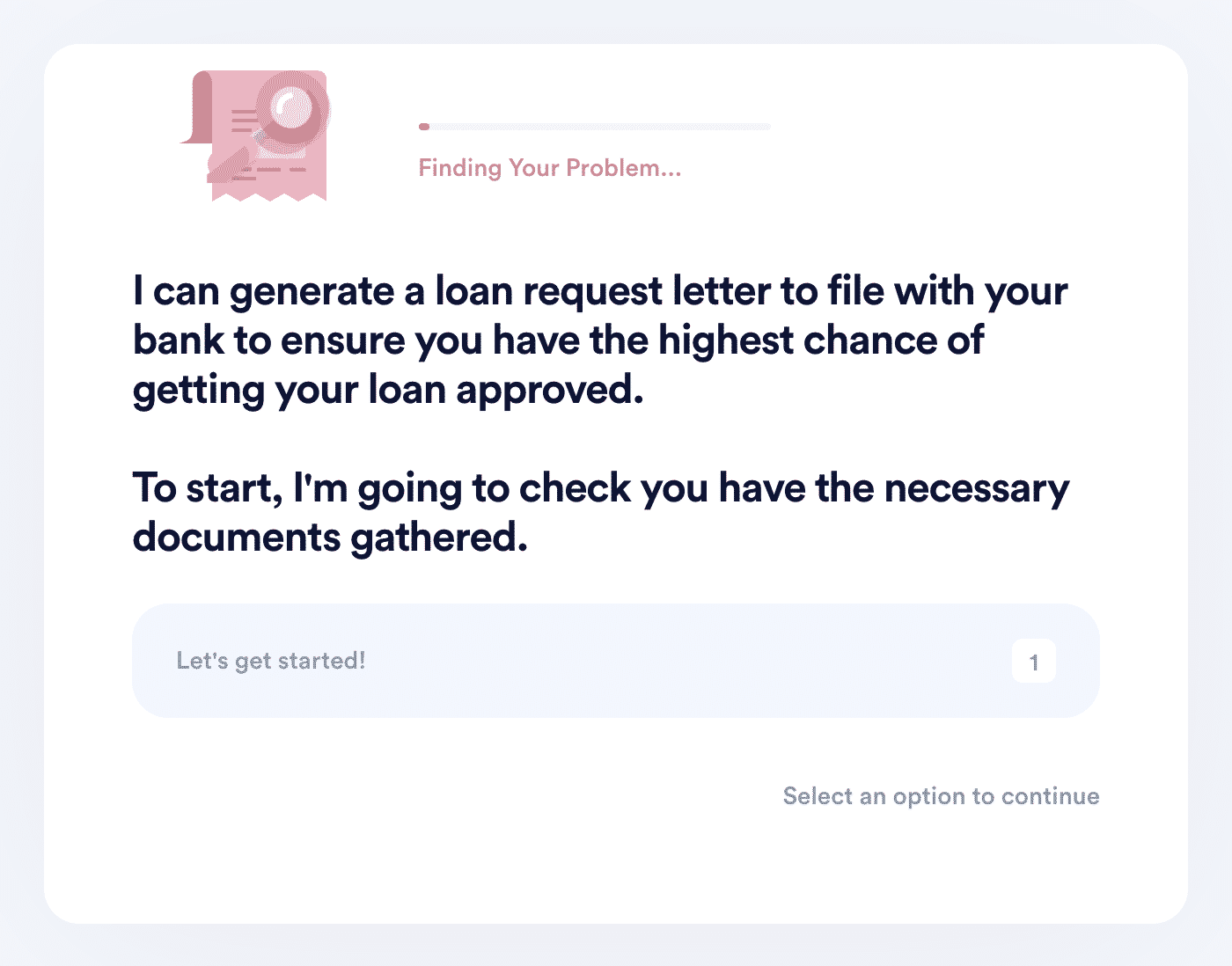 Subscribe to DoNotPay and follow the steps below to create your request letter:
Access the Business Loan Request Letter feature
Provide business financial statements
Indicate the amount you want to borrow
Upload all the paperwork
If you still have not found the right lender, our Find Online Business Loan Lender feature can help you out. Forget about searching for a lender on your own—DoNotPay will analyze the points of your loan request and present you with the best options.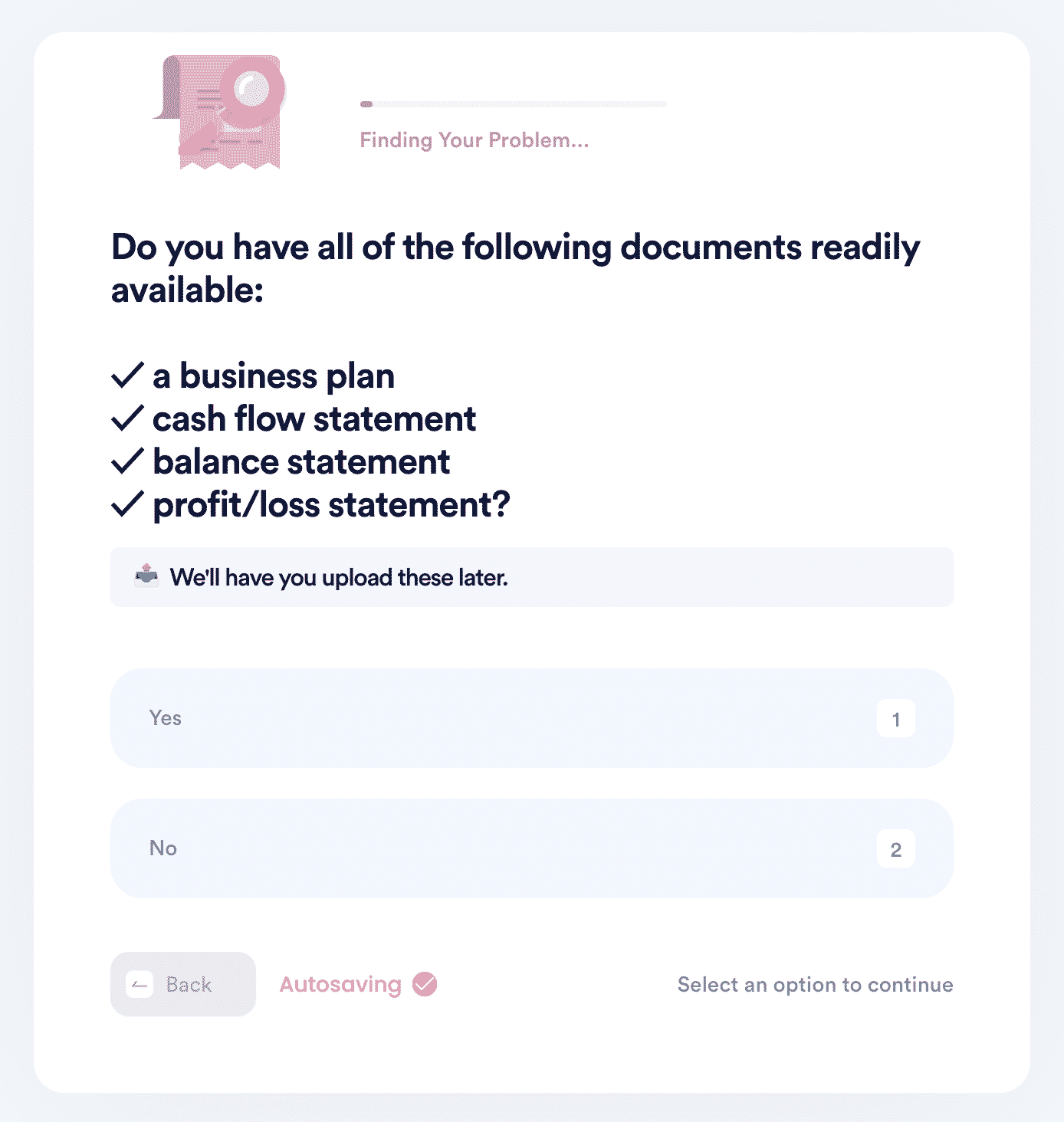 Get Down to Business With DoNotPay
If your to-do list is getting longer by the day, we offer numerous solutions. You can focus on growing your business while we handle the endless administrative tasks.
Here are some of DoNotPay's products and services that will assist your company tremendously:
DoNotPay Feature
Our App Will
Trademark Registration

Complete your company name, logo, or slogan registration application
Submit the application in your stead

Trademark Protection

Perform monthly checks
Notify you in case there is any trademark infringement
Help you file cease and desist letters

EIN Registration

Fill out and file your Employer Identification Number (EIN) application
Notify you of your new EIN

Register a DMCA Agent

Complete the DMCA agent registration process
Register the designated agent with the U.S. Copyright Office
There Is Even More We Can Do for You
Navigating the business world can be overwhelming. If your paperwork is piling up and disputes keep emerging, start using our app and declutter your workday from numerous chores.
The world's first robot lawyer can help you deal with the following:
Chargeback scams
Business loan applications
Faxing and mailing
Negative online reviews
83(b) election forms
Self-certification with the Privacy Shield program