LLC Operating Agreement in Ohio
—How To Get It in Three Quick Steps
If you're thinking of starting a limited liability company (LLC) in Ohio, drafting a valid legal document that will outline all the financial and functional aspects is a must.
If you are wondering what the best way to draft the LLC operating agreement in Ohio is, you're in the right place.
, and let us draft this contract on your behalf!
What Is an
Ohio LLC Operating Agreement
?
The LLC operating agreement is a legally binding contract used by any Limited Liability Company (LLC) to outline the procedures, policies, and other important aspects of a company/business. 
The contract should cover the rules, provisions, regulations, and obligations of the parties involved.
Ohio is not one of the states in which filing an operating agreement is mandatory, but drafting one can still be beneficial for your company (this applies to both single-member and multi-member LLCs).
Can I Write an
Ohio LLC Operating Agreement
on My Own?
Writing any legal document by yourself will take a lot of time and effort. You have to make sure to:
Include every important section

Use proper legal terms

Make the contract specific to your LLC
Relying on templates you find online isn't a good idea since they are way too broad. Every LLC is different, so there's no one-size-fits-all template. The templates can also contain inaccurate information. 
If you insist on writing an LLC operating agreement on your own by looking at online samples, make sure that those dodgy templates include the following clauses:
Ownership percentage

—Each party should have an ownership percentage assigned to them. This is typically done based on the amount the members invested, but the members can choose a different method

Roles and responsibilities

—Assigning the specific duties and being clear on them will help the parties understand what is expected from them and what authority they should respect

Decision-making

—Establishing a decision-maker is crucial in any business arrangement. Common options are:

A unanimous vote of all members

Appoint one person to do all the decision-making

Management structure

—The company can be:

Member-managed, in which  the owners will run the company

Manager-managed, in which one person gets appointed to perform this task

Profit distribution

—Profit is usually distributed based on the ownership percentage, but nothing's set in stone. Members can choose a different approach and should specify it in this section

Rules on exiting the contract early

—The contract has to elaborate on what happens when a member wants to exit the agreement early, as well as what happens to their ownership interests 

Closing the business

—The termination clause should specify what will happen if the LLC closes, i.e., what the steps to dissolving the LLC are and how the assets will be divided 
Is an
Ohio LLC Operating Agreement
Beneficial?
You may not be sure if an LLC operating document is the right choice for your business. It seems overly complicated to make, and you are not obliged to have one. Still, it's worth considering creating one, and here is why:
You can avoid the state-specific rules and make your own

Your LLC's limited liability status will be preserved
Avoiding Default Rules Imposed by the State
You do not have to create an LLC operating agreement in Ohio, but that doesn't mean your company can run without any rules or regulations. 
Without this agreement, you're obliged to stick to the default rules of the state, and those might be quite different from what you had in mind for your company. The main advantage of drafting an LLC operating agreement is that you get full control over how your LLC works.
Protecting the Limited Liability Status of Your LLC
The contract protects all LLC members from personal liability for companies' debts. If, for example, LLC cannot pay a lender or a supplier, that creditor cannot legally come after an LLC member. Only the LLC property is used to pay off business debts
If you do decide to go with this agreement, you might be thinking of hiring a lawyer. The delicate nature of this legal document requires legal expertise.
Still, you can get a professionally written LCC operating agreement without spending a ton of money on expensive legal help.
DoNotPay Drafts Your
Ohio LLC Operating Agreement
in Seconds
Skip the unnecessary hassle and use DoNotPay to draft your contract instantly! Our app collects the info you provide and uses it to generate your LLC operating agreement in the blink of an eye!
Complete the following instructions and get your agreement in a snap:
Enter the

LLC Operating Agreement

in the search field

Answer a few short questions about you and your agreement
Our app will create your agreement right away! Print or download it, get all the members to sign it, and you're good to go!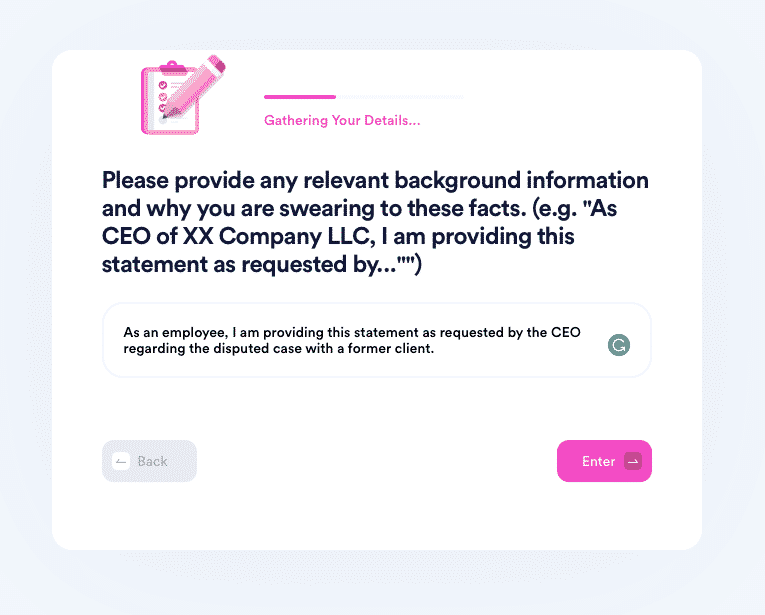 An LLC operating agreement isn't the only contract our app makes in your stead! DoNotPay will also draw up the following agreements for you:
Business Contracts
Other Contracts

General Business Contract

Intent To Purchase Real Estate

Estoppel Certificate

Quitclaim Deed

General Affidavit

Promissory Note
Get Back at Greedy Corporations With DoNotPay
How many times have you tried reaching out to an airline regarding your canceled flight? Did you ever spend hours trying to contact customer service reps only to be refused your refund request?
Big companies tend to make certain processes complicated for their customer in hopes they would give up on pursuing their goals.
This is why your warranty claims often get denied the first time or why canceling a gym membership can be an administrative hell.
Our AI-powered app is here to help you sort these problems out.
Whether you're trying to file an insurance claim, schedule your driving test, start a free trial without disclosing your payment info or a phone number, or get access to public records, we've got you covered.
DoNotPay Is the Virtual Assistant You Need
DoNotPay is the first robot lawyer in the world created to simplify complex tasks. We can help you with anything from appealing your parking citations to filing lawsuits in small claims court.
In case you need to save up some money, our app will show you how to get an extension on your bill payments, sign up for paid clinical trials, or avoid paying your college application fees.
DoNotPay can also report robocallers, text spammers, and email phishing attempts, and real-life stalkers with a few clicks.